Discovering Shetland, Scotland
Exploring incredible wrecks and northern wildlife
Winning a category in the Underwater Photographer of the Year competition for British Wide Angle is a tall order, and one I'm very proud of. I won a generous prize for a trip for two to Scapa Flow aboard MV Halton (www.mvhalton.co.uk), skippered by Bob Anderson. A vast majority of British divers would think I was mad to turn that down. A self-confessed marine life nut, photographing wrecks has never been a passion of mine. I opted for a week-long trip to Shetland aboard the newly renovated MV Clasina, hoping to photograph remote reefs in clear water. Little did I know, my opinion of British wreck diving was about to change. Over the course of the week we dived on numerous wrecks, some resting on white sand where you could actually see the entire vessel. It was a welcome change to seeing wrecks in gloomy vis at other UK sites. The boat, the crew, the group, the diving, and the scenery were altogether a fantastic prize! Sharing that prize with close friend, and fellow photographer Charles Erb, was a bonus.
With all UK dive trips I suffer from pre-trip angst about the weather. This year, COVID regulations were on my mind too. The NorthLink ferry service to Shetland had been closed to all but residents and frontline workers up until July. Thankfully COVID-secure sailings resumed prior to our trip. The Clasina employs a comprehensive COVID checklist that you complete online before boarding.
With Storm Ellen spinning its life out at sea our trip was looking promising. We wisely decided to add a few days ahead of boarding Clasina. It is a 550 mile treck to Shetland from the Midlands. Thankfully the last 210 miles are spent relaxing overnight on the ferry. You're actually closer to Oslo than London when you reach port in Lerwick.
We fit in a quick dive in Eyemouth at Greenend's Gully the next morning. I opted to be shore cover and ushered Charles in and out. Scattered showers in the area gave way to sun, and we enjoyed an amazing rainbow over St.Abbs head when Charles resurfaced. I considered this a good omen.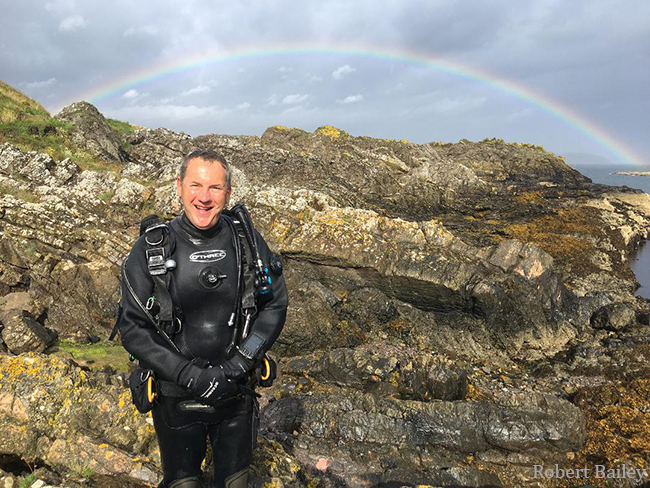 Our route took us up the A9 through the Cairngorms, which if you have not experienced is really worth a look. Cruising through silent valleys carpeted with heather was quite an epiphany for me. Yet more amazing scenery in Scotland! We overnighted in luxury - in Charles' VW campervan - and enjoyed the sunset over the River Dee. The next morning found us en route for Aberdeen. We just happened to call in at a few whiskey distilleries leaving my wallet a little lighter than it was! When in Rome, and all that.
Aberdeen was in lockdown when we arrived and strangely quiescent. We made our way to the ferry and got ourselves sorted. The ferry staff ensured that everyone maintained social distancing while onboard. After dinner we met the group who would join us on Clasina. Albeit all donning facemasks, meeting folks you're going to share a live-aboard with is a nice icebreaker, and a welcome start to our trip. Most of the group we met were from Cheshire (CSAC). They waxed lyrical about previous dive trips to Shetland, spurring our anticipation.
Cloudy skies welcomed us to Lerwick. The club spirit was pervasive with our newly met dive buddies lending a hand with our equipment down the pier to our home for the next week. Prior to boarding Clasina the crew walk you through their onboard COVID protocol; a sensible one way system, several hand cleaning stations, the wearing of masks, leaving you feeling safe, and secure. All professional, and well-organised.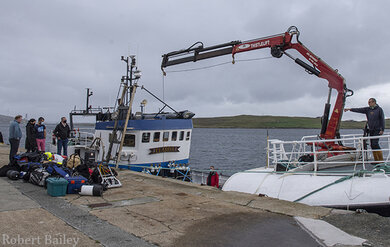 The briefings each day started with the skipper and his whiteboard. They all began the same, with Bob scribbling www.mvhalton.co.uk , a cheeky soft-sell, which prompted a chuckle from me every time. The briefings were excellent with Bob explaining shipwreck history, the bits of interest to wreck aficionados, the marine life often seen, and most importantly where the 'money shot' was to be had. The pre-dive excitement started to well up with our first site only a few miles from port.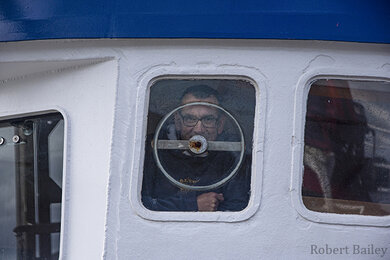 Day 1
The Fraoch Ban (Gaelic for white heather), a 15 metre fishing vessel, lies on its port side in 32 metres on a bed of white sand. It sank in 1999 after its cargo of sand eels shifted, causing it to capsize. The wreck is intact, perfect for a shakedown dive, with little tide and a straightforward descent down the shot-line. I loved that you could see the entire wreck encircled by schooling fish. 'A gift', as the skipper put it in his briefing, were the plaice on the bottom that came right up to you in numbers - likely attracted by the sand we were trying not to kick up. We also spied an angler fish off the bow, octopus on the deck, and an interesting species of spiny spider crab we'd not seen previously. Certainly a dive that had something for everyone.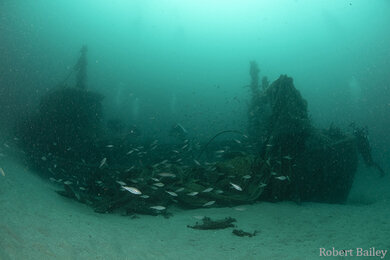 Dive two found us at Noss Head. It is a dramatic cliff face, scarred with deep clefts, and home to the largest colony of gannets in the UK - who on occasion are said to buzz divers on the surface when SMBs are up. Following the cliff face down you end up in a field of large boulders, with healthy numbers of juvenile cod hugging their outlines. Some boulders are scoured clean in places from eons of swell, while others are festooned with purple encrusting sponge, dotted with dead man's fingers, sun stars, and dahlia anemones. A couple of grey seals flew by on the dive, but retreated into the privacy of a favourite cave, not to be seen again. Dramatic views up the gullies were obscured that day by less than perfect visibility owing in part to the swell. A dive worth repeating in calmer conditions.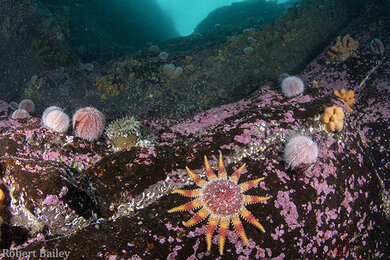 Day 2
Lunokods-1, a Latvian fish factory ship or Klondiker, as they are commonly referred to, succumbed to a storm back in 1993. It was driven stern first into a narrow gully below Bressay Lighthouse. The stern section is still whole, and follows the slope down to 18m. The 30m bow section broke off and lies in 45m of water. The skipper described this site as being 'Shetland Deep' - meaning over 40 meters but in calm, clear waters. The decent visibility allowed you to see a great deal of the site from the bottom. After leaving the shot- line, we took a few shots looking up the bow section, then followed the debris field up the slope. There's lots of deck machinery, and the refrigeration coils are still visible and clear of silt. Mindful of deco obligations we spent the last part of our dive doing our safety stop on a colourful reef.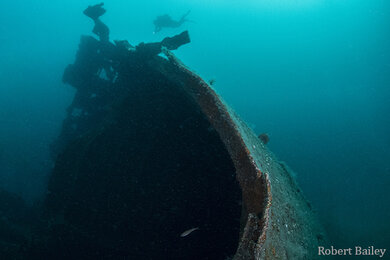 In the afternoon we dived a shallow reef off Out Skerries photographing dogfish, and searching for crayfish.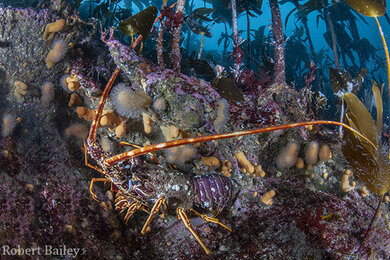 Day 3
Jane is a Swedish steamship that sunk in 1923 after striking rocks near the island of Sound Gruney, lying port side down on a sandy bottom in 20m. The wreck is slowly collapsing in on itself, but the propeller and rudder are still intact. A hand over hand pull down the shot-line was needed in the strong current, and brought us straight to the prop. We got stuck in like limpets, and took several shots of the prop. I let the unrelenting current sweep me to the bow where a gaping hole could be seen in the hull - perhaps responsible for its demise. I managed a few shots of the anchor, then we drifted off in the current whilst deploying the SMB.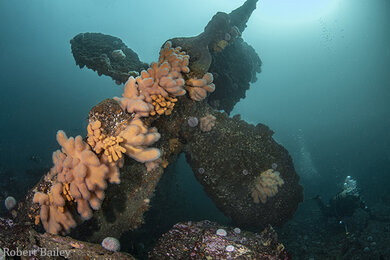 South of Yell, we did a drift dive on a site called Burra Ness. The sea bed was reminiscent of a wind-swept desert. We found ourselves flying over furrows of maerl beds and coarse white sand watching armies of hermit crabs battle away. It was an uneventful dive for me up until I drifted upon the largest plaice I have ever seen. I managed to make a few pictures before it moved on, and then we drifted with the current slowly back to the surface.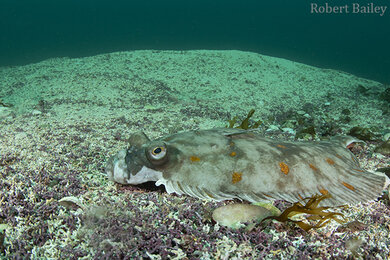 Day 4
The British HMS E-49 submarine sank after hitting a German-laid mine in 1917 just outside Balta Sound. All hands perished sadly, making this a war grave. A sobering experience diving this site, trying to imagine the terror those submariners were subjected to before being engulfed by cold Atlantic water. E49 is slowly being swallowed up by the white sand it lies in. The conning tower and periscope are still visible, as are some of the gears responsible for maintaining trim. The conditions were favourable, and we did two dives on the site. One of the few opportunities I've had to make pictures of wrecks in the UK using available light.
With two dives under our belts we bundled into a taxi at Baltasound, and headed to Hermaness bird sanctuary. A haven for thousands of seabirds, all under the watchful eye of Muckle Flugga lighthouse, the most northern point in the UK. The scenery alone is worth the price of the taxifare, which wasn't expensive anyway.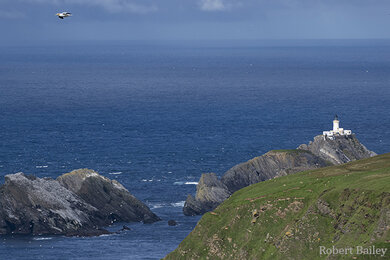 Day 5
Motoring south we stopped to dive the Gwladmina. A large Victorian steam ship which was carrying coal when it collided with another vessel in 1918. It now stands upright in 39m. We managed a swim around the entire site. While the prop has been salvaged the shaft is still visible, as is the hardwood (lignam vitae) bearing that supports it.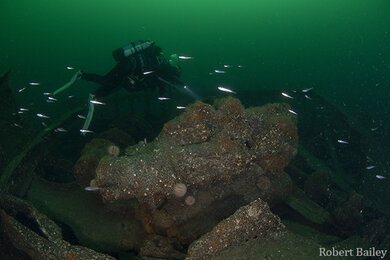 The Giant's Legs at Bard Head is a stunning geological formation created by erosion. The boat drops you in close to the cliff, and after a short swim you descend onto a series of broken steps which mirror the surface. While there were caves at the site, we settled onto one of the steps, and were so taken by the nudibranchs, and several species of shrimp that the entire dive was done in the same spot.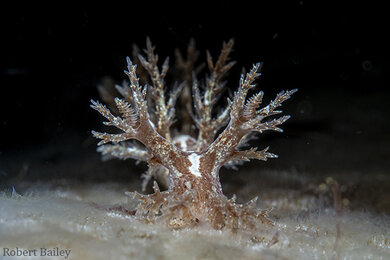 Day 6
Our last day found us diving the Pionersk, another factory fishing ship that went down not long after Lunakhods-1 in the 1990s. Shallower than previous sites at 20m the visibility was challenging at 3-4m not something we'd experienced until now. Photography was limited to close up subjects. It was a dark and gloomy dive.
There was unanimous agreement to dive the Fraoch Ban again for our final dive. An excellent way to top off a fantastic week on the Clasina.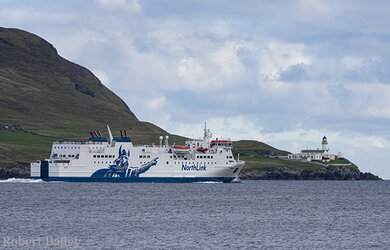 Getting there and away:
To dive on the MV Clasina: www.mvhalton.co.uk
Factor in travel time there and back if driving.
Book your ferry tickets well in advance of your trip. Remember if you're carrying Scuba cylinders, so register your hazardous cargo in advance - this will save on paper work in the queue. www.northlinkferries.co.uk
Hermaness Bird Sanctuary on Yell – A must visit. www.visitscotland.com/info/see-do/hermaness-national-nature-reserve-p246921
The Balta Light – UK's most northern pub www.facebook.com/BaltaLightBar/
SUPPORT THE UNDERWATER PHOTOGRAPHY GUIDE:
The Best Service & Prices on u/w Photo Gear
Visit Bluewater Photo & Video for all your underwater photography and video gear. Click, or call the team at (310) 633-5052 for expert advice!
---
The Best Pricing, Service & Expert Advice to Book your Dive Trips
Bluewater Travel is your full-service scuba travel agency. Let our expert advisers plan and book your next dive vacation. Run by divers, for divers.
---