The Kraken Weefine Ring Light 3000
Announcing the new Kraken Weefine Ring Light 3000 – everything we loved about the original and more!
What happens when a company takes a good product and adds new features and functionality? We get a better product that delivers new utility and creative potential.
The Kraken Weefine Ring Light 3000 is just such an example. Not long after the release of the original Ring Light 1000, comes a new model with a broad range of upgraded features and functions that is sure to appeal to many underwater photographers looking for ways to add a creative twist to their images.
While the original RL1000 (reviewed here) provided us with plenty to be excited about, at the end of the day it really did one thing...provide 1000 lumens of clean and consistent light ideally suited for close focusing on macro subjects. Although it offered variable power settings, a rotating battery holder and battery level indicator, at the end of the day it was an "on or off" light. Regardless I did and still do love mine.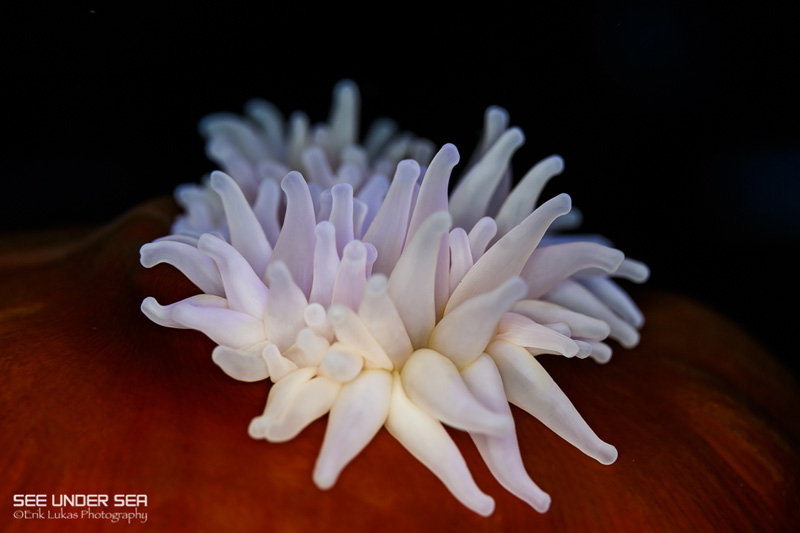 Everything we loved in the original and a whole lot more!
Fast forward to the RL3000 and the bar has been raised. Not only is there more power...which means more light supplied by a higher capacity battery, but additional new features such as a strobe mode as well as both red and blue light.
So what exactly is different in the new Ring Light 3000?
- An increase of standard continuous light output from 1000 to 1800 lumens at 100% power.
- Additional red and blue (UV) lighting options
- Additional "strobe" mode with a 3000 lumen output
- New 26650 lithium battery
- Increased depth rating to 100m (330 ft) vs the 60m (198 ft) for RL1000
Specifications
● Continuous light mode (White/Red/Blue)
● Strobe light mode (White/Red/Blue)
● Continuous light Max: 1800 lumens
● Strobe light Max: 3000 lumens
● Depth Rating: 100m/330ft
● Beam Angle: 100 degrees on land / 90 degrees underwater
● Color Temp: 5000-5500K
● Power Level: 100/75/50/25%
● Button: two buttons complete with a battery level meter
● Continuous light mode approx. 45 minutes at full power
● Strobe light mode approx. 12 hours
● 1 x 26650 Lithium battery
● Charge time: Approx. 4 hours from zero (5V/2A)
All of this comes in a slightly larger package than the original, but overall it is still a very compact system. Comparing the two:
RL1000 measures 117.2mm x 152.8mm x 36.4mm (with an M67 thread for mounting)
RL3000 measures 123.8mm x 159.6mm x 40.6mm (with an M67 thread for mounting)
Pick up your Kraken Weefine Ring Light 3000 at Bluewater Photo!
The package includes the light, the 26650 battery, the battery charger, and two spare o-rings. One notable difference is that the RL1000 came with a AAA battery holder while the RL3000 does not. As I mentioned in the original review, I advise against the use of disposable alkaline batteries simply for the sake of not creating more waste than needed.
Even though the new battery is of higher capacity, the burn time at 100% has dropped from 65 minutes for the RL1000 to just 45 minutes for the RL3000 due to the increase of power output to 1800 lumens. In my dives, I did not find this to be an issue as I would shut the light off when not actively working on a subject. Where I can see this being a challenge is on a boat doing multiple dives and not having access to a charger between dives. A spare battery is an easy remedy.
Clean and even lighting...in a flash
Perhaps the biggest change to the RL3000 is the addition of what is called "Strobe Light Mode". Put simply, this new feature is the ability to boost the power from 1800 lumens up to the full 3000 lumens via a connected fiber optic cable (using a standard Sea & Sea type connector), acting like a strobe. While it does not flash at the same speed as a standard underwater strobe, it boosts its output momentarily. This functions in the same way as any standard underwater strobe.
Strobe Light Operation
Simply connect a single fiber optic cable to the strobe and when you pull the shutter release, your onboard camera flash or flash trigger will signal the RL3000 to fire. While I was initially skeptical about this feature, it worked reliably and worked well. I could get approximately one additional stop of light from the RL3000, which translates to either a faster shutter speed (to freeze the action), smaller aperture (for greater depth-of-field), or a lower ISO (for cleaner and less noisy images).
Red Light, Blue Light, and Their Uses
The red light is useful for positioning yourself in front of your subject. When sneaking up on a fish or attempting to not attract thousands of nuisance "bugs" during a night dive, I switch the RL3000 into strobe mode with the red light on as my focus light. Now I have the benefit of a red focus light that switches to the full power white light in strobe mode during the exposure. This was very helpful for shooting at night in my tests.
The other key addition is the blue (UV) light. While I am generally not one to use UV lighting for photographs, I do like to have a look at the reef under UV light on a night dive. Specifically, I find the look of the RL3000 blue light to be more of a UV-ish blue, and perhaps not a true UV light. I think this feature will appeal to some users and not others, but I do like that it is included.
Dual button controls
Another change that users will see on the new light is the control buttons, there are now two. In all honesty, I found the controls to be a bit confusing. However, I fully expect that after using the light for more than a few dives the controls will become familiar and easy to operate. Getting the light into its different modes required pushing one or both buttons, holding them for extended durations, etc. While this is not difficult, it does take some getting used to and a bit of memory. I also expect for cold water divers wearing thick gloves the controls could be a challenge to use. There is a fairly well written instruction manual that covers all the controls.
Use with a Diopter
Using the new RL3000 with a macro diopter will work well assuming your diopter has a thread on the front element. One challenge I encountered using the RL3000 with a diopter was the very close working distance. In some cases, I found that at maximum magnification (or closest focusing distances) there was very little room between the front of the RL3000 and the subject.
Conclusion
At the end of the day, both the original and the upgraded version are worth the costs and are a great addition to an underwater photographer's toolbox. If you own the original is it worth the upgrade? That's difficult to say, but there are clearly many reasons to consider it. The strobe feature is a great function and one I found the be very useful. I really think the red light is a great feature and when combined with the strobe mode it is quite useful. I would say that anyone looking for a ring light, the new 3000 is the one to look at. The added functions are well worth the cost.
Pick up your Kraken Weefine Ring Light 3000 at Bluewater Photo and join Erik in Lembeh, Dumaguete, or Anilao this year!
SUPPORT THE UNDERWATER PHOTOGRAPHY GUIDE:
The Best Service & Prices on u/w Photo Gear
Visit Bluewater Photo & Video for all your underwater photography and video gear. Click, or call the team at (310) 633-5052 for expert advice!
---
The Best Pricing, Service & Expert Advice to Book your Dive Trips
Bluewater Travel is your full-service scuba travel agency. Let our expert advisers plan and book your next dive vacation. Run by divers, for divers.
---