Wide-Angle Underwater Photography with One Strobe
Recently I was charging the batteries from one of my strobes in-between dives. I forgot to put the batteries back in, so underwater I soon realized that I was only shooting with one strobe!
Well I figured, let's turn this into a learning opportunity, play around with strobe positions, and create some wide-angle photos with just one strobe. I had my Tokina 10-17mm fisheye lens on. I was diving at Anacapa Island in the Northern Channel Islands in Southern California.
Visibility wasn't great, maybe 10 meters, but it wasn't bad for the area.
Here's what I took on that dive:
F7, 1/200th, ISO 400. Red sea fans
Red Sea fan with diver
F10, 1/160th, ISO 500. Rarely seen Gurney's Sea pen, and my dive buddy. The dome port is almost touching the sea pen.
F7, 1/160th, ISO 500. 2 meter long giant black sea bass, fleeing the scene. Unless they are in a mating/cleaning area, most black sea bass are quite skittish.
F9, 1/160th, ISO 500. Behavior shot. Large 1.5 meter Halibut taking off from the sand.
I was pretty happy with the lighting that I got with one strobe.
Strobe position for wide-angle with one strobe
Underwater photo tips for using one strobe
Use your diffuser

Don't point the strobe right at the subject, point it straight ahead

The further away the subject, the further the strobe should be from the housing

Shoot wide, get close!
Further Reading
Wide-Angle Underwater Photography with One Strobe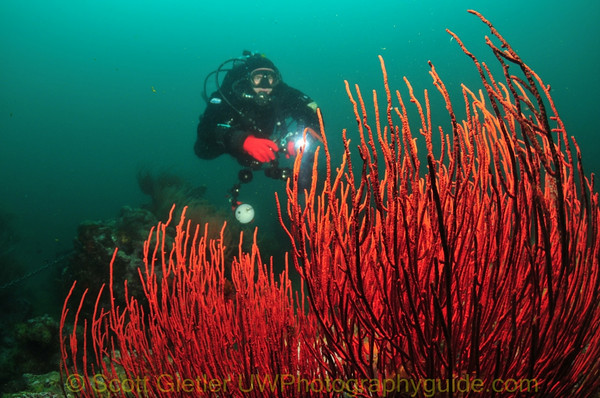 SUPPORT THE UNDERWATER PHOTOGRAPHY GUIDE:
The Best Service & Prices on u/w Photo Gear
Visit Bluewater Photo & Video for all your underwater photography and video gear. Click, or call the team at (310) 633-5052 for expert advice!
---
The Best Pricing, Service & Expert Advice to Book your Dive Trips
Bluewater Travel is your full-service scuba travel agency. Let our expert advisers plan and book your next dive vacation. Run by divers, for divers.
---