Paralenz Dive Camera Review
An in-depth review of the Paralenz Dive Camera featuring an underwater video camera built for scuba diving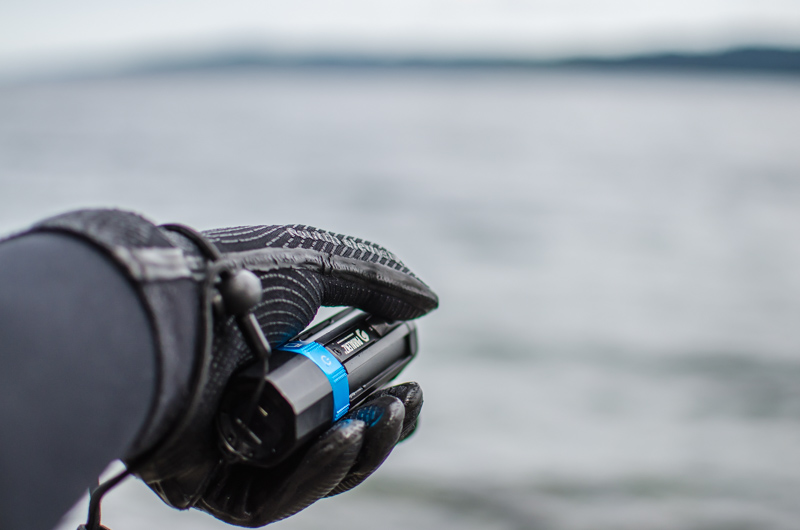 The Paralenz Dive Camera is a new action camera, developed by scuba divers and made for scuba diving. For years major brands such as GoPro have left scuba divers on the fringe of their extreme-sports market. But Paralenz has gone above and beyond in catering to divers and customizing their camera in every way possible to fit scuba divers' needs. In fact, the camera was developed by a Danish startup that had a team of divers take it for hundreds of dives with white balance slates to optimize the depth-based color correction algorithms with real world data.
With features such as depth/temperature recording, built in digital color filters (DCC), multiple mount options, an 820ft depth rating, and a single switch control, it sounds like a diver's dream camera. But as with any camera, there's only so much you can tell about a camera with a specs sheet. We took the Paralenz out diving in the Galapagos and Pacific Northwest to see just how good its underwater performance is. Our verdict? It looks like a small flashlight, it's as easy to use as a small flashlight, and it takes great video with all the underwater features a diver could need.
Purchase: Paralenz Dive Camera
Availability: Now
U.S MSRP: $699.00*
*For a $25 discount on the Paralenz at Bluewater Photo, please enter this discount code during check out: UWPGPARA
Paralenz Full Video Review
---
Bluewater Photo Paralenz Camera and Accessories:
*For a $25 discount on the Paralenz at Bluewater Photo, please enter this discount code during check out: UWPGPARA
---
Jump to a Section
Paralenz Specs | Camera Features | Color Correction Modes
Pros and Cons | Paralenz Accessories | Conclusion
---
Paralenz Dive Camera Specifications
• Depth Rating: 250m/820ft
• 1/2.5" sensor size manufactured by Sony
• White Balance Modes: Auto, 3 Fixed WB Options, and DCC (Depth Controlled Color Correction)
• Video Resolution
o 4K (Ultra HD) @ 30fps
o 2.7K @ 60fps
o 1080p (full HD) @ 100fps
o 720p @ 200fps
• Video Format: MOV – H.264 Codec
• Still Photo Resultion: 8 MP
• Battery Life: 3+ hours (1080p - 30fps) / 2+ hours (4k - 30fps), 1600mAh battery
• Connectivity: WiFi (app connection), Bluetooth (for future accessories) & USB 0.5" OLED
• Storage: Compatible with 64GB or 128GB Micro SD Card; requires U3 speed
• Aerospace-grade aluminum construction, titanium screws
• Depth & Temperature recording and video overlay
• Built in Color Correction by Depth – for both Green and Blue water
• Two controls – one switch, one selector ring
• Vibration feedback for feeling settings changes
• 140 degree angle of view with a wide rectilinear lens (no fisheye distortion)
• Electronic image stabilization for many modes
• Designed to work with thick gloves
• Universal mount system – can attach camera to any GoPro style mount
Ergonomics
Ergonomics is where the Paralenz really shines. I personally found it to be the easiest camera I've ever used. When they say the Paralenz is built for divers – it really is. It's about as small as a backup dive light or focus light and can be mounted as such. In fact, it looks, feels, and operates like a simple dive light. And because it's so small, there were moments where I strapped the camera to my BCD and forgot about it! It's very easy to hand-hold (unlike the more ungainly square shape of other action cameras) and has grooves along every side of the camera for unlimited mounting capability.
The camera's controls were built for use with thick, cold water gloves. As a coldwater diver, I found that changing settings was seamless with gloves and cold hands. A single, magnetic switch on top is used to turn the camera on/off, start/stop video, and surf through settings. A magnetic selector ring allows you to easily switch between modes (e.g., video, stills, custom, settings) by turning the dial one direction or another. Any time you change a setting, turn the camera on/off, or start a video, the camera vibrates in a special pattern. Therefor you don't have to look at the screen to change settings. It's very handy for taking video on the fly – especially if you have the camera mounted to a hard-to-reach surface, such as a mask. We recommend changing settings slowly when operating the camera. In some of our tests, a quick settings change caused the exposure to become stuck, ruining the video.
Build
The Paralenz is quite literally built for some of the world's harshest ocean conditions. Made of military-grade aluminum, it's solid and can take a beating whether it's through surf, rocky entries, or current. We did some tests in some of the Pacific Northwest's most current heavy, rocky sites. Despite getting thrashed, the camera doesn't scratch that easily and you don't really have to worry about sand sticking in the switch or ring. This camera never fogs as the lens space is sealed.
Having a magnetic switch and dial ensures that there is not point of failure, so you don't need to worry about the camera flooding via the button. The only point of possible failure is the cap which is protected by two o-rings. Regardless, the camera is rated down to 250m/820 ft – far below the limits of even some of the most technical divers. This depth rating has made me very tempted to tie a line and light to the camera and capture deepwater footage. Always remember to grease the two o-rings before your dive to ensure maximum protection.
Rectilinear Wide Lens
The rectilinear wide lens is probably the best choice for casual divers, but it can have its limitations. For one thing, because it's a wide lens, it is a little more difficult to get good macro video than if you had a diopter on top. Macro is also limited by the camera's minimum focusing distance, which is about two camera lengths. This can be remedied by taking close video at high resolution and cropping in post-production. That being said, the wide lens helps you get a lot closer to subjects, bringing out amazing colors and details in the footage. At 140 degrees, it captures a lot of what is in front of you. The lens on the Paralenz is rectilinear and not fisheye. This corrects the distortion typical of a fisheye lens.
Battery Life
The battery life is excellent. More than 3 hours at 1080p? That's certainly more than enough for a whole dive day for most divers. If you need to charge between dives however, Paralenz makes it easy. The camera comes with a USB charger, so you can just plug it into your computer, car, or wall adapter. I've plugged it into my car while driving between dive sites which was very convenient. Most other action cameras only have enough battery for about an hour (one battery per dive). You don't have to physically change batteries as the battery is built into the camera. This reduces the risk of a flood even further.
Video Modes
The video modes are enticing, and certainly sufficient for most divers. We recommend shooting at 60fps or higher, as three dimensional, underwater environments are full of movement. You need the extra frames per second to slow the footage down and reduce motion blur. 4K is offered in 30fps, so we didn't use this setting very much – unless we were shooting in a very calm situation. It's also rather difficult to edit unless you have a powerful computer and editing software. 2.7K at 60fps is the sweet spot with the Paralenz. 2.7K resolution is still higher than full HD and 60fps allows you to slow down and stabilize underwater footage. You can also crop your video for macro footage at a large resolution like 2.7K. The 1080p and 720p settings can be used for cool slow-motion action shots because their frame rates are 100 fps and 200 fps respectively.
Auto-record Mode
Paralenz has a patented auto-record mode where the camera automatically starts recording video at a preset depth and stops when you hit the surface. This is especially useful if you know the depth of the subject you'd like to record as it saves space on the SD card.
Still Photos
The Paralenz can capture 8mp still photos, although it is primarily a video camera. The lowlight capability of the photos could be improved, so it's best to have maximum light available when shooting stills with the Paralenz. It's very easy to take photos. You just put it in photo mode and pull the switch. It's still a good idea to be still as possible so as not to get motion blur in the photo. I also recommend using a video light for added color and less blur.

Electronic Image Stabilization
The Paralenz offers electronic image stabilization which takes pixels outside of the recorded frame to provide a buffer for the image when there's shake in the video. We recommend keeping this setting on whenever possible. Paralenz offers a selfie stick/3rd person viewer which does a great job of adding additional stability to the system.
Temperature and Depth Recording
The Paralenz can record the water temperature and depth throughout the whole dive and overlay it on your video, in the bottom right corner of the screen. It will constantly update as you go through your dive. Then, when you finish your dive, you can review the video on your Paralenz Dive App, and it will show you a dive profile chart in conjunction with your video. It's finally possible to brag about how deep or cold/warm a dive was and have video evidence! Although you have the option to turn this setting off, I personally loved having it. It adds a lot of context to the dive. Paralenz is also partnering with scientists in using their recording features to help collect scientific data.
Color Correction Modes
Depth Color Correction (DCC)
Paralenz's Depth Color Correction (DCC) is what puts the Paralenz in a different category than any other action camera. The Paralenz can apply built-in, digital color filters while recording video based on the depth the camera records in real-time! Thus you don't need to dive with any additional filters or lights in order to get good colors underwater. All you need is the camera.
In our tests we found that this feature worked really well. We were able to see reds and oranges come back at any depth during our dive. Because the digital color filter updates in realtime, it has the same effect as if you changed and adjusted your red filter for every inch of your dive. The color correction software has been further optimized by real world underwater color data captured during the camera's development process.
There are two depth color correction settings – DCC Green and DCC Blue. Choosing the one you need is simple. If you are diving in blue (usually tropical) water, choose DCC blue. If you're diving in green (usually cold) water, choose DCC green. In other words, DCC Blue is the same as using a red filter and DCC Green is the same as using a magenta filter. As with using video lights, DCC works best if you are within one meter of the subject you want to capture. If you move too far back the colors become washed out and blue.
Because DCC is the same as having a red/magenta filter, any white light from a strobe or flashlight is going to appear red/magenta (click here for an example). So if you want to light up your video with a video light, be sure to use the auto white balance or fixed white balance mode.
White Balance with Video Lights: Auto and Fixed
Although the Paralenz comes with Depth Color Correction, sometimes it's a good option to use video lights to light up your video and add additional colors. This is especially true if you are shooting video into the sun.
Auto white balance is a good option to use if you don't know the color temperature of your video lights or multiple sources of lights will be mixing in the scene. However, because the white balance constantly updates, it does tend have a "wavy" effect with colors that constantly change. It's not very noticeable, but it's not as consistent using a fixed white balance.
The fixed white balance setting with a video light is the best way to get good contrast and color in your video. First, find out the color temperature of your video light and then select the fixed white balance setting on your camera that most closely matches it. You will get consistent, beautiful color as long as you remain 3-5 feet from the subject.
To switch between DCC and auto/fixed white balance, pull the switch three times.
Pros of the Paralenz
Very easy-to-use camera
Very sturdy build
Depth and Temperature recording
Depth-based color correction
Battery life is significantly more than competitors
4K video @ 30fps, 2.7K @ 60fps
Vibration feedback when switching settings
140 degree wide angle lens
Paralenz app that shows dive profile alongside video
Cons of the Paralenz
Exposure can freeze if you change the settings too fast – slow down when changing the settings (you can still change settings relatively quickly, just not at light-speed). Paralenz is working on a fix, so be sure to update the camera to the latest firmware
The auto white balance can be a little "wavy" in complicated light situations. To fix this use a fixed white balance setting
Paralenz dive app doesn't always connect – Paralenz is aware of the situation, keep checking for updates!
Limited settings for still photos
Paralenz Accessories
Although the Paralenz was made so to be used without any accessories whatsoever, the company has developed a number of contraptions that could potentially change the playing field of action camera accessories.
Although I'm not a personal fans of selfie sticks, I think Paralenz is going to revolutionize underwater video with theirs. In fact, this is my favorite Paralenz accessory. It's not just a selfie stick. You can attach floats to the Paralenz camera and then attach the camera to the stick. The floats keep the camera up in the water column, enabling it to tail behind you and capture video from a third person view! It's almost like having an underwater drone follow you around capturing video without the cost.
The video from the 3rd person viewer stick was surprisingly stable due to the floats and could be brought out fairly far behind the diver. I should mention that a color is lost from the video when you put a greater distance between the camera and the subject (i.e., diver). The selfie stick works as a selfie stick, of course, and it's fun to play around with underwater. Personally, I liked the 3rd person video better as it feels like you're watching from a fish's perspective.
A word of caution....try not to switch mount with the Paralenz when it has floats attached while underwater. It can float away pretty quick!
The Paralenz Selfie Stick/3rd Person Viewer is available now!
As an underwater photographer I found the ball mount to be one of my favorite mounts of Paralenz's versatile mounting system. I could attach it to the cold shoe on my primary underwater camera system housing and take excellent videos while taking photographs. It was like having a video camera instead of a focus light, which I found very useful. I noticed the water does corrode overtime if you don't take good care of it, but it's easy to replace it for a few cents at a hardware store when the time comes.
Mask Mount and Mask Strap
The Paralenz mask mount is a very secure, comfortable mount so that the camera can be mounted to your mask. It is made of plastic that can be bent to any angle for optimal video. Paralenz also sells a mask strap which I found to be one of the most comfortable mask straps I've used.
Paralenz does offer a maintenance that can be used to service the dive camera anywhere you happen to be diving. It includes:
• 1 x lens for end cap
• 1 x front lens
• 1 x carabiner
• 1 x lens cover
• 1 x activation switch
• Spare O-rings
• Replacement Magnet Braces
• Springs & Screws
• And More all in a sturdy travel case!
Micro SD Card
For underwater video, we recommend a card with 64GB memory so that you can record video all day without changing cards. The Max-Flash Hyperspeed Micro SD cards are fast enough to capture 4K at fast framerates and a great companion to your Paralenz. They come with a SD Card mount so that you can insert the card into your computer or card reader.
Max-Flash Hyperspeed 64GB Micro SD Card
Max-Flash Hyperspeed 32GB Micro SD Card
Although video lights are pretty standard for most videographers, they are not absolutely required for the Paralenz. The DCC works very well at the same range you would need for a light, but the colors won't be the same as a video light. Grayer and whiter tones are bluer with DCC; they are more defined with a video light. But video lights introduce more contrast and warmer tints to the image. So overall, I think shooting with video lights vs DCC is just two different style of video. If you're a photographer that already has all the equipment – use your lights when you want that style. If you're new to underwater videography, I would try the DCC first and then decide if underwater video lights are right for you.
Below are a few of our favorite video lights:
Be sure to visit Bluewater Photo to learn about more video lights, whether professional high-lumen or small and affordable.
Conclusion
The Paralenz Dive camera sets itself apart from other action cameras with it's dive-oriented design and features. We loved the Depth Color Correction, depth/temperature overlay, battery life, and ease-of-use. If you're looking for a camera that you can point and shoot without a care in the world, this is the camera for you. The video is high quality for the camera's size, and the color correction software means you don't have to worry about your video looking blue and washed out. The Paralenz is just short of indestructible and can be used in most dive applications. The accessories really add more perspective to the dive, and we highly recommend the 3rd person stick if you want footage of yourself throughout a dive that looks like it was taken by someone else. The Paralenz is also a great camera to have if you would like a small video camera mounted to your camera rig for additional footage.
As a relatively new company, Paralenz has excellent customer service and really takes the input of their customers into account. That is how the camera was developed, after all. Although the camera can have a few kinks as many new cameras do, they are constantly updating the firmware and working to improve the camera. So be sure to keep your firmware up-to-date. The technology is only going to get better. With a company that markets specifically to divers, we can't wait to see what Paralenz comes up with next!
Additional Reading
---
Bluewater Photo Paralenz Camera and Accessories:
*For a $25 discount on the Paralenz at Bluewater Photo, please enter this discount code during check out: UWPGPARA
---
About the Videographer
Todd Kortte is an actor in Hollywood and has a passion for the underwater world. He brings his experience and knowledge from working on over 150 different shoots in Hollywood to the underwater filming and editing genre. Todd has published underwater films, has won 8 film festival awards with his underwater work, and is a 3-time winner in the Bluewater Photo SoCal Shootout for the Edited Video category. Be sure to check out his Facebook page: Todd Kortte Scuba and Instagram
SUPPORT THE UNDERWATER PHOTOGRAPHY GUIDE:
The Best Service & Prices on u/w Photo Gear
Visit Bluewater Photo & Video for all your underwater photography and video gear. Click, or call the team at (310) 633-5052 for expert advice!
---
The Best Pricing, Service & Expert Advice to Book your Dive Trips
Bluewater Travel is your full-service scuba travel agency. Let our expert advisers plan and book your next dive vacation. Run by divers, for divers.
---