Canon EOS R10 Review
The best value underwater camera system ever.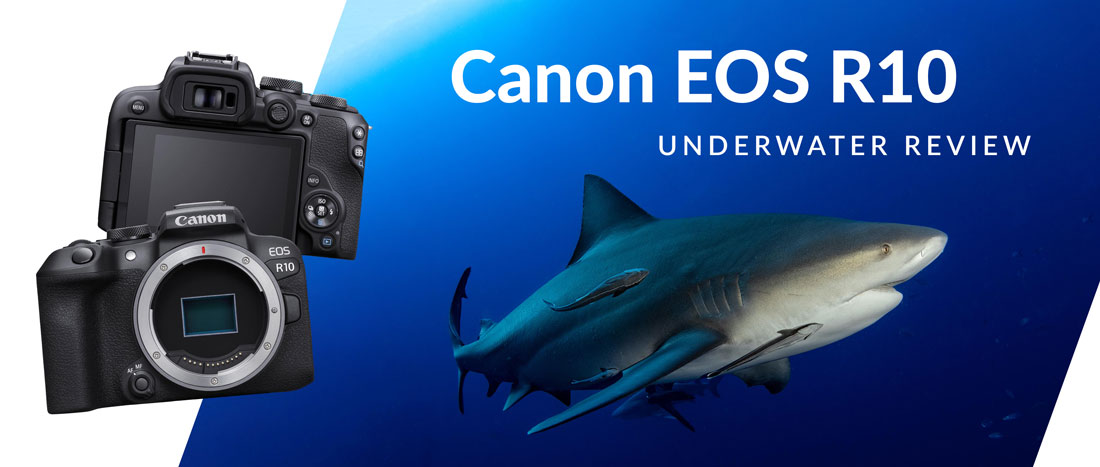 It's been a long time since we've been this excited about a camera... After a month of diving with the Canon EOS R10, it's clear that it is the best value underwater camera system ever created. Now this may sound like hyperbole, but it's important to consider where the camera industry is in 2022. As smartphone technology has proliferated and taken over the compact camera market, it's been difficult for new underwater photographers to find affordable entry level cameras. Even a compact camera like the Sony RX100 VII retails for $1300! At $980 for the body, the Canon R10 is ground breaking. We'd like to think of it as a "mini Canon R5", often considered to be the most popular professional underwater camera.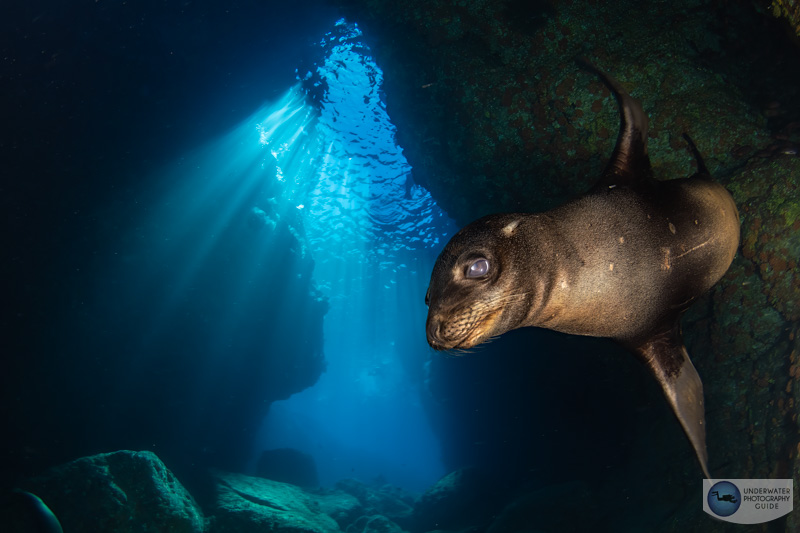 The R10 features a 24.2 MP APS-C (cropped) sensor with incredible dynamic range and image quality. It can record 4K video up to 60 fps (with a crop factor) and 4K/30p video oversampled from 6K for more detail. The camera can also shoot in bursts up to a whopping 15 frames per second (23 fps with the silent shutter). And best of all, the Canon R10 retains the incredible dual pixel autofocus of the Canon R5 and even improves upon it. The camera features an autofocus tracking mode which can identify fish eyes and shapes underwater better than the R5 can. We can't stress enough how rare it is to find a camera with all these features for under $1000.
---
Jump to a Section
Let's Talk $ | Canon R10 Specifcations | Canon R10 Key Features
Canon R10 for Underwater Photo & Video | Canon R10 Underwater Housings
Canon R10 Underwater Lenses | Conclusions
---
The Best Value Underwater Camera System Ever
So what exactly makes the Canon R10 the best value underwater camera system ever? It's the housing options and camera kits offered at Bluewater Photo. When the R10 was announced, we realized that its incredible price point would be a perfect follow up to the popular Ikelite SL3 kit and asked John at Ikelite if it was possible to develop an affordable bundle for new photographers. They delivered. While the Ikelite R10 housing itself is only $1050, you can buy the camera, kit lens, dome, zoom gear, and housing all for $2499. Want to add a strobe, tray, and arm? Bluewater offers a professional-grade starter kit for only $3499. And finally if you want to go all out with Ikelite TTL, Ikelite strobes, and a vacuum system (like we did in our review), then we recommend the ultimate R10 package which retails for $5750.
Purchase an exclusive Canon EOS R10 underwater housing or kit at Bluewater Photo:

Ikelite Canon R10 Underwater Housing
Ikelite Canon R10 housing, port, zoom gear, lens, camera bundle
Canon R10 Underwater Starter Kit

Ultimate Canon R10 Underwater Package
When Olympus cameras, which were hugely popular among new underwater photographers, were acquired by OM System and became relatively unaffordable, we spent years looking for a better value camera system to replace them. After a lot of searching, the Canon R10 is it. With an APS-C sensor instead of a micro four thirds sensor and autofocus lightyears ahead of the competition, the Canon R10 provides much better image and video quality than a micro four thirds camera can. Now you may be wondering why we weren't as excited for the Nikon equivalent - the Nikon Z50. The foremost reason is that the Canon R10 is compatible with the popular Tokina 10-17 fisheye lens - one of the best lenses ever built for underwater photography - and the Z50 is not. But when you consider the R10 fits the smaller DLM housing, unlike the Z50, and has significantly better autofocus, it's the clear winner. Finally, Sony does have a good equivalent to the R10 in the Sony A6400, but with worse autofocus and lens options, the Canon R10 is again the clear winner.
Now we can talk price points and competition for hours, but at the end of the day, it comes down to results. We have been shooting with the Ikelite R10 system for the past month on our photoworkshop in La Paz, Mexico; shark diving in Jupiter, Florida; and the good ol' cold waters of the Pacific Northwest. So take a look at our review, enjoy the photos and videos, and be happy for the future of underwater photography. Things are looking promising....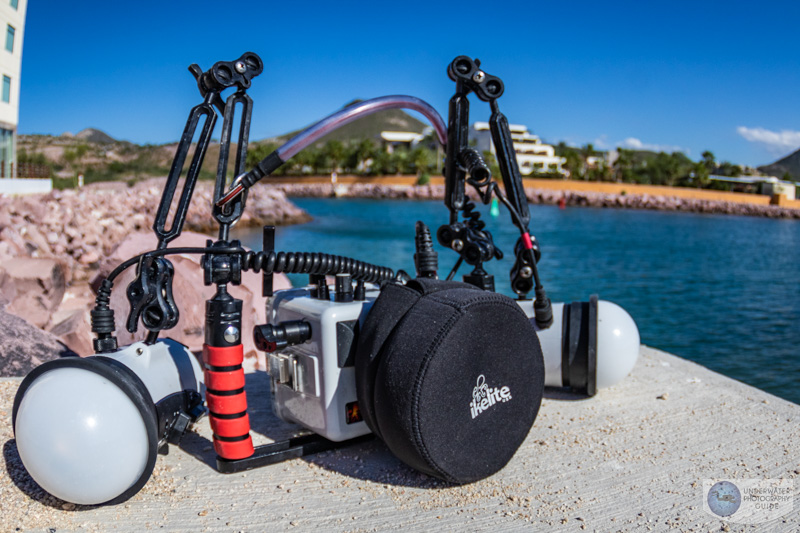 Canon R10 Specifications
24.2 megapixel CMOS sensor
Digic X image processor
RF lens mount, can support EF lenses with the EF-EOS R adapter
No in-body image stabilization
Dual pixel AF II with improved animal, vehicle, people AF tracking (both photo and video mode)
AF focusing down to -4 EV
2.36 million dot EVF (electronic viewfinder)
Built-in flash
15 fps burst shooting (23 fps with electronic shutter)
4k/60p video recording with a crop
4K/30p recording oversampled from 6k
Improved manual white balance
Canon Log not supported
Weight: 429 grams with the battery
Size: 122.5 x 86.8 x 83.4mm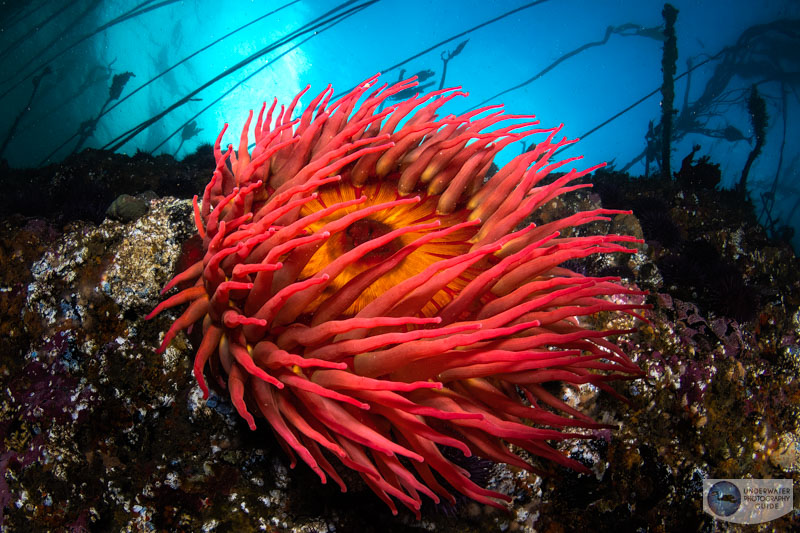 Canon R10 Key Features
Incredible, 24.2 Megapixel Image Quality
The 24.2 MP APS-C sensor on the Canon R10 is just incredible. It does a great job at capturing details from both the highlights and shadows of the image and in many respects almost feels like shooting a full frame sensor. The only time I can really tell I'm shooting an APS-C camera is at higher ISOs. While it handles noise quite well, above ISO 800 I do notice the noise. In many respects the grain of the noise is quite small and can be edited out easily in post.
Of course, as an APS-C camera you will notice the depth of field is a bit deeper than a full frame camera and at the same time shallower than a micro four thirds or compact camera. It's a nice middle ground for many shooters.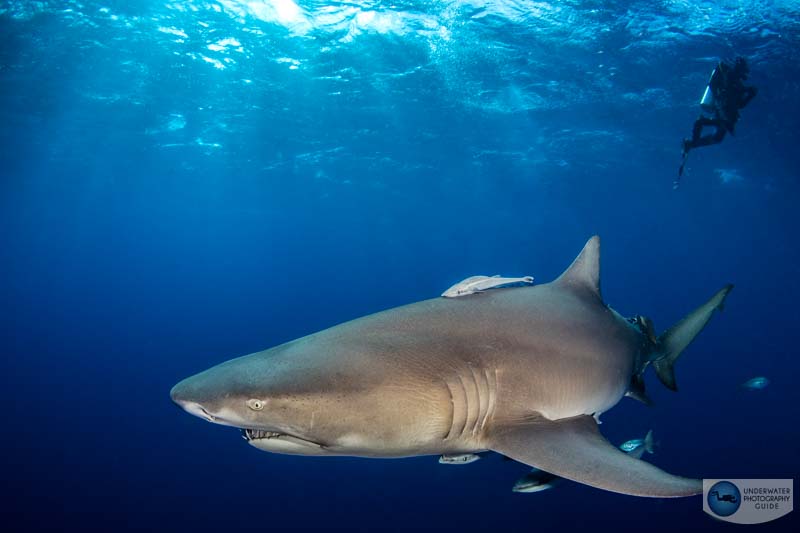 Quick and Accurate Autofocus - Complete with Animal Eye AF Tracking
In my underwater shooting, I was astonished to see that Canon had actually improved on the autofocus in the Canon R10 from previous mirrorless models, making it slightly more adept underwater than even the Canon R5. The R10 features dual pixel AF II with autofocus tracking that can lock onto any moving subject. Of course, this camera doesn't process quite as quickly as it's bigger brother, so the tracking is not quite as sticky. However, I noticed that it was able to find and acquire fish eyes and fish shapes better underwater than even the R5! We expect that this is due to improvements in the tracking algorithm that should debut in future full frame Canon models as well.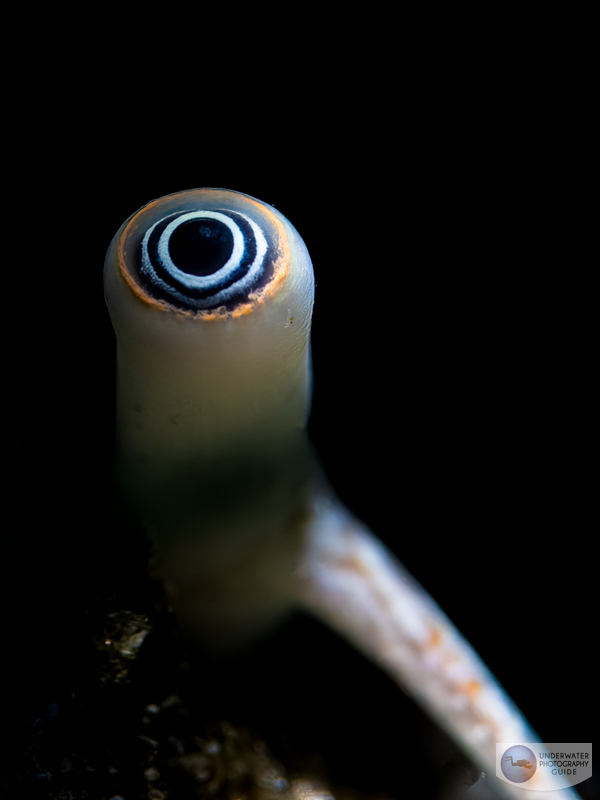 A Small Size and Solid Build Quality
After a month of shooting with the Canon R10, I've chosen to forgo taking my personal, full frame Nikon Z6 camera underwater until I have to give the R10 demo back. Why? It's just a lot smaller to travel with and easier to shoot. Both cameras are the same resolution and produce similar image quality. But between domes, camera size, lenses, and the housing - I save approximately 7 lbs leaving my full frame at home and taking the R10. As any diver or traveler knows - that's big difference.
The camera body itself is only 429 grams with the battery. It feels light and plastic-y and doesn't necessarily have that solid build that higher end cameras have. However, when you put the R10 in a housing, it's fairly indestructible as the housing takes the beating. The Ikelite housing itself is their smaller DLM style housing which is significantly smaller than their full-frame DL housings.
When it comes to ergonomics, the R10 feels like any classic Canon camera. It has a Q button to access your main settings, a d-pad to move your cursor around and two dial controls for aperture and shutter speed. ISO is a button control, but it's quick to change. Most importantly, the AF-on button is accessible in the housing via a lever for easy back button focus.
Finally, the Canon R10 is equipped with a 2.36 million dot EVF. While we wish the resolution and refresh rate was higher, it certainly does its job and it's nice to be able to see your images through the EVF. There is a magnified viewfinder available for the EVF, but if you are upgrading from a DSLR be aware that the autofocus from the viewfinder and LCD are one and the same. Therefore, you can shoot through the LCD underwater and get the same autofocus speeds.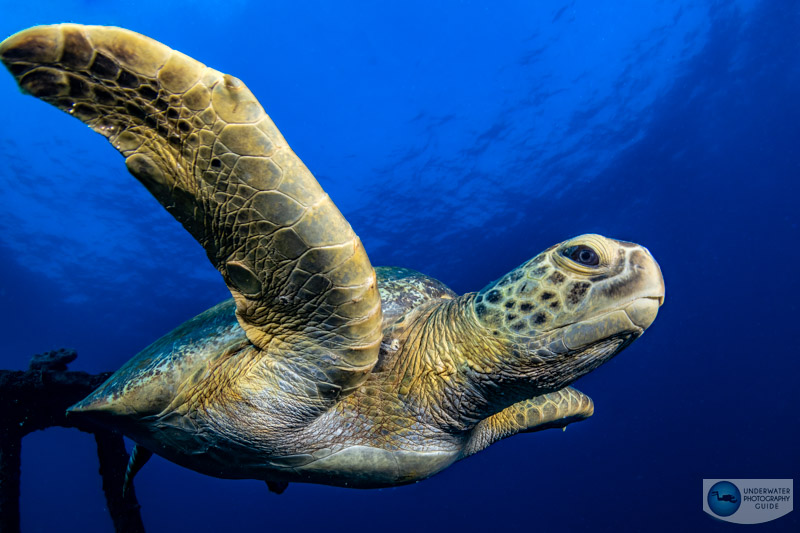 Battery Life
On paper, the Canon EOS R10 is 430 shots with the LCD. This is just plain wrong. It's much more. I was easily able to squeeze four dives out of this camera and still have half my battery life left. In fact, in my month of shooting, my camera never died over the course of the day so I don't know exactly how many dives it would take to die. My guess is about 7 or 8. Moreover, in the four dives that I would do in a day - I was easily shooting 500-600 shots. It's safe to say as long as you charge your camera every night (or potentially every other night), you can easily get through a day of shooting on one battery, no matter how many dives you do.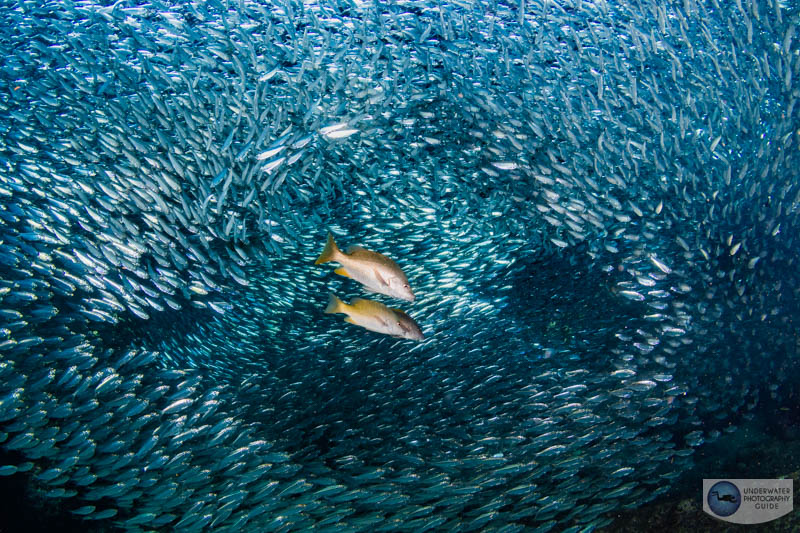 Beautiful 4K Underwater Video
Video shooters are going to be just as happy with the Canon R10 as photo shooters. While the camera doesn't offer Log profiles for post processing like the Sony A6400, it does have faster 4K frame rates. With the ability to shoot 4K/60p, underwater video shooters will be able to slow down their footage and stabilize it when shooting hand-held video in moving conditions. It's important to note that this mode does have a 64% crop. If you want to shoot uncropped video, you can shoot 4K video up to 30fps, oversampled from 6K. This gives your 4K footage additional sharpness and detail.
Overall I really enjoyed the standard picture profile that comes with the Canon R10 and thought the colors looked wonderful. Particularly when shooting manual white balance. I was surprised to see that Canon actually fixed a long time complaint among video shooters. You can set a manual white balance directly from the Q menu rather than having to take a photo first and digging through the main menu to assign it!
The Canon R10 for Underwater Photography
Although we only have great things to say about the Canon R10 for underwater photography, it's important to mention this is all from the standpoint of value. We're not trying to say that this is the best camera in the world. But it is certainly the best option for anyone who wants to get started taking underwater photos with interchangeable lenses - and capture results far better than what a compact camera can do.
After a month of shooting it's clear that this camera is just plain fun to shoot. I woke up every day excited to take it out and looking forward to less of weight in my hands during shore entries than my full frame camera I was leaving at home. The image and video quality is outsized for the price and I have absolutely no complaints about the autofocus. In fact, I have no complaints about the camera in general - and that just might be a first.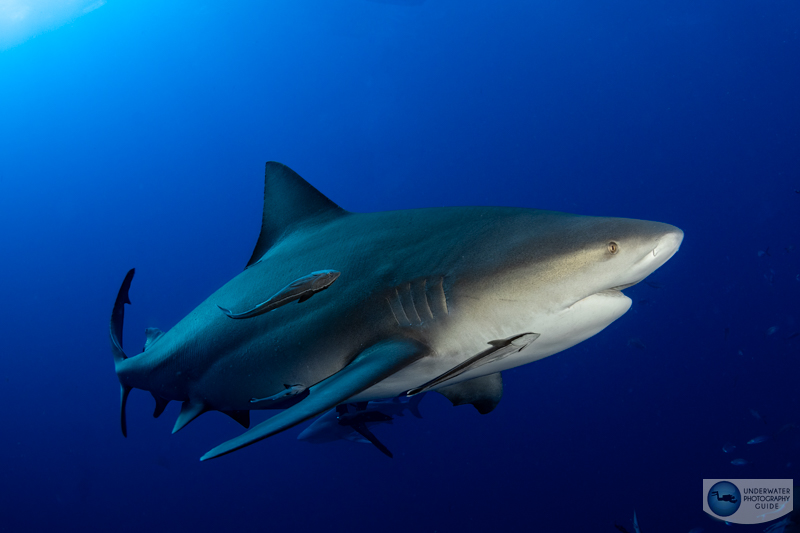 Canon EOS R10 vs Canon EOS R7
It's probably worth mentioning the Canon EOS R7 to those considering shooting the Canon EOS R7 vs the R10 for underwater photography. While we have plans to take the R7 underwater for a review, we have not yet gotten it into our hands. That being said, a look at the specs sheet indicates the R7 has more resolution at 32.5 megapixels vs 24.2 megapixels on the R10. While this sounds nice on paper, photo shooters may not need to go this route as higher resolution sensors add more noise at higher ISOs. With an APS-C sensor, we feel that 24 megapixels is the sweet spot when it comes to noise and image quality. If you are more of a macro shooter than the R7 could make more sense for you as you can crop in further.
When it comes to video, the R7 is a much more formidable camera - offering C-Log3 recording for better post processing and uncropped 4K/60p video oversampled from 7K. Again, a higher resolution will affect video quality at higher ISOs, but 4K/60p combined with in-body image-stabilization will alow video shooter to capture stable footage with the R7. Thankfully there is a Nauticam R7 housing currently available at Bluewater Photo and Ikelite has plans to make one as well.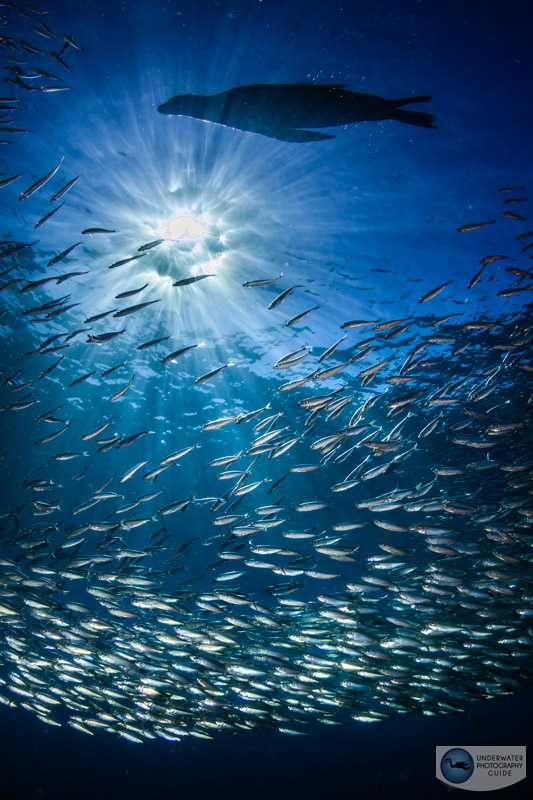 Canon R10 Underwater Housings
As we mentioned before, the Canon R10 only has an underwater housing from Ikelite. Currently, it does not appear that there are plans from other housing manufacturers to support it. The Ikelite housing features an excellent polycarbonate build quality with accessories options like a vacuum leak detection system, a TTL converter, and a magnified viewfinder. Every control is supported seamlessly, including back button autofocus with an easy-to-use lever. Throughout our dives, the Ikelite R10 housing held up in rough conditions with no issues whatsoever. Polycarbonate is rust resistant, so as long as you maintain and rinse your housing after dives, and do periodic maintenance/servicing, the housing will last you for years to come.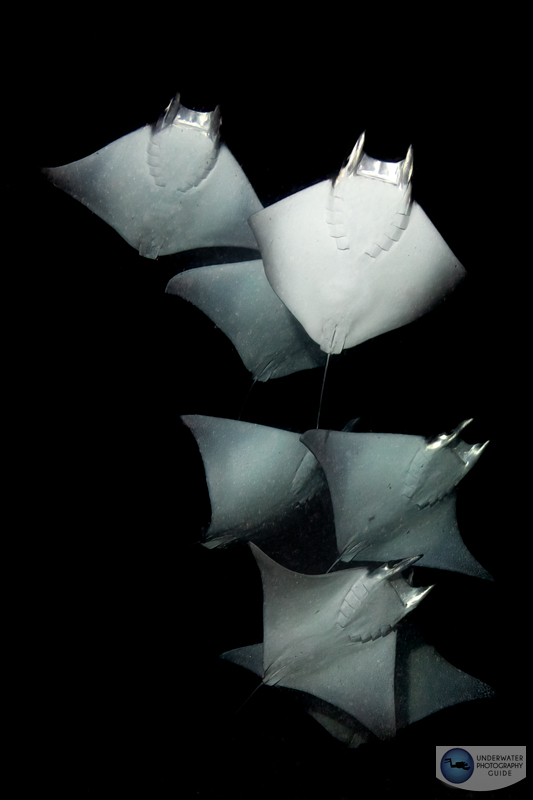 Top Canon R10 Underwater Lenses
The Canon R10 is the first Canon APS-C camera to feature the RF mirrorless lens mount. However, it also supports EF lenses with a Canon EF-EOS R adapter. The autofocus when using the adapter is just as seamlessly as shooting an EF lens without an adapter.
Wide Angle Lens Options
Our favorite wide angle lens for the Canon EOS R10 is the classic Tokina 10-17mm fisheye lens. This lens is tried and true among underwater photographers and allows you to get close to large subjects for better color and detail. The Tokina 10-17mm even fits in the same port that comes with the Ikelite Canon R10 bundle. You will need the EF-EOS R adapter to use the Tokina 10-17mm.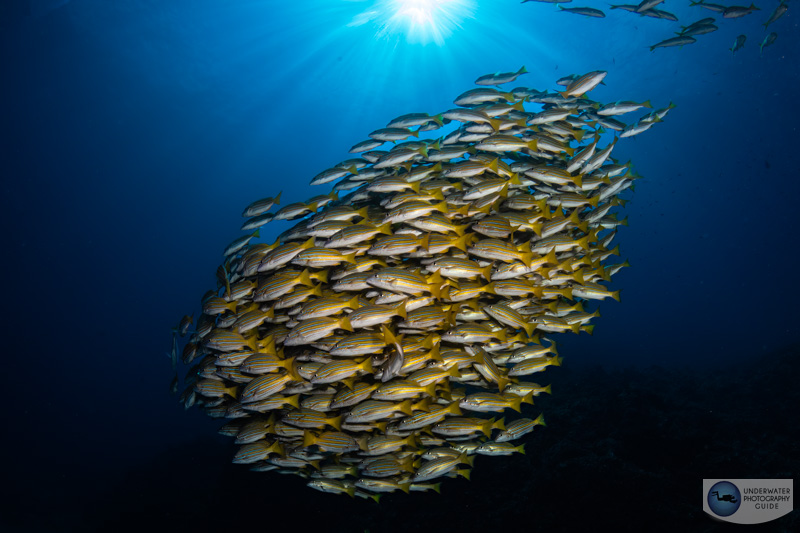 Mid-Range Kit Lens Option
The Ikelite Canon R10 bundle comes with the Canon RF-S 18-45mm f/4.5-6.3 IS STM kit lens. This lens is compact and a great all around lens for mid range photography and portraits. We think this is a nice starter lens, but you will get better results with a dedicated wide angle or macro lens.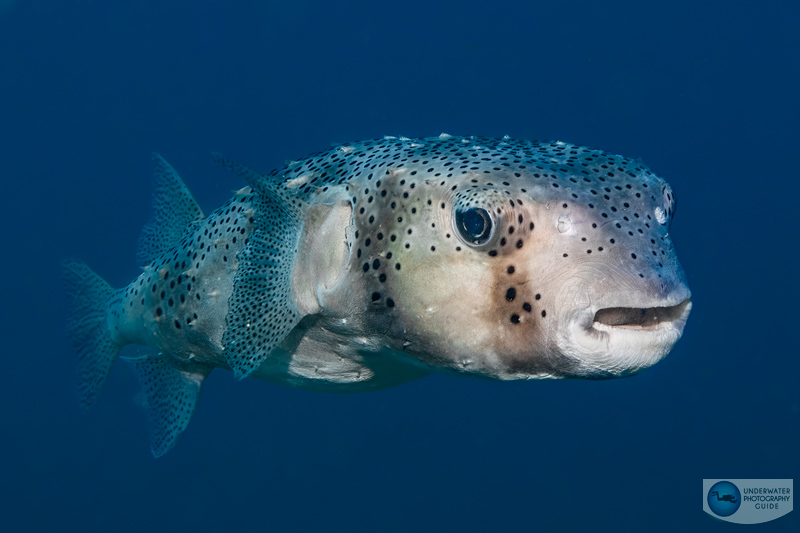 Macro Lens Options
There are three great macro lens options for the Canon EOS R10. The Canon EF-S 60mm f/2.8 macro lens is an excellent option when combined with the Canon EF-EOS R adapter. However, this lens is discontinued so you will have to buy it used if you do not already have it.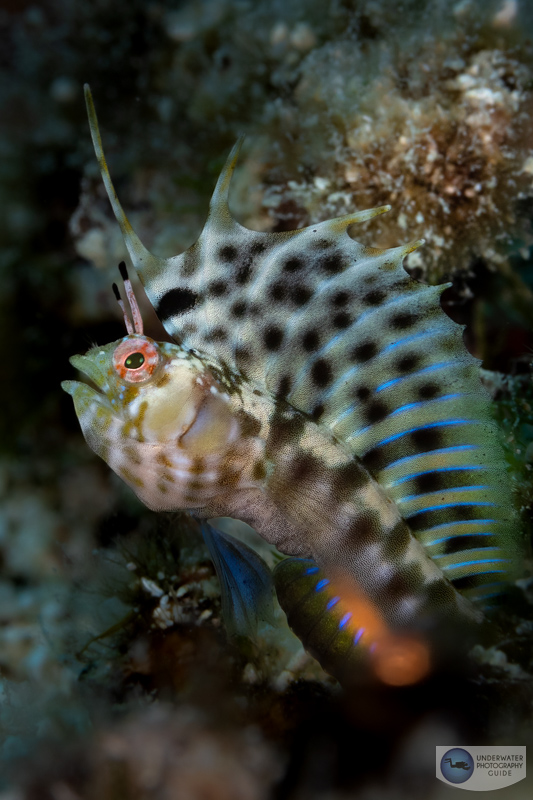 The Canon EF 100mm f/2.8 macro lens is another great option with the EF-EOS R adapter. We actually enjoyed using this lens better than the 60mm macro because it gave us more working distance with our subjects.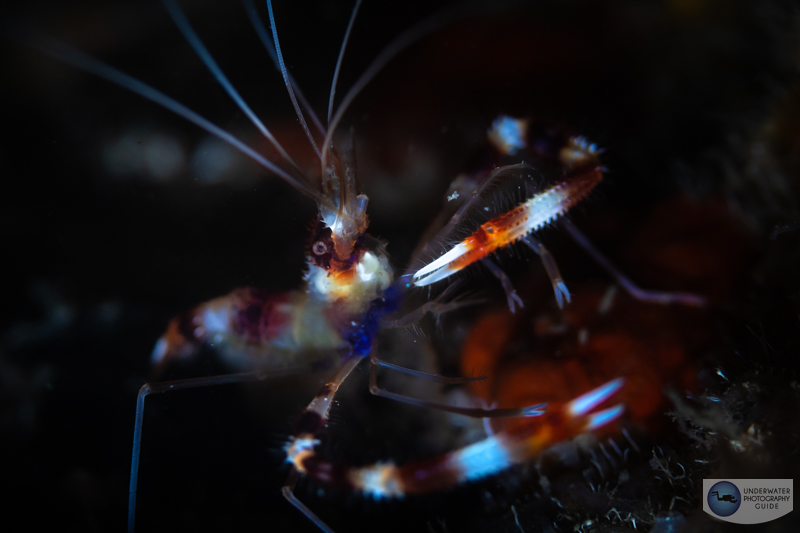 Finally the Canon RF 100mm f/2.8 macro lens is also compatible with the R10, and is considered by many to be the world's best macro lens. Although we didn't have the opportunity to take this lens underwater with the R10, you can read our full review here.
Conclusions
When I teach underwater photoworkshops, I always stress that it's not the camera that makes the photo. You can capture the same photo with any camera. There are just slight variations in the level of detail between cameras that you can see in the final result. In fact, this means it's better to spend your time thinking and investing in underwater lighting rather than a camera or housing.
This is why we are so excited about the Canon EOS R10. When someone new to underwater photography can purchase a camera with an incredible value that enhances the shooting experience, they can focus on what really matters - lighting and lenses.
The time has come when newer mirrorless camera technology - like animal eye autofocus tracking, 4K/60p video recording, and high burst shooting - is finally available to the masses. And we can't wait to see what the masses produce...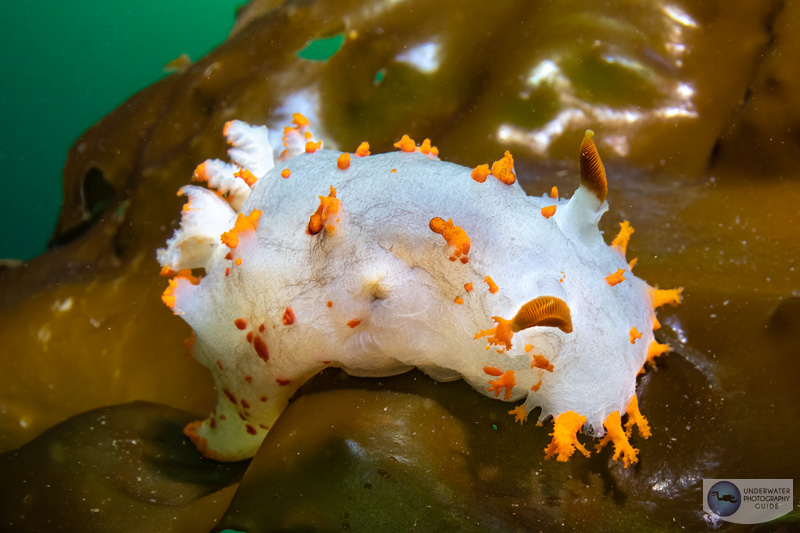 SUPPORT THE UNDERWATER PHOTOGRAPHY GUIDE:
The Best Service & Prices on u/w Photo Gear
Visit Bluewater Photo & Video for all your underwater photography and video gear. Click, or call the team at (310) 633-5052 for expert advice!
---
The Best Pricing, Service & Expert Advice to Book your Dive Trips
Bluewater Travel is your full-service scuba travel agency. Let our expert advisers plan and book your next dive vacation. Run by divers, for divers.
---