Coldwater Diving with the Paralenz
The Paralenz Dive Camera is compact, durable, and ergonomic - everything a coldwater diver needs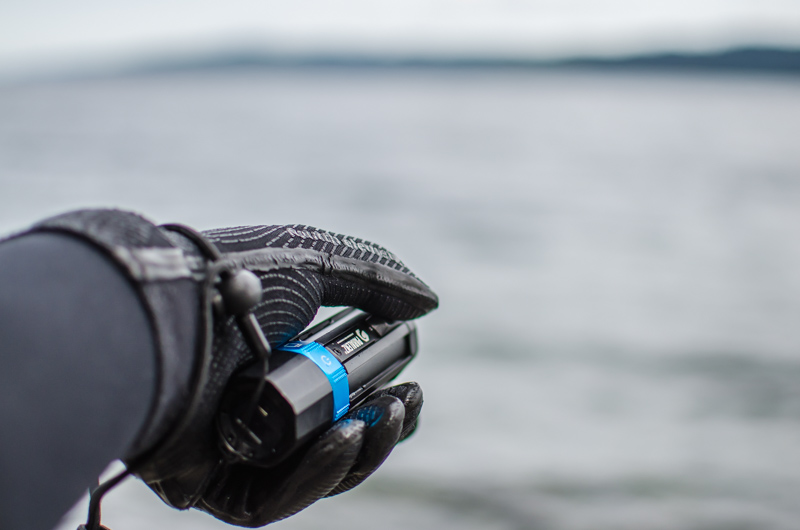 Photography and videography equipment is constantly being "adapted" for underwater usage. Rarely is a video camera made specifically for divers…. until now. The Paralenz Dive Camera is a relatively new action camera on the market. And as they like to say – it's built for divers, by divers.
Paralenz was initially developed by a small startup based in the Denmark which is situated on the cold waters of the North Sea and Baltic Sea. In the initial development stages of the camera, the company would have divers go out diving in local waters and bring back data for their color correction and auto exposure software. This translates to a powerful camera in cold water dives around the world. Here's why….
*Be sure to check out our full review of the Paralenz Dive Camera
The Paralenz Dive Camera is available now!
Depth Color Correction (DCC)
Paralenz is unlike any other camera by the fact that it can apply built-in, digital color filters based on the depth the camera records in real-time. These filters are optimized by data collected by cold-water divers in the development phase of the camera. The DCC makes it so that you don't need any filters or lights in order to get good colors at depth! And there's a setting specific to the green water most cold-water divers experience: DCC Green. Not to fear, if you dive the clear blue water off of Norway, Alaska, or Antarctica there's a just-as-functional DCC Blue. The auto white balance is the best setting for use with lights, as the white light tends to mess with the DCC. Fixed white balance is the best setting with a video light if you know the color temperature of your light.
One extra benefit I've noticed from diving in cold water with DCC Green, is that the visibility appears far better in the video footage than in reality!! This is because all the "gunk" in the water that is reflecting around green light turns white or clear in the video, yielding better visibility. I recommend moving in close to the subject for the best color results with DCC.
Temperature and Depth Recording
The Paralenz can actually record your temperature and depth throughout the whole dive and overlay it onto your video if you choose. You can finally brag to all your friends about how deep your were and how cold it was….with proof! As a coldwater diver, I secretly enjoy bragging about both of those things, so I like having the overlay on the video.
Ergonomics
This is where the Paralenz really shines – the Paralenz is the easiest camera I've ever used. I'm not just saying that. It's just like using a flashlight and there's nothing easier to use than a flashlight, especially with gloves. In fact, it was designed for use with gloves. The main dial ring is used to flip between settings (such as on/off, video, photo, custom, and general settings), and the switch at the top is used to record and stop recording. The camera vibrates with each function, so you don't have to look at the screen to know what your doing - especially because each function has a different vibration. The most useful trick that I found with the camera was to pull the trigger three times to switch between auto/fixed white balance and DCC; it helps when shooting with video lights. It's also useful to know when your camera turns on or off just by vibration and helps save battery.
Build
Coldwater divers experience some of the world's harshest ocean conditions. The Paralenz is built for that as well. The camera itself is rated down to 250m or 820ft. This is far beyond the limits of even the most technical divers. I'm personally tempted to tie a line and light to the camera and capture deepwater video footage, but I haven't had the chance. The range of the Paralenz gives it the potential to be used in applications beyond scuba diving.
It is also made of military grade aluminum. I've dived coldwater sites with very swift currents and had no problems taking the camera with me – even if it bumped around against rocks on entry and exit. It feels sturdier than many underwater flashlights I've taken underwater. The Paralenz is also a very small camera. Sometimes, I strap it to my BCD and forget it's even there. It's about the size of a focus light or back up light.
Lowlight Performance
If there's something coldwater divers need, it's a camera that can capture video in low light. With such as small camera and sensor, I was skeptical at first. But I was pleasantly surprised. It had no problems taking even third person video perspective of me on night dives (granted – I had a flashlight). Overall, I think the low light performance of the video camera is excellent, but the photos could be improved in low light conditions.
Rectilinear Wide Lens
The rectilinear wide lens is probably the best choice for casual divers, but it can have its limitations. For one thing, because it's a wide lens, it is a little more difficult to get good macro video than if you had a diopter on top. This can be remedied by taking close video at high resolution and cropping in post-production. That being said, the wide lens helps you get a lot closer to subjects, bringing out amazing colors and details in the footage. At 140 degrees, it captures a lot of what is in front of you. Many underwater photographers and videographers use fisheye lens as the fisheye effect is reduced underwater. The lens on the Paralenz is rectilinear and not fisheye. This means there is not fisheye effect at all, despite the lens being wide.
Paralenz Accessories
I found that several Paralenz's accessories were very useful for coldwater divers and photographers.
As an underwater photographer I found the ball mount to be one of my favorite mounts of Paralenz's versatile mounting system. I could attach it to the cold shoe on my primary underwater camera system housing and take excellent videos while taking photographs. It was like having a video camera instead of a focus light, which I found very useful. I noticed the water does corrode overtime if you don't take good care of it, but it's easy to replace it for a few cents at a hardware store when the time comes.
The Paralenz Ball Mount is available now!
Although I'm not a personal fans of selfie sticks, I think Paralenz is going to revolutionize underwater video with theirs. It's not just a selfie stick. You can attach floats to the Paralenz camera and then attach the camera to the stick. The floats keep the camera up in the water column, enabling it to tail behind you and capture video from a third person view! It's almost like having an underwater drone follow you around capturing video without the cost. The video from the 3rd person viewer stick was surprisingly stable due to the floats and could be brought out fairly far behind the diver. I should mention that a little color is lost from the video when you put a greater distance between the camera and the subject (i.e., diver). The selfie stick works as a selfie stick, of course, and it's fun to play around with underwater. Personally, I liked the 3rd person video better as it feels like you're watching from a fish's perspective.
A word of caution....try not to switch mount with the Paralenz when it has floats attached while underwater. It can float away pretty quick!
The Paralenz Selfie Stick/3rd Person Viewer is available now!
Although video lights are pretty standard for most videographers, I'm not sure if I would recommend video lights with the Paralenz for diving in cold water. This is because I think a huge benefit of using the Paralenz is the compact size. The DCC works very well at the same range you would need for a light, but the colors won't be the same as a video light. Grayer and whiter tones are bluer with DCC whereas, they are more defined with a video light. But video lights introduce more contrast and warmer tints to the image. So overall, I think shooting with video lights vs DCC is just two different style of video. If you're a photographer that already has all the equipment – use your lights when you want that style. If you're new to underwater videography, I would try the DCC first and then decide if underwater video lights are right for you.
Conclusion
As soon as I had the camera in my hands, I could tell the Paralenz was made for coldwater divers. There was never a moment where the conditions, my attire, or my equipment caused any difficulties for using the Paralenz. In fact, most dives with the camera consisted of me choosing the best mount, turning it on, and forgetting about it for the rest of the dive until I got back to review the footage. Durable, easy to use, and as small as can be – everything I look for as a coldwater diver. While conditions can get in the way of a good dive – this camera will not.
SUPPORT THE UNDERWATER PHOTOGRAPHY GUIDE:
The Best Service & Prices on u/w Photo Gear
Visit Bluewater Photo & Video for all your underwater photography and video gear. Click, or call the team at (310) 633-5052 for expert advice!
---
The Best Pricing, Service & Expert Advice to Book your Dive Trips
Bluewater Travel is your full-service scuba travel agency. Let our expert advisers plan and book your next dive vacation. Run by divers, for divers.
---