External Underwater Video Monitors & Recorders
These are the hidden benefits of using an external monitor/recorder for underwater video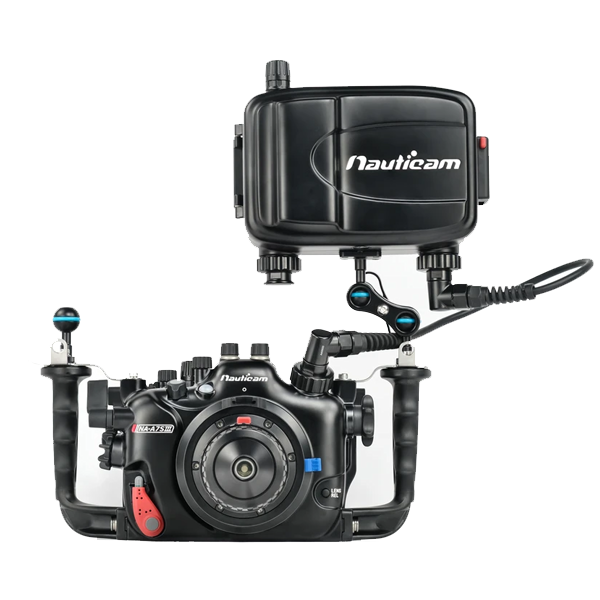 As underwater videography becomes more accessible, some of the tools that have previously only been used by professionals are becoming more mainstream. External recorders and monitors are essential tools for any underwater video shooter who wants to take full advantage of the data that their camera is collecting. There are many hidden benefits to using recorders & monitors that may not be initially apparent and have the potential to drastically improve the quality of your video. In this article we will go over these benefits and what they mean for you as an underwater video shooter in hopes that you will be able to make an educated decision about whether one of these devices is right for your workflow.
---
Jump to a Section
External Monitors | External Recorders
---
What is an Underwater External Monitor?
An underwater external monitor is a tool that you can use to help visualize your video as you shoot it. While they aren't as useful as an external recorder they tend to be less expensive and are a preferred alternative to using an magnified viewfinder to visualize what you are recording. External Monitors generally consist of a large screen (usually around 5-6 inches), a battery compartment, and a connection to your housing through an underwater HDMI or SDI cable connected to a bulkhead in the housing. External monitors can be mounted to your system or they can be cabled to the surface in rare situations.
Benefits of an External Monitor
External Monitors help you....
1. Visualize Zebra Lines
Zebra lines are white and black stripes that are overlaid onto your video and indicate where your video may be overexposed to the point of losing data. They will not show up in the footage out of the camera, but zebra lines on your video monitor tell you when you can adjust your exposure.
2. Level Your Horizon
External monitors have built in grids and horizon levelers that help you make sure your video is straight.
3. Check Your Focus and Depth of Field
Some external monitors allow you to zoom into your frame (without changing the recorded frame) to visualize focus and depth of field. It's essential that your subject is in focus, so this is a must-have tool for underwater video shooters - especially because it's often hard to tell focus with macro lenses and by looking at a screen behind an underwater housing window.
4. Frame Your Shot and Aspect Ratios
External monitors can sometimes allow you to visualize your scene with different aspect ratios. This can help you visualize your shot and choose the right ratio in your camera.
5. Apply and Visualize LUTs
LUT stands for look up table. These days, a LUT is an algorithm applied to your RGB data that shows you the final color grade as you would see it after post processing. This can be useful when you are shooting Log profiles or RAW video and want to visualize how your scene might look underwater after it's processed in post processing. LUTs can be used in post processing to provide you with a good starting point. However, they are useful on an external monitor because if you don't apply a LUT, Log footage tends to look washed out. Without a LUT it is difficult to know what your scene will actually be like.
6. Access "Scopes" - Color Analysis Tools
Some monitors offer color visualization tools that are usually only available on video editing softwares. These scopes can include waveforms, vectorscopes, and false color.
---
Our Favorite External Monitor
Our favorite external monitor is the Anglerfish Monitor sold at Bluewater Photo. The Anglerfish monitor is very affordable and designed specifically for underwater video:
Click here to learn more about the Anglerfish Monitor
---
What is an Underwater External Recorder?
An underwater external recorder is much more exciting and capable than an external monitor. In fact, an external recorder is a monitor that has been designed specifically to record large amounts of data and "unlock" features on your video camera that are not accessible via internal recording. This is because the built-in codecs in most video cameras cannot handle internal recording at high bit rates. The ability to record more uncompressed data means you can do a lot more in post processing. Many modern hybrid mirrorless cameras can only record RAW files and some Log picture profiles with an external monitor. This means that if you need the best system for the most flexible colorgrading in post processing, you need an external monitor. It's usually worth it.
If you'd like to find out how your personal camera may benefit from an external monitor, feel free to contact the friendly sales staff at Bluewater Photo by clicking here.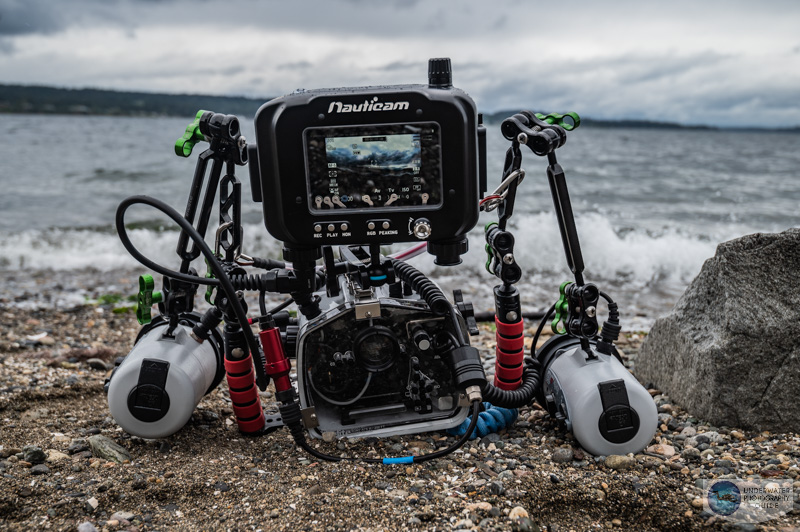 Benefits of an External Recorder
External recorders can do everything an external monitor can do (see above). Additionally, external recorders help you....
1. Record in RAW
Most non-cinema cameras cannot record in RAW. However, many hybrid mirrorless cameras are compatible with external recorders, like the Atomos Ninja V, that will record RAW video. This gives you the ultimate capability to recover any data lost in your highlights and shadows as well as adjust your white balance and color grade more effectively. Some external recorders have compatibility with common RAW formats like Apple's ProRes RAW and Blackmagic RAW.
2. Record in at Higher Bit Rates and Bit Depth (with more accurate color sub sampling).
Some cameras, like the Sony A7S III and Nikon Z6 II, record at lower bit depths and bit rates internally than they can with an external recorder. For example, the Sony A7S III can record 10-bit 4:2:2 footage internally, but 16-bit RAW to the Atomos Ninja V. The Nikon Z6II actually benefits from better color sub sampling with it's internal recording limit of 8-bit 4:2:0 being upgraded to 10-bit 4:2:2 with an external monitor.
3. Unlock New Picture Profiles
Some cameras, like the Nikon Z6II and Z7II do not offer Log picture profiles that can be used for color grading. These cameras sometimes have compatibility with external monitors that offer additional log profiles like N-Log.
---
Our Favorite External Recorder
Our favorite external recorder is the Atomos Ninja V sold at Bluewater Photo. The Atomos Ninja V will need to be used with the Nauticam Ninja V housing:
Click here to learn more about the Atomos Ninja V Recorder
Click here to learn more about the Nauticam Atomos Ninja V Housing
---
SUPPORT THE UNDERWATER PHOTOGRAPHY GUIDE:
The Best Service & Prices on u/w Photo Gear
Visit Bluewater Photo & Video for all your underwater photography and video gear. Click, or call the team at (310) 633-5052 for expert advice!
---
The Best Pricing, Service & Expert Advice to Book your Dive Trips
Bluewater Travel is your full-service scuba travel agency. Let our expert advisers plan and book your next dive vacation. Run by divers, for divers.
---