Full Frame vs Cropped Sensors
The Advantages and Drawbacks of Full Frame vs Cropped Sensors
Full Frame versus Cropped Sensors
Full Frame Sensors
Cameras with full frame sensors (also known as FX (Nikon), FF, 35mm, or 1.0x crop) are more suited to wide angle, and available light work. A full frame sensor measures 36 x 24 mm while an APS-C sensor measures 22 x 15mm, so the full frame sensor is effectively 2.6 times larger. Owing to their larger size, they have more dynamic range than an APS-C sensor. They also produce better quality images in low light conditions (high ISO performance). They create larger file sizes in camera, and thus more image detail than their smaller counterparts. Something to be considered if you want to make large prints. Photographers who regularly go after large pelagic subjects like whales, sharks, or dolphins will enjoy the benefits of a larger sensor. Full frame cameras offer the best viewfinders due to a larger mirror. The trade off for using an full frame sensor is that they do need to be stopped down to get the equivalent depth of field that an APS-C sensor offers. Flaws in poor lenses, dome ports, and poor technique may be glaringly obvious when shooting with an FF system as the files they create contain much more detail. Cameras used by full frame shooters underwater include the Canon EOS 1DX MKIII, Canon 5DS, and the Nikon D850.
1.5x Cropped Sensors
APS-C (or 1.5x cropped sensor, 1.6x for Canon) are popular with underwater photographers. Cameras with APS-C sensors offer a narrower field of view and have increased depth of field (greater in-focus area) than full frame cameras. You will often hear photographers say that they are more forgiving than a full frame camera. The increased depth of field (1.6 x more than full frame) makes these cameras popular with macro photographers. APS-C sensors also work well with small dome ports. Wide angle lenses like the Tokina 10-17mm fisheye are commonly used by underwater shooters, and are specifically designed to work with the APS-C sensor, as is the Nikon 10.5mm fisheye. Two examples of cameras with APS-C sensors are the Canon 7D MKII, and the Nikon D500. They both offer the photographer a variety of lenses to choose from, and are generally cheaper and smaller than their full frame siblings.
Micro Four Thirds Sensors
Micro Four Thirds are even smaller and have a crop factor of 2x when compared with a full frame sensor, and they measure 17mm x 13mm. Imagine the view of a full frame sensor and then zooming in 2 times, that's the view a micro-four-thirds crop sensor will give you. If you look at the diagram, you'll see the difference.
Sensor comparison detail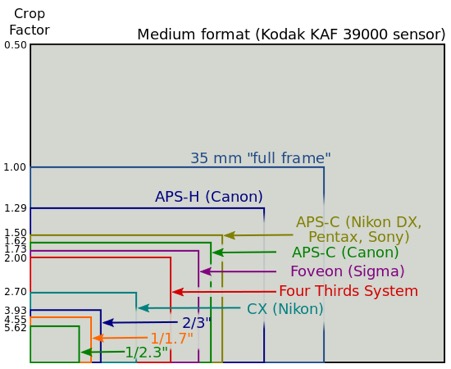 To help you visualize in real terms what that means see the image below with sensor comparisons overlaid.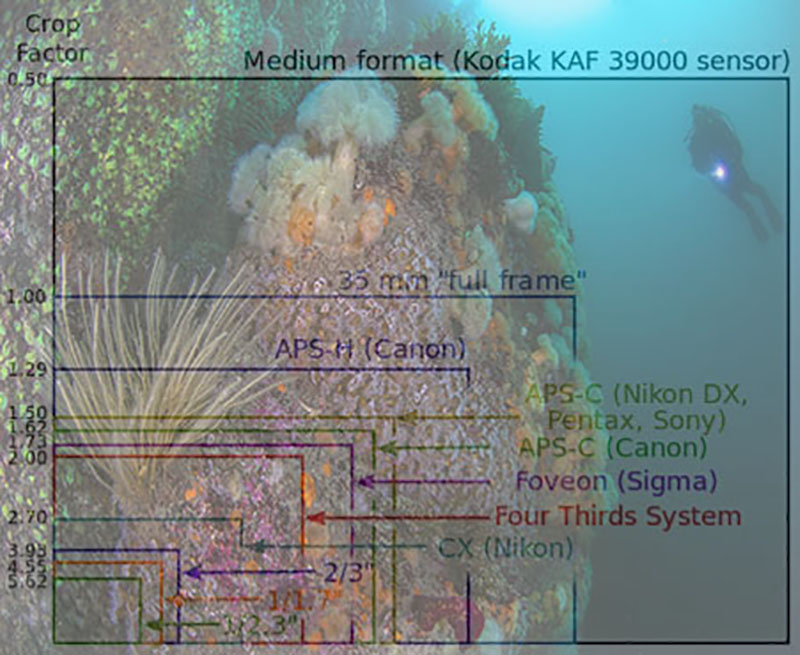 The focal length of any lens is based on the standard 35mm film format. The reason it is called full frame is you are seeing 100% of the image. When you use a crop-sensor camera, you are effectively zooming in (cropping) on the full frame. So if you were using a micro-four-thirds sensor and shooting with a 20mm wide-angle lens you would get an image as if it was taken with a 40mm lens on full frame, a crop factor of two.
Additional benefits of using cameras with smaller sensors generally suggests a smaller, lighter camera body and housing, which translates to less weight for travel, and an easier rig to manage in and out of the water. Using systems like these may help you unlock angles not possible with bigger housings, consequently better access to subjects underwater. The disadvantage is you are getting less information in your final image, and less dynamic range, so more noise. Popular cameras that use micro-four-thirds sensors are the Olympus OM-D EM5 Mark III, and the Panasonic GH5.
Compact Sensors
Compact cameras have even smaller sensors. High end models generally incorporate the one-inch camera sensor which measures about 13.2 by 8.8 mm, with a 2.7x crop from full frame. Deciding on whether a compact camera is for you depends on what you want to do with your images, and how much flexibility you want as a photographer. In the right hands a compact camera can deliver some pretty impressive results. The advantages of smaller systems still apply with compacts. But the trade offs are you are stuck with one lens. There are wet lenses available which help to bridge that gap. Disadvantages of compact cameras are reduced battery life, shutter lag (slow auto-focus), and they often employ lower quality optics than their bigger cousins. They are evolving though and some of the recent smart phones have some pretty impressive advancements. Well-liked compacts include Canon GX-7 Mark III, Olympus TG-6, and the Sony RX100 VII.
In summary
Full Frame Sensor Pros
Less noise in high ISO (limited use underwater, except in dark conditions shooting ambient light)
Some cameras have higher resolution suitable for large prints.
Superior optics mean better image quality with increased dynamic range, which equates to better contrast, and make images 'pop'
Better viewfinders owing to larger mirrors are easier to seen the whole scene.
High resolution for the best detail
Full Frame Sensor Cons
Housings are generally more pricey
Technique, and lenses all must be first-rate to take advantage of any increase in resolution
More difficult to get good corner sharpness with rectilinear wide-angle lenses
Crop Sensor Advantages
Generally considered better for macro, especially for super-macro
Approximately 60% more depth of field than a full-frame sensor, given an equivalent field of view
For most people, cropped sensors produce adequate image quality
Crop sensor disadvantages
Reduced image quality
Less dynamic range
Compact underwater camera benefits:
Smaller size makes travel easier.
Simpler to manoeuvre underwater.
Capability to change wet lenses underwater giving you the ability to go from wide angle to macro during a single dive
Way cheaper (be careful here, when you start adding wet lenses, adapters, etc. the cost can escalate)
Easier to get in and out of the water with, particularly if you are diving from shore.
Compact underwater camera drawbacks:
Smaller sensor (more noise, less detail, smaller dynamic range, etc.), although the Sony RX100 series offers a larger sensor
Shutter delay and focus delay is slow compared to a dSLR - this is the most common complaint
Lower quality optics
Less battery life
Can be noisy at high ISO owing to less dynamic range.
Less control over depth of field. A dSLR will have a smaller depth of field at a large aperture, giving a blurred background. This is challenging to achieve using a compact.
There is no right or wrong choice here, ultimately it depends on what you're trying to achieve. Cameras with 1.5x cropped sensors will deliver results that are acceptable for most photographers, while professionals will often be found using a full frame system. Micro 4/3 and compact camera might be more suitable for the budget conscious, and beginners, or folks who prefer to work with smaller systems. It might help to consider the type of photography you do normally, what you do with your images, and what your budget is. This will help you make a decision on what works best for your style of photography. In a perfect world I would own more than one system and exploit the advantages of each depending on what subject I'm working with.
SUPPORT THE UNDERWATER PHOTOGRAPHY GUIDE:
The Best Service & Prices on u/w Photo Gear
Visit Bluewater Photo & Video for all your underwater photography and video gear. Click, or call the team at (310) 633-5052 for expert advice!
---
The Best Pricing, Service & Expert Advice to Book your Dive Trips
Bluewater Travel is your full-service scuba travel agency. Let our expert advisers plan and book your next dive vacation. Run by divers, for divers.
---