Insta360 One R Underwater Review
The Insta360 One R action camera introduces a modular design for multifaceted fields of view with 5.3K video, 360 video, FlowState Stabilization, Hyperlapse, and a wide range of accessories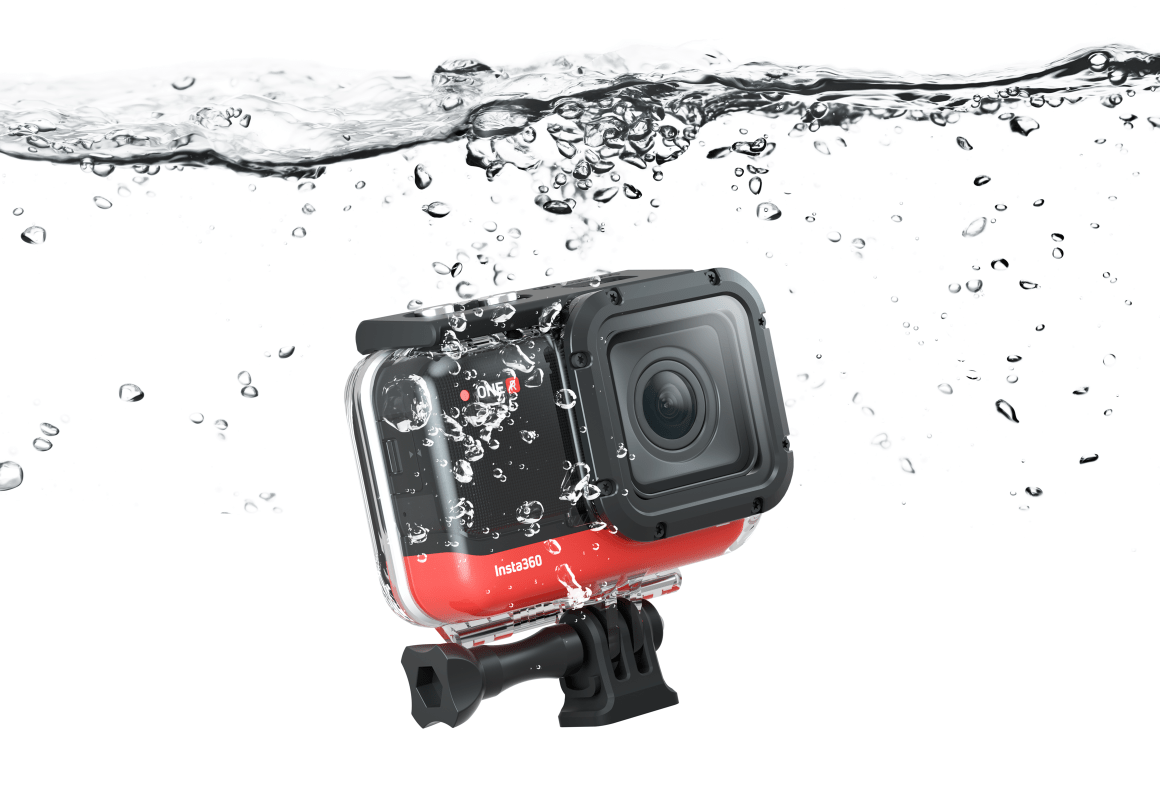 The Insta360 One R is a jack-of-all-trades, swiss army knife of action cameras. It has so many different features, it's hard to keep up with them all. The camera has a modular design that allows users to rebuild the system so that it's equipped for anything from 360 video to wide angle 4K video to 5.3K video with a one inch sensor and more. For divers, we think the top two mods are the One Inch Wide Angle mod and the 360 mod. The one inch mod has a one inch sensor which is much larger than competitor action cameras like the GoPro Hero9. It has an ultra wide field of view and is our top recommendation for anyone who wants to shoot a standard action camera underwater. The 360 mod is our favorite mod. It allows you to take 360 degree video which can be stitched or edited for creative effect. Videos can also be posted on most platforms so that you can scroll around the video as it's being played, creating the effect of swimming through a reef. We took the Insta360 diving in the Sea of Cortez and the Pacific Northwest and were quick happy with the results. We think the One R is a great option if you want both a normal action camera and 360 camera in one package for a good price point.
U.S. MSPR: $467 for One Inch Mod and Camera*
Accessories for the Insta360 One R and additional mods need to be purchased by choosing your own package. The full kit that we tested comes out to be $878 which includes the one inch mod, camera, 360 mod, dive housing, 360 dive housing, selfie stick, battery base for the 360 mod, and a micro SD card.
---
Help support our content and shop at Bluewater Photo for all the housing, accessory and shooting tips you need to bring home excellent underwater video.
Email sales@bluewaterphotostore.com if you have any questions about the gear!
---
Insta360 One R Specifications
One-inch sensor (larger than competitor action camera sensors)
5.3K @ 30 frames per second video - with wide mod
4K video @ 60 frames per second
360 degree 5.7K video with 360 mod
19 megapixel photos
FlowState Stabilization for steady video
Hyperlaspe mode that slows and speeds up video
Insta360 Studio and App available for free
Underwater color correction in app
Waterproof to 5M (16 ft)
Wide Angle Mod Dive Case Rated to 60m (200ft)
360 Mod Dive Case Rated to 30m (100 ft)
HDR Photo Mode
Reversible Touch Screen
Voice Control
Mounting Bracket Included
Battery Base Included
65 minute recording time with One Inch Mod
USB-C Charging
Recording Format: Micro SD Card UHS-I V30 class speed
Weight (with one inch mod): 158.2g
Insta360 One R Features
One Inch Wide Angle Underwater Video
The One Inch Wide Angle Mod fits in the standard dive housing and is our top recommendation if you want to capture normal underwater photos and video. It can take 5.3K video @ 30fps and 4K video @ 60 fps. We recommend shooting most underwater video at 60 frames per second as it will make it easier to slow down and stabilize in post processing. The added 5.3K resolution won't make a noticeable difference to your video quality unless you can have a screen that accommodates it. The one inch mod has a very high quality ultra wide lens designed by Leica (so it must be good!). The field of view is equivalent to a 16mm full frame lens. You can adjust the field of view on your footage in post processing or in the camera when you take the video. The dive case for the one inch mod is rated to 200 ft in depth, which is plenty for most divers.
When compared to other action cameras, on paper the one inch sensor on the One R should be able to record better low light video with better dynamic range. It also allows Insta360 to add more pixels to the sensor to produce a 5.3K resolution. I feel more comfortable shooting 5K on the one inch mod than I would on the GoPro Hero9 because of the Hero9's small sensor. But when it comes to image quality on the one inch mod, we found that it really excels in bright situations but can still end up being noisy in low light and struggle with dynamic range. This is because a one inch sensor still might be ambitious for 5K video. But it's better than the half inch sensor on other action cameras. If you look at the video below, much of the footage taken with the one inch mod is taken at deep depths of 70-80 feet in a shipwreck to really test the camera at its limits.
360 Underwater Video
The 360 mod on the Insta360 One R is by far our favorite feature of this camera, and we recommend it for any underwater creatives who want to try something new. This mod is designed to have two 180 degree cameras. The video from both cameras is stiched together in the camera to produce 360 degree video. The video can be displayed in multiple different ways. The first way is to upload the video to a platform like youtube, facebook, vimeo, etc, where you can scroll and pan through the video as it plays. This gives you the feeling of truly being underwater and you can see what's happening in every directions. It's similar to watching VR video, and in many cases this is what VR is. Using the Insta360 app or desktop studio, you can also make edits to the video to display different fields of view like a globe effect, tunnel effect, fisheye effect, and much more. It's very simple to make edits, and you don't have to be as over-the-top as we were. We just put a lot of edits in there to show our viewers the full spectrum of possibility.
The image quality from the 360 video is surprisingly good and it does a great job of capturing details. We do still recommend to use this mod when there is a lot of light available for the most detail. The 360 mod needs to be housed in a separate housing that is rated to 100 ft - so be careful not to go below that depth. We think the best results are on shallow reefs or kelp forest for the most dramatic video
19 MP Photos & HDR
With the one inch mod, the Insta360 One R can capture 19 megapixel photos both underwater and above water. Overall the photos are good, but we think this camera is a more video oriented camera than photo oriented camera. When taking photos underwater, we recommend using an external video light to get more colors out of your images like we did at this coral reef in the Sea of Cortez. When you are taking images underwater, keep in mind that this is not a macro camera. You are limited by the focusing distance, and we recommend being at least a foot away from the subject.
The HDR mode on the Insta360 One R is particularly impressive, as you can see in the photo of a sunset below. HDR is able to bring out details from the shadows and highlights of the image, but you do have to stay very still. That's why we recommend it more for topside users, but if you are able to stay still underwater, you may get great results.
The 360 mod can also take photos. In the housing, you can see some of the attachment points, so photos are better outside the housing. That being said, it does create a pretty neat panoramic effect.
FlowState Stabilization
The Insta360 One R offers a wide range of features. One of the ones that we were most impressed with was it's FlowState Stabilization. FlowState stabilization is digital stabilization that can be added in the Insta360 app or desktop studio and it does miracles to your footage. Underwater footage is often shaky because it is captured in 3D environments. FlowState stabilization allows you to smooth out and stabilize video to where most handheld underwater video is watchable and the shakiness is not noticeable. It's definitely on par with competing action cameras like the GoPro. The only downside is that you do need to put your video through the app or studio to activate it, but it's a short and small step.
App, Desktop Studio, and Underwater Color Correction
The Insta360 platform is really built around its app. Most phones are compatible with the app, but not all, so make sure that yours is. The app allows you to do some wonderful edits with your video and it makes it easy. This is especially important for visualizing 360 video. But if your phone isn't compatible, don't worry! The desktop Insta360 studio is quite functional. This is what we used to edit our videos, add stabilization, and color correction.
We should note that you will need to have a compatible phone with the downloaded app to unlock the camera, but if you know somone with a smartphone that is compatible, you can unlock your camera with their phone.
Underwater color correction is an important feature for underwater videographers that is built into the app and desktop studio. It does an ok, job but it could be improved. We recommend using it with video taken at shallow depths. You can see some examples of underwater color correction below. We think it would be great if Insta360 could design some color filters to help boost it's underwater color capture.
Build, Ergonomics, and Controls
Like other action cameras, the Insta360 One R has a solid build. It's pretty indestructible. We've accidentally dropped it on hard floors from 6ft heights and had no damage to the camera. In the dive housing, the camera can withstand a pounding. After taking the camera boogie boarding in heavy surf and tough diving conditions, there are a couple of surface scratches on the back of the housing, but the port is heavy duty and has no scratches.
When it comes to ergonomics and controls, the camera is very simple - two buttons and a reversible touchscreen. It's very intuitive to use. You can use the buttons to scroll through camera modes underwater and capture footage. ONE VERY IMPORTANT TIP - When you're diving with the camera, make sure you lock the touch screen before getting in the water or else you won't be able to scroll through camera modes. The reversible screen is great for selfies, but you can't use the camera in selfie mode in the dive housing. The screen is a little small, but functional, high resolution, and very useful.
(Invisible) Selfie Stick
If you're a diver or surfer, we highly recommend the invisible selfie stick! It's invisible to the camera, so when you shoot selfie video, you won't see an annoying stick in the footage. It's also great for getting the camera closer to underwater subjects and not scaring them away. We also used the selfie stick to take stable underwater video. It's a must have accessory for the 360 dive housing, as this housing is a little awkward to hold and buoyant without it.
(New) Insta360 One RS 1-inch 360 Edition
The Insta360 ONE RS 1-Inch 360 Edition Camera partnered with Leica to incorporate its legendary optics to ensure state-of-the-art image and video quality and outstanding dynamic range which is all thanks to its dual 1-inch sensors. The breathtaking 6K 360 capture, 21MP HDR 360 photos, FlowState Stabilization to assure stabilized video, IPX3 Water Resistant, 360 horizon lock, and a strong 1350mAh battery are just a few of the key features.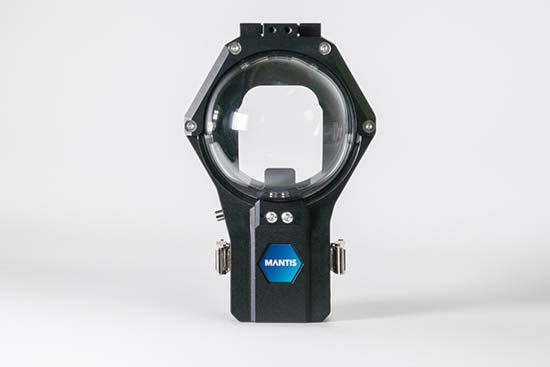 Mantis Sub RS 360 Underwater Housing for Insta 360 One RS
The Mantis RS360 underwater housing is an impressive accessory that allows divers and videographers to take their Insta360 One R 1-inch 360 Edition camera to new depths. This underwater housing is designed and engineered by Mantis Sub, a renowned manufacturer of high-quality diving gear, and is the perfect choice for anyone who wants to capture stunning 360-degree videos and photos in underwater environments.
You can now take amazing 6K 360-degree underwater video and 21MP images with exceptional dynamic range down to a depth of 250 meters (820 feet) thanks to the Mantis RS360 underwater housing for Insta360 ONE RS 1-inch 360 Edition. Enjoy seamless stitching, a bulkhead port compatible with the Blue Robotics M6 penetrator and connector, battery-saving underwater on/off control, and one button sewing. It is perfect for diving, ROV use, asset inspection, and research habitat monitoring since it is both compact and powerful.
Conclusions
If you want an easy-to-use action camera with a huge range of capability from 360 video to 5K, the Insta360 One R is for you. We think this camera for divers who want a device that's different from the ordinary and can give them a wide range of creative tools, in a small package for a good price. Although the underwater video quality could be improved slightly on the standard one inch mod when it comes to dynamic range and color, we think the 360 mod is really effective. We especially loved shooting 360 video and editing with the interesting view modes offered by the Insta360 app/studio. That's not to say the one inch mod doesn't take great video - it does - you just need to be sure that you have some good underwater lighting or a lot of natural light when using it. The wide range of accessories for this camera, including the invisible selfie stick are very compelling, and the free editing tools are fun to use. Off the bat, we can tell that Insta360 is an innovative company and has a bright future ahead of it, starting with the Insta360 One R.
SUPPORT THE UNDERWATER PHOTOGRAPHY GUIDE:
The Best Service & Prices on u/w Photo Gear
Visit Bluewater Photo & Video for all your underwater photography and video gear. Click, or call the team at (310) 633-5052 for expert advice!
---
The Best Pricing, Service & Expert Advice to Book your Dive Trips
Bluewater Travel is your full-service scuba travel agency. Let our expert advisers plan and book your next dive vacation. Run by divers, for divers.
---