Diving Fiji after Cyclone Winston
A tale of exploring Fiji after a devastating cyclone to find happy locals, great scuba diving and beautiful reefs
Last fall, my local diving season got canned by the start of a cold El Niño wet winter, begging for an escape to the tropics. Fiji is a short hop from my home in New Zealand and the numerous flights throughout the day make travel quick and easy.
Volivoli Beach Resort, on the Suncoast near Rakiraki township, is a firm favourite for New Zealand divers, not only for its close proximity to the Bligh Strait and world class reefs, but the wonderful hospitality, chilled vibe, and the ease with which they accommodate divers from beginners to techies.
Images from my last trip are full of blue skies, sunshine, palm trees, azure seas, multi-coloured soft corals, smiles and diving in a 3mm wetsuit, and I was eager to revisit the "soft coral capital of the world" on a group trip led by Global Dive Auckland. But my goodness, my last trip was in 2013 - had it really been 3 years? I was well overdue for a trip, but how would things be different in Fiji post cyclone Winston?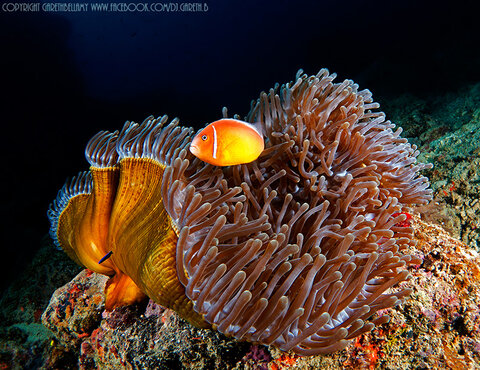 Cyclone Winston
Fiji, particularly the Ra Province, got hammered by the second largest storm recorded in history: Cyclone Winston. Unlike the in movie starring Tom Hanks, 'Castaway', Winston was no friend – it was a cyclone with winds in excess of 375km/h, which arrived, left, and then swung back around to cause more damage.
Volivoli Beach Resort got hit. Staff and guests took refuge in the Deluxe and Ocean View Rooms, which luckily received only minor damage. Unfortunately, the Premium Ocean View Villas were wrecked, as was the main restaurant/bar. Luckily family and staff were uninjured, but others weren't so; 44 people lost their lives in Fiji and more than 35,000 were made homeless.
Volivoli Beach Resort is semi-closed at this time for repair, and the Darling family is taking the opportunity to undertake improvements, officially re-opening its doors on November 1st.
---
View our exclusive 7-night Fiji travel special at Volivoli resort.
---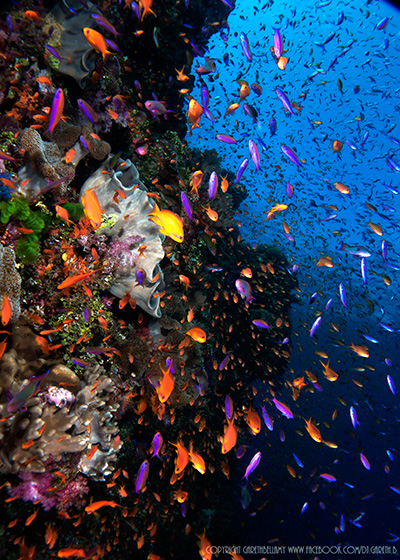 Visiting Fiji and Scuba Diving
During the transfer to the resort the cyclone damage was evident, but people were getting on with their lives despite shortages of building materials that are holding things back a little.
I wasn't sure what to expect at the resort, or the condition of the reefs post cyclone and was prepared for the worst. Upon arrival at Volivoli Beach Resort I was pleasantly surprised; the gardens were still blooming with bougainvillea and the sweet smell of frangipanis, and I was greeted with that familiar vista from the headland with the sun heading for a glorious sunset!
Evidence of Winton's visit was everywhere: damaged villas awaiting work, the restaurant roof being re-constructed and re-establishing trees showing new growth and recovery. Builders were hard at work and the resort staff apologetic; there was no need though, as the privilege of being there and our minimally reduced comfort paled in comparison to their hard work to recovery.
Dive planning is weather dependent and with some wind present our first few days we stuck to the wonderful local reefs, which didn't appear to have suffered from cyclone damage. We dived 'Neptunes Rapsody', a myriad of swim-throughs, clown fish/anemones, schooling fish, white tip and grey reef sharks, We also dived 'Golden Dreams', which was ablaze with hanging yellow soft corals, gorgonian fans, swim-through, and black coral to name a few. At the safety stop of every dive, a finale of climatic colour explosion by the millions of Lyretail Anthias, Blue/Purple Eye Anthias crowning the tops of the reefs.
The wind eased and we got out to the outer reefs for a 3 and a 2 dive day. The reefs were incredible, pristine, with no damage from the cyclone. The viz was 20-30m+, with schooling fish in abundance and beautiful soft corals, nudibranchs, and sharks every dive.
We dived sites such as "Instant Replay", which is an aptly named drift dive that was over before it began! 'Purple Haze' featured walls of black coral and gorgonian fans. 'Heartbreak Ridge' was loaded with amazing swim-through and massive gorgonian fans. And my favourite, 'Mellow Yellow', which is a coral stack 30m in diameter, with walls down to 60m covered in every kind of soft coral and colour you can imagine - a photographer's dream for both wide-angle and macro – just amazing.
After a no dive day of chilling it was time to head home and back to the New Zealand winter... brrr. The question, is there life after Winston? The answer - you bet there is, in abundance with bells! And I look forward to returning in November when the Volivoli re-opens.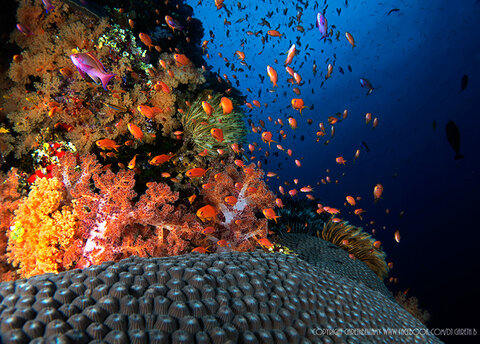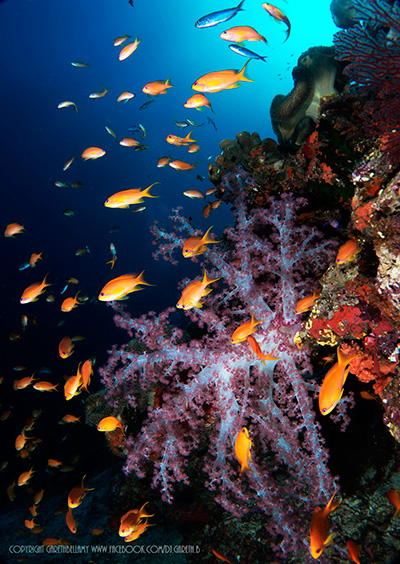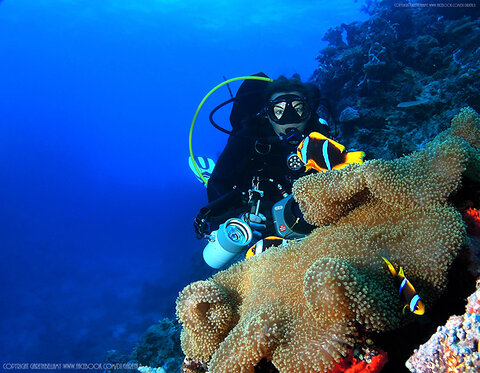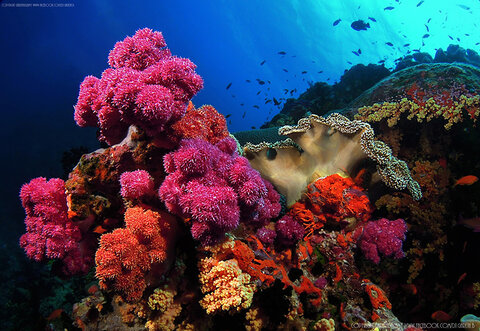 ---
View our exclusive 7-night Fiji travel special at Volivoli resort.
---
SUPPORT THE UNDERWATER PHOTOGRAPHY GUIDE:
The Best Service & Prices on u/w Photo Gear
Visit Bluewater Photo & Video for all your underwater photography and video gear. Click, or call the team at (310) 633-5052 for expert advice!
---
The Best Pricing, Service & Expert Advice to Book your Dive Trips
Bluewater Travel is your full-service scuba travel agency. Let our expert advisers plan and book your next dive vacation. Run by divers, for divers.
---