GoPro Macro Underwater Video: A Beginner's Guide
The GoPro takes amazing underwater macro video! Tips and tricks for capturing small critters with just a GoPro, some lights, a macro lens, and some patience...
Note from the Editor-in-Chief: A Gopro is more versatile than one might think for underwater video, considering the size and simplicity of a GoPro. With so many cool critters underwater being smaller than the size of an apple, capturing video of macro critters is a top priority for many divers. The GoPro is an excellent tool for this if you know how to utilize its fullest potential. We had our editor, Bryan Chu, and his fiancée, Lisa, push the GoPro to the limits in the Coral Triangle and they came back with a lot of great tips. - Nirupam
For quite a while, I was reluctant to bring a GoPro on my dives - I just wanted to enjoy the atmosphere and cool creatures. I was happy to let my fiance Bryan document it all with his photos. He also used a GoPro on top of his camera housing, but he didn't get very good video because he was usually so focused on taking photos.
Eventually we decided it made more sense for me to bring the GoPro, so I could capture videos while he focused on photos. I had a lot of fun recording encounters with the marine life, but I felt a bit limited by the inability to zoom or get close to subjects.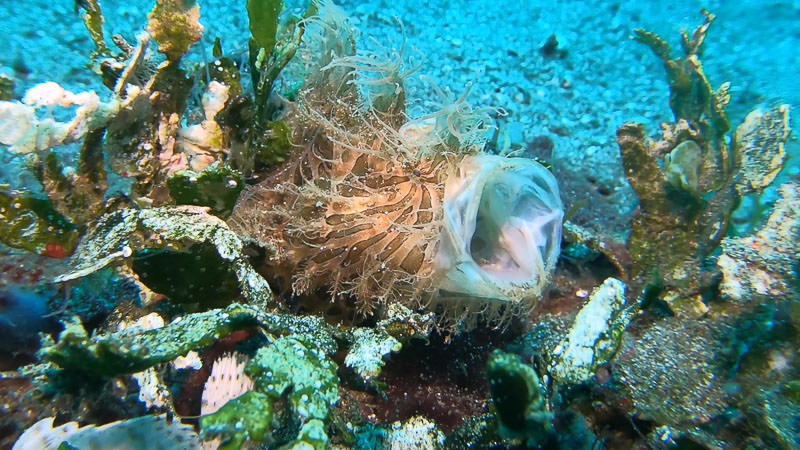 It was so interesting and entertaining to watch the behaviours of all the critters we saw on our dives, but the super wide-angle GoPro video didn't quite do justice to the smaller animals or let me show an up-close and personal perspective. It was perfect for capturing a manta or shark swimming by, but not so much for a peacock mantis shrimp or a little flamboyant cuttlefish.
Bryan had a GoPro macro lens (also known as a diopter) - the Macromate Mini - which he suggested we could try out. It gave me a lot of frustration in the beginning! Most of my videos were either out of focus, nauseatingly shaky, or both.
However, over time and with practice, I was able to get better results, so I would like to share some of what I have learned about taking underwater macro video with a GoPro and the Macromate Mini attachment. I use a GoPro Hero 7 black, which is the best GoPro for macro shooting because of its very impressive image stabilization. You can use earlier GoPro models for macro as well, but will have to work harder at keeping your video stable! (Editor's note: check out our detailed GoPro 7 review for more info about this camera, and to see the image stabilization in action).
Here is a compilation of my favorite underwater macro footage I have taken over the past few months.
Note that:
All video was taken using GoPro HERO7 Black with a MacroMate Mini +15 diopter and two video lights
All video taken in 2.7K at 60 fps and then cropped in to 1920x1080
Some clips had color/contrast adjustments made, some were stabilized, and some were slowed down, but no major alterations were made
---
All the equipment used in this video is available at Bluewater Photo:
Kraken Sports 3500S+ WRSU video lights
Ultralight STIX FUL-3 Foam Floats (great for use with heavier video lights)
Ultralight Long Clamps (for extended reach)
---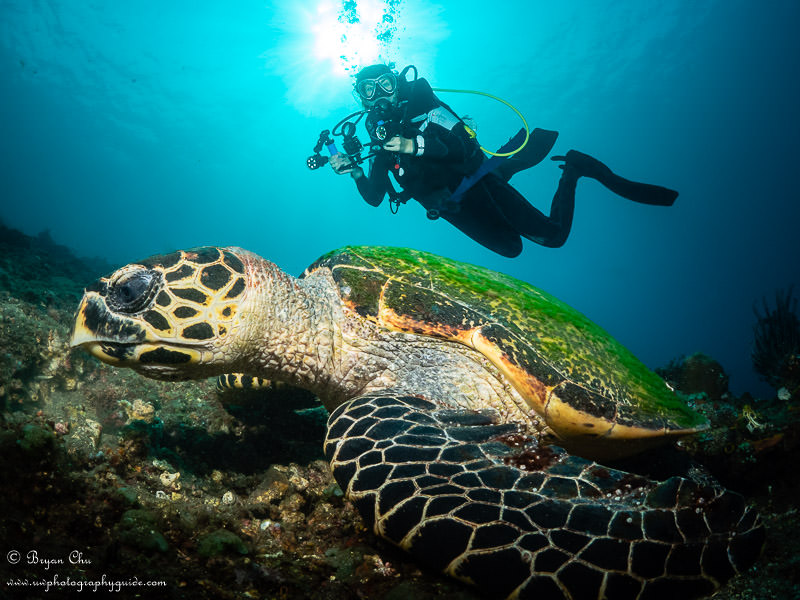 1. Lights
Bryan suggested buying video lights and a tray, insisting that they would improve the quality of the videos. Again, I was reluctant. I felt like the whole point of a GoPro was for it to be small and easy! This whole rig he was proposing surely would not fit in my BCD pocket, and now I was going to have to worry about and inspect O-rings on lights to make sure my lights wouldn't flood? Sigh.
But he convinced me. After one dive, I was instantly on board with the lights - they made the videos way more colourful and vibrant, and they really were not that difficult to manage.
I have tried a couple different lighting set-ups with the GoPro, and have had good results using two lights mounted on a tray. I like having two lights because it gives me more options for various intensity and positioning. For example, I can aim them out farther from the lens and get less backscatter when filming wide-angle video. However, for macro video, even having one light is pretty good to really bring the colours to life. The lights I've used have been in the 2000-3500 lumen range and I have found this to be perfectly adequate for normal underwater use.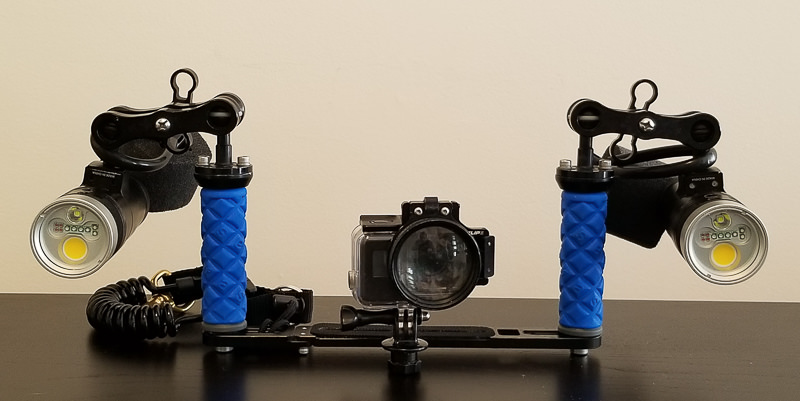 For more information on equipment considerations, check the equipment section at the bottom of the article.
2. Getting Subjects in Focus
The Macromate Mini will focus on objects at a specific distance - sounds easy enough, but it is hard for me to tell underwater on the small GoPro screen whether a subject is actually in focus. Initially, I was guessing how far I needed to be, and looking at my videos on the computer later led to much disappointment. But sometimes I got lucky and the video would be sharp!
However, soon we realized it didn't need to be this difficult - we found a handy little measuring stick that had come with the lens, and this was immensely helpful! Rather than just guessing the correct distance, I could use the stick to get it right on. Now after using it for a while, I am happy to report that I am able to get the right distance visually without the stick, for the most part. It is much more fun now that I can consistently get my subjects in focus, rather than having that be an event akin to winning the lottery.
3. Getting Stable Video
OK, so now we've got our subjects in focus. Another challenge I came across with macro video was getting it stable. With the magnification, even small movements become very distracting! Throw in some current or surge, and I was pretty much ready to give up. However, I have learned some strategies to improve my footage in this regard.
The tray itself helps hold the camera a bit more stable. Of course, taking the time to fine-tune your buoyancy is also helpful so you can maintain your position with minimal movement. I like to bring a muck stick to help me hold my position against a current if necessary. Ultimately, you will get the most stable video if you can rest your camera/tray on something like a rock or a sandy bottom, depending on the environment you are diving in.
I have even tried attaching a Gorillapod tripod to the tray on some dives. A tripod can definitely be helpful in some situations (i.e., placing it on the bottom next to a subject perched on a rock). However, in other cases it prevented me from resting the camera itself right down on the sand at eye level for a subject in the muck, instead forcing me to shoot down on the top of its head. I also use the GoPro Hero 7, which has very nice image stabilization.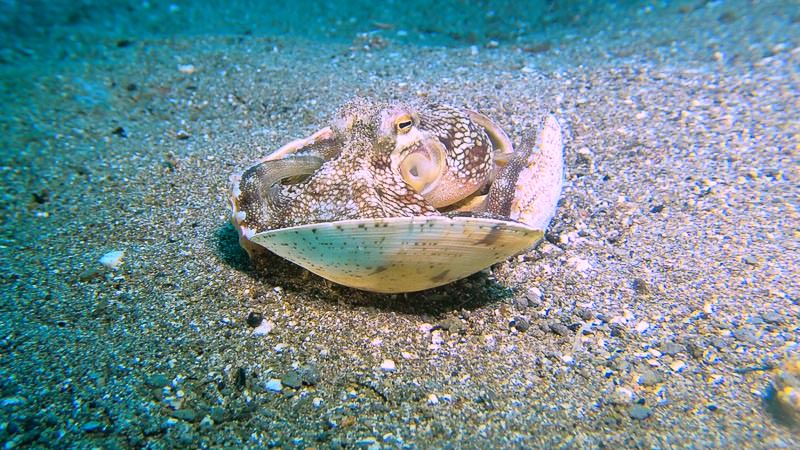 4. Subject Selection
When I first started taking macro video, I wanted to capture anything and everything! But some subjects simply don't lend themselves to really good videos. I have started focusing more of my time on the ones that work best. For the rest, I am simply happy to have seen them (and then to let Bryan struggle to get a photo of them).
The fact is, you are not going to be able to get video of super tiny things with a GoPro (think pygmy seahorses or Shaun the Sheep nudibranchs). Subjects that are around the size of a golf ball or larger work great, though!
I try to go for subjects that are located somewhere that allows me to film at their eye level or below (as opposed to looking down on them). It's always nice if I can find a subject in a place that allows me to rest the camera at the right distance, so I can get stable and in-focus footage.
However, I have also had success filming up in the water column or following a moving subject, as I can hold the camera fairly stable using two hands on the tray. I just have to be a bit more mindful of swimming smoothly and avoiding any jerky movements! Of course, a lot of this is trial and error, which is all part of the fun. No one said underwater video was easy, and macro is even less so!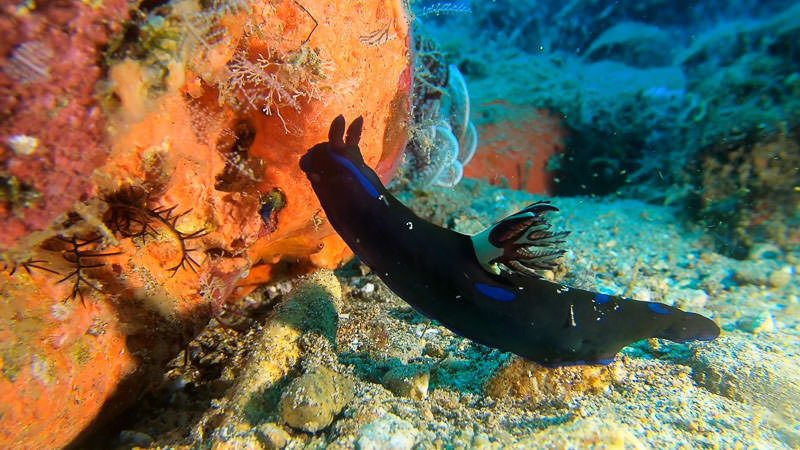 5. Work with Your Subjects
Because the focal distance for the Macromate Mini is quite short (3-4 inches), you are going to need to get close to your subjects! Sudden movements are likely to scare many critters off, so I approach very calmly and slowly. I try to get my lights in position before moving in closer so I can stay still. And if they do leave, I don't chase them - not only do I want to avoid scaring or annoying the animals, but video of a critter's butt as it tries to flee is never going to be very good anyway.
Instead, I focus on trying to find subjects that are not so skittish, and whose behaviour looks interesting to capture in a video. Don't hesitate to spend a lot of time with one subject - Bryan and I once spent 20-30 minutes watching a mimic octopus who was quite curious but initially wouldn't let us get too close. After we sat around patiently for a while, it seemed to realize we weren't going to try to eat it, so it let us move in closer to take some close-up photos and video.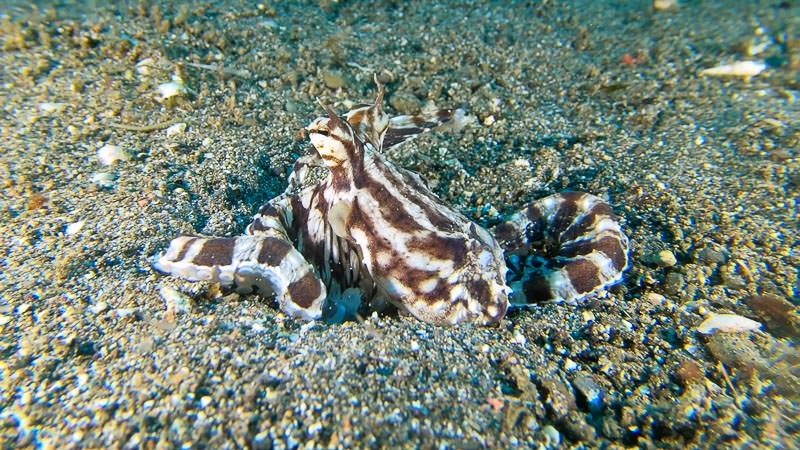 6. Settings and Editing
I shoot all of my underwater videos in 2.7K, 60 fps, and a wide field of view on the GoPro Hero 7. I eventually export them in 1080, 30 fps, so this allows me to a) crop the videos and b) slow them down. Cropping the videos gets rid of the distortion around the edges when using the diopter, and also lets you "zoom in" even more on the subject. You could also shoot in 4K to get even more ability to crop your video, if you have the storage space and computer processing capabilities to edit it (I have found 2.7K to be enough for my uses).
I also like having the option to slow down videos, which can add an interesting effect to certain behaviours, and also help me make the final product look more stable. For example, if I only got 3 seconds of stable footage, I can slow it down 2 times to get 6 seconds, without losing any quality (as long as I shot it at 60 fps). I use Final Cut Pro to edit videos (but I used iMovie for a long time too and it works well and is free!) and Bryan uses Adobe Premiere Elements, after spending a lot of time frustrated by the free options available for PC users.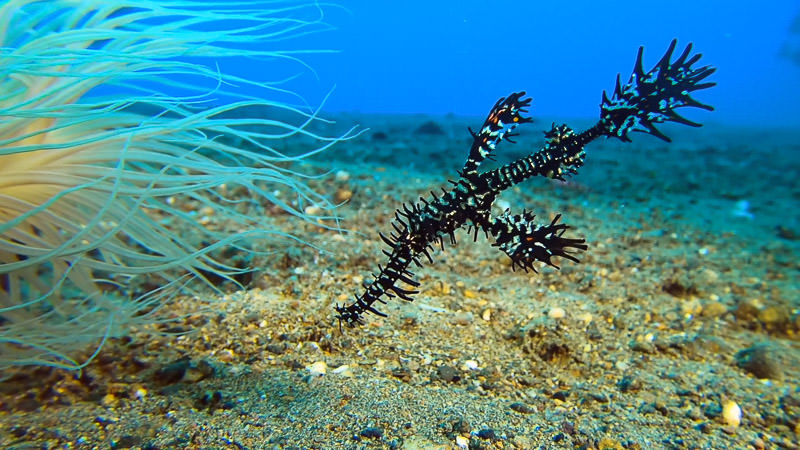 Bonus Tip!
Make sure you remember to flip the Macromate Mini lens off of your GoPro when you want to go back to wide angle. One time I was so excited to see a manta swimming up to me that I completely forgot I had my macro lens on! Needless to say, the video was extremely blurry. Luckily there were plenty more mantas that dive so I got to redeem myself, but I haven't made that mistake again.
Equipment
Here is the setup I use:
Thank you for reading and I hope you found this useful! If you have any questions you can track me down on Instagram at @lisa.gets.lost.
Editor's note: If you found this article useful and want to support the Underwater Photography Guide, then please drop by our sister companies Bluewater Photo and Bluewater Travel!
Great Macro Destinations
This underwater macro footage was filmed in two great macro destinations: Villa Markisa in Tulamben, Bali, and Crystal Blue Resort in Anilao, Philippines. Check out the Bluewater Travel Best 3 Macro Destinations in the World for more info about world class macro diving!
GoPro Camera Reviews
GoPro Tutorials
SUPPORT THE UNDERWATER PHOTOGRAPHY GUIDE:
The Best Service & Prices on u/w Photo Gear
Visit Bluewater Photo & Video for all your underwater photography and video gear. Click, or call the team at (310) 633-5052 for expert advice!
---
The Best Pricing, Service & Expert Advice to Book your Dive Trips
Bluewater Travel is your full-service scuba travel agency. Let our expert advisers plan and book your next dive vacation. Run by divers, for divers.
---