Adobe Lightroom vs Photoshop for Underwater Photographers
A quick comparison of Adobe Lightroom and Photoshop for post-processing underwater photos.
Adobe is the premier photo editing source for underwater photographers. Photoshop has long been around since the 1980's and Lightroom is undeniably the most popular post processing tool today. Underwater images straight out of the camera most often need some kind of adjustment. And there's no getting around a raw file as it must be processed into a file type that can be seen and shared with others. Both Lightroom and Photoshop offer their own significant functions that set them apart from each other in the underwater photography workflow.
Screenshot of Adobe Photoshop CC
Adobe Lightroom and Photoshop - Key Difference
Photoshop and Lightroom are both powerful photo editing software programs. They both offer the most popular post process tools key to underwater photography such as adjusting white balance, adding contrast, removing backscatter and cropping.
Powerful editing
Compatible with third party plug-ins
Have similar popular editing tools
Requires an Adobe plan subscription
Some photographers choose one over the other but PS and LR each have very distinctive differences that make it worth utilizing both in the workflow.
Lightroom is an all in one editing AND organizing workflow service with excellent exporting and sharing tools. A simplified version of LR is available on all types of devices including your mobile phone and tablet. Editing on the go during a dive trip couldn't be easier with the mobile app! LR is popular among all photographers, regardless of experience.
Photoshop is a more advanced editor, specializing in graphics with precision. Unlike LR, it does not allow for batch editing. Although PS is capable of basic edits, it has the power to completely transform an image into a total work of digital art. Creating composite shots to making your own watermark from scratch are all within the scope of Photoshop.
Before we assume which program is "better" for underwater photography, let's look at some more specific attributes for each one.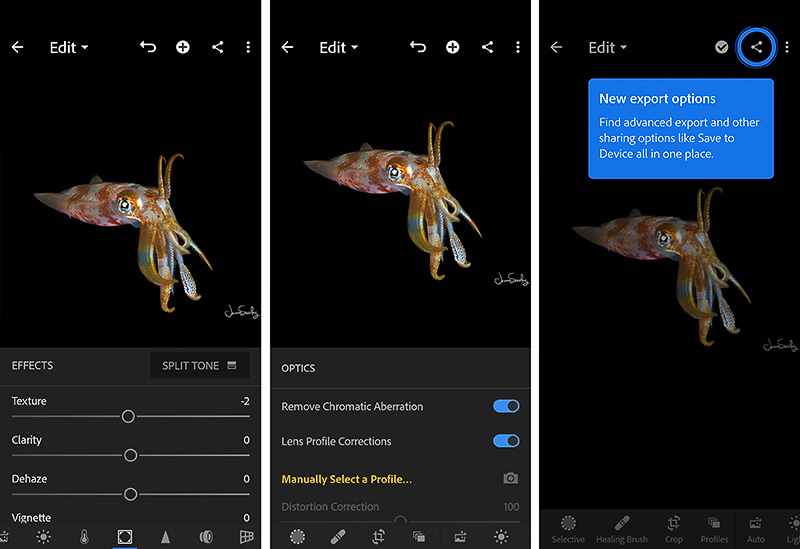 Screenshots of Adobe Lightroom mobile app
Adobe Lightroom for Underwater Photography
A little history: Lightroom 1.0 was fully released in early 2007 as a software purchase that evolved into a cloud based service in 2017. It essentially modernized and merged Adobe Bridge and Camera RAW. There are two versions of LR offered today. The updated full version, "Lightroom Classic", which is comparable to what the desktop software was prior to Creative Cloud and "Lightroom" which is a simplified version available across all devices from desktop to mobile phone.
Lightroom is best for:
Batch editing
Organizing photos
Streamlining all devices
Saving hard drive space
Quickly exporting and sharing
On the go editing - great for travel!
All encompassing, fast workflow with simple to use slider tools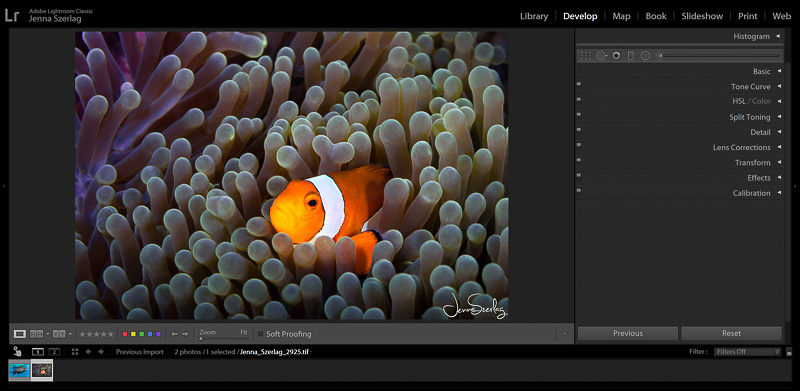 Screenshot of Adobe Lightroom Classic on Desktop
What truly sets LR apart from PS is the workflow. Known for its ease of use with customizable presets and sliders, Lightroom also encompasses your entire workflow from organizing, 'developing' and exporting. Adding metadata such as key wording, placing images into self titled folders, batch editing several images at once and finally exporting to either share, print or save has never been easier.
Lightroom's Develop module houses the most common tools an underwater photographer needs including the increasingly favorite tool (especially for those blue water shots) – Dehaze. These quick sliders are a fun, easy way to add contrast to your underwater photos that would take a little longer to achieve in PS manually. LR also offers a few in depth adjustments such as lens corrections, working each color palette individually and split toning between highlights and shadows.
A key feature that stands out drastically from PS is that your adjustments to an image are logged automatically. This saves a tremendous amount of hard drive space unlike other programs which require us to 'save' the edited file when we are finished.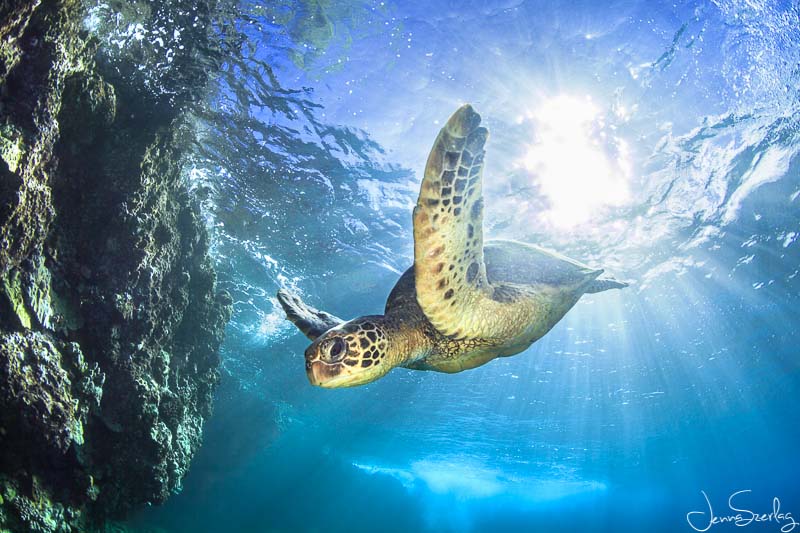 Adobe Photoshop CC for Underwater Photography
Photoshop can be used to edit an image the way that Lightroom can but not vice versa. It's a bit more "manual" in comparison. Where Lightroom edits may be achieved faster, Photoshop results are refined. Overall, Photoshop is a more advanced powerhouse capable of creating graphics from a blank document or completely transforming an image into any type of digital still that one desires. It works within layers, masks and opacity blenders. PS has an abundance of tools to crop, splice, draw, brush, clone, erase and warp your images into works of art. Here are some quick tips for editing your images in Photoshop.
Photoshop is best for:
Advanced editing
Removing particle (backscatter)
Creating composite images
Refining images for print
Precision down to the pixel level
Creating graphics such as a logo or custom watermark
Working with layers for limitless artistic creativity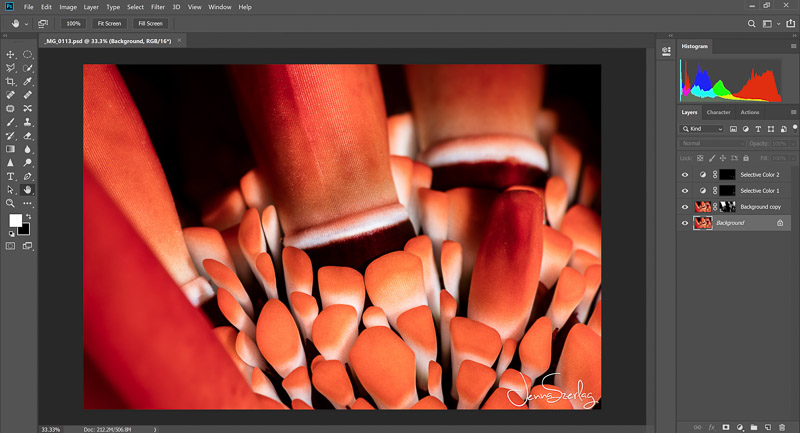 Screenshot of applying layers in Adobe Photoshop CC
Removing backscatter from an underwater image can be a daunting task. Relying on LR clone or heal is often time consuming and lacks precision as it produces varying results. Photoshop's dust and scratches filter and/or noise filter are a quick way to remove a lot of particle at once. But the most precise, down to the pixel level is Photoshop's content aware. It makes removing stubborn backscatter a breeze!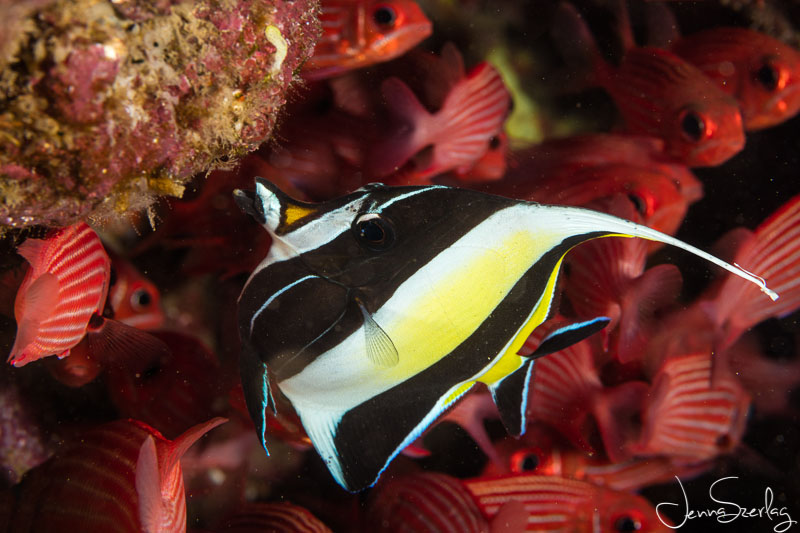 Before backscatter removal with Photoshop's Content Aware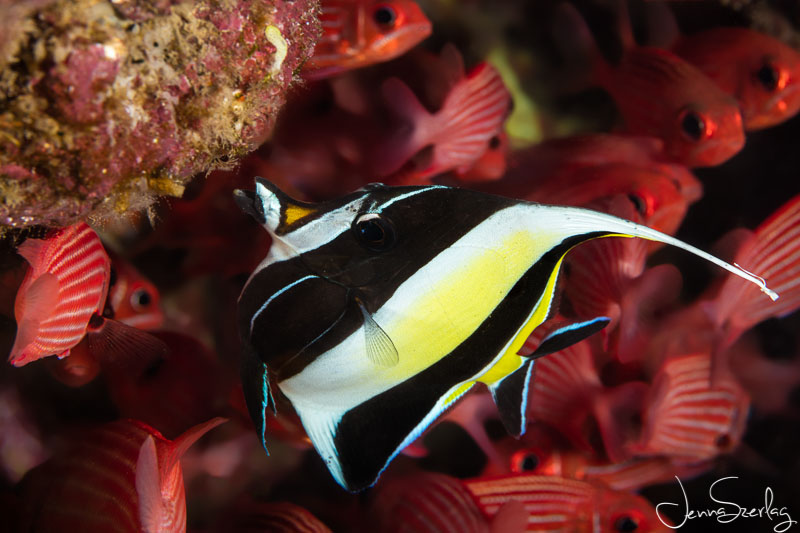 After backscatter removal with Photoshop's Content Aware
Saving your edited files in Photoshop can take up precious hard drive space. If you want to save a working file to return to at a later date, a Photoshop Document .psd, preserves the layers and saves the file straight to your hard drive in a folder of your choice. It can save more space than saving as a layered 16bit tiff file and retains all of your layers so you can pick up where you left off.
Quick Tip: Although you can lightly edit video in LR, you can make some worthwhile adjustments to your underwater videos in Photoshop! Do you like to manually change your white balance? How about painting in highlights and opening up shadows in certain video clips? All of this can be done with layers in Photoshop too. The trick is when you're finished, instead of saving your video via File> Save As, navigate to File> Export>Render Video to process it. The working video file with layers can also be saved as the same Photoshop .psd file like an image for future editing.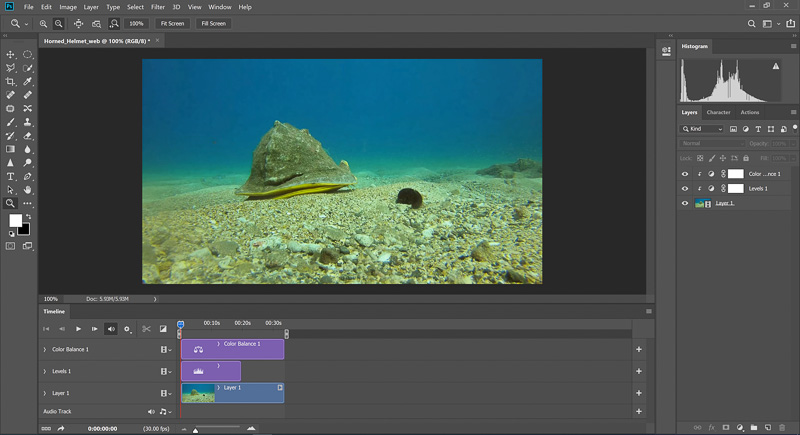 Editing video with layers in Photoshop CC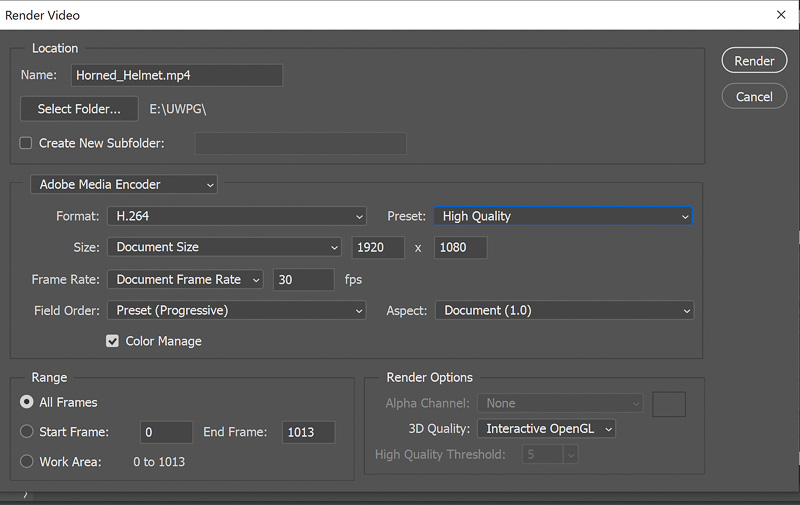 Exporting video via File > Export > Render Video in Photoshop CC
Conclusion
Deciding whether to bring your images into Photoshop and/or Lightroom depends on what final result is desired. Unless we are pointing to a specific need, neither Lightroom nor Photoshop can be labeled better than the other. Together, they make the most powerful editing system for the underwater photography workflow.
SUPPORT THE UNDERWATER PHOTOGRAPHY GUIDE:
The Best Service & Prices on u/w Photo Gear
Visit Bluewater Photo & Video for all your underwater photography and video gear. Click, or call the team at (310) 633-5052 for expert advice!
---
The Best Pricing, Service & Expert Advice to Book your Dive Trips
Bluewater Travel is your full-service scuba travel agency. Let our expert advisers plan and book your next dive vacation. Run by divers, for divers.
---