Canon RF 100mm f/2.8 Macro Lens Review
The top macro lens for Canon mirrorless cameras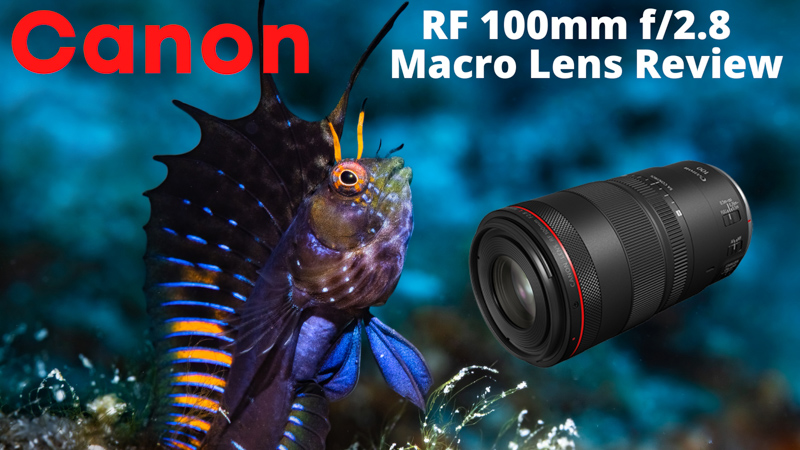 The Canon RF 100mm f/2.8 L IS USM macro lens is the best underwater macro lens option for the new full-frame mirrorless RF lens mount. While this lens shares many similarities with the original Canon EF 100mm macro lens, it is equipped with some notable new features - like 1.4X supermacro magnification, quicker and more accurate AF acquisition, and a spherical aberration (SA) control ring. The Canon RF 100mm macro is perfect for cameras like the Canon EOS R5, R6, R3, and R. Fortunately for us, we have been able to dive with the Canon RF 100mm f/2.8 macro for the last couple of months in Southern California as well as the Sea of Cortez. After our adventures there is no doubt in our minds that the Canon RF 100mm macro is going to be a favorite among Canon mirrorless shooters.
Availability: Available Now!
U.S. MSRP: $1399
Interested in learning more about macro lenses? Check out this list of the best macro lenses for underwater photography.
---
Contact the knowledgeable photographers at Bluewater Photo to learn the best port combination for your housing for the Canon 100mm Macro
---

Canon RF 100mm f/2.8 L IS USM Macro Lens Specifications
1.4x maximum magnification ratio - fills the frame with the subject of 1 X 0.67 inches
f/2.8-f/32 aperture range
Minimum focusing distance of 0.86 ft/0.26m
Field of view - 24 degrees
17 lens elements in 13 groups
Super spectra coating and fluorine coating on the front element
9 aperture blades
dust and water resistance
up to 8 stops of image stabilization when combining optical stabilizer with in-body image-stabilization
Spherical Aberration (SA) control ring
Control ring for direct setting changes
Size: 3.21 in x 5.83 in
Weight: 1.6 lbs
Lens Construction & Build
The Canon RF 100mm is a solid lens. It is just slightly larger and thicker than the original Canon EF 100mm macro, but not by much. The lens is packed full of features and control rings. One control ring can be programmed to adjust any setting you might want (e.g., aperture, shutter speed, etc). There is also an SA control ring which thankfully has a lock so you don't accidentally hit it and affect your image quality unknowingly. On the lens itself there is a focus limiter switch, a AF-MF toggle, and a optical stabilizer on switch. The switches on the lens are not easy to move and therefore great for underwater photographers who make that mistake from time to time of hitting a switch while putting a lens in a port. The lens is dust and water resistance so if you get a couple of drops of water on it while changing lenses there's no need to stress over it.
Overall Image Quality
The image quality from the Canon RF 100mm macro is worthy of Canon's L (luxury) line of lenses. Our photos and videos were just as sharp as with the original Canon EF 100mm. However, I did notice a little bit more noise and diffraction in some shooting situations. It was almost imperceptible and very easy to remove in post processing. The bokeh is on the softer side without too many hard edges in the blur. This helps create background separation and ensures the subject is the main attraction in the frame.
After about 40 dives with the lens, I have yet to notice any chromatic aberration, flare, or ghosting in my images - even in very high contrast situations.
Autofocus Speed
As a native RF lens, the autofocus from the Canon RF 100 macro is lightning fast and silent. Combined with the autofocus tracking systems found in Canon mirrorless cameras, I never had trouble keeping up with fast moving subjects - even Baja's famous signal blennies! I found that I could usually acquire autofocus within a couple of seconds when meeting a subject. In fact, I think that this is the fast autofocusing macro system available when combined with the amazing autofocus system in the Canon R5.
I did notice some curious anecdotal evidence that my R5 had an easier time finding and tracking animal eyes with the EF version of the lens as compared to the RF.
Focus Breathing
Focus breathing is a change in the size of an image as the lens racks focus. There is very minimal focus breathing as compared to some other macro lenses, making this a decent lens for macro video.
1.4x Magnification Ratio
The Canon RF 100mm macro is special in that this lens is the first mid range telephoto supermacro lens from Canon that can take supermacro images. It allows you to get closer to your subject than a traditional 100mm macro lens, where working distance is traditionally quite far compared to wider macro lenses. Instead of a 1:1 reproduction ratio, the Canon RF 100mm can do a 1.4:1 reproduction ratio. In short, you can get really close and magnify small subjects even larger!
We pushed our RF 100mm to the limits when it came to testing this feature. Check out this small bluebanded goby. The fish was only about an inch in length, and this lens made it larger than life! Overall, shooting the Canon 100mm at 1.4x was like shooting a normal 100mm macro lens with a weak diopter stacked on top. The only downside that I noticed was it seemed that there was a little more diffraction at these super close focusing distance.
Spherical Abberation Control - A Let Down
I had high hopes for the spherical aberration control ring, but it was ultimately a let down. Canon initially advertised the ring as being a way to control the shape of bokeh in an image. While this is true, the SA control ring makes your image much softer whether you go left or right from neutral. There is no reason to make your subject softer in most cases of underwater photo & video, so the SA control ring is not a useful feature. Moreover, it would have been nice to have a less expensive lens than a lens with a feature that isn't useful.
Optical Stabilization
When combined with 5-axis in-body image-stabilization, the optical stabilization on the RF 100mm allows you to recover 8 stops of exposure. This is absolutely incredible. Because of the optical stabilization, we had no trouble shooting handheld macro underwater video with a focal length that is traditionally very difficult to control.
Depth of Field Test
While we were underwater, we did a quick depth of field test with some beautiful strawberry anemones so that you can see how the bokeh looks at different apertures.
Ideal Subject Size
The Canon 100mm macro has a nice, long working distance. This makes it great for photographing small, skittish subjects tha are normally spooked by a nosy photographer. However, the Canon RF 100 is also special in that you can get up close your subjects with a 1.4x reproduction ratio. So it's really a great lens for anything the size of a pea to a golf ball.
Should I get the Canon RF 100mm macro or the Canon EF 100mm macro
The Canon RF 100mm macro and EF 100mm macro are no doubt very similar lenses. If you already have the EF 100mm macro lens and are not a huge fan of shooting supermacro photos, then we recommend sticking with your EF 100mm macro and shooting it with an EF-EOS R adapter. The image quality of the two lenses is almost indiscernible, and I personally prefer the image quality from the EF just ever so slightly better. But if you don't currently own a macro lens and you do own a Canon mirrorless camera, I think it's a no brainer to get the RF 100mm macro. The native lens will be quicker in autofocusing and the additional magnification makes it an incredible device for shooting some of the world's tiniest subjects.
Conclusions
The Canon RF 100mm f/2.8 macro lens is an extremely high quality professional macro lens, that should be in the camera bag of every underwater canon mirrorless shooter. With a 1.4x reproduction ratio, you can capture closer photos and video than previously possible, with a faster autofocus speed. It's as simple as that - the photos and videos speak for themselves.
SUPPORT THE UNDERWATER PHOTOGRAPHY GUIDE:
The Best Service & Prices on u/w Photo Gear
Visit Bluewater Photo & Video for all your underwater photography and video gear. Click, or call the team at (310) 633-5052 for expert advice!
---
The Best Pricing, Service & Expert Advice to Book your Dive Trips
Bluewater Travel is your full-service scuba travel agency. Let our expert advisers plan and book your next dive vacation. Run by divers, for divers.
---