Fantasea FRX100IV Housing Review
Feature packed with double o-rings, moisture detector, wet lenses and more, we review the Fantasea Sony RX100 IV housing

The Fantasea FRX100IV housing delivers full access to the controls of the Sony RX100 IV, allowing you to shoot incredible images, 4K video and much more. The Sony RX100 IV packs a whopping 1" sensor into the body of a compact camera, and sits at the top of Bluewater Photo's Best Compact Cameras list.
If you haven't yet, be sure to read our Sony RX100 IV Camera Review.
The polycarbonate plastic Fantasea FRX100 IV is the lightest housing available for the RX100 IV. The clearly labeled controls, affordable price and wide range of accessories make it a great choice for underwater photo and video shooters. In this review we will take a deeper look at the housing.
Available for Purchase: Fantasea FRX100 IV Housing
MSRP: $499.95
Fantasea FRX100IV Key Specs
Works for both the Sony RX100 IV and RX100 III

Wide (easy to push), clearly labeled controls

Ergonomics mirror camera (ideal for those who shoot topside as well)

Double o-ring closure

Built-in moisture detection system

Clear polycarbonate back (easy to see the camera)

Cold shoe accessory mount (i.e. focus light)

Depth rating: 200ft / 60m

Size: 15.5 x 14.5 x 12 cm \ 6.25 x 5.75 x 4.75 inch (W x D x H)

Weight (without camera): 600g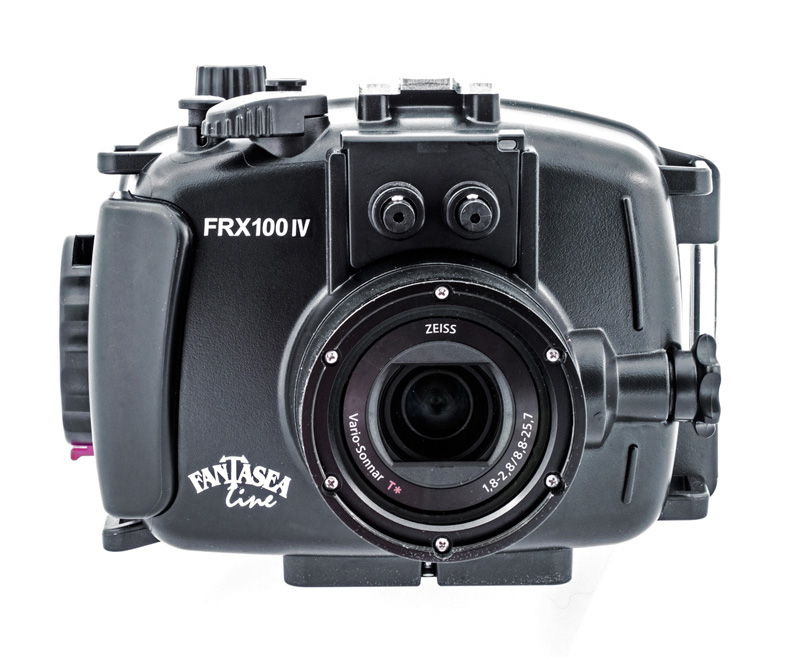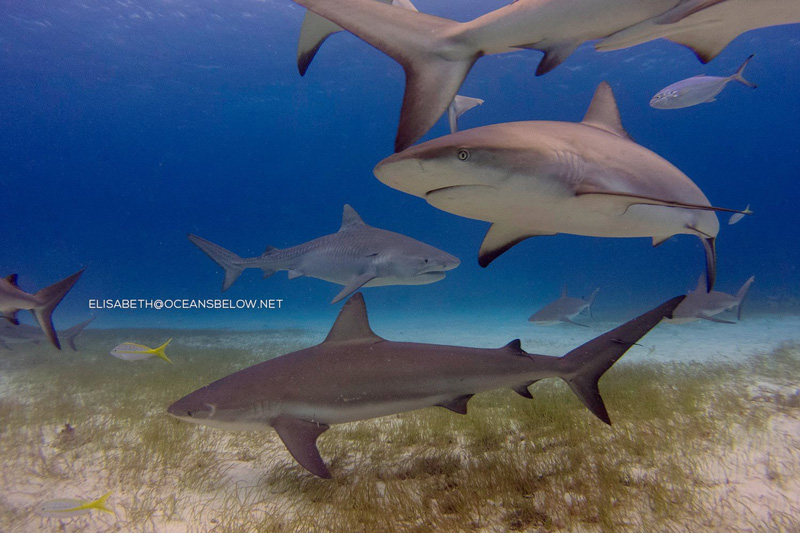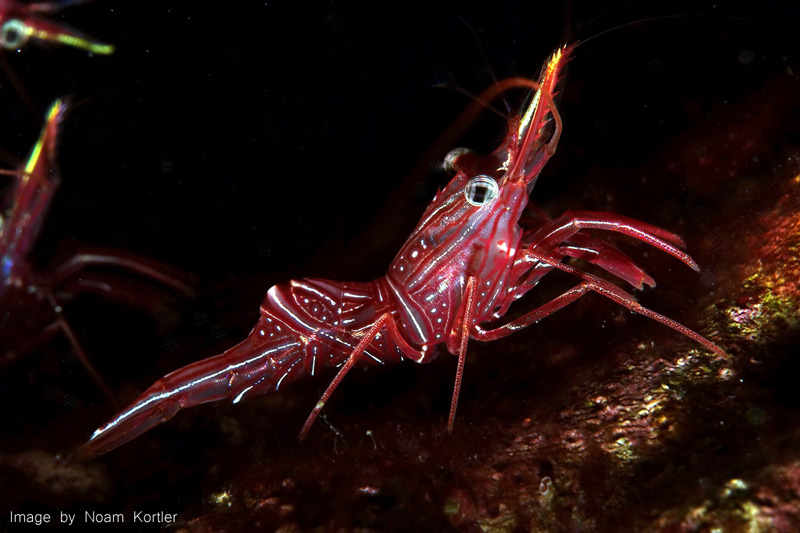 FRX100IV In the Lab
[photos holding housing]
Housing Ergonomics and Controls
The Fantasea RX100 IV housing is easy to hold in your hand, with nooks for your fingers and thumb to settle into. The shutter release is a button pressed vertically, which is nice for a handheld housing. The control placement mirrors the button layout on the camera body, which is nice for those who transition back and forth from using the camera on land and underwater - no hunting around for a button that has been moved to a mysterious position.
The plastic button heads are wide, making them easy to push with bare fingers or thick gloves, and each is very clearly labeled. The housing provides a knob for adjusting the front control ring, however since it is on the left side of the housing, it requires a second hand to adjust.
The video record button is easy to reach and press, but this makes accidental video recording very easy.
A standout feature is the knob for spinning the rear control dial, which is a feature unique to Fantasea.
Opening and Closing
To open and close the housing, you depress a small plastic lock tab, then twist the side latch. While this may not feel robust at first, a closer inspection reveals a very secure locking mechanism. The camera can be set into place within the housing, making it easy to replace batteries and memory cards - and no need to unscrew the camera from a tray each time. The clever spring action of the back LCD skirt holds the camera in place in line with housing controls.
There is also enough space in the housing to remove the camera with fingers (instead of shaking the housing upside down, as is the method with many compacts). A double o-ring seal provides extra safety and is still easy to inspect and service.
Housing Accessories
One huge bonus is the built-in leak detection system. The sensor is place at the absolute bottom of the housing, meaning it will be triggered at the first presence of water in the housing.
The housing comes with a hand strap and flash diffuser in the box, so you're ready to go whether you are shooting with or without external strobes.
A lens port adapter is also included, opening up the world of m67 mount wet lenses for macro and wide-angle photography. Check out our recommended accessories for the Fantasea FRX100IV.
Video Review by Scott Gietler
In the Water
The Fantasea FRX100IV housing performs as promised in the water. All the photos you see in this review were shot with the housing.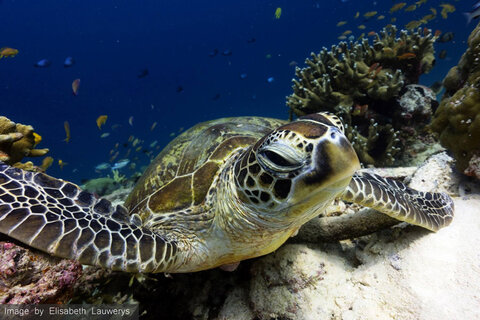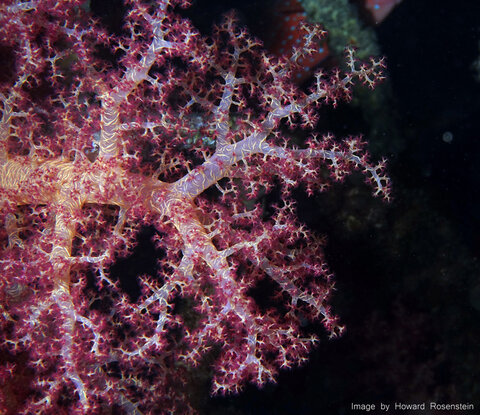 Recommended Accessories
Use the following accessories to get the most from your Sony RX100 IV and Fantasea housing.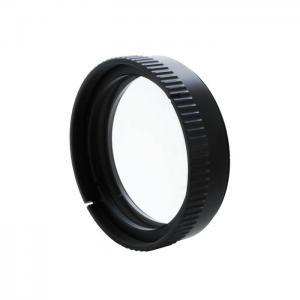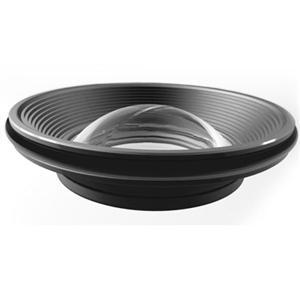 Fantasea Bigeye M67 Wide-Angle Lens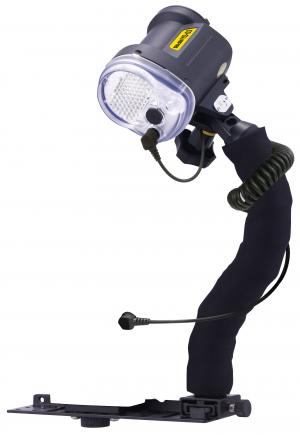 Sea&Sea YS-03 Flex Arm Strobe Package
Conclusion
The Fantasea FRX100IV is a great all around housing at an even better price point. Lightweight and reliable, the housing is designed with solid ergonomics that will perform for both beginner and more advanced underwater photo and video shooters. You can use the housing handheld or build up a kit with dual video lights or strobes.
Pros
Affordable price

Lightweight

Easy-to-use controls for photo and video

Knob to spin rear control dial

Includes primary accessories

Add and remove camera body effortlessly

Wide range of macro and wide-angle accessories available
Cons
Video record button could be pressed accidentally if camera is clipped off to BCD
Overall, the Fantasea FRX100IV is a great housing for those who want an inexpensive way to get their Sony RX100 IV in the water, whether for photo or video. You can contact the team at Bluewater Photo for personalized advice on the housing and recommended accessories.
---
---
Fantasea's video promo, shot with FRX100 IV.
SUPPORT THE UNDERWATER PHOTOGRAPHY GUIDE:
The Best Service & Prices on u/w Photo Gear
Visit Bluewater Photo & Video for all your underwater photography and video gear. Click, or call the team at (310) 633-5052 for expert advice!
---
The Best Pricing, Service & Expert Advice to Book your Dive Trips
Bluewater Travel is your full-service scuba travel agency. Let our expert advisers plan and book your next dive vacation. Run by divers, for divers.
---