Olympus OM System OM-1 Camera Review
OM Digital Solutions' first camera after buying out Olympus's camera business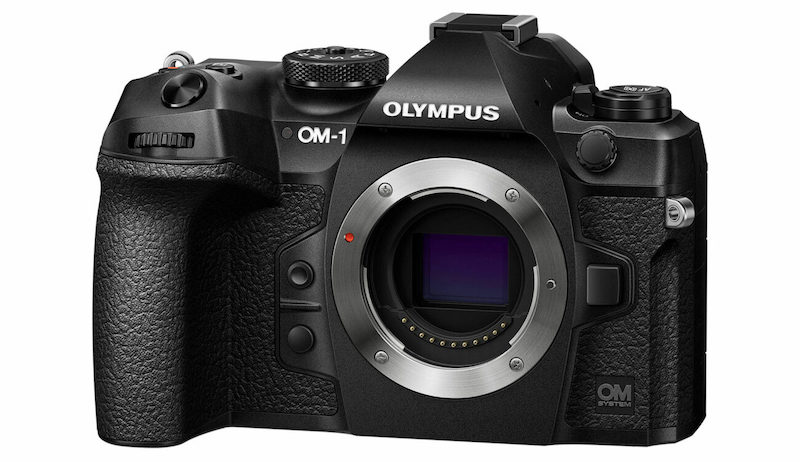 In January 2021, OM Digital Solutions announced they had completed their acquisition of the Olympus imaging business, bringing 85 years of camera-manufacturing history to a close. OM Digital Solutions' first port of call was to reassure existing Olympus customers that they would be continuing down the same path Olympus had set out, honoring warranties and orders and developing new mirrorless cameras and lenses.
As a nod to the past and to reaffirm their commitment to honoring the Olympus roadmap, OM Digital Solutions' first camera release since taking over the iconic camera company, the OM Systems OM-1, carries the Olympus logo across the viewfinder. However, it is widely understood that the Olympus branding will be dropped in future models. Still, it's a nice touch from the new owners.
OM Digital Solutions have said they are looking to develop and expand the division's mirrorless camera and lens business to better compete with the more established manufacturers like Sony and Canon. So can this camera compete? With an Ikelite OM 1 housing and Nauticam OM1 housing currently on the market, we took the OM System OM-1 diving off the coast of SoCal's Catalina Island to find out if this is truly the world's best micro four thirds camera.... Our housing for this expedition? The Ikelite.
US MSRP: $2199.99
---
Jump To
OM System OM-1 for Underwater Photography and Videography
---
The OM System OM-1 Camera
The OM System OM-1 camera is a Micro Four Thirds 20MP camera capable of capturing 4k 60p video and 1080 at 240 fps. It's a solid body built around an all-new 20MP stacked CMOS image sensor. The release of the new OM System (Olympus) OM-1 camera coincides with the 50th anniversary of the original Olympus OM-1 SLR that is so widely admired in the SLR world. It's a nice touch and a perfect time to pivot towards a new future under new ownership.
In addition to the new and improved sensor, the OM-1 also packs a faster processor that is used in conjunction with the staked sensor to cut readout speed almost in half, which helps reduce rolling shutter.
The overall ergonomics of the OM System OM-1 camera are excellent if you're using it topside; it has a prominent grip and a great button layout. If you plan to buy the OM System OM-1 for diving, there's only really two options currently available when it comes to underwater housings - the Nauticam Olympus OM-1 Underwater Housing and the Ikelite Olympus OM System OM1 Underwater Housing.
Our Thoughts
Micro Four Thirds cameras appeal to a specific subset of people, and the OM System OM-1 is no different. At $2200 for the body, it's pretty expensive for an MFT sensored camera, much like the Olympus EM-1X. And like the Olympus EM-1X, we don't recommend that anybody specifically buys it unless they've already bought into the Olympus Micro Four Thirds system and have a collection of native lenses. For MFT users, the Olympus OM-1 will be the best MFT option ever to hit the market. That said, it is important to note, that the housing system can still be small overall for the OM System OM-1 when compared to a full frame camera. This is because the lenses are small and require smaller ports.
There are many other better full-frame mirrorless camera options within a similar budget like the Sony A7C, Sony A7 IV, Canon EOS R6, and Nikon Z6 II. Even much more affordable APS-C cameras like the Sony A6600 or the Nikon Z50 will produce better dynamic range and detail in your images.
The only time we would say buying the OM System (Olympus) OM-1 camera is a good idea is for people who want to upgrade their existing Olympus Micro Four Thirds camera. At that point, you've probably already built up a collection of lenses that you can use and have formed some attachment to the brand.
Key Features
20 Megapixels photos
Micro Four Thirds Stacked CMOS Sensor
TruePic X Dual Quad Core Processor
ISO 80-25600
5-Axis Image Stabilization
1052 Autofocus Points
Equivalent 2x Focal Length
10 FPS in Photo Mode
4K/60, 1080/240 Video
Weight - 599g (1.32 lb / 21.13 oz)
Fully Articulating LCD Screen
Two SD Card Slots
Notable Improvements
For people looking to upgrade from an older Olympus model, there are some welcome improvements in the OM-1.
Electronic Viewfinder
One of the biggest improvements is in the brand new viewfinder. Older models had low-resolution viewfinders far behind what you get from other manufacturers. The OM-1 comes with a much better 5.76M dot OLED viewfinder with a 120 fps refresh rate and a refresh delay of just 5ms.
Menu
The new menu system is a totally reworked version of the old Olympus menu that now resembles the old Sony style menu system. It's a massive upgrade and simplifies the layout, putting everything in a logical order. A small feature we like about the new menu system is that when an item is greyed out, you can still move the selector over it, and it will tell you why that option isn't available.
Battery Life
The OM-1 comes with a brand new battery, the BLX-1. Again, it's a nice upgrade from the old one and allows you to get a solid 90 minutes of video and around 520 shots per charge, and that's with the rear screen on. A related aside, the OM-1 doesn't come with a battery charger as standard. Instead, it comes with a USB cable that you can use to charge the battery while it's still in the camera.
High-Resolution Mode
Although the camera has a 20MP sensor, you can use a high-resolution mode to capture extra details when needed. The camera will capture multiple images in high-resolution mode and process them in-camera to produce a single 50MP image handheld and up to 80MP using a tripod. The new TruePic X Dual Quad Core processor only takes seconds to process the final image.
Live ND Shooting
While the live ND shooting mode isn't strictly new (in fact, it's not new at all), it has been improved. You can choose from 1, 2, 3, 4, 5 or 6 stops of exposure reduction to capture motion blur without an actual physical ND filter. It's one of the computational photography modes you can choose from in the OM-1 and will probably be one of the most used. What's really nice about the live ND shooting mode is that you can use it to capture motion blur even when shooting handheld.
OM System OM-1 for Underwater Photography and Videography
As we've already mentioned, if you are a MFT lens user, the Olympus OM System OM-1 is a nice, albeit expensive, upgrade. In fact, after shooting the camera underwater, we think it's the best micro four thirds camera available for underwater photography. But if you are thinking of entering this lens format, it may not give you the best results for similar price points in APS-C and full frame cameras. For example, the Sony A7C, coming in at around $500 less than the OM-1, has a full-frame 24.2MP sensor and a ton of housing options. It's a no-brainer really.
One feature that does make this camera an option for underwater photography is its much-improved subject detection autofocus system. In previous Olympus cameras, subject detection autofocus was basically unusable. But thankfully, it is now at a point where accurately tracking fast-moving subjects like fish and sharks is possible.
Overall we quite liked the image quality from the system. It handled dynamic range reasonably well - though there is a noticeable difference from larger sensored cameras. And it works well with high quality glass from Olympus like the Olympus 60mm macro and the Olympus 7-14mm wide lens.
The uncropped 4K/60p video mode also gives you a chance to capture nice underwater video footage. There is no drop in video quality going from 4K/24p to 4K/60p, and in combination with the native OMLog 400 video profile, you're able to max out the camera's image quality potential in post-production. We're pretty happy with the results from our video we filed with the Olympus OM System OM-1 as you can see below. It's not quite at the level of video options as the Panasonic GH6, but it's the first Olympus model that captures useable video. We were not pleased, however, with the manual white balance capability of the camera. It really didn't take out all of the blue cast at depth - so plan on bringing video lights! We used the Kraken 6000.
Best Lenses for Underwater Use
The OM System OM-1 features a standard Micro 4/3 lens mount, allowing it to use all Olympus 4/3 lenses, plus those from 3rd parties like Panasonic. Below are our recommendations for fisheye, wide-angle and macro lenses.
Fisheye Lenses
There are two choices for fisheye lenses, ideal for capturing reefscapes, big animals, wrecks, close-focus wide-angle and other large underwater scenes. The new Olympus 8mm Pro fisheye offers the best image quality and lightning fast speed of f/1.8. The Panasonic 8mm fisheye lens has long been our go-to lens, delivering great photos with a full 180 degrees of coverage and widest aperture of f/3.5. Both lenses have a very close focusing distance, you can practically focus on the dome port!
Wide-Angle & Versatile Lenses
The OM-1 has many different wide-angle and mid-range zoom lenses to suit every underwater photographer. For wide-angle shooting, helping capture subjects like whales, sharks and sea lions, the newer Olympus 7-14mm Pro lens and the classic Panasonic 7-14mm are your choices. Similar to the fisheye lenses from these brands, the Olympus will deliver slightly better image quality, but at a higher price. Wide-angle shooters will love the Olympus or Panasonic 7-14mm; choose Olympus for the best possible optic quality. The Olympus 9-18mm lens is a great choice for those on a budget who still want a good wide-angle lens.
Kit lenses are an affordable way to get your camera in the water while also providing mid-range focal lengths ideal for shooting models in a pool. The Olympus 12-50mm is a great choice for ocean shooting, with a nice zoom range as well as built-in macro mode for capturing those small subjects.
The Panasonic 12-35mm F/2.8 lens is popular for underwater videographers, as it is a great focal length for underwater video, and the bright F/2.8 aperture is important for video. The Olympus 12-40mm Pro captures high quality images with an F/2.8 aperture and professional level glass and is another great option for underwater videography.
Macro Lens
The best option for shooting macro with the OM System OM1, is the Olympus 60mm macro lens. This lens delivers sharp 1:1 macro images and can be used with wet diopters outside your port in order to magnify your smallest subjects into great supermacro images. If that lens is too much, or you like shooting slightly larger macro, we recommend the Panasonic 45mm macro. This lens is a bit more money than the 60mm, but offers more flexibility in larger subjects. However, it is not ideal for super macro.
Best OM System OM-1 Underwater Housings
Currently there are two excellent underwater housing for the OM System OM-1 offered at Bluewater Photo. The Ikelite OM System OM-1 housing is a great, lightweight polycarbonate option. The Nauticam OM System OM-1 housing is a precise, machined aluminum housing.
The Ikelite housing is compact and offers Ikelite's latest upgrades and ergonomic controls. The housing is built from ABS-PC which provides strength and corrosion free performance with minimal maintenance. This housing is the most affordable and lightweight option with the best underwater buoyancy. The back of each Ikelite housing is clear which makes it easy to see any issues inside the housing in real time. Perhaps the most compelling aspect of the housing is it's small size. The OM1 housing features a Dry Lock Micro port system which keeps the overall package very small and easy to travel with - much smaller than mirrorless competitors that need a larger port system. We took the Ikelite OM-1 housing diving and had an excellent time shooting with it in some beatiful Catalina conditions. Check out the video here.
Purchase the Ikelite OM System OM-1 housing at Bluewater Photo!
As is typical with Nauticam, this is a high quality aluminum housing which provides full camera control. Although the housing is more compact it does not sacrifice anything with functionality or ergonomics. More importantly, buttons and dials have the same quality and feel as with Nauticam's DSLR housing offerings.
As is standard in previous housings, this one includes the option for a vacuum monitoring system along with the built-in leak detection. The housing also provides access to Nauticam's wide range of useful accessories.
Purchase the Nauticam OM System OM-1 housing at Bluewater Photo!
Conclusion
The OM System OM-1 camera represents a good option for underwater photography & video for current MFT lens users. The image quality is better than previous Olympus cameras and the new autofocus tracking system is the most exciting improvement. We were quite happy with our results underwater, and do believe this is the best micro four thirds camera for photography to date. Most importantly, if you've been an Olympus user disappointed by video on older cameras, you'll be happy to hear that the video from the OM-1 is excellent. If you're a dedicated MFT video shooter however, you may want to consider the new Panasonic GH6.
Now if you're not a current micro four thirds user, this is a good camera, but worth a pass.
If you're looking for a new camera, Bluewater Photo has an in-depth guide to the best underwater cameras for all levels; you should check it out before deciding.
---
Support our content and get your OM System OM-1 Housing at Bluewater Photo!
Ikelite OM System OM-1 Housing
Nauticam OM System OM-1 Housing
---
SUPPORT THE UNDERWATER PHOTOGRAPHY GUIDE:
The Best Service & Prices on u/w Photo Gear
Visit Bluewater Photo & Video for all your underwater photography and video gear. Click, or call the team at (310) 633-5052 for expert advice!
---
The Best Pricing, Service & Expert Advice to Book your Dive Trips
Bluewater Travel is your full-service scuba travel agency. Let our expert advisers plan and book your next dive vacation. Run by divers, for divers.
---