Diving Bonaire
Underwater Photography Paradise in the Caribbean
Just take a look at the slogan on a Bonaire license plate "Diver's Paradise" and you have a pretty good idea what is in store for you. Bonaire realized long ago that the majority of their tourist's dollars were coming from divers. They have worked hard at protecting their reefs and were one of the pioneers to install permanent moorings. It is not just the healthy reefs that attract divers year after year. Bonaire offers diving freedom that can't be found elsewhere in the Caribbean. Not only are there a number of excellent dive shops that offer boat trips out to the local sites but almost all of Bonaire's main island dive sites can be done from shore. Allowing you the unique opportunity to dive the same spot as often as you like.
Bonaire Topside
Bonaire is located 50 miles north of Venezuela. The main island is only 24 miles long and 3 to 7 miles wide. Klein Bonaire, meaning "Little Bonaire", is a tiny uninhabited island off its west shores. The islands are very arid with the dominate plants being cactus. There are plenty of parrots, flamingoes, iguanas, donkeys and other attractions to keep you clicking away topside. Some of my favorite landmarks to shoot are the Williamstoren Lighthouse, the slave huts, the three remaining Obelisks or the salt mounds drying across from the salt pier. But that's not all, there are tons of other things to do in Bonaire too like explore colorful downtown Kralendijk, explore the island by Tuk Tuk, or visit the famous pink lakes. Whether you're on a diving holiday, or staying on dry land, you're sure to find plently to do!
Diving in Bonaire
Access to the Bonaire National Marine Park requires a $25 marine park tag which can be purchased at any dive shop. The majority of dive sites off the west coast of the main island are accessible from the shore. Klein Bonaire and a few of the harder to reach sites are done only from the dive boats. Typical dive depths are 30 to 90 feet (9-27M) with a few deeper sites. Visibility averages 60-100 feet (18-30M) but ocaasanaly drops down less. Water temperatures range from 78 to 86 F (26 to 30 C).
Shore Diving Bonaire
Bonaire is most famous for it's shore diving. It's easy and predictable, and not too deep (less than 70ft). There are not a lot of currents, nothing big in the water to bite you, and the dive sites are well marked.
Read more about the best shore diving in the world here.
The dive sites are easy to locate as they are all cleverly marked with a large yellow rock with the name of the site painted on it. Simply drive down the main road till you see a yellow rock, look up the discription of the site in your dive guide and if it sounds good, go diving! The sites in front of the hotels can be accessed from piers or stairs leading down into the ocean. The other shore dives range from easy access to extreme, but most feature pebbled, coral rubble beaches or rocky shorelines so it is best to use booties and open heeled fins. Do not leave valuables in your rental car unattended while shore diving. I have never encountered any problems personally but others have reported having items stolen out of their cars.
Boat Diving Bonaire
There are some great dives on Klein Bonaire that can only be accessed by boat. Some of the dives to the north such as Reppel and Oil Slick Leap are near impossible to do from shore. If this is your first time to Bonaire, at least a few boat dives are definitely worth doing. There is also just the added convenience of boat diving. Sometimes it is nice to just take it easy especially when you are there on vacation.

Typical Diving Day in Bonaire:
Typical dive day really depends on whether your doing boat dives, shore dives or a combination of both. Most shops run morning, afternoon and often evening boat trips. Shore diving can be done at any time and with most dive packages you can check out multiple tanks. If you are staying at one of the hotels like Buddy Dive Bonaire with a house reef these are accessible at any time and convenient for excellent night dives and in between boat dives. The number of dives you can do in one day is only dependent on your energy and bottom time.
Dive Packages
There are various packages available through the dive shops. The most popular are the boat diving with unlimited shore diving packages and the shore diving only packages. Nitrox is readily available on the island and is well worth the extra expense for the extended bottom time.
Bonaire Marine Life
Bonaire is not typically known for its larger creatures but there is plenty to keep you occupied with your wide angle lens. Large sponges and sea-fans dominate the reef scape and the salt pier has excellent wide angle opportunities. There are a few shipwrecks and large tarpon are quite common as well as turtles, barracudas and few good size groupers. For macro and midrange subjects you'll have plenty to choose from. Angel fish, butterfly fish, seahorses, crabs and shrimp are just a few of the many subjects that you can find.
Hawksbill turtle in Bonaire, photo by Randy Harwood
Bonaire's Best Dive Sites
There is no shortage of excellent dive sites around Bonaire, but there are some definite favorites. Read on for some of the Underwater Photography Guide's top picks and head over to Bluewater Travel to read their article about the best dive sites in Bonaire.
Hilma Hooker:
The Hilma Hooker is a 236 footlong freighter that has been on the bottom since 1984. She rests on her starboard side on a sandy bottom at about 95 feet. The top of the wreck is in about 65 feet of water. Access is available from boat or shore. It's big wreck, usually with good visibility - and it looks like a boat, not like a hunk of junk.
Salt Pier:
The Salt Pier offers excellent wide angle opportunities with lots of growth on the pilings and schooling fish under the shadow of the pier. Depth range is 40 to 70 feet. Access is available from boat or shore but if diving from shore you must get prior permission. You should be able to do this through one of the local dive shops but check first in case rules have changed.
Karpata:
Karpata is a bit harder to dive from shore than many of the other sites but well worth the effort. The reef slopes almost to a vertical wall down to the sand at around 130 feet. The majority of the best diving is in the 30 to 80 feet range. This is a good place to see pelagics out in the blue water. Access is available from boat or shore.
Reef and sponges seen while diving Bonaire, photo by Randy Harwood
Bari Reef:
Bari Reef is located right in front of the Sand Dollar Resort. It is an easy shore dive with steps leading directly into the water from their pier. It is a great mid-day dive or night dive with a lot of great macro subjects.
Klein Bonaire:
Some nice soft corals and sea fans, with healthy reef and Caribbean fishes. Because you must come here by boat, it's less dove. Klein bonaire offers some of the better diving.
Small filefish in Bonaire
Bonaire dive rules
All of the dive operators in Bonaire are very protective of Bonaire's reefs. In general, wearing gloves in not allowed. If a divemaster sees you touching or destroying the reef, you are usually warned the 1st time, and removed from the water the 2nd time. You are not allowed to take anything from the water, including seashells.
Special rules may apply to combat the spread of Stony Coral Tissue Loss Disease (SCTLD).
Best Time to Visit Bonaire
Bonaire is usually good to dive year round, and actually has a reputation for having great weather all year round, but hurricane season is between June and November. Although technically below the hurricane belt, they have had their share of odd storms and received significant damage in 2008 from Hurrican Omar. Some divers have said that some shallow reefs sustained damage from the Hurricane, but not the deeper areas.
Bonaire receives very little rain and the average daytime temperatures range from 85 to 95 degrees farenheight (29-33 C).
Getting There
There are a lot of international direct flights to Bonaire. If you are traveling from the U.S.A , Continental has direct flights from Houston every Friday and Saturday. Curacao is near Bonaire and underwater photographers also enjoy Curacao.
Further reading: www.infobonaire.com
Bonaire Dive Resort Options
Bonaire Underwater Photos
Shipwreck Our Confidence, photo by Carol Yin, Canon 5D, Canon 17-40mm
Further Reading
Underwater Photography Paradise in the Caribbean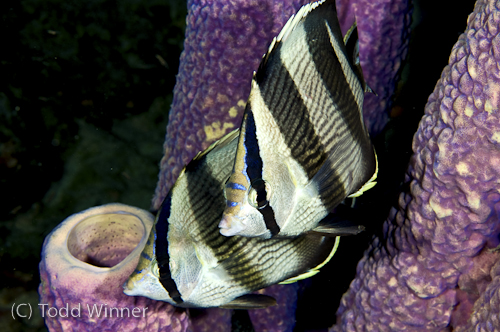 SUPPORT THE UNDERWATER PHOTOGRAPHY GUIDE:
The Best Service & Prices on u/w Photo Gear
Visit Bluewater Photo & Video for all your underwater photography and video gear. Click, or call the team at (310) 633-5052 for expert advice!
---
The Best Pricing, Service & Expert Advice to Book your Dive Trips
Bluewater Travel is your full-service scuba travel agency. Let our expert advisers plan and book your next dive vacation. Run by divers, for divers.
---