SeaLife Sea Dragon Flash Review
We test the compact and versatile SeaLife strobe in the Lembeh Strait, including full specs, best setup and shooting modes
The SeaLife Sea Dragon Flash delivers great light in a small package. Versatile in setup, it can be mounted to any camera via standard ball mount and clamp, or used with the Sea Dragon Flex-Connect accessories. The strobe is triggered via fiber optic cable and can be shot in manual or Automatic (TTL) mode, which allows it to be shot with any camera using an internal pop up flash.
Many shooters use the Sea Dragon Flash with the SeaLife DC1400, but we decided to test it on a 3rd party camera - the Canon G7 X II in brand new Fantasea FG7X II housing, and were very pleased with the results.
The wide beam of light brought the color and pop into our test photos from Indonesia's famous Lembeh Strait.
---
Purchase the Sea Dragon Flash and best accessories
---
SeaLife Flash Specs
100 degree beam angle (with diffuser)
Color temperature: 5400 Kelvin (with diffuser)
Manual mode to adjust between 8 and 100% power
Automatic (TTL) shooting mode
Uses 4x rechargeable AA batteries
Triggered with fiber optic cable (universal across most cameras/housings)
Mounted with either standard ball/clamp or Sea Dragon Flex-Connect system
Dimensions: 5" (12.7cm) x 4.5" (11.4cm) x 2.5" (6.4cm) (Head only)
Weight: 18 ounces (509 grams, head with batteries)
Why Should I use a Strobe?
As we descend in the water column, we lose some of the light in the color spectrum, starting with reds (like we learned in our open water course). As we go deeper, we lose more color and even contrast.
A strobe will produce a very fast burst of light that brings this color and contrast back into the photo, creating a much more exciting image. In addition, a strobe will freeze the motion of a fast-moving subject, helping you bring home crisper images with sharper focus.
Using a strobe is as easy as attaching it to your camera, connecting the fiber optic cable and ensuring your camera's pop-up flash is in the up and on position.
Shooting the Sea Dragon Flash Underwater
The SeaLife Sea Dragon Flash was a pleasure to use in Lembeh. The compact size of the Canon G7 X II paired with the Flash was easy to travel with and carry around while diving. I was also using an I-Torch V10 focus light to help the camera achieve focus at times.
This flash and housing setup is so light that it's positively buoyant in the water. I would recommend a lanyard to make sure it doesn't get away from you. Alternatively, if you add a heavier accessory (video light, metal arms/clamps) the system will quickly become negatively buoyant.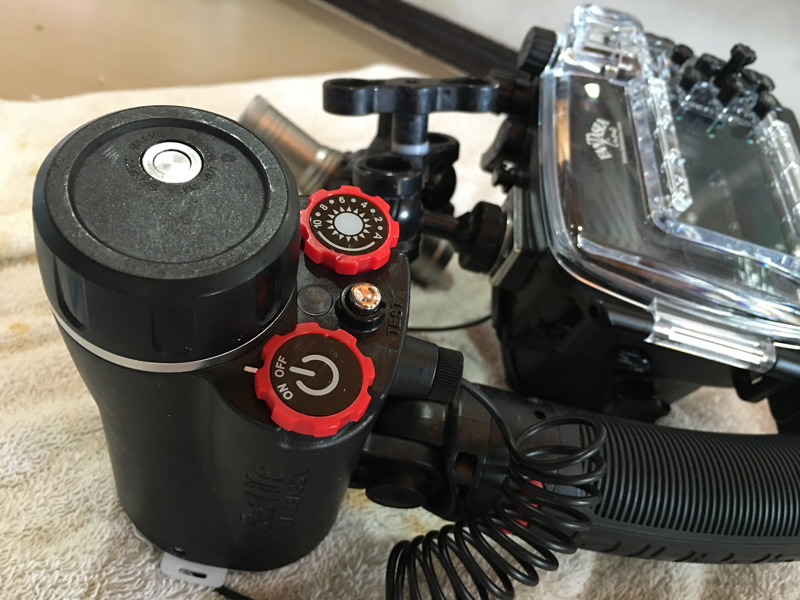 Changing batteries on the Sea Dragon Flash is easy. The battery cap screws on, with many threads and o-ring to ensure it stays watertight. To replace the cap, there is one notch that must be aligned, but this is to ensure the contacts hit the batteries at the right spot - you just have to twist. Inspecting and cleaning the o-ring is easy.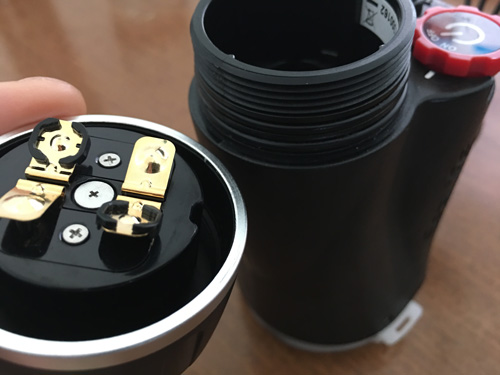 The rear controls on the Sea Dragon Flash are very clearly labeled and easy to read. The left dial is for On-Off. The center button will fire a test flash - great to make sure you've added the batteries the right way (even with +/- labeling we all mess up sometimes). The right dial allows you to shoot in Automatic (TTL) mode or adjust the power level for shooting in manual mode. I shot the strobe using manual and found the changes in power level very straight-forward.
The Flash comes with a diffuser, and I highly recommend using it in order to soften the strobe light, widen the beam to 100 degrees and lower the color temperature to 5400 Kelvin.
When diving with the strobe on, the system shuts down after a period of non-shooting (althought the blue ready light remains on). If this happens, simply turn the strobe off and then back on and you're ready to shoot again.
All in all, the Sea Dragon flash is a great way to bring some light and pop back into your photos and performed the task very well during our testing.
Underwater Flash Sample Photos
---
Purchase the Sea Dragon Flash and best accessories
---
SUPPORT THE UNDERWATER PHOTOGRAPHY GUIDE:
The Best Service & Prices on u/w Photo Gear
Visit Bluewater Photo & Video for all your underwater photography and video gear. Click, or call the team at (310) 633-5052 for expert advice!
---
The Best Pricing, Service & Expert Advice to Book your Dive Trips
Bluewater Travel is your full-service scuba travel agency. Let our expert advisers plan and book your next dive vacation. Run by divers, for divers.
---