5 Tips for Awesome Over-Under Shots
Master Split-Shots with these Easy Techniques

Diversity is essential in any photo portfolio. The first thing we learn when presenting photos is that less is more; it's better to show 5 excellent photos than 25 mediocre photos. The next trick in presenting photos is finding those "wow" photos, which is done through variety that keeps the audience looking forward to your next visual surprise. Over-under shots, aka split-shots, are perfect for mixing into your macro and wide-angle collection.
Below are 5 essential tips for shooting over-under split-shots.
1. Use a Large Dome
The surface of the ocean is likely to be rolling at most dive sites, whether short period or long period energy. And like wide-angle photography underwater, a good split-shot is comprised of several elements: a strong topside scene, a strong underwater scene and a water line across the frame. The larger the dome port, the more surface area to split the water and create this water line. The big dome provides more room for the waterline to move up and down on the dome while still splitting the water. For more advanced split-shot shooters, this allows the creativity of working with the water line (straight vs. waving angles) and precise angle of the shot (amount of topside vs. underwater scenery).
The downside is that big domes are tougher to travel with (due to their size compared with a standard 4" dome) and not the best option for Close-Focus Wide-Angle photography. A big dome is helpful with wide-angle lenses and large subjects like whale sharks and (obviously) split-shots.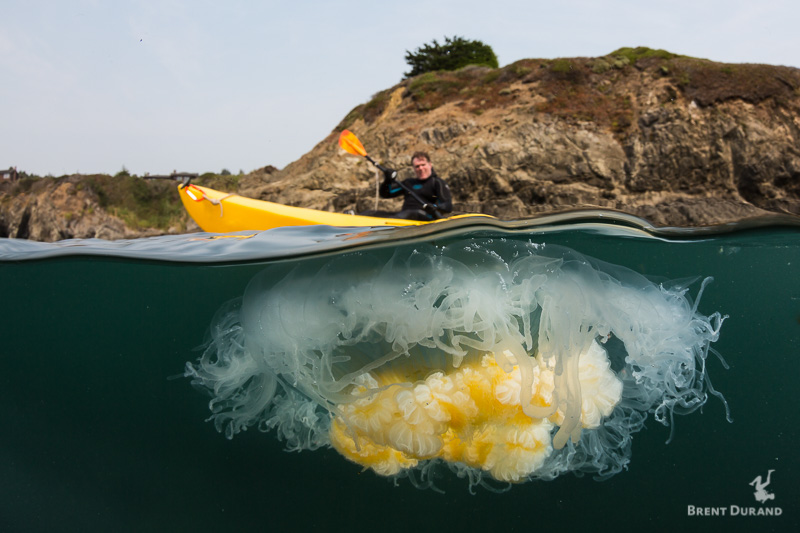 2. Use a Fisheye or Wide-Angle Lens
This is an obvious tip, but very important. Don't be afraid to use your fisheye lens for split-shots. Sure, the surface scene may appear warped, but sometimes that effect is pretty cool. Oftentimes the water line accents the slight warp of topside objects. If the fisheye warp effect is not desired, you can straighten it out with post-processing features like Adobe Lightroom's lens distortion tools. A wide-angle lens can also be used for certain over-under scenes.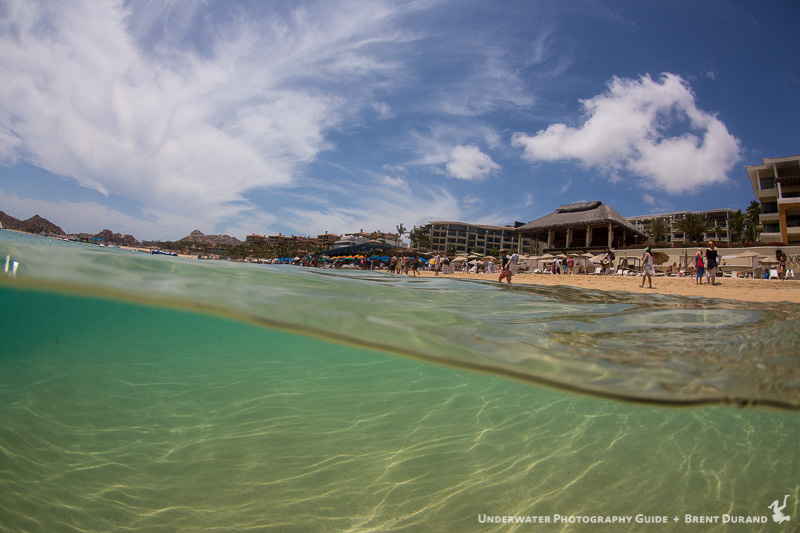 3. Use a High F-Stop
Shooting split-shots is similar to landscape and close-focus wide-angle photography in that you need a large depth of field in order to keep the entire image in focus. In most split-shot scenes, there's an underwater subject (sand, rocks, etc.) within a meter or two of the lens and also a topside subject that can be anywhere from 3 to hundreds of meters away. Stopping down to a low f-stop (ie F16 or F18) allows you to keep both scenes in focus, including the water's surface just in front of the dome. When shooting with a small aperture it's essential to closely monitor shutter speed, which will need to be at or over 1/60 for a sharp image. ISO will oftentimes need to be bumped up in order to expose the image with a fast shutter speed.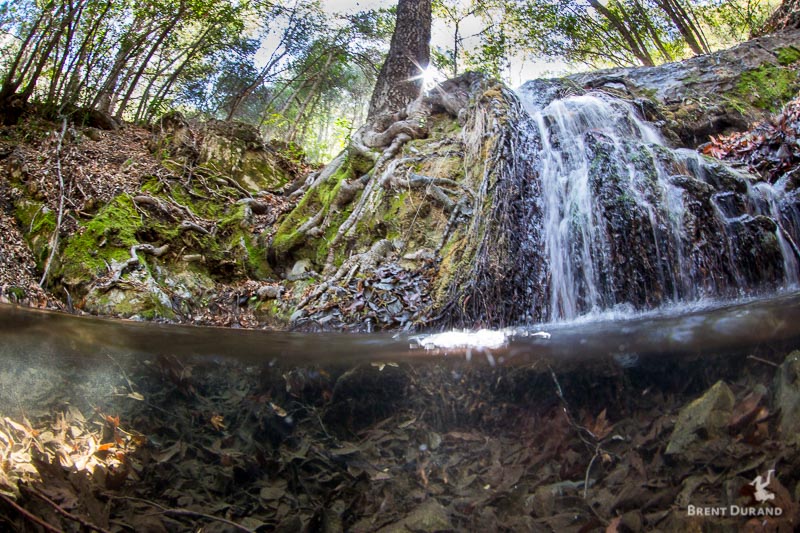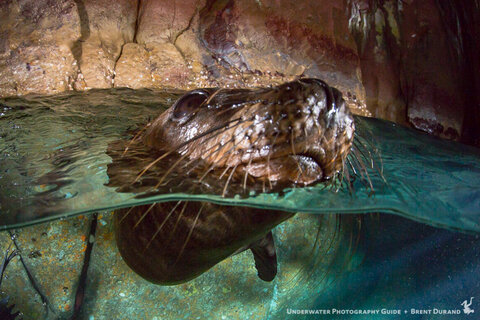 4. Look for the Right Conditions
Water is very dark compared to the light scene we seetopside, and there are some essential conditions to look for before deciding to shoot a split-shot. The first is decent visibility in the water. If the visibility is poor then the subject underwater will not be as detailed and result is a boring image. The second condition is mid-day sun. When the sun is overhead it penetrates and lights up the water – ideal for split-shots. If shooting earlier or later in the day, the image should be composed with the sun somewhere at the back of the camera so that the light falls in front of the scene (vs. shooting into the bright sun and seeing silhouettes). Other tricks can be used as well, like using strobe light.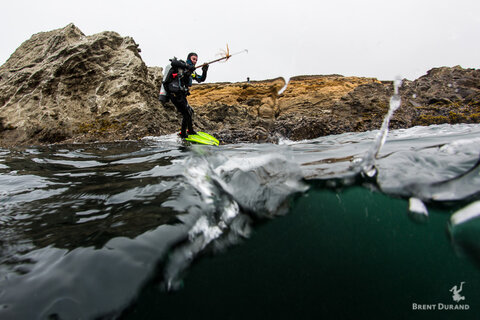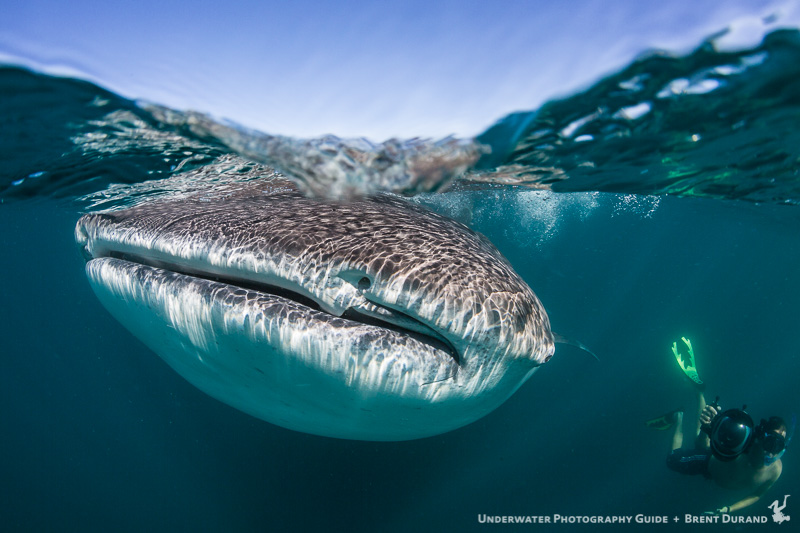 5. Keep Water Drops off the Dome
Even the best split-shot will be unusable if blurred out by water droplets on the dome port. My preferred method of keeping drops of the dome is to use my custom mask antifog – spit. That's right. Putting some spit on the dome will help shed water for a spot-free image, at least for several seconds. Just spit, dunk the dome, shoot, then repeat. Other photographers have success with sponges/conditioner or other creative methods. Glass domes also shed water better than acrylic domes but come with a much higher price tag. Read more on glass vs acrylic domes here, as well as interesting facts on the virtual image created by dome ports.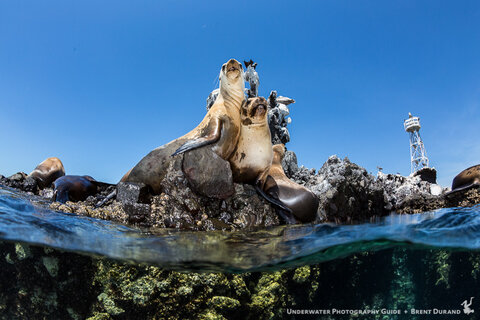 Split-shots are a creative way to enhance your photo portfolio and these tips will help you bring home some great shots! Have fun and remember that the shooting doesn't stop when you reach the surface.
SUPPORT THE UNDERWATER PHOTOGRAPHY GUIDE:
The Best Service & Prices on u/w Photo Gear
Visit Bluewater Photo & Video for all your underwater photography and video gear. Click, or call the team at (310) 633-5052 for expert advice!
---
The Best Pricing, Service & Expert Advice to Book your Dive Trips
Bluewater Travel is your full-service scuba travel agency. Let our expert advisers plan and book your next dive vacation. Run by divers, for divers.
---