Sea & Sea YS-D3 Duo Review
A new RC mode and optical sensor. Is it worth the upgrade?

For more than 40 years, Sea & Sea has been a leader in underwater lighting. Their most recent flagship in the yellow submarine strobe family is the Sea & Sea YS-D3 Duo. It takes the place of the Sea & Sea YS-D3 Mark II, which is still offered, but for a little bit less money. The Duo has been re-engineered with a more sensitive optical sensor for more effective TTL as well as a dual RC circuit for accurate exposures with OM System branded cameras, like the TG-7, and is still capable of the same astounding recycle times of 0.6 seconds under half power with a total guide number of 33. In addition, we had the chance to participate in the Sea of Cortez underwater photography course where we tested the Sea & Sea YS-D3 Duo.
---
Support our content and purchase your Sea & Sea YS-D3 Duo at Bluewater Photo:
US MSPR: $849.95
Order a Sea & Sea YS-D3 Duo Strobe
---
Sea & Sea YS-D3 Duo Specifications
Guide Number (land): 33
Beam angle: 105 x 80 degrees (no diffuser). 100 x 110 degrees (with included diffuser). Optional 150 degree dome diffuser available - GN is reduced by -1.5 EV.
Battery life: 220 flashes with Ni-MH batteries (4x AA)
Recommended Batteries: Eneloop Pro
Recycle time: 1.7 seconds at full power, 0.6 seconds at half power, virtually no recycle time at quarter power and below
Color temp: 5800K (5500K with diffuser)
Improved optical sensor and TTL accuracy
New RC TTL mode for Olympus cameras
Underwater Buoyancy: Almost Neutral (-20g)
Aspherical troidal lens in flash tube for a nice, even beam
Improved audio and visual ready notification when strobe is ready to fire
Built in safety features to prevent overheating
300 lumen targeting light (4x more powerful than in the YS-D2J)
Auto power off
Over pressure relief valve
DS-TTL II, Slave TTL, RC mode, and Manual modes
Compatibility with 5-pin sync cord/N and fiber optic cables
Depth rating: 100m/330 ft
Weight: 610 grams (21.05 oz)
Includes ball mount strobe adapter, diffuser, silicon grease
US MSRP: $849.95
Sea & Sea YS-D3 Duo Strobe Features
Redesigned & Improved - Optical Sensor, Better TTL, and a New RC Mode
Earlier versions of the now popular YS Strobes (in particular the YS-D2s) suffered from reliability issues. Uunder new ownership, Sea & Sea has trasnformed these issues into now new and improved strobes which offer more reliability and better performance. The Sea & Sea YS-D3 Mark II redesigned the TTL circuitry of the original YS-D3, and the new YS-D3 Duos finish the metamorphosis with an enhanced optical sensor. Sea & Sea have ensured the new iteration, the YS-D3 Duos, can work with companies that use low powered LEDs in their flash triggers.
A superior optical sensor also increases TTL accuracy all around. TTL mode is comparable to a "automatic" strobe mode in most respects. By gathering "through the lens" exposure data from the user's camera, it enables them to take images underwater without the need to change their strobe power. We find the TTL on the YS-D3 Duo to be a significant improvement over the TTL from the Sea & Sea YS-D2 and D2J, even if TTL is only around 75% accurate and does require some exposure compensation with the proper EV control dial on the strobe.
The most intriguing change may be found in the name: the strobe now features dual circuits that includes an RC mode. The RC mode is created specifically for Olympus/OM System cameras with an integrated RC flash mode, such as the OM System TG-7. Some cameras, like the well-known OM System TG-7 and TG-6, are automated, which makes regulating lighting underwater -- even with conventional TTL modes -- quite challenging. As you can see from Bill French's photographs, which are unedited, right out of the camera, we found the exposures from the YS-D3 Duo in RC mode to be incredibly precise while we were diving in the Sea of Cortez with the TG-6.
The Sea & Sea YS-D3 Duo also maintains two manual modes for more conventional shooters, one of which can be activated by cameras with pre-flash and the other by a single flash or flash trigger.
A Key Safety Feature
Due to the upgraded optical sensor on the strobe, which has significantly enhanced it's sensitivity to light, if the strobe is turned on outside the water without a fiber optic line attached, it can release rapidly firing strobes releases. In this case, the strobe will then stop shooting and flash yellow. Before turning on the strobe, it is advised that you connect a fiber optic connection or sync cord. Simply switch the strobe on and off to reset it.
Strobe Beam Quality
The YS-D3 Duo's beam quality is the same great beam found in the original Sea & Sea YS-D3. It is designed with an aspherical troidal lens in the flash tube for nice, even lighting. We find the beam to be a little cooler (5800k) than previous models of Sea & Sea strobe. A cooler beam tends to help colors pop while looking natural in greener, colder water, like we often see in the west coast of the US. The beam is also a bit softer than the quality of light that was originally produced with the Sea & Sea YS-D2Js.
Lightning Quick Recycle Times
The outstanding recycle times at reduced power are arguably the YS-D3 Duos' best feature. The recycling time is 0.6 seconds at half power and practically nonexistent at quarter power or lower. This implies that you can fire at any rate you like during deep or dark dives with little ambient light. These "lighting quick" recycle times will be especially advantageous for coldwater divers. We used the D3 at half power to take the series of shots in the image below at 5.5 frames per second. Observe how the exposures in each of the unedited photographs are remarkably consistent.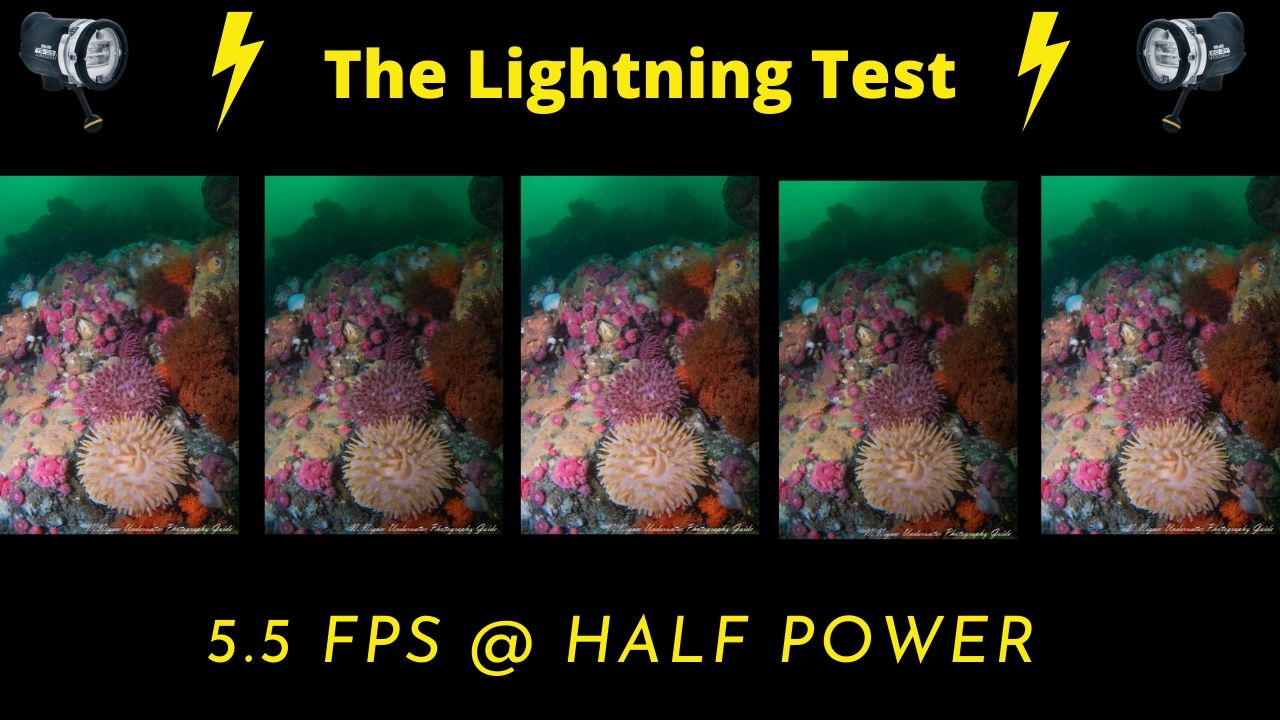 Build & Ergonomics
Built to Sea & Sea's high quality standards, reliability is second nature. These strobes are fighting way above their weight, pushing out more power per size ration than any other strobes on the market. A perfect size for travel, ouputting more than enough power for thier guide number.Also, navigating tight underwater environments, and kelp forests were easiernot having to worry about large strobes hooking up.
With the YS-D3 Duo, the rear panel, dial, and controls have been changed and improved. Even with thick gloves in the chilly water, the dials are big and simple to operate. Divers can swiftly adjust settings without having to glance at the strobe thanks to dial clicks for direct feedback. When utilizing the YS-D3 Duo, there are only two main control dials: the most dial and the EV/manual power control. Simply turn the right dial clockwise to increase power and counterclockwise to decrease it to change your strobe exposure.
The YS-D3 duo accepts four AA batteries which makes it easy if you are in a remote area and happen to forget your batteries. The strobes are designed to be used with eneloop pro batteries, so these are the batteries we recommend.
There has been one notable ergonomic improvement when comparing the YS-D3 duo to the YS-D3 - the audio ready confirmation is much louder with the YS-D3 Duo. When the strobe is ready to fire after a flash, it will beep, letting you know the capacitors are fully charged and ready to fire again.
A Brighter Targeting Light
The YS-D3 duo's targeting light can produce up to 300 lumens of light, which is four times as bright as the YS-D2J. As a result, it is simple to utilize as a focus light when taking macro photos. To avoid having to point your strobes directly at your subject, it is preferable to have a separate focus light, therefore we didn't utilize the target light very frequently.
Should you Upgrade?
The strobe market has, up to now, been fairly stagnant, with few new products on the market. But 2023 has proved to be the "year of the strobe". With recent announcements made by Scubalamp, Inon, Weefine, Ikelite, Kraken, and Marelux, we now have a far greater variaty and options from which to choose. How can the Sea & Sea YS-D3 Duo fit into this situation? The YS-D3 Duo is the best strobe for travelers who require a professional strobe with a high GN33 output for wide angle photography since it is an incredibly small, neutrally buoyant flash. It works well in virtually all underwater shooting scenarios.
If you currently use popular macro oriented beginner strobes like the Sea & Sea YS-01, Sea & Sea YS-03, Weefine WFS 07, or the Inon S220 - the Sea & Sea YS-D3 Duo is a natural upgrade. It offers much more power for wide angle photography than these strobes while maintaining a compact size.
The YS-D3 Duo is also worth the upgrade from older pro-level Sea & Sea models like the YS-D2J, YS-D1, YS-250, and YS-110a. While strobes like the YS-D2J output at the same power level as the YS-D3 Duo, the Duo has a more even beam and much faster recycle times at lower power.
But the real question is do you need to upgrade to the YS-D3 Duo from the YS-D3 Mark II or original YS-D3 Lighting? We don't think it's necessary unless you are an Olympus shooter, particularly an Olympus/OM System TG-6 or TG-7 shoot. The RC mode in the D3 Duo produces much better exposures with automatic Olympus and OM System cameras. While the optical sensor is more sensitive and can result in better TTL and compatibility with Nauticam flash triggers, if your existing YS-D3 works for you, the YS-D3 Duo should perform the same.
Top Sea & Sea YS-D3 Duo Accessories
There is a wide range of accessories designed for the Sea & Sea YS-D3 that can take your photography to the next level!
The Sea & Sea YS-D3 Snoot
The Sea & Sea YS-D3 snoot is specifically designed for the D3 and is likely the most affordable snoot device on the market! It has a built in diffuser and prism that allows you to use the targeting light on the strobe to aim the snoot. We find the light to be nice and soft while still providing the contrast needed to capture nice black backgrounds.
Sea & Sea YS-D3 Dome Diffusers
The Sea & Sea YS-D3 dome diffusers increase the beam angle of your strobe to 150 degrees. This is a great diffuser to use with ultrawide fisheye lenses - especially if you are only shooting with one strobe. Although increasing the beam angle can increase the amount of backscatter in your photo, the softer light also reduces the size of the backscatter.
Sea & Sea YS-D3 Slave Prism
The Sea & Sea YS-D3 slave prism is the perfect tool for those who like to use remote lighting in their photographs. The prism detects light coming from your master strobe which triggers the slave strobe as long as the slave is within about 1-2 meters.
Sea & Sea YS-D3 Diagonal Ball Mount
The diagonal strobe mount allows users to shoot with their strobes angles slightly farther back. This can help reduce backscatter and soften light.
Conclusions
The Sea & Sea YS-D3 is a professional strobe with a small footprint and a short recycle time. With well-known Olympus and OM System cameras like the TG-6 and TG-7, it can provide more accurate exposures thanks to a new RC mode and a more sensitive optical sensor. The Sea & Sea YS-D3 Duo is a worthwhile upgrade if you are currently using a lower powered macro-focused starting strobe, even if it is generally quite comparable to the Sea & Sea YS-D3 Mark II. On our dives in the Sea of Cortez and California, we were generally pleased with the color reproduction, softness of the beam, and quickness of the recycle time. The strobe recycle times were able to keep up with the rapid movement of Sea Lions.
One thing is for certain: the YS-D3 Duo strobes are a future-proof investment with light quality befitting the best underwater photographers, whether you are a seasoned professional or a beginner.
SUPPORT THE UNDERWATER PHOTOGRAPHY GUIDE:
The Best Service & Prices on u/w Photo Gear
Visit Bluewater Photo & Video for all your underwater photography and video gear. Click, or call the team at (310) 633-5052 for expert advice!
---
The Best Pricing, Service & Expert Advice to Book your Dive Trips
Bluewater Travel is your full-service scuba travel agency. Let our expert advisers plan and book your next dive vacation. Run by divers, for divers.
---