Diving the Solomon Islands
Solomon Islands Dive Sites, Underwater Photography and Marine Life
The Solomon Islands has some of the most pristine dive sites in the world. Unspoiled because of the remote location, there are not many divers or fishermen to put pressure on the reef and fish.
For incredible reefs, lots of fish, and very few others divers - the Solomon Islands is the place to be. You have wrecks, caverns, wide-angle reefs, large sea fans, soft corals, lots of macro. There is an incredible diversity of hard corals. In fact, the diversity of the Solomon's is hard to beat. The Solomon islands rivals any other Indo-pacific destination for coral reefs, marine life and diversity. An a bonus, topside you get great cultural experiences like villagers, children and dugout canoes visiting your boat for friendly commerce and interaction. Your options in the Solomon islands are limited, which may be a good thing. There are only a couple resorts and a couple of liveaboards.
Typical Solomon Islands Diving
On a liveaboard, 5 dives a day is typical, and usually that includes a night dive. You can solo dive or go with friends or a guide. Usually dives are from tenders, although some dives are from a big boat. The tender is usually waiting for you, so if you surface early a tender is there to bring you back to the boat. Diving is pretty easy with not much current, good visibility, and plenty of marine life. Most people use nitrox due to the repetitive diving. Depths are standard for info-pacific reefs, with the best stuff being between 20-80ft deep. On most dives you can get into the shallows, so long dives like 70-90 minutes is no problem. Motoring between sites is usually done during meals or at night so you don't feel like you are wasting time traveling between sites.
Solomon Islands Dive sites and Marine Life
One popular site, Mary's island has plentiful reef sharks, big schools of jacks, big schools of barracuda, occasional tuna. Big bumphead parrotfish are commonly seen here, and you may see a napoleon wrasse. Typically an entire day of diving is done here. This is the main place for "big stuff" - definitely a wide-angle site. Find out if your trip will stay here 1 or two days!
Barracuda Point: This site in on Mary's Island. It has multiple schools (in the hundreds of fish) both Jacks and Barracuda swirling toward the sun. As you swim up thru the mass of fish, you have to pay attention to your depth gauge to prevent too rapid assent. It's a photographers dream to shoot away as they envelope you with a wall of fish not concerned about your strobes firing.
Devils' Highway: An advanced dive with strong currents (8 to 10 knots), but that's where the mantas cruise. You're dropped a couple hundred yards from the wall in about 15' of water, hovering (like a sky diver) a couple feet of the rock shelf floor. Once you approach the drop off to the wall, kick hard downward and find a place to hold on. (this dive you wear gloves, don't forget to pack them) You will be delighted to the dozen or so mantas that continue to swim back and forth along the top of the wall, feeding in the current.
Manta rays are occasionally seen at a distance, but they are not common, although some groups do get luck and see several. Devil's highway is a high current dive site where Mantas can be seen. One-time divers even heard a volcano going off underwater while diving.
2-4 dives on a trip are usually done on 1 or 2 wrecks, like wreck of the ann. These wrecks are usually at 50-100ft depth, and have plentiful marine life such as soft corals, sponges, and many lionfish.
There are fantastic anemones such different clownfish / anemone fish at many dive sites, and cuttlefish are common, and there are some turtles.
Most sites have great macro subjects such as ghost pipefish, soft coral crabs, xeno crabs, porcelain crabs, hairy squat lobster, many nudibranchs, mantis shrimp, ribbon eels, pygmy
seahorses and large seahorses. Guides will often find these subjects and show any divers in the area.
White beach, which used to be a US military base, has several sunken barges, WW II tractors and jeeps, unexploded munitions, etc. Saltwater crocodiles have been sighted here several times. Many of the interesting wrecks are at 120-140ft deep.
Best time to dive Solomon Islands
Jan - March is the rainy season, any other time is great. The weather is always hot and humid.
Solomon islands water temperatures
80-85 Fahrenheit
Solomon islands underwater visibility
Average was 50ft, sometimes 60-80ft
Where to stay while diving the Solomon Islands
There are two liveaboards that service the Solomon Islands, and a few resorts. The best way is dive the Solomon Islands is to go on a liveaboard.
The world famous Bilikiki offers liveaboard dive trips in the Solomon islands, from ships consistently rated among the best liveaboards in the world, with some of the best diving in the world. You'll have a good opportunity to see sharks, mantas, dolphins, and turtles, barracuda, and more varieties of coral than almost anywhere.
Bilikiki Boat information:
10 Deluxe cabins, all with air-con, private showers & toilet, double bunk + single bunk above it, 2 people max per cabin.

Huge dive deck with lots of room. The boat is 125ft long, 24ft beam

Large screen LCD TV, separate photo room

It is all about maximizing your diving - 5 dives a day or more! Nitrox is available

Trips range from 7-14 days. A village trip is included.
Getting there/ away
From the US, some people fly direct to Brisbane, AU or Cairns, changing planes once. Many people also can fly to Fiji, and change planes once in Fiji, and land in Honiara, where you board your liveaboard or take a small plane to your resort.
Liveaboard diving schedule - on a 10 night trip, you'll get 8 1/2 days of diving, since you dive half a day of on the last day due to the no-fly rule.
Soft coral on a Solomon island's dive
Solomon Islands Underwater Photography Tips
Lens selection
You can use Fisheye lens for wide-angle, schooling fish, wrecks, lionish and cuttlefish, and 60mm or 100mm macro lenses for macro subjects. Supermacro opportunities are also good, and there isn't much surge.
Photographers should pack both wide angle and macro lens as you will get opportunities to capture walls with mega fans, large schools of jacks or barracuda, mantas, reef sharks. The macro shots include nudibranchs, blennies, sea horses, leaf scorpion, and every type of ghost pipefish.
Resort and Liveaboard options
For the best liveaboard and resort options, with reviews, visit the Solomon Islands liveaboard and resort page on our sister site, Bluewater Travel.
Solomon Islands Underwater Photos
Further Reading
Liveaboard & resort comments
I went on the Bilikiki. It's a nice boat, an older boat. There is air-con, private bathrooms, it is comfy to sleep, and there is good food. Your dive host/guide is important - so find out who it is. Most staff have worked there for a long time, unlike other liveaboards where there is high staff turnover. On a 10 night trip you should get 8 1/2 days of diving in. Villages are compensated for divers diving in their area, so you are supporting the local economies. - Todd Winner
We selected Bilikiki because of their good reputation and many reports from other divers rather than a magazine that gets free diving when they write favorable articles. You are met by the staff upon arrival, your bags are identified by the green tags sent to your home, loaded aboard a transport, while you travel to the ship.
After the orientation, you are assigned to one of ten spacious rooms (double occupancy) with air con and private bathrooms. We only had 12 divers, so many of the single divers had their own room.
A typical day:
First breakfast 7am with light fare of pastries, fruit, juice, and 24/7 coffee and tea.
First dive is 8am after a through briefing within 5 minutes of the ship
Second breakfast is 9:30am with a different buffet each day
Second dive is 11am with lunch about noon to 12:30
Third dive is 2pm with cookies and popcorn upon return
Fourth dive is 4:30pm with a special pre-dinner 6pm serving of cheese, crackers, nuts, fruit, and other goodies. Those not going on the fifth dive (night dive) enjoy beer, wine, spirits, juice, and soft drinks.
Dinner is 7pm and most everyone not on a night dive watch DVDs or edit dive pictures before crashing. The night dive is about 8 to 8:30 and only a few hard core divers make the last dive of the day.
The food is basic in great quantities with fresh fruit and vegetables supplied by the local island villagers. The ship is an older fishing boat that has been renovated and comfortable with camera room, battery charging room with both 110 and 220VAC. There is outdoor seating for sun bathing or enjoy the breath taking sunsets.
Comments by Larry Polster
Diving the Solomon Islands
Solomon Islands Dive Sites, Underwater Photography and Marine Life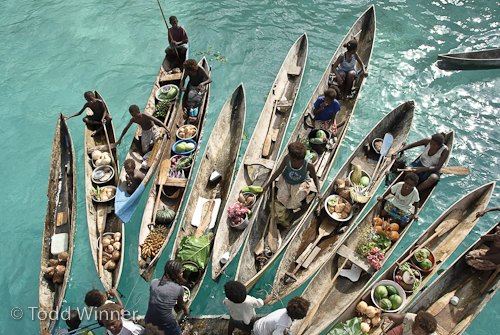 SUPPORT THE UNDERWATER PHOTOGRAPHY GUIDE:
The Best Service & Prices on u/w Photo Gear
Visit Bluewater Photo & Video for all your underwater photography and video gear. Click, or call the team at (310) 633-5052 for expert advice!
---
The Best Pricing, Service & Expert Advice to Book your Dive Trips
Bluewater Travel is your full-service scuba travel agency. Let our expert advisers plan and book your next dive vacation. Run by divers, for divers.
---