Shipwreck Photo Tutorials
Underwater photography tutorial series for shooting shipwrecks

Shipwrecks are fascinating. They create very interesting dive sites, where divers can explore places where humans once walked, sat and lived. Wrecks can become flourishing artificial reefs full of macro photo subjects. They also provide protection for the fish that choose to make the wreck their home, which in turn can attract pelagic fish. Lastly, shipwrecks come with a great deal of history, whether sunk in the last year, decade or many centuries ago.
Shipwreck photography often takes place in deep, dark water where bottom time is very limited. The tips and tricks in these tutorials explore wreck photography with ambient and artificial light.
The Basics of Wreck Photography
The Ultimate Guide to Wreck Photography
Photographing the Wrecks of the St. Lawrence River
(2 part photo essay)
Other Fun Wreck Articles
Dive the Ancient Ruins of Lion City in China
Dive into Egyptian History at Cleopatra's Palace
If there's something you want to learn about wreck photography that is not in these tutorials, email me at brent@uwphotographyguide.com and we'll get an article up on the site.
Underwater photography tutorial series for shooting shipwrecks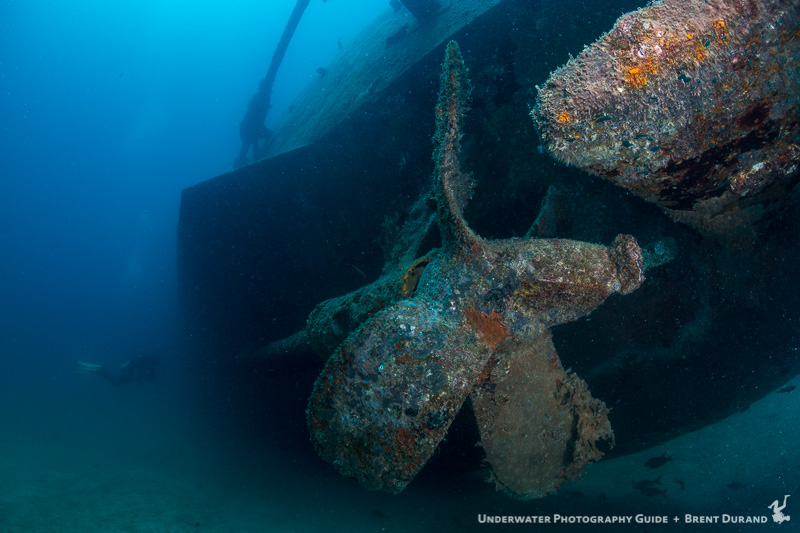 SUPPORT THE UNDERWATER PHOTOGRAPHY GUIDE:
The Best Service & Prices on u/w Photo Gear
Visit Bluewater Photo & Video for all your underwater photography and video gear. Click, or call the team at (310) 633-5052 for expert advice!
---
The Best Pricing, Service & Expert Advice to Book your Dive Trips
Bluewater Travel is your full-service scuba travel agency. Let our expert advisers plan and book your next dive vacation. Run by divers, for divers.
---