The Blackmagic Pocket Cinema Camera 6K features 6k resolution, a larger sensor, and dual gain ISO
The Blackmagic Pocket Cinema Camera 6K features 6k resolution, a larger sensor, and dual gain ISO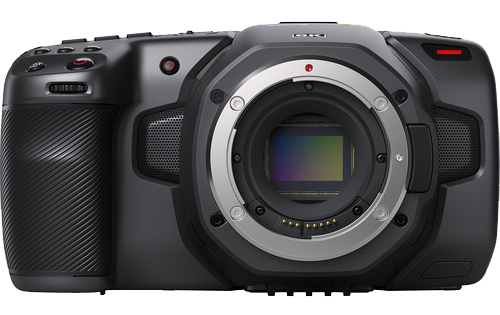 Blackmagic Design is a leader in bringing the art of cinema to the masses. Normally, movie production involves cameras that are so crushingly expensive, a single cinema camera body might cost the same as a nice car. Well, Blackmagic Design has just introduced the Blackmagic Pocket Cinema Camera 6K for 10% of the price of its competitors and featuring 6K video, a super 35mm sensor, dual gain ISO, and a whole lot more. It's an amazing time to be a video shooter, especially underwater.
The video world didn't stop innovating after making 4K industry standard. The jump to 6K has begun with professional cameras like the Panasonic S1H, and the Blackmagic Pocket Cinema Camera is one of the first prosumer cameras in the industry to introduce the feature. But going deeper, the BMPCC 6K offers more exciting features at other frame rates including 60fps 5K footage and 120 fps 2.8K footage. For any underwater videographer looking for smooth footage and amazing detail, it truly doesn't get better than this – at this price point.
Status: Available now!
U.S. MSRP Blackmagic Pocket Cinema Camera 6K: $2,496
Blackmagic Pocket Cinema Camera 6K Specifications
• Super 35 sensor with 6K (6144 X 3456) resolution (16:9)
• Canon EF Mount
• 50 fps @ 6144 X 3456 (16:9)
• 60fps @ 6144 X 2560 (2.4:1)
• 60 fps @ 5744 X 3024 (17:9)
• 120 fps @ 2.8K (2868 X 1512) (17:9) – crop mode
• True anamorphic 6:5 mode in 3.7K @ 60fps (3728 X 3104)
• 5" Bright Touchscreen Display
• Blackmagic RAW and ProRes 422 recording
• Dual Gain ISO – Native ISOs at 400 and 3200 (maximum ISO of 25,600)
• Multiple card options – Cfast Cards, SD UHD-II, and SSD Drive via USB-C cable
• Streamlined menu system
• No In Body Image Stabilization (IBIS) – but Canon lenses have optical stabilization
• Standard LP-E6 batteries
• Weight: 898g
• Size: 7" X 4" X 3.8"
There are some pretty large differences between the BMPCC 6K and BMPCC 4K. That being said, you can get the gist in the name. The BMPCC 6K features an updated Super 35 sensor with 6K resolution. The BMPCC 4K, on the other hand, has a micro four thirds 4K resolution sensor. Obviously, the 6K camera has higher resolution and the enhanced low light capability, dynamic range, etc., that comes with a larger sensor.
With the enhanced sensor comes a new lens mount and new lens options. The older BMPCC 4K has a micro four thirds mount and can only take micro four thirds mount lenses from Olympus and Panasonic. The new BMPCC 6K has a Canon EF lens mount, so it's compatible with Canon EF glass. In some ways, your decision between the two cameras might just come down to what glass is available for each camera and if a certain lens is better suited to your project. Both lens mounts have excellent lens options but Blackmagic is making you choose. Some videographers actually prefer the BMPCC 4K because the MFT lens mount can be adapted to EF with a metabones speed booster.
Beyond this major hardware different, the cameras are largely the same in their capability. This goes for ISO/lowlight capability, battery life, general design, buttons, touch screen, etc. All in all, if you want 6K and EF lenses, go for the BMPCC 6K, if you want 4K and MFT lens options, go for the BMPCC 4K.
Blackmagic Pocket Cinema Camera Key Features
Body, Build, and Battery Life
No, this camera won't literally fit in your pocket, but it is pretty small for a cinema camera. The BMPCC 6K weighs in at 898 grams. For having an EF mount and a super 35 sensor, it's a decent size. Blackmagic is known for having excellent ergonomics and relatively streamlined menus compared to their competitors. Because the BMPCC 6K is fairly similar to the BMPCC 4K, you get the same ergonomic benefits with this camera. The multiple card options on the BMPCC 6K make it versatile for using the right storage device for your projects and streamlined for underwater use. Unfortunately, the BMPCC 6K battery life has only been slightly improved from the BMPCC 4K. So it's still relatively poor. But the LP-E6 batteries are readily available so stock up!
Super 35, 6K Resolution Sensor and Canon EF Mount
Blackmagic upgraded their sensor size to super 35 so that they could accommodate for 6K resolution. The merits are obvious – more quality, more detail, better low light performance, more room for stabilization in post processing, and upgraded frame rates at lower resolution. 6K video can be shot in RAW at 50fps, which is pretty excellent considering the resolution. No wonder the battery life is low – RAW and high frame rates requires a lot of processing power! Slow motion video (120fps) @ 2.8K resolution is also a very exciting prospect for anyone trying to capture high quality, high resolution footage of very quick wildlife. It will also make for very stable underwater footage for videographers willing to slow down their video in post.
The Canon EF mount offers new options, but also a few drawbacks. Many cinematographers prefer the old micro four thirds lens mount system due to the affordable and small lens options. Speed boosters could be use to adapt full frame lenses to the BMPCC 4K. But the new EF mount can be a bit more limiting for options. However, Canon lenses are known for being high quality and there are many exciting options to choose from – especially for underwater photographers looking to shoot the Canon 8-15mm fisheye, the Canon 60mm macro, or the Canon 100 mm macro. Some Canon EF lenses feature optical image stabilization which can help make up for the fact that the BMPCC doesn't have IBIS.
Dual Gain ISO
Dual gain ISO isn't a feature that most photographers have ever heard of, but it can be very helpful for video shooting. Dual gain ISO lets videographers take full advantage of their sensor by setting two Native ISO levels with minimal noise. The first level on the BMPCC 6K is a native ISO of 400. The second native ISO is 3200. This means that if you are in a dimly lit underwater environment, or shooting macro video, you can set the camera to ISO 3200 and maintain a low level of noise!
Implications for Underwater Video
If you are serious about underwater video, the Blackmagic Pocket Cinema Camera might just be the best option at this price point. If you're looking for 6K resolution video, any other camera is going to cost thousands more. That being said, it's important to step back and ask the question – do you need 6K video? 6K resolution produces video of exceptional quality and detail, require intense amounts of processing power and space. This means you will also need a better computer and more storage space. If you are set up for the needs of 6K resolution, then you're going to take a giant stride into amazing underwater video. Not only can 6K resolution capture more detail, but it can be downsampled to 4K or 1080p and produce more detail at those resolutions as well. Moreover, the 2.8K @120fps slow motion video on the BMPCC 6K is really exciting for anyone who wants to capture quick action underwater like sharks, schools of fish, frogfish strikes, dolphins, and more!
The BMPCC 6K also offers RAW video shooting which means you have full control over the white balance, color grading, highlights, and shadows in your video. This is one of the first times a consumer level camera provides videographers with the same editing ability that photographers have enjoyed for over a decade.
For any underwater videographers concerned about the EF mount on the camera, I do agree it's a little less adaptable and futureproof than the MTF mount. An RF mount would have been nicer. That being said, Canon offers some tried and true lenses for underwater video and I highly recommend using the Canon 8-15mm fisheye for wide angle, the Canon 60mm macro for stationary macro subjects, and the Canon 100mm macro for skittish macro subjects.
The BMPCC 6K does offer photo capability with 21.4 MP photos, but it is more of a "feature" then a function. This camera is not for underwater photographers, only videographers. If you still want excellent photo and AF capability then be sure to consider the Sony A7R III, Nikon Z6, Sony A7R IV, and Panasonic GH5 for video.
Blackmagic Pocket Cinema Camera 4K Sample Underwater Video
Please enjoy this sample underwater video captured with the BMPCC 4K until we get an opportunity to take the BMPCC 6K underwater.
Blackmagic Pocket Cinema Camera 6K Underwater Housings
Nauticam made a high quality aluminum housing for the BMPCC 4K. We expect that they will also make a great housing for the BMPCC 6K. We look forward to updating everyone when Nauticam releases more information on the BMPCC 6K underwater housing.
Conclusion
Blackmagic is known for their fierce innovation in cinematography, and the BMPCC 6K was no exception. After videographers have just begun to grasp and utilize the reality of 4K video, already we have something bigger and potentially better. Who doesn't want more resolution after all? Along with the new super 35 sensor and Canon EF lens mount, dual gain ISO is going to open up amazing capability in underwater video. We're talking better bokeh, more detail, better low light video quality, and freedom to shoot in any lighting situations. Underwater video shooters who spend their nights dreaming about the crisp details, textures, and colors of the underwater world are sure to benefit from a magnificent machine like the Black Magic Pocket Cinema Camera 6K.
SUPPORT THE UNDERWATER PHOTOGRAPHY GUIDE:
The Best Service & Prices on u/w Photo Gear
Visit Bluewater Photo & Video for all your underwater photography and video gear. Click, or call the team at (310) 633-5052 for expert advice!
---
The Best Pricing, Service & Expert Advice to Book your Dive Trips
Bluewater Travel is your full-service scuba travel agency. Let our expert advisers plan and book your next dive vacation. Run by divers, for divers.
---