The Chase: Great White Shark vs. Seal at Cape Cod
A dramatic chase of a great white shark and a seal off the coast of Cape Cod
Last week, on July 7, 2016, a spotter pilot captured a rare photo of a great white chasing and trying to catch a seal on the north side of Nauset Inlet in Orleans, Massachusetts.
When you see the photo, we assume that the shark caught the seal but the outcome was otherwise. The photos shows that the shark was closing in on the seal and looks like it made contact, closing the deal. The seal got away!
Photos was also posted on the Facebook page of Atlantic White Shark Conservancy, and within the first hour, people started to comment on the photos. Comments were even sided, pro-shark and pro-seal. Below are some of the comments on the photos.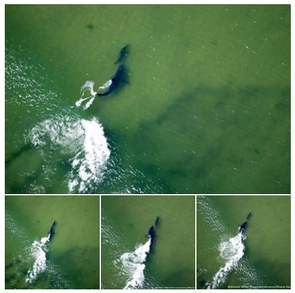 "That's too bad, better luck next time shark!"
"Seal 1, shark 0"
"Boo....sharks need to eat too"
During summer feeding season on the area, seals are the main target of great white sharks.
Conservation for great white shark still continues. In fact, two weeks before this photo, researchers from Massachusetts Division of Marine Fisheries and the Atlantic White Shark Conservancy tagged their first white shark of the season on Nauset Beach. On that same day, researchers was treated on a site of a 12-foot shark catching and eating a seal.
Sharks usually gets a better result when shark take an ambush approach.
Read the full story on Grind TV article "Great white shark versus seal; dramatic chase photographed off Cape Cod"
SUPPORT THE UNDERWATER PHOTOGRAPHY GUIDE:
The Best Service & Prices on u/w Photo Gear
Visit Bluewater Photo & Video for all your underwater photography and video gear. Click, or call the team at (310) 633-5052 for expert advice!
---
The Best Pricing, Service & Expert Advice to Book your Dive Trips
Bluewater Travel is your full-service scuba travel agency. Let our expert advisers plan and book your next dive vacation. Run by divers, for divers.
---