Bluewater University is Launched!!
Bluewater University Launches as a New Online Portal for Underwater Education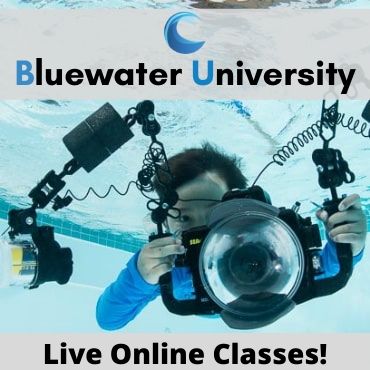 Bluewater University is the first online platform that is fully dedicated to providing live virtual classes in all things related to underwater - including underwater photography, underwater video, and dive travel. You can sign up now for free.
LOS ANGELES, CA – May 27th, 2020 – The passionate professionals behind Bluewater Photo, Bluewater Travel, and the Underwater Photography Guide are proud to announce the launch of a new portal, BluewaterU.com, completely devoted to ocean, photo, post processing, marine biology, and travel education. Bluewater University – or BluewaterU for short – offers a large selection of live classes and seminars covering underwater photo & video, post-processing & editing, travel & adventure, marine life, and just about any other topic below the sea.
The instructors at BluewaterU have decades (perhaps centuries) of combined experience in teaching underwater photography, marine biology, scuba, and travel. With Bluewater Travel leading over a dozen international dive trips per year and the Underwater Photography Guide as the world's foremost resource for underwater photography, BluewaterU's launch is years in the making. And the timing for the launch could not be better.
"We want to provide a platform to keep people excited about diving, travel, photography & video," founder Scott Gietler noted, adding that the goal of this site is for professionals to share their expertise in various scuba-related fields.
BluewaterU.com is now live, and enthusiasts can sign up either as a student or a prospective instructor. Instructors create their own classes, set their own prices and share in the revenue. The class offerings at BluewaterU includes introductory and advanced level curriculums. The classes and seminars are typically one hour long and available throughout the week to cater to different schedules and budgets – including plenty of free classes.
Bluewater University is the joint-venture of three sister companies. The Underwater Photography Guide is a destination for all things underwater photography; featuring tutorials, technique tips and reviews. Its sister company, Bluewater Photo, is dedicated to selling a wide selection of underwater photo and video gear, while Bluewater Travel acts as an agency where divers can join a guided trip, or book their own independent travel with hundreds of operators across the globe.
SUPPORT THE UNDERWATER PHOTOGRAPHY GUIDE:
The Best Service & Prices on u/w Photo Gear
Visit Bluewater Photo & Video for all your underwater photography and video gear. Click, or call the team at (310) 633-5052 for expert advice!
---
The Best Pricing, Service & Expert Advice to Book your Dive Trips
Bluewater Travel is your full-service scuba travel agency. Let our expert advisers plan and book your next dive vacation. Run by divers, for divers.
---