GoPro Hero5 Black Feature Unlocked: Telemetry and GPS
Show how fast, how far and how high you went with the new feature.
Make your photos and videos more interesting by adding telemetry gauges to your story. With the Quik for Desktop app, you can add more details to moment you have captured such as GPS path, speed, altitude, g-force, elevation gain and a lot more. Aside from that, overlays could also be customizable to your liking; position, size and what type of data would you want to show.
Below is the press release from GoPro.
PRESS RELEASE
TELEMETRY AND GPS ADD NEW LAYERS TO YOUR GOPRO STORY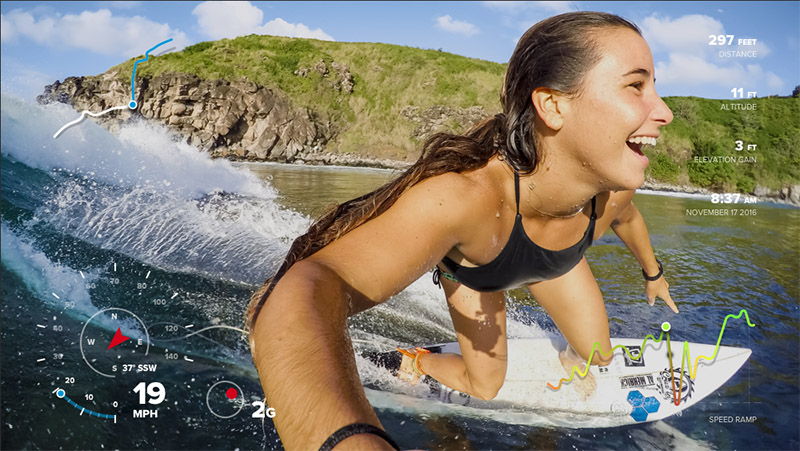 How Fast? How Far? How High?
New Telemetry Feature in Quik for Desktop Unlocks Your HERO5 Black's GPS
Unlock the data behind your GoPro content with telemetry gauges available today on the Quik for Desktop app. The new telemetry feature adds an immersive layer to your story by providing stats about the action as it unfolds on-screen, from how fast you were speeding down the line on your last mountain run or big wave, to how high you climbed or how many g's you pulled in your best track turn.
GoPro telemetry taps into the GPS capabilities of the HERO5 Black by capturing data about your GPS path, speed, altitude, g-force, elevation gain and more. The results are overlaid as graphics on your videos, making your content more meaningful and providing benchmarks and milestones for your experiences. The overlays are also customizable, allowing you to resize and move the gauges and turn on or off each data graphic.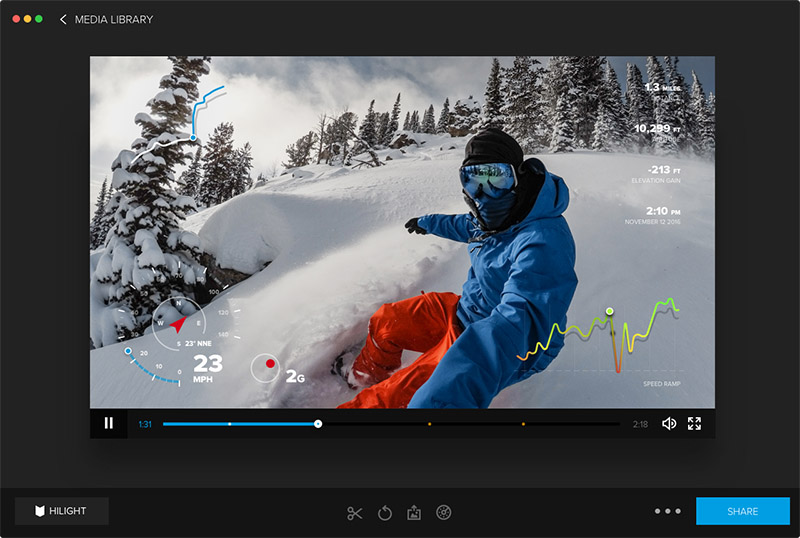 Here's a more detailed overview of the telemetry data you'll see in Quik for Desktop with your GPS-activated HERO5 videos:
Info Cluster: see an overview of real-time stats as you watch your video
Distance (km or miles)
Altitude
Elevation Gain
Date & time
Speed:
Speedometer tells you how fast you were going and includes a compass for orientation
Speed graph displays your speed over time and charts your fastest moments and spikes in activity. Speed graphs also serve as a great tool in the editing and scrubbing process, allowing you to easily identify highlight moments from your footage.
GPS Path: see the route you took and pinpoint your position as you move along the path
G-Force: check out how much g-force you're pulling against as you accelerate or change direction
For more information about telemetry overlays or to download the Quik for Desktop app, please visit the GoPro software website.
SUPPORT THE UNDERWATER PHOTOGRAPHY GUIDE:
The Best Service & Prices on u/w Photo Gear
Visit Bluewater Photo & Video for all your underwater photography and video gear. Click, or call the team at (310) 633-5052 for expert advice!
---
The Best Pricing, Service & Expert Advice to Book your Dive Trips
Bluewater Travel is your full-service scuba travel agency. Let our expert advisers plan and book your next dive vacation. Run by divers, for divers.
---