Master Class Tutorial - Planning for a Great Shot
Learn how to come home with incredible marine life photos by following these 7 simple steps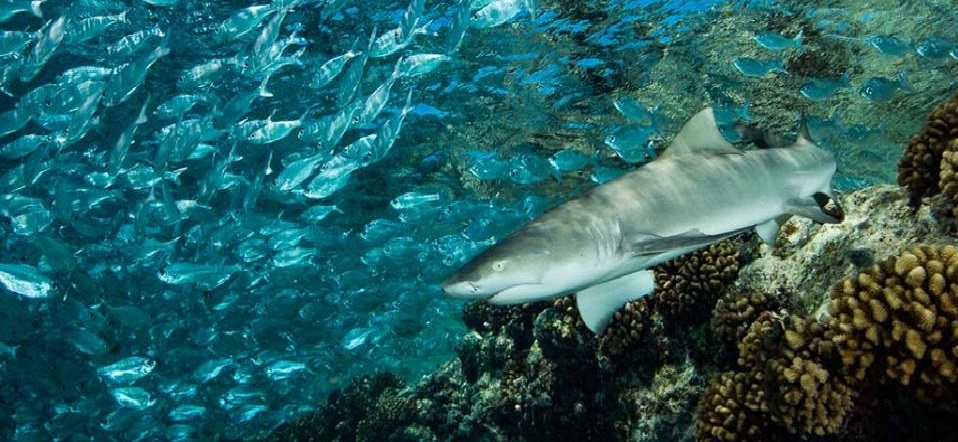 How to plan for great shots
When I started my underwater photography career, I wanted to photograph everything, everywhere. It was a blast. Over time, I got more selective – and now I realize I've entered a phase where I simply want to get a handful of amazing photos each trip, instead of 20 or 30 good ones. This takes a different approach, one that I've been honing for the last couple years and I wanted to share with you.
Last month I made a trip to Atmosphere Resort and dived Apo Island in Dumaguette, Philippines. This article is a summary of the approach I took on the trip. I should point out that the groupers and Lemon shark photos are from my July 2017 trip to French Polynesia.
This is the first in a series of master class underwater photography articles, and I hope you enjoy it! Look for more master class tutorials every week on the UWPG website.
Researching your chosen location is a must
It is of vital importance to research the location you are going to. Talk to photographers who have been there, google trip reports, and try to find images from that location. That will give you idea of what kind of subjects are seen, where they are seen, and how likely you are to see them.
If it is mandarin fish - which side of the reef are more of them seen? If it is a macro subject, what is the habitat? If it is a school of jacks, what depth are they usually at? Does their depth depend on the current?
In researching Apo Island, turtles, sea snakes and nice coral kept coming up. I also noticed that many people scheduled just 1 Apo Island trip during their stay, as it had a small additional cost and was marketed as a "special trip". After arriving at the resort and diving at the island, I decided it was best to view Apo Island as a standard dive site that I dived every other day, if not every day – a different approach than others seem to have taken.

Schooling Jacks at Apo Island, Dumaguette. This is from my 3rd dive at the dive site with the jacks. Talking to the dive guide on the boat was essential for planning the photo - we discussed use of his dive light, fin position, and where he would look.
Give yourself enough of time
By diving Apo Island several times during my trip, it allowed me to get to know the dive sites, the subjects, and their behavior much better than if I only went for 1 trip. Knowing where on a dive site to spend most of your time can be very important – the dive guides are often moving you along, and some of my best photos were after I told the dive guides repeatedly "don't move from this location, we want to stay here during the dive". Dive guides by nature often move around, particularly at wide-angle dive sites, so it is important to reinforce this point several times with a guide and get them to repeat it back to you, to ensure success.

Groupers in French Polynesia. My takeaway from this photo is, that if you see something truly amazing underwater, it is of vital importance that you assume you will never see it again.
Talk to the dive guides
This should be obvious, but I think it is an important point to reinforce. When you arrive at a location, it is important to interview 2 or 3 dive guides, and ask them the following questions: Where is the best place to see my subject? What are the necessary conditions? What is the best time of day? How often is the subject seen? By asking these questions multiple times, I was able to determine which of two dive sites with schooling jacks would be better for a wide-angle photo, saving myself valuable dive time. I was also able to eliminate the dive site with the highest concentration of sea snakes from my dive list, after determining that it lacked the necessary background subjects for my photos – all without wasting precious dives.
Revisit the dive sites
Revisiting the dive sites multiple times was essential for getting great photos of the turtles, jacks and sea snakes. Conditions, animal behavior and opportunities varied tremendously from dive to dive. I suggest a minimum of 3 dives at key dive site if possible, to get the right opportunities and conditions.
Sea snake from my 1st sea snake dive. Although I was happy with the elements in this photo, the face was soft and I knew it was important to return to the dive site again at least twice and focus on getting a better shot (no pun intended!). F16, 1/200th, ISO 500
Focus on one subject
When a dive site frequently has a key subject such as a turtle, sea snake, or a school of jacks - it is important to focus on one subject and one type of shot throughout the dive. This means having a thorough discussion with the dive guide regarding what you want to accomplish on the dive site, and where you want to spend your time. It also means spending addition time with photo subjects, even after taking multiple photos, in case their behavior changes or they decide to eat something or mate with another animal.
Spending prolonged time with the sea snakes, jacks and turtles paid off time after time. Interestingly, my encounters seemed to follow a "3 dive rules", one great encounter for every 3 dives I did at the dive site with the subjects. Of course your mileage may vary.
Preset your camera & strobes
When you enter the water, you should have one particular photo in mind for that dive. Arrange your settings and strobe positions when you start your dive, before you see the subject. Do a couple of tests shots, so when the subject appears you are all dialed in. For the sea snake, I knew I wanted an upward angle close-up shot of the snake, and there would be no time to change settings or strobes. So I guessed at the exact angle my shot, and prepared everything based on that angle.
The final result - a sea snake photo I was very happy with. This was a fast-moving snake and I actually had to "run" from the snake first to get enough of distance between us. F11, 1/250th, ISO 400. When I saw the fast-moving snake, I swam down-reef fast for about 10 seconds, then turned around. Luckily the snake was still coming towards me, and I had a couple of seconds to get into a low positon where I thought the snake would swim.
Run from the subject
If you aren't having luck getting close to your subject, try running away from it. I say this in jest, but with sea snakes and sometimes turtles, it is the best approach. Sea snakes move quickly, and I found that when I saw a snake swimming towards me, it always covered the distance to myself much too quickly. For my best snake shot (shown above), I actually had to immediately turn around and swim as fast as I could down the reef, and hope that the snake continued its path. So the next time you see someone running from a subject, they might not be crazy – they may be giving themselves an opportunity to get in front of the subject and compose properly.
Sea turtle from underneath. Doing multiple dives with turtles is essential to maximize good encounters, behavior sightings, and to get to know the dive site.
Equipment Used, Settings & the D850
Nikon D810, Tokina 10-17mm fishyeye lens at 15mm, dual Sea & Sea strobes, Zen 4-inch glass dome port, Sea & Sea Nikon D810 Housing, Beneath the Surface buoyancy floats, Light & Motion Sola 800 photo light.
Shots were taken at F11, ISO 200, shutter speeds from 1/125th to 1/250th unless otherwise stated. Focus mode was "AF-C", and "auto" focus mode was chosen because it uses a large focus area, which works well for large marine life that moves around like snakes, turtles, sharks and schooling fish - as opposed to spot focus or tracking modes.
I am now seriously considering the Nikon D850, here is my Nikon D850 pre-review.

Turtle face, taken on dive #3 at Turtle City, Apo Island. F16, 1/250th, ISO 640. We repeatedly dived this site to get maximum number of turtle encounters. It was only after around 20 turtle encounters that I was able to experience behavior such as this.
What's next? Next steps...
I hope you found some this advice useful. I realize none of it may be ground-breaking, but it helps to have it re-enforced and put into writing. If you plan on trying some of this advice, or just want to say hello, please send me a note at scott@bluewaterphotostore.com and let me know where you'll be diving next!
SUPPORT THE UNDERWATER PHOTOGRAPHY GUIDE:
The Best Service & Prices on u/w Photo Gear
Visit Bluewater Photo & Video for all your underwater photography and video gear. Click, or call the team at (310) 633-5052 for expert advice!
---
The Best Pricing, Service & Expert Advice to Book your Dive Trips
Bluewater Travel is your full-service scuba travel agency. Let our expert advisers plan and book your next dive vacation. Run by divers, for divers.
---