Top Tips for Super Macro Photography
Make dramatic improvements in your underwater supermacro photos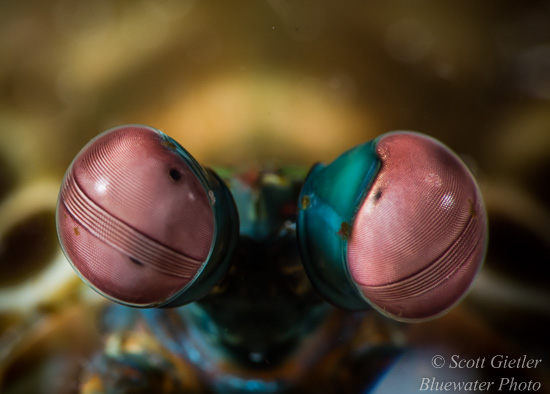 Mantis shrimp eyes, Nauticam SMC diopter F20, 1/250th, ISO 320
Supermacro can be a very demanding, frustrating, and ultimately rewarding segment of photography. Acheiving focus, depth of field, and sharpness can be very difficult, and can finding the proper subjects and conditions. It takes a lot of practice, and there will not be many "keepers". However, it can be mastered, and your persistence will pay off.
Below are a few tips that can immensely help your super macro underwater photography. If you have never done supermacro before, read our intro to supermacro article.
#1 Hold your left hand under your port
Most people hold both of their tray handles when taking a macro or supermacro photo. When shooting super macro, let go of your left handle and instead support your port or wet diopter from below. It will feel strange at first, but you will find out it is a much more stable setup, and you'll be able to find your subject easier and keep it in the frame longer.

Single soft coral polyp from Anilao, taken at F18
#2 Brace yourself with excellent buoyancy
Supermacro photography requires excellent buoyancy skills, as it is very important not to hit the reef or damage any marine life. There are many reefs that have so much coral and reef, I don't even like to shoot supermacro there because of the danger of bumping into something.
I usually look for supermacro subjects on large areas of open sand or over large areas dead coral, so I can gently brace my entire rig using a finger, a metal stick, or in some cases using my using a very small area of my left wristbone on the ground. This must be done in conjunction with the technique explained in tip #1 above. By using tip #1 & #2 together, you'll get a rock-solid super macro rig that can lock in your target with a minimal amount of "having your subject fly around in the frame".
Note that it is very important not be laying on the reef, or have your fins or knees touch the ground. You must keep your contact with the reef to an absolutely minimum, and only if the area you are contacting is dead. It will help to have a photo instructor watch you shoot and give you feedback your technique and buoyancy.
Using a backplate/wing for better buoyancy, and using stiff paddle fins can help make this exercise easier.
After you are done shooting your supermacro subject, gently inflate your BCD slightly, turn away from the subject, and slowly frogkick away, keeping your eye on the subject to make sure your fin kicks don't propel water into your subject.

Tiny single "knob" of a starfish, F25, bracing myself with my wristbone on dead rubble
#3 Align your key focus points in one plane
If you subject has 2 eyes or 2 rhinophores that you want to get in focus, they must be aligned in the same plane. If the subject is a shrimp with 2 eyes and 2 claws, now you have 4 points that need to be in 1 plane. Think of it as a geometry test! This tip is very important because your depth of field is very limited when taking a super macro photo.

Tiny Hairy shrimp from Anilao. I carefully aligned the shrimp so it was all in the same plane

Brent was able to expertly get the shrimp eyes and front claws in one plane, resulting in a great photo. From Manado, Indonesia
#4 Point your strobes inward
To bring out the detail and texture of your supermacro subject, point your strobes inward towards your port. You'll see some photos of this techinque at the bottom of our underwater strobe position article

X-mas tree worm closeup, strobes pointed inward, F22, 1/250th, ISO 320
#5 Get enough depth of field
When shooting supermacro, you have only a tiny depth of field. Unless your subject is fairly flat (in which case you can get away with a larger aperture to keep more detail), you'll need to shoot at a very small aperture. F8 for compacts, F11 for Sony RX100's & G7X, F18 - F22 for mirrorless setups, and F22 - F29 for cropped sensor dSLR and F25 - F36 for a full-frame dSLR. Do keep in mind that you are gaining depth of field at the expense of detail at the 100% crop level. However, for many super macro photos, the additional depth of field will be more important.

Spanish shawl, D7000, Subsee +5, F32, photo by Scott Gietler

Spanish shawl eggs, D810, 105mm VR lens, Nauticam SMC, F40. By shooting at F40, I was able to get most of the eggs in focus, although at 100% crop you can see the effects of diffraction.
#6 Practise on land first
This is possible the most important tip. I have literally seen fifty different photographers try to take supermacro photos underwater, without understanding that when you use a macro lens, you can only focus at one particular distance, usually 2 -4 inches from the port. Try your setup on land first, on a table, to find out what that distance is. Rock and back and forth until you see your subject in focus. Once you learn that distance, you'll notice that you can only take a supermacro photo at that distance.
#7 Compact shooters - zoom in!
If you are using a compact camera with a zoom, like the Canon G16 or the Sony RX100 series, you will be better off if you zoom *all the way or most of the way in* when using a wet diopter. This will give you two huge benefits. #1 - you will get more magnification, and #2 - you will get more working distance. Yes, more working distance! I know it is counter-intuitive, but just try it. Note - when using tip #7, you must also follow my instructions in tip #6 above to avoid massive frustration.

Sony RX100, F11, Nauticam CMC, zoomed in, strobes pointed inward
#8 Get a great macro lens
There are several good wet diopters (macro lens) on the market - I've used the Bluewater +7, Subsee +5, Subsee +10, the Nauticam Super Macro Converter, and the Nauticam Compact Macro Converter. I've used them alot! Feel free to email me to see what would be best for you.

5D Mark III, 100mm lens, Subsee +10 from Bali

Olympus E-M1, 60mm macro lens, Bluewater +7 macro lens
#9 Join a macro workshop
We have great macro workshops coming up in Bali, Lembeh, and Anilao. Check them out - these destinations offer great guides, a cornucopia of macro subjects and excellent conditions for supermacro photography (e.g. - not too much surge). Our LaPaz trip this September will also offer some good macro.
Further Reading
SUPPORT THE UNDERWATER PHOTOGRAPHY GUIDE:
The Best Service & Prices on u/w Photo Gear
Visit Bluewater Photo & Video for all your underwater photography and video gear. Click, or call the team at (310) 633-5052 for expert advice!
---
The Best Pricing, Service & Expert Advice to Book your Dive Trips
Bluewater Travel is your full-service scuba travel agency. Let our expert advisers plan and book your next dive vacation. Run by divers, for divers.
---