Panasonic GH5 Camera Review
In-depth review of the Panasonic LUMIX GH5 micro 4/3 mirrorless camera, with video tests, comparisons, still photos and more
The much anticipated Panasonic LUMIX GH5 micro four-thirds mirrorless camera is here! We've been eagerly awaiting the successor to the Panasonic GH4, which quickly became popular for its high-quality video, customization, small size and great price.
The Panasonic GH5 is packed full of carefully thought-out features designed to let videographers of all levels record what they need with the new system. The body is larger and the price tag increased as a result, but the video produced speaks for itself. Oh yea, and did we mention that the GH5's still photo capability holds it's own against the best from Olympus and Sony?
We shot with the GH5 for several days pre-release to create the tests and reviews below. Once we get our first production model in late April we'll continue adding more tests, sample videos and shooting guides... especially once the first underwater housings are released.
Preorder the Panasonic GH5 at Bluewater Photo.
Check out some video we've taken with the Panasonic GH5S
If you're interested in taking the Panasonic GH5 underwater - be sure to check out Bluewater Photo's housing guide for the Panasonic GH5. GH5 housings also work for the GH5s.
---



Jump to Section:
Specs - Firmware Upgrade Path - GH5 Sample Footage & Test Video
Kelli Dickinson: Detailed GH5 Comparison with Olympus E-M1 Mk II and Sony a7R II
Specs - Physical - Battery Life - Electronic Viewfinder / EFV - AF Speed - ISO
Image Detail - Kelli's Conclusion
Bobby Arnold: Detailed GH5 vs. GH4 Video Comparisons
First Impressions - Video & Photo Comparison - GH5 vs. GH4 Comparison Video
Image Stabilization - GH5 Test Drive Video - Final Thoughts
Brent Durand: General Shooting and Features
GH5 In the Field - Setting Custom White Balance - Post-Focus - 6K Photo - Burst
---

Panasonic LUMIX GH5 Specs
20MP Four Thirds sensor (no OLPF)

5-axis in-body image stabilization system with 'Dual IS 2' support

All 4K footage taken using full width of sensor (oversampled from 5.1K footage)

Internal 4K/30p 10-bit 4:2:2 video capture

4K/59.94p and 50p shooting with 10-bit 4:2:2 output or 8-bit, 4:2:0 internal recording

1080 video at up to 180p, enabling 7.5x slow-motion

225-area Advanced Depth-From-Defocus AF system

4K and 6K Photo, 18MP stills at 30 fps using HEVC or 8MP stills at 60 fps using H.264

12fps (AFS) or 9fps (AFC) burst shooting

Advanced DFD autofocus

Dual UHS II card slots (V60 ready)

Autofocus point joystick

5GHz Wi-Fi, NFC and Bluetooth

Pre-configurable rack focus mode

Waveform and vectorscope monitors

3.2" RGBW free-angle touchscreen LCD
Notes on Firmware Upgrade Path
The Panasonic GH5 will ship with firmware version 1.0. Those who have been following the first reviews know that some features will become available only after two scheduled firmware updates. Below is the schedule as we understand it.
Upgrade Available at Launch:
V-Log Color Profile ($100). Note that if you previously purchased this for the GH4 that you will need to buy it again.
April Firmware Update:
4:2:2 10bit update for 1080p (v1.0 includes 4:2:2 10bit for 4K and UHD)
Summer 2017 Firmware Update:
High Resolution Anamorphic (4992x3744 pixels, 4:3, 18MP)
Full HD 4:2:2 10bit ALL-Intra (200Mbps)
4K 4:2:2 10bit ALL-Intra (400Mbps)
Panasonic GH5 Sample Footage and Test Video
Panasonic GH5 Sample Footage. Note that 60fps comparison is slowed to 50% speed. Video by Bobby Arnold.
Detailed GH5 Spec Comparison
with Olympus OM-D E-M1 Mk II and Sony a7R II
Panasonic GH5

Olympus E-M1 Mark II

Sony A7R II

Price

$1,999

$1,999

$3,1999

Format

Micro 4/3rds

Micro 4/3rds

Full Frame (35mm)

Max Resolution

5184 x 3888

5184 x 3888

7952 x 5304

Effective Pixels

20 MP

20 MP

42 MP

ISO

Auto, 200-25600 (Expands to 100)

Auto, 200-25600

(Expands to 64)

Auto, 100-25600

(Expands to 50)

Custom White Balance

Yes (4 Slots)

Yes (4 Slots)

Yes

Image Stabilization Info

5 Axis, supports Dual IS 2

5 Axis, up to 5.5 stops shake reduction

5 Axis, up to 4.5 stops shake reduction

Autofocus

Contrast Detection

Contrast & Phase Detection

Contrast & Phase Detection

Number of Focus Points

225

121

399

Flash Sync Speed

1/250

1/250

1/250

Burst Shooting

12 fps

60 fps* / 15 fps

5 fps

Video Formats

MPEG-4, AVCHD, H.264

MPEG-4, H.264

MPEG-4, AVCHD, XAVCS

LCD Screen Size

3.2"

3"

3"

Screen Dots

1,620,000

1,037,000

1,228,800

Touch Screen

Yes

Yes

No

Electronic Viewfinder Coverage

100%

100%

100%

EVF Magnification

0.76x

0.74x

0.78x

Viewfinder Resolution

3,680,000

2,360,000

2,359,296

Storage Types

Dual SD/SDHC/SDXC

Dual SD/SDHC/SDXC

Single SD/SDHC/SDXC

Memory Stick Duo/Pro/Pro-HG Duo

Environmentally Sealed

Yes

Yes

Yes

Battery Life

410

440

290

Weight

725 g (1.60 lb / 25.57 oz)

574 g (1.27 lb / 20.25 oz)

625 g (1.38 lb / 22.05 oz)

Dimensions

139 x 98 x 87 mm (5.47 x 3.86 x 3.43″)

134 x 91 x 67 mm (5.28 x 3.58 x 2.64″)

127 x 96 x 60 mm (5 x 3.78 x 2.36″)
*E-M1 Mark II features and electronic burst mode allowing for up to 60fps capture (in RAW or .jpg format), although with a limit of 50frames. Standard mechanical burst rate is 15 fps.
Panasonic GH5 Physical Comparison
The benefit of mirrorless cameras is that they offer the flexibility of interchangeable lenses, with a higher quality and better focusing than compacts in a smaller, lighter package than their DSLR counterparts. As the mirrorless cameras are becoming more robust, we've seen the sizes of these cameras begin to increase, almost getting close to the same size as DSLR cameras. Luckily we're not quite there yet, and the Panasonic GH5, which the largest of the mirrorless options so far, is still smaller than a DSLR. Compared to other mirrorless cameras, it is slightly larger both in height and thickness, and weighs more by nearly a third of a pound. The Panasonic GH5 sits taller and is much thicker than the E-M1 Mark II and A7R II, especially when you take into account the larger eyecup around the electronic viewfinder. It also weighs the most, coming in at 1.6lbs, compared to the E-M1 Mark II's 1.27lbs and the A7R II's 1.38lbs. All three of these cameras are smaller and weigh much less than popular DSLR options, such as the Nikon D500, which comes in at 1.9lbs.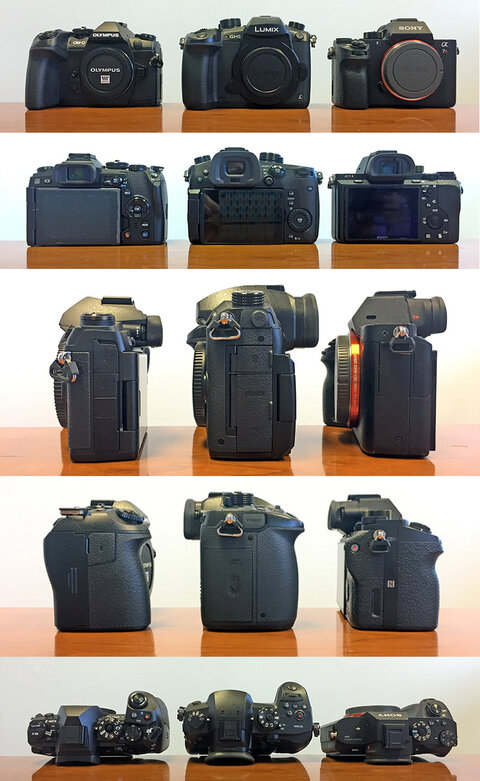 GH5 Battery Life Comparison
Battery life is also a big question for underwater photographers because we have no way to change a battery mid dive, should we run out of juice. Mirrorless cameras have long been known to have mediocre batteries, often needing to be changed one or more times during a multiple dive day. Panasonic is usually on the higher end when it comes to battery life, and the GH5 is no exception. The new battery for the GH5 is rated to 410 shots. With the way many people shoot this means it will last you between 2-3 dives. Compared to the E-M1 Mark II it's good, though the E-M1 Mark II has a slightly more powerful battery, rated for around 440 shots. Both of these blow the Sony A7R II out of the water, which only comes in at 290 shots, often needing to be changed after each dive in order to not run out of battery life during the next dive. It's also pretty easy to see how the E-M1 Mark II could have a better battery life than the others, look at the size of the battery, especially compared to the Sony!!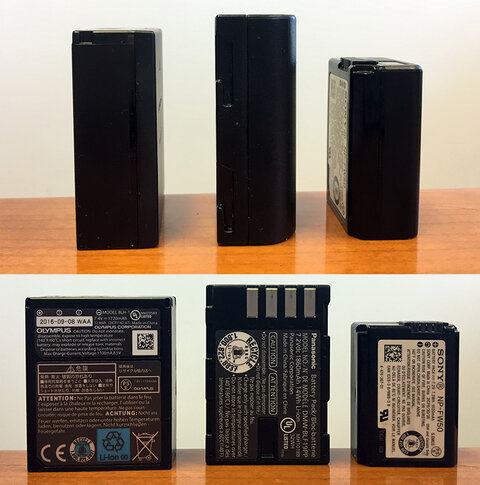 Electronic Viewfinder and EFV Comparison
Before checking out the specs on the cameras we did a simple, "by my eye" test to get a feel for the LCD and EVF on each of the three cameras. We asked, which looked best to our eyes, which offered the smoothest view when panning, did any cut off the image?
It was a hard choice between the Panasonic and Olympus cameras, but the Panasonic appeared to have the clearest and highest resolution LCD. Both the Panasonic GH5 and Olympus OM-D E-M1 were clear, and super fine. The Sony LCD seemed a little rougher, as if you could make out the pixel grid when looking carefully. All three were extremely smooth and fast acting, there was no image delay or issues when panning (jumpy / jittery playback, etc).
For the Electronic Viewfinder (EVF), Olympus and Panasonic came out tied in our tests. Resolution wise the Panasonic was a bit sharper and brighter, but when you start to move the camera around, the EVF stutters much more than the Olympus, creating a blurry and jittery image, especially in low light. The Sony quality does not look as good as the Panasonic and Olympus, however it does react better in low light, creating the most natural looking image when you move the camera around.
GH5 Autofocus Speed Comparison
When it comes to Auto Focus Speed, the Olympus OM-D E-M1 Mark II appears to be the winner, with the Panasonic GH5 hot on its heels. Sony performs well in good light, but is dismally slow in low light. We tested the Olympus & Panasonic with the 60mm macro and the Sony with 90mm macro. The goal with using the macro lens, was to really push the cameras focus speeds by using the lens that offered the greatest range in focus.
The Panasonic GH5 is extremely fast focusing. It averaged around 1.3s to change focus from infinity to near the minimum focus distance in low light. Going back out to infinity from minimum distance usually took around 1.7s. These tests pushed the camera to its limits, so for most shooting focus speeds would be faster than a second! When we tested refocusing at similar focus distances, the results were so fast, we could not stop the timer quickly enough (less than .5 seconds!). (improvement over GH4??)
In comparison, the Olympus E-M1 Mark II matched, and sometimes beat the GH5. In low light, the Olympus would focus from infinity down to its minimum distance on average of 1 second, and from minimum focus distance out to infinity in about 1.3s. When refocusing the camera at a similar distance from the previous shot, the E-M1 Mark II averaged around .7s. There was little to no hunting for focus, and we only saw that happen when trying to focus on an extremely low contrast subject. In good light, focusing was nearly instantaneous, a huge improvement for this camera over the older bodies.
The Sony A7R II, while impressive with its 42mp and full frame sensor, lost the focus tests by a long shot. It's well known that the 90mm macro lens is a bit clunky and very slow to focus, and our tests confirmed that. When moving from infinity to near the minimum focus distance in low light, it took 4 second to focus on average. In good light, this was drastically improved to around a second or less. General refocusing in low light conditions also took a long, 3 seconds on average, however when the light was good, focus was nearly instantaneous. If you choose the Sony – make sure you have a good focus light for macro!
Panasonic GH5 ISO Comparison
In continuing the comparison, we looked at the image quality against all three cameras as we progressed through the ISO range. Each shot was taken to match exposure as we increased the ISO, with the same settings for each camera. We found that all three produce great, clear photos at low ISO, as to be expected. As we progressed through the higher ISO's the Sony maintains high quality, with low noise as we knew it would from previous tests. The full frame sensor, and high megapixel count along with Sony's innovative backside-illuminated sensor, which allows for more light gathering, resulting in high quality, high ISO photos.
However, we were pleasantly surprised with the performance of both the GH5 and the E-M1 Mark II. In the past, mirrorless camera quality degraded very quickly once you began pushing the ISO, but that is no longer the case. At ISO 1600 image quality on the GH5 is still excellent, as is the E-M1 Mark II. Even when pushed to the max at ISO 25600 the image is still useable for some. The noice and breakdown of image quality is significantly less than previous mirrorless cameras, resulting in great photographs, even in low light conditions.
ISO 400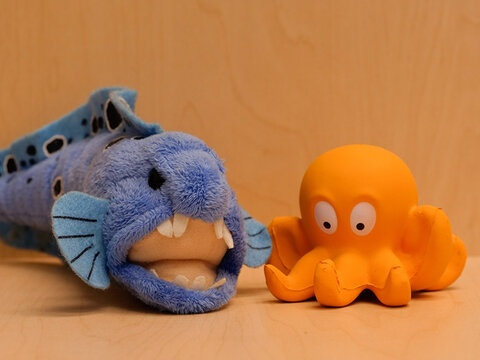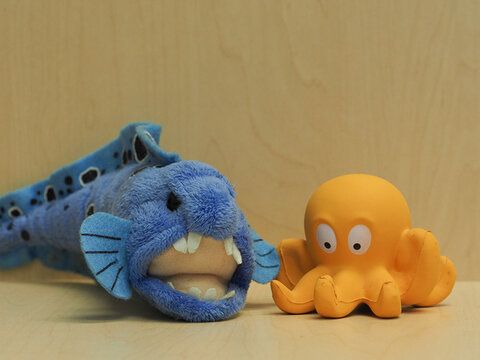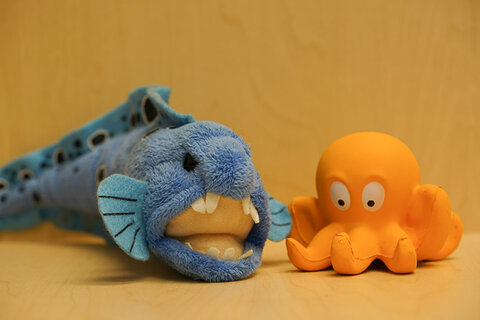 ISO 400 - 100% Crop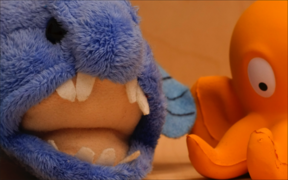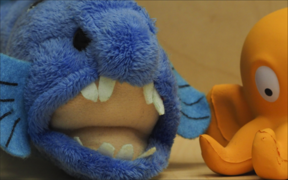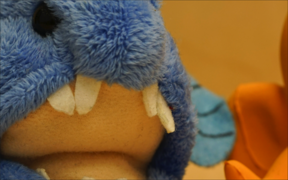 ISO 1600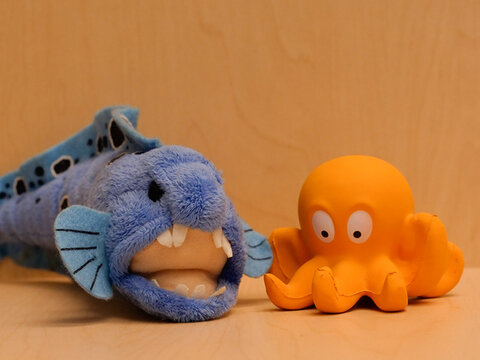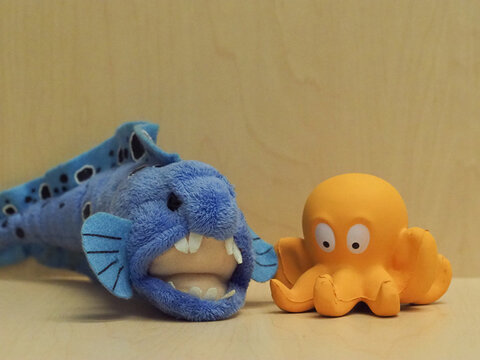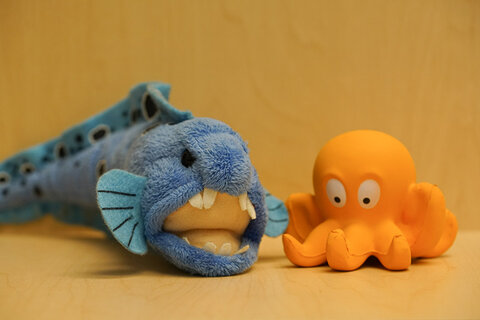 ISO 1600 - 100% Crop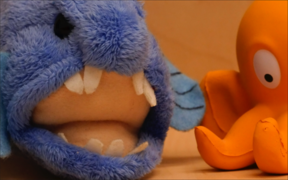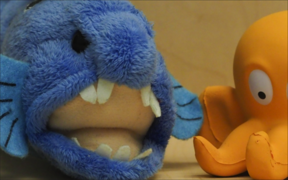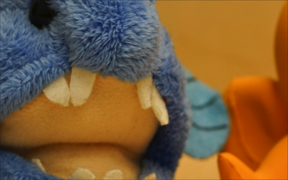 ISO 6400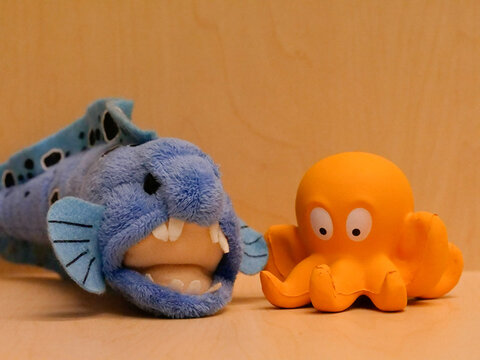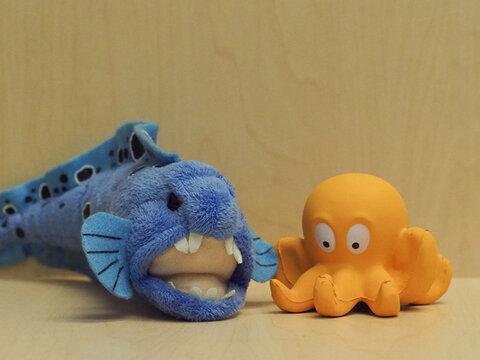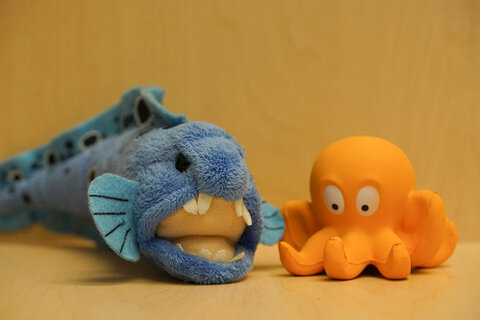 ISO 6400 - 100% Crop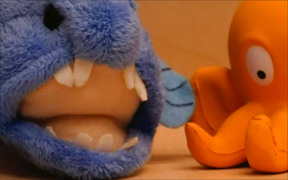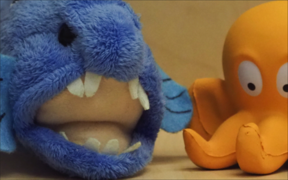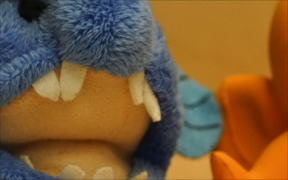 ISO 25,600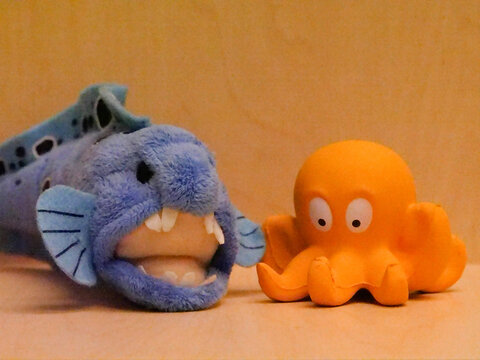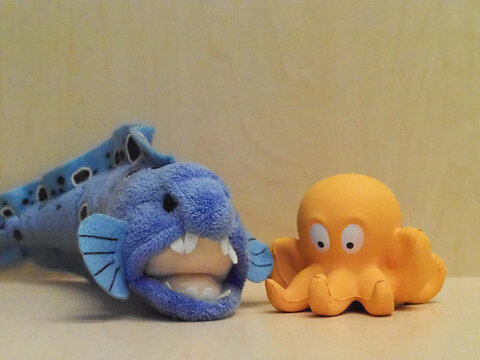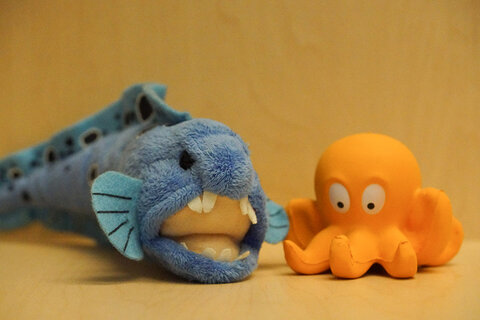 ISO 25,600 - 100% Crop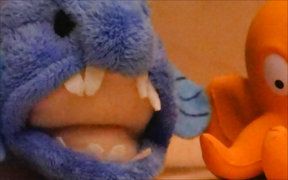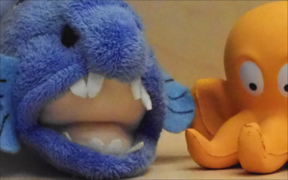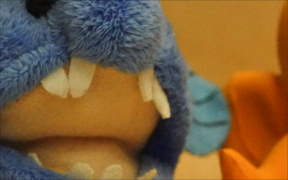 Panasonic GH5 Image Detail Comparison
Both the Panasonic GH5 and Olympus E-M1 Mark II use the same sized micro four thirds CMOS sensor (17 x 13mm). They both feature 20 MP and use a high end processor. With all this in mind, we expected detail levels to be very similar between the GH5 and E-M1 Mark II. After a few test shots, we confirmed, both cameras offer a very nice level of detail for the smaller sized sensor. In the 100% crop examples below you can easily make out all the fuzz on the flower stem for both cameras.
Not surprisingly, the Sony A7R II, with a full frame (35 x 24mm) CMOS sensor and 42 megapixels offers not only the ability to crop in further to an image, but also a higher level of detail. If high detail reproduction is the most important aspect of your photography, then looking at a full frame camera is the way to go.
One more thing to note, is that both the Panasonic and Sony produce much warmer colors on default. All test images were shot under the same lighting conditions using each camera's "Auto White Balance". The Olympus results have much cooler colors, none of the photos have been color corrected.
Image Detail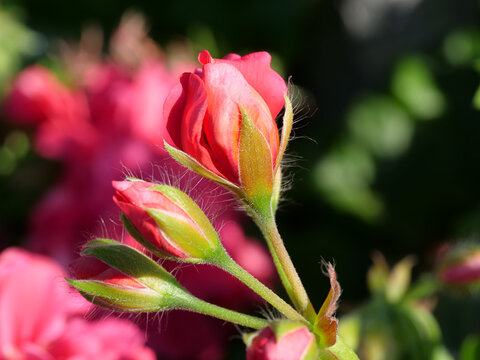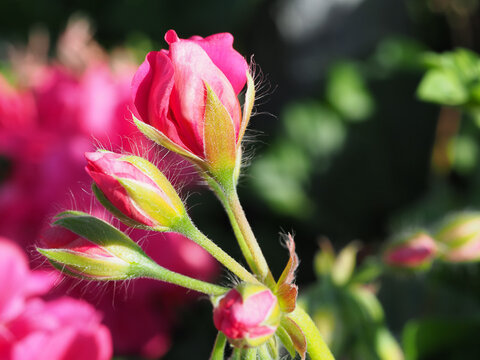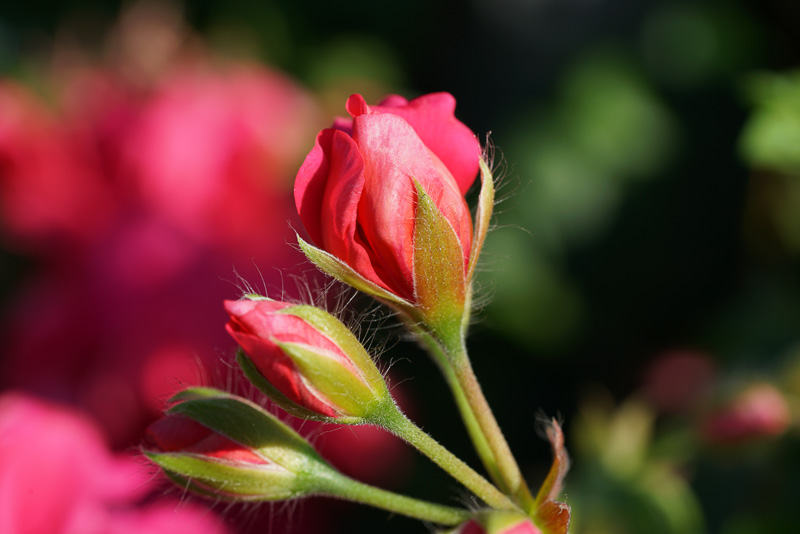 Image Detail - 100% Crop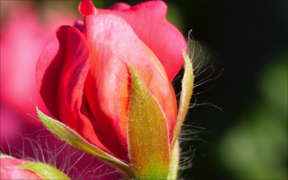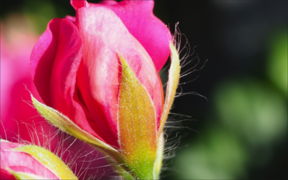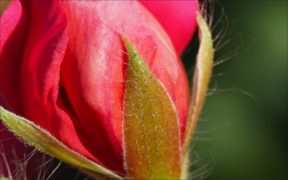 Kelli's Conclusion
All in all, I am very excited for the new GH5. With the specs it offers, the video should be incredible, as has always been the case with Panasonic's GH series. In addition to that, they have really crafted an excellent still camera. The increase to 20MP makes a huge difference with image quality and ISO performance compared to previous models. The camera is lightning quick to focus, and easy to use with dedicated buttons for many key controls.
When compared against other top of the line mirrorless cameras, the new Olympus OM-D E-M1 Mark II and the full frame Sony A7R II, the Panasonic holds its own. Of course, the backside-illuminated full frame sensor of the Sony, with 42 MP is going to return higher detail, but the level of detail between the Panasonic and Olympus is nearly identical and vastly improved from previous versions. ISO tests were fantastic, with very little noise apparent until extremely high ISO's on both the Panasonic and Olympus. In conclusion, I would highly recommend the Panasonic to any avid shooter that want's the best out both video and still photo options.
---
Panasonic GH4 vs. GH5
Having used the GH4 for 2 years, and the GH2 before that, l was very excited to try out the new GH5. I compared the GH5 to the GH4, and also to the GX85 a camera offering some of the features that have been vastly improved on the GH5.
First Impressions of the GH5
My initial observations were that the GH5 seemed a little heavier and larger than the GH4, but they layout of the controls was very similar to the GH4 and my muscle memory kicked in right away. The most noticeable change to the controls was the addition of a joystick control. While use of the joystick is not required, I can definitely see where this will be the preferred method of menu (and on-screen) control for many users. To review the differences better, I set the camera up on a tripod next to the GH4, this confirmed the size differences, but not drastically so. Turning both cameras on revealed another difference, the image on the LCD of the GH5 appeared flatter than that on the GH4. I later dug into the menu and found that the LCD controls were vastly improved over the GH4. This is great news for the underwater shooter and the video professional. You have many more options to adapt the LCD to the shooting conditions as well your shooting style (Picture profile, use of external recorder etc). Wrapping up my initial impressions of the GH5 was the menu itself. The GH4 already had a plethora of options and settings, and the GH5 greatly expanded on that. To combat the sheer volume of menu controls, the GH5 now organizes much of the menu using categories. The GH5 also delivers a custom menu you can add their favorite settings to for quick access.
GH5 Video Comparison
The GH line, including the GH5, while appearing to be a dSLR style camera, is targeted at the person primarily shooting video. The GH4 was targeted at the consumer, but included features aimed at "prosumers". The GH5 continues that trend, and will likely also be the choice for B-roll and even main camera work by video professionals. While the GH4 was the first consumer camera offering 4K, the GH5 is still offering firsts this time in the form of 4K video at 60 frames per second (4k 60p). This will allow for improved slow motion footage in 4K. Bit rate offerings have been increased to 150Mb/s in the first version of the firmware. Panasonic believes in continual improvement for their cameras and is already planning an update offering a 400Mb/s All-Intra format later this year. Another big change is offering up to 190 frames per second (the GH4 had 96fps) in regular HD (1080p) mode.
The GH5 also offers more picture modes aimed at the prosumer, including flatter picture profiles that lend themselves to applying color correction in post-production (including the use of custom LUTs – Look Up Tables). I was happy to see the Cinelike profiles are also still available on the GH5. My favorite on the GH4 is the Cinelike-V profile, which I used on the GH5 and produced beautiful results with minimal color correction required. Finally, due to the implementation of a new 20 megapixel (20MP) image sensor (prior versions of the GH series and most micro-four-thirds cameras utilize a 16MP sensor). The main benefit of this new sensor for video shooters is the fact that the GH5 utilize more of the sensor to capture a video image. This results in less of a crop factor (2.0 on the GH4 vs 2.4 on the GH5). This is great news for wide angle shooting as more of the camera lens is utilized resulting in a wider shot.
GH5 Photo Comparison
While the GH line is primarily targeted at Video shooters, the photo qualities and features have continued to improve greatly in recent versions of the camera. The GH5 continues in this trend by offering the improved 20MP image over the previous versions which only offered 16MP. I shot mostly video with the pre-production GH5 I got to try out for the weekend, but also took some photos using the new 12-60mm f2.8-f4 lens. The results were impressive to say the least. Another big improvement was the removal of the anti-aliasing feature on the sensor. The feature was needed in past versions of cameras to minimalize the moire resulting in video footage. Due to improved processing power, the need for this filter has been eliminated. The result is a sharper, more detailed image.
GH5 vs. GH4 Comparison Video
Panasonic GH5 vs. GH4 Comparison Video. Note that 60fps comparison is slowed to 50% speed. By Bobby Arnold.
GH5 Image Stabilization
While Olympus has primarily focused on in-body stabilization (aka in-body image stabilization or IIS), Panasonic has focused on lens stabilization (aka optical image stabilization or OIS). Panasonic has recently upped the ante offering both image stabilization in addition to the lens stabilization. For supported lenses, the two are combined offering 5-axis stabilization known as Dual-IS. The feature really appealed to me and last year I purchased the first Panasonic camera offering Dual-IS for both photos and 4k video, the GX85. This feature has proved tremendously valuable, both on land and underwater. While the water column tends to buffer some of the "shake" that can make video footage less desirable, the sensor image stabilization can further help to stabilize the image, even when shooting with a tripod. The sensor image stabilization also helps to stabilize prime lenses and other lenses that do not feature OIS. The GH5 offers the second generation of Dual-IS from Panasonic and was very impressive with pre-production GH5. Finally Dual-IS also helps still photography by allowing the photographer to shoot at slower shutter speeds producing crisp images with no-noise. According to Panasonic, the Dual-IS offers up to 5 full stops of light over OIS. The GH5 also offers electronic stabilization, which works similar to the "Warp Stabilizer" in Adobe Premiere. This will appeal to those wishing to minimizing their time in post-production (and wouldn't you rather be shooting more video then staring at your computer?).
GH5 Test Drive Video
Pansonic LUMIX GH5 Test Drive Video. By Bobby Arnold.
Final Thoughts on the GH5
Panasonic won me over from using traditional video cameras with the GH2. While the GH3 didn't offer enough for me to upgrade, but the GH4 hit a home run in features, video quality and photo quality. The GH5 continues in that trend and will likely attract many video professionals over cameras costing many times price of the GH5. The increased image quality, improved slow motion capabilities, image stabilization and continued improvement in shooting options will also greatly appeal to the underwater photographer and videographer and is definitely worth the upgrade over the GH4.
- Bobby Arnold
--> View More of Bobby's Videos on his Vimeo Page
---
Panasonic GH5 In the Field
The GH5 feels nice in your hands and is easy to carry. The button layout is ergonomic and easy to use while shooting photos, videos and reviewing content in the LCD. The many custom function buttons mean you can program your favorite features at your fingertips. The menus, while different from the brands I'm used to, were straightforward and easy to set up for photo and video shooting, although I did need to look up a few Panasonic tricks like activating VFR mode and setting a 180d shutter angle (more on this later).
The first feature I noticed was that you can start/stop video recording with the shutter button, which is nice underwater since the shutter lever on most housings is easiest to depress/pull without much shake.
Autofocus performance was very fast in different lighting conditions: silhouettes in the sun, fast action, low contrast fog, and a low-light night scene. The continuous autofocus tracked well for both photo and video, and I didn't have any instances where the camera shifted focus from the subject to background (note that this happens more when shooting macro underwater).
The new Venus Engine image processor is largely responsible for this great speed, although I did experience some lag when jumping quickly between shooting modes and menu, and especially when pushing playback after shooting an image (using a Delkin SD HC card with write speed of 80MB/S). This won't stand out if you shoot a mirrorless or compact, but if you are coming from a DSLR you'll need to adjust.
Lastly, the image on the rear LCD screen flutters slightly when autofocus is actively tracking; which, however, seems to be the norm with EFV and LCD displays on mirrorless cameras using phase detection AF (* The GH5 uses DFD autofocus, which is very similar).
All-in-all, I really enjoyed shooting the Panasonic GH5 and truly look forward to shooting a production model once released.
How to Set Custom White Balance
The first question I receive from video shooters on new cameras is whether there is one-touch white balance and how it's set. So here's a quick guide to setting manual white balance on the LUMIX GH5.
Push WB button on top of camera

Navigate to Custom WB1 (icon of two opposing triangles)

Push rear control dial up

Fill the box on the LCD screen with a properly exposed white surface (i.e. white card)

Push Set button. Screen then displays Completed.

Start recording!
Note: Pros will love that there are 4 different custom white balance modes, plus 4 different custom kelvin temp settings.
Special Features
These special features on the Panasonic GH5 are very cool, but the end result is a .jpg file instead of a .RW2 (RAW) file. They'll be fun for some people while others likely will not use them.
Post-Focus Function
The GH5 autofocus performed quickly and accurately during our tests, proving that Panasonic's Depth From Defocus (DFD) AF technology can hold its own in the high-end mirrorless category. But what if you don't get the focus just right on your supermacro shot? No need to worry. If you are shooting with Post-Focus, you can literally change the focal point of the image in-camera during image review. Just remember - you need to capture the image using Post-Focus, which takes 1-2 seconds, meaning you cannot use underwater strobes.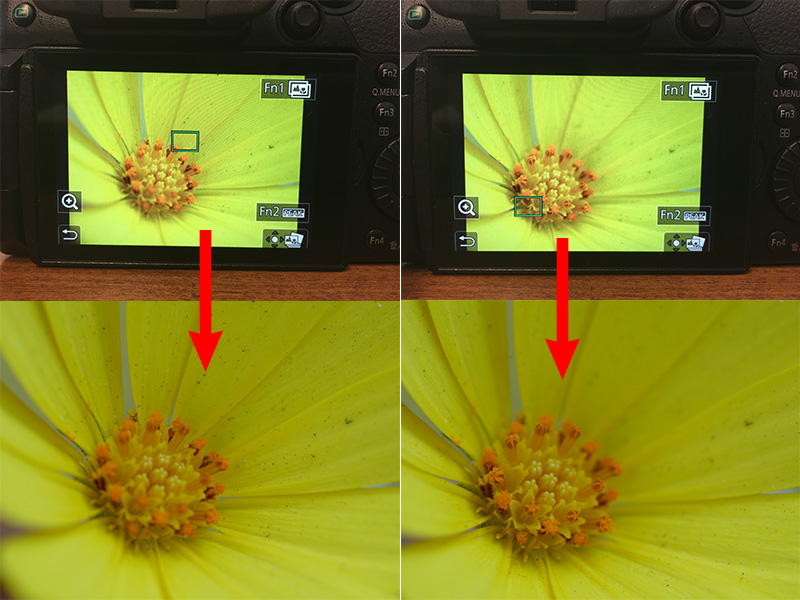 6K Photo Function
The 6K Photo function on the GH5 is great for those who want to ensure they capture the best moment in a sequence. While the GH5 shoots an impressive 9fps burst with RAW image files, sometimes that's not enough. If you set the top left control dial on the camera to 6K Photo, then the camera will essentially record a 30fps movie. To record this movie, you can simply hold the shutter down, set the camera to start/stop or set it to PRE.
You can then create a 18MP .jpg file from any point in that 6K Photo file (4992x3744). Need more frames? Set the camera to 4K at 60fps, although this limits you to a 8MP .jpg file (3328x2496).
Why would you use 6K Photo instead of taking a still image from regular 4K footage? When recording video, the camera's shutter speed generally doubles the framerate. As a result the subject in scenes with motion will suffer from motion blur. This isn't really noticeable when playing a video but will make a still image useless. 6K Photo records the file at your selected framerate, allowing you to freeze motion in each frame. When you pull the still image it will be nice and sharp.
Panasonic GH5 Burst Shooting
The Panasonic GH5 shoots an impressive 11fps burst in single autofocus mode (AFS), or 9fps in continuous (AFC). This is, of course, if you're not using the 30fps 6K Photo function. I shot some skaters in Venice Beach and the camera had no problem tracking the moving subjects. See sample below.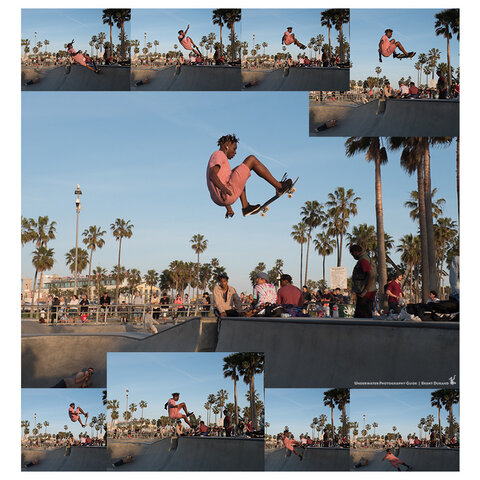 Additional Panasonic GH5 Sample Images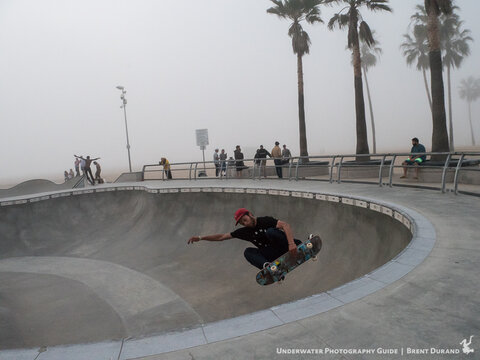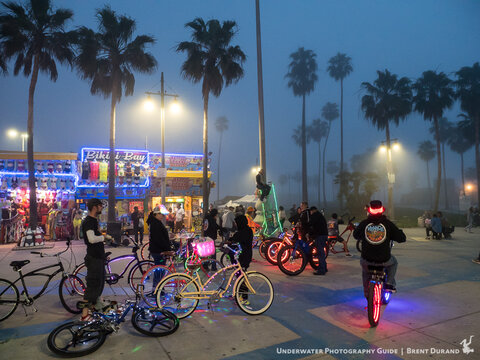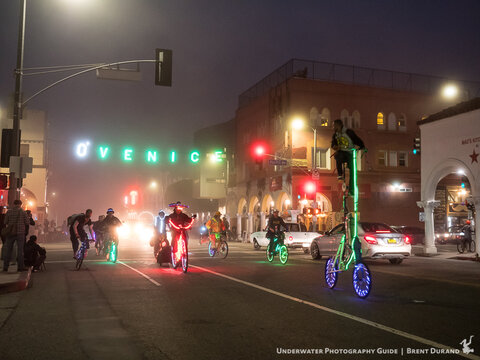 Panasonic GH5 Underwater Housings
GH5 underwater housings are smaller than dSLR housings, and support both the GH5 and GH5s cameras, in addition to a variety of micro-four thirds lenses. The Panasnoic 12-35mm lens is a popular choice for underwater video. Ikelite produces a polycarbonate housing, while Aquatica and Nauticam make an aluminum housing. The Nauticam GH5 housing supports the largest numbers of lenses and focus gears for manual focus underwater.
Panasonic GH4 Resources
Want to read about the predecessor of the GH5, the GH4? Here are some resources.
SUPPORT THE UNDERWATER PHOTOGRAPHY GUIDE:
The Best Service & Prices on u/w Photo Gear
Visit Bluewater Photo & Video for all your underwater photography and video gear. Click, or call the team at (310) 633-5052 for expert advice!
---
The Best Pricing, Service & Expert Advice to Book your Dive Trips
Bluewater Travel is your full-service scuba travel agency. Let our expert advisers plan and book your next dive vacation. Run by divers, for divers.
---