Mystery of the Yonaguni Formation
Ancient Underwater City or Natural Formation? Scuba Divers are baffled by this dive site in Japan
A unique dive site off the coast of Yonaguni has been intriguing both archeologists and divers. It is located on a remote island west of Naha (Okinawa's Capital), Japan. It is known for schools of hammerhead sharks, but especially for the mysterious underwater formation that has long been a subject of debate. Is this massive linear rock formation a natural geological feature or an ancient city that is now underwater?
During the winter months, Yonaguni is very popular among scuba divers looking to see the large population of hammerhead sharks. The discovery of the location was made by Mr. Kihachiro Aratake while scouting the area for new hammerhead shark schooling sites several decades ago.
Upon further inspection, he discovered something unusual; a formation that appeared to be a man-made terraced structure. He believes that the structure was from an ancient civilization dating back to the last ice age, approximately 10,000 B.C. If accurate, this struction pre-dates the pyramids of Egypt.
Shortly after discovery, a professor from the University of the Ryukyus, Masaaki Mikura, began to survey the location of the structure. Mikura also believed that the site is evidence of an advanced civilization, although many still argue that it is a natural formation.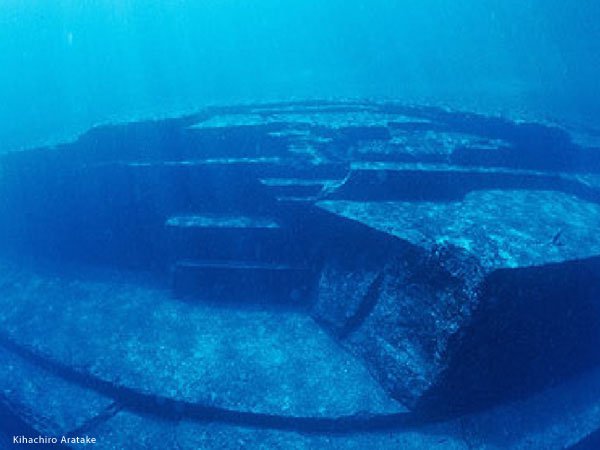 Main Features of the Monument:
The main feature of the site is a rectangular formation which measures about 150 by 40 m (490 by 130 ft.) and about 27 m (90 ft.) tall; the top is about 5 m (16 ft.) below sea level.
Two closely spaced pillars which rise to within 2.4 m of the surface
A 5 m (16 ft.) wide ledge that encircles the base of the formation on three sides
A stone column about 7 m (23 ft.) tall
A straight wall 10 m (33 ft.) long
An isolated boulder resting on a low platform
A low star-shaped platform
A triangular depression with two large holes at its edge
An L-shaped rock
It hard to not to believe that this is man-made structure with all of these seemingly deliberate and meaningful features. What do you think?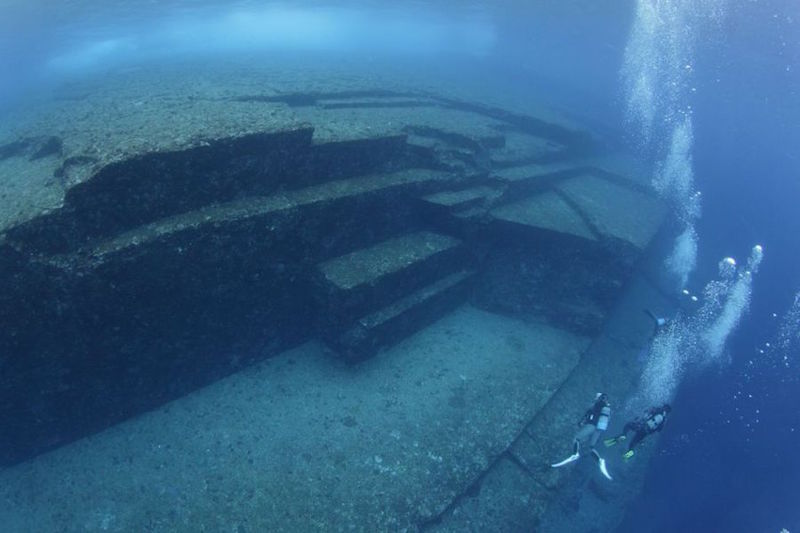 Divers explore the Yonaguni Monument. source Google Images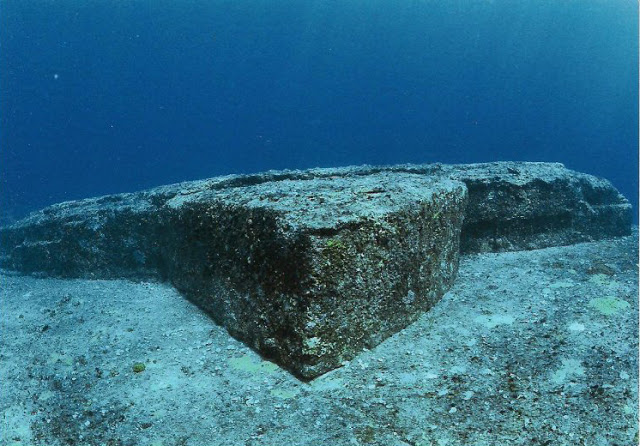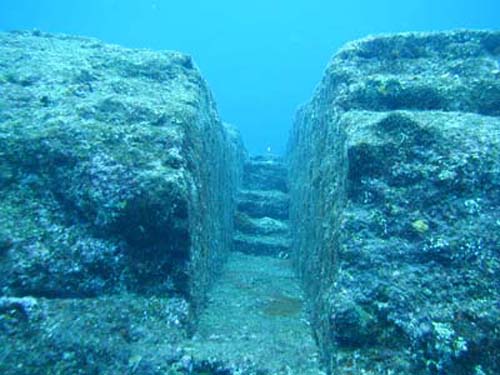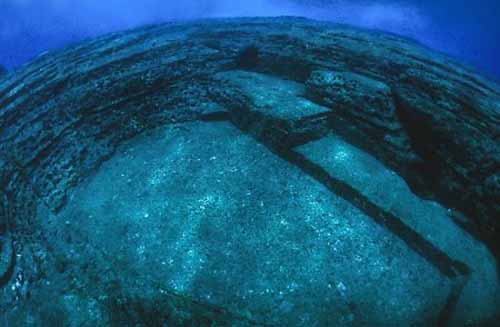 The Triangle Pool - a triangular depression with two drainage holes on the edges. source Crystalinks
SUPPORT THE UNDERWATER PHOTOGRAPHY GUIDE:
The Best Service & Prices on u/w Photo Gear
Visit Bluewater Photo & Video for all your underwater photography and video gear. Click, or call the team at (310) 633-5052 for expert advice!
---
The Best Pricing, Service & Expert Advice to Book your Dive Trips
Bluewater Travel is your full-service scuba travel agency. Let our expert advisers plan and book your next dive vacation. Run by divers, for divers.
---