I-Torch Venom 50 Video Light Review
5,000 lumens, remote trigger and more... testing the Venom 50 for macro & wide-angle video in Anilao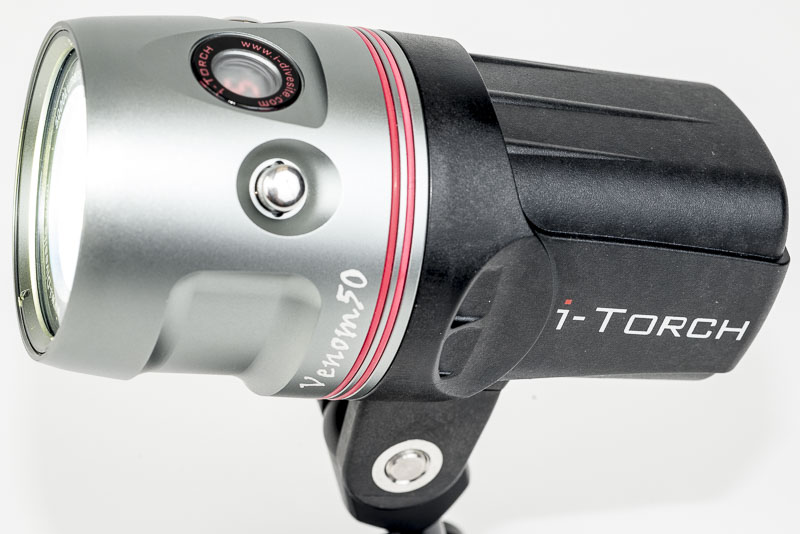 Powerful lights are essential for serious underwater videographers. There are many brands making great lights at every price point and lumen level you can imagine. Some are best for cameras like the GoPro Hero4, while others are best for compact shooters who want a combo between focus and video light, while still others boast lumen counts to make the pros start drooling… at least until they see the pricetags.
I-Torch makes great focus, video and dive lights at great prices. The I-Torch Venom 50 is the most powerful video light in the I-Torch lineup, boasting an incredible 5,000 lumens, and I used two of them on several dives during Bluewater Photo's Spring Anilao Workshop.
Highlights
LED read out indicates power remaining at current intensity
Two buttons – one for power and LED color, another for adjusting intensity
4x white light power levels
2x red light power levels
1x blue light power level
50 minute burn time at 100% power
Removable lithium battery (buy multiple and shoot all day)
New Accessory
The Venom 50 can either be controlled via the on-light buttons or by a remote trigger that attaches to your housing handle. That's right – you can turn the lights on and off plus adjust power with your fingertip.
In the Lab
The I-Torch Venom 50 light is compact and about as heavy as you'd expect from a light with 5,000 lumens. The sleek design is easy to travel with, stylish and tough. As with most of these powerful lights, you do not want to keep it on for more than a few seconds out of the water, or it gets very hot.
Mounting
Mounting the light is easy with the included YS Mount. All you need is a YS ball mount adapter and then you can clamp it to your strobe arms. This is what I used, however if I bought one, I would pick up the optional ball mount to attach directly to the light: less parts = more simple = better IMO.
Light Control
I really like I-Torch's dual buttons on the Venom 50. It makes it very easy to turn the light on and then adjust power settings with the other button. This way you can turn the light on and off in between shots, or cycle the power level down to low that you are at full power with one quick click on each light. The light will also turn on in the LED color you were last using.
Remote Control
The optional remote control for the Venom 50 is very, very cool. A small aluminum canister houses the electronics and is easy to mount to the top of your handle (between handle and ball mount). Two fiber optic cables plug into the remote, with one routed to each light. This fiber optic signal is what controls the lights. A push of the top buttons turns the lights on and off, while rotating the collar with your fingertip adjusts the power level. Easy as that!
One negative to the remote control is that it controls both lights at once. This means that if you are setting up a shot using two different power levels, then you will still need to reach out to one of the lights for a manual adjustment.
Close up detail of the Venom 50 remote.
Venom 50 remote and light with fiber optic cable attached.
Charging
The Venom 50 is well built, with dual o-rings to minimize chances of water reaching the inside of the light head and battery. Simply plug in the battery to charge, then ensure the o-rings are clean and screw the battery back into place.
In the Water
Wow! The Venom 50 is a powerful light compared to the Venom 38s I'm using! For macro you can oftentimes get away with lower lumens, but for wide-angle you really notice the light put out by these lights. This is great for two reasons:
You see light reach your foreground subject from further away
Since your light is brighter you can stop down a bit further and still see rich light on the foreground. This helps create more depth of field on close focus wide-angle shots.
The optional remote control is very fun to use underwater, saving time in setting up your shots.
The only negative is true to most video lights out there, and that's the fact that the power indicator and buttons are on top of the light. But most of us mount our lights on strobe arms, which then turn the lights upside down. So the buttons and LED read out are on the bottom, making you have to turn your rig around to see the screen.
Color temperature is also nice for both wide-angle and macro. I shot the below sample video using Auto White Balance on a Canon 5D Mark III.
Sample Macro and Wide-Angle Video
Venom 50 Pros
Compact size and light weight for 5,000 lumens
White, Red and Blue light
Removable Li-ion battery – multiple batteries keep you shooting all day when you can't recharge
Venom 50 Cons
More expensive than lights with lesser lumens
Where to Buy
You can purchase the I-Torch Venom 50 Video Light at our sister website, Bluewater Photo.
Conclusion
The I-Torch Venom 50 is a great light. I literally started singing through my regulator on my first dive with the lights, mesmerized by their power. The price is a bit high for most casual shooters, but serious shooters will be very happy to add the Venom 50 to their kit.
Further Reading
SUPPORT THE UNDERWATER PHOTOGRAPHY GUIDE:
The Best Service & Prices on u/w Photo Gear
Visit Bluewater Photo & Video for all your underwater photography and video gear. Click, or call the team at (310) 633-5052 for expert advice!
---
The Best Pricing, Service & Expert Advice to Book your Dive Trips
Bluewater Travel is your full-service scuba travel agency. Let our expert advisers plan and book your next dive vacation. Run by divers, for divers.
---