Best Cameras Summer 2015
UWPG & Bluewater Photo owner Scott Gietler looks at the best cameras of Summer 2015 Including the Sony RX100 IV, Olympus TG-4, Canon 5DS R, Sony a7R II, Nikon D7200 & Olympus OM-D E-M5 Mark II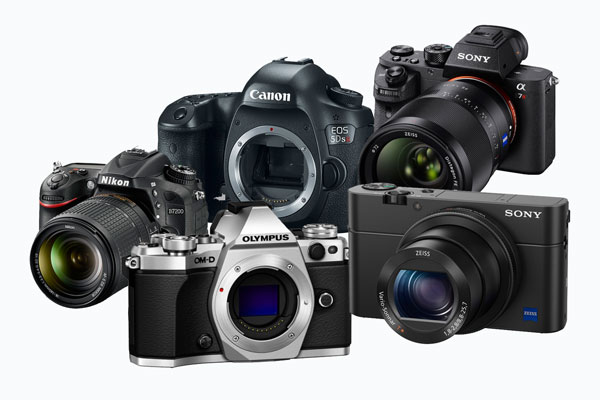 Underwater photographers looking to get a new setup this summer have several excellent options that are either coming out soon, or already on the market.
In this article we take a look at some of the newest cameras out there that excel for underwater photography.
UWPG top picks - Cameras marked with a ** are top UWPG picks.
** Olympus TG-4
Specs: 16meg, 25-100mm lens
Pros: Good macro, works with the UWL-04 fisheye lens, shoots in RAW, the Olympus TG-4 housing is also well-priced
Cons: No manual controls, small sensor, slower auto-focus
Summary: Top choice for a budget setup, $650 for camera + housing is a steal, and as a bonus it works well with wet lenses. The camera does not need the housing for snorkeling, but we do highly recommend the housing for diving. See recommended TG-4 housings, lenses & strobes here.
Sony RX100 IV
Specs: 20 meg, 24-70mm lens, 1-inch sensor
Pros: Decent size sensor in a tiny camera, should fit in the same housing as the RX-100 III, 4K video, super slow-motion video, high-speed shooting with the new stacked CMOS sensor
Cons: Sony RX-100 II has better macro & wide-angle options, the camera is pricey at $950
Summary: A solid camera that may attract users who want to shoot high-quality video + stills; Still shooters who love wet lenses may still gravitate towards the Sony RX-100 II - which works well with a fisheye lens. People who only do macro might go for a Canon G7X housing, and dedicated video shooters may go for a Panasonic LX100 - especially since the LX100 has a sensor twice the size, and also shoots excellent 4K video.
Housings Links:
Olympus OM-D E-M5 II
Specs: 16 meg, 14-42mm or 12-50mm kit lenses, micro-four thirds sensor
Pros: Excellent lens selection, almost dSLR-like image quality in a smaller package, 5-axis image stabilizaiton
Cons: LCD / Viewfinder not as crisp as a dSLR, less dynamic range than a dSLR; competes with similar bodies such as the E-M10 and E-M1; Olympus E-M5 II housing doesn't have the easy port change system that the E-M5 housing has
Summary: The E-M5 Mark II produces excellent pro-level images with the right lens. It excels for users really looking to take advantage of the improved video functions and mode options over the E-M5, however users really into video may choose the more advanced Panasonic GH4, which also shoots 4K video. Those more interested in shooting still images might not see as many improvements over the popular E-M1, so they may choose the E-M1 because of the additional customizable controls, as well as better quality housings available for the E-M1. Those on a budget will find the E-M10 camera a great option at nearly half the cost, and when money really matters the special Olympus Housing, Port and Camera bundle for the original E-M5 is an excellent choice.
Housing Links:
** Sony a7R II
Specs: 42 meg, full-frame sensor, 4K video
Pros: Huge sensor, amazing resolution, very good high ISO performance, 5-axis image stabilization, great stills & video
Cons: Pricey at $3,200 USD, lens selection still needs improvement
Summary: Pros will flock to this "super-camera", which boasts a large number of technological capabilities and features. The camera is not out yet, but Sony claims to deliver faster shooting speeds and better high ISO performance than other high-resolution cameras, due to its innovative sensor. The a7R II is also rumored to have better auto-focusing with Canon lenses, which makes the 8-15mm fisheye lens a viable option. The dimensions are exactly the same as the a7 II, so fingers crossed that it fits in the Nauticam a7 II underwater housing.
** Nikon D7200
Specs: 24 meg, 1.5x crop sensor
Pros: Amazing camera at its price point, great dynamic range
Cons: It is not a D810 - meaning you only have the "center" area of an image the D810 would take; housings noticeably larger than E-M1 housings
Summary: This is Nikon's flagship cropped sensor dSLR, and for many serious underwater photographers, this is the camera for them, with great controls, excellent lens selection, and an improved sensor over the D7100. It has a higher DxoMark sensor rating then any other cropped sensor dSLR camera, and has very good focus in low-light. Some consider the Tokina 10-17mm fisheye on a cropped sensor camera the perfect wide-angle lens, and the Nikon 105mm VR the perfect macro lens. There is also a great selection of Nikon D7200 underwater housings.
Canon 7D Mark II
Specs: 20 meg, 1.6x crop sensor
Pros: Improved auto-focus for both stills and video over previous Canon models
Cons: Lags behind Nikon in sensor ratings
Summary: A serious choice for Canon lens owners who don't feel the need to go full-frame - it offers improved auto-focusing over the T6i or 70D. However, many people will find that the less expensive 70D meets their needs, or for $700 more they can get the 5D Mark III. There is a great selection of housings for the 7D Mark II.
Housing Links
** Canon 5DS / 5DS R
Specs: 50 meg, full-frame sensor
Pros: Offers unsurpassed resolution, great macro and wide-angle capability for a Canon shooter, and excellent video quality
Cons: Lags behind Nikon D810 in sensor ratings
Summary: Many owners of Canon lenses will be tempted by the abiltity to have 50 megapixel images to work with; we recommend the 5DS R for underwater photography, for maximum resolution. The 5DS and 5DS R will work with the existing Canon 5D Mark III underwater housings.
** Nikon D810 (editor's pick)
Specs: 36 meg, full frame sensor
Pros: Excellent auto-focus, resolution and image quality. Great image quality at higher ISO's than a D7200, and the ability to significantly crop and/or make very large prints.
Cons: One of the larger, heavier setups you can get; auto-focus during video not on par with Sony or Canon
Summary: For the serious photographer focusing on stills, the D810 does everything a D7100/D7200 can do and so much more, it is the ultimate choice. For details, read our complete Nikon D810 review, and then check out the D810 underwater housings.
Learning how to use your new camera
What to learn how to use your new underwater setup? Join one of our photo trips, which are perfect for people with their first underwater setup, their first GoPro, or a new underwater setup.
Further Reading
SUPPORT THE UNDERWATER PHOTOGRAPHY GUIDE:
The Best Service & Prices on u/w Photo Gear
Visit Bluewater Photo & Video for all your underwater photography and video gear. Click, or call the team at (310) 633-5052 for expert advice!
---
The Best Pricing, Service & Expert Advice to Book your Dive Trips
Bluewater Travel is your full-service scuba travel agency. Let our expert advisers plan and book your next dive vacation. Run by divers, for divers.
---