Breaking a Record on Women's Dive Day
This year, 100 women will attempt to break the world record on Women's Dive Day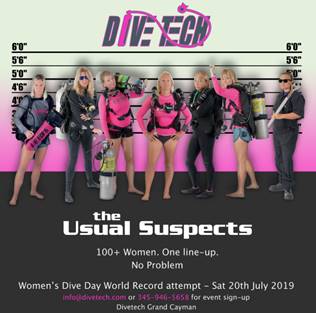 Grand Cayman, July 2019 - It's the Year of the Woman…. Diver! This year, on July 20, the scuba diving community around the world will celebrate PADI Women's Dive Day, a day to recognize women in scuba diving and the largest single day of organized diving worldwide. To celebrate, Divetech Grand Cayman will host its second annual Women's Dive Day charitable event and attempt to break its world record for the longest human chain underwater.
Last year to celebrate PADI Women's Dive Day 2018, 86 women set the new record for the longest human chain underwater. The all-female congregation consisted of 86 divers holding hands. The human chain was suspended at 15 ft. underwater in the calm Caribbean waters of the Cayman Islands along a 300-ft. line. This seemingly simple task was in reality a massive logistical undertaking that was executed flawlessly by the staff ladies who attended.
This year – Participants are going even BIGGER with 100 female divers on PADI Women's Dive Day 2019!
In 2018, Divetech raised $3,000 in donations for the Cayman Islands Breast Cancer Foundation at its Women's Dive Day event. This year, Divetech will attempt to increase donations to the cancer foundation, and it also will invite local marine life conservation organizations and dive shops to raise awareness of island ocean issues and bring together the community.
SUPPORT THE UNDERWATER PHOTOGRAPHY GUIDE:
The Best Service & Prices on u/w Photo Gear
Visit Bluewater Photo & Video for all your underwater photography and video gear. Click, or call the team at (310) 633-5052 for expert advice!
---
The Best Pricing, Service & Expert Advice to Book your Dive Trips
Bluewater Travel is your full-service scuba travel agency. Let our expert advisers plan and book your next dive vacation. Run by divers, for divers.
---