David Doubilet and Jennifer Hayes Headline Underwater Tour 2019
David Doubilet and Jennifer Hayes headline the Underwater Tour Brisbane, Sydney, Melbourne, Adelaide, Perth: 9-14 May 2019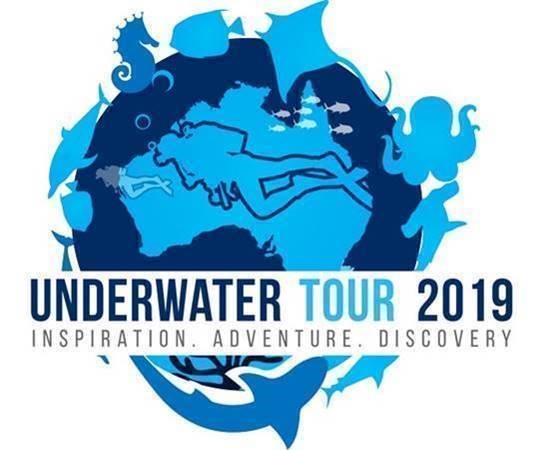 Australia, 13 February 2019 - Get ready for an evening of inspiration, adventure and discovery. Joint founders of the annual Underwater Tour, Juliette Myers and Tim Hochgrebe have curated a stellar international line-up of underwater photographers for this year's nationwide touring speaker event series across Australia.
LIVE on stage 9-14 May, David Doubilet, Jennifer Hayes and William Tan will showcase extraordinary images and share stories of discovery from behind the lens.
Doubilet and Hayes, National Geographic legends and undoubtedly the world's most recognisable and inspirational ambassadors of the oceans, are on their way from upstate New York to Australia to keynote the Underwater Tour 2019. Logging 26,000 and 11,000 hours beneath the surface respectively, it's no wonder they have earned their place as revered underwater photographers and international treasures.
Doubilet's 75 plus feature publications with National Geographic document the diversity of marine environments - from equatorial coral reefs to life beneath the polar ice. Feature presenter of National Geographic Live, a columnist, contributing editor and author of 12 books, he is the recipient of many international prestigious awards including The Academy of Achievement Award, The Explorers Club Lowell Thomas Award and The Lennart Nilsson Award in Scientific Photography. Doubilet is a member of both the Royal Photographic Society, International Diving Hall of Fame and founding member of the International League of Conservation Photographers.
Hayes' photography and journalism is underpinned by her marine science background and focus on science communication and conservation of endangered species. Her current work includes documenting the global status of UNESCO World Heritage Site coral reef ecosystems at risk of climate change, exploring the science and solutions to restore North American sturgeon populations and documenting harp seals as a Face of Climate Change in the Gulf of St Lawrence as their birth ice disintegrates beneath them. Who knew Hayes is a pilot with a passion for vintage planes? She is the recipient of the Presidents Medal for natural history, a trustee of the Shark Research Institute and Explorer Club National Fellow.
A pioneer of the blackwater macro underwater photography niche, William Tan is truly the Master of 'blackro'. Tan captures images of the phototaxic movement of plankton and wonderfully bizarre marine critters in their nightly vertical migration from the deep or mid-water column to the shallows. A violinist with the Singapore Symphony Orchestra, between concert seasons, he leaves his prized antique Italian violin at home while diving throughout the Pacific region. A world previously exclusive to scientific academia, if you've seen everything and dived everywhere, William's blackro images are guaranteed to pique your curiosity and have you wanting to set out on new adventures.
Underwater Tour 2019 event dates:
• Brisbane 9 May
• Sydney 11 May
• Melbourne 12 May
• Adelaide 13 May NEW
• Perth 14 May
Tickets are on sale now from $75. For more information: www.underwatertour.com.au
SUPPORT THE UNDERWATER PHOTOGRAPHY GUIDE:
The Best Service & Prices on u/w Photo Gear
Visit Bluewater Photo & Video for all your underwater photography and video gear. Click, or call the team at (310) 633-5052 for expert advice!
---
The Best Pricing, Service & Expert Advice to Book your Dive Trips
Bluewater Travel is your full-service scuba travel agency. Let our expert advisers plan and book your next dive vacation. Run by divers, for divers.
---