Kraken 4th of July Sale 2019
Massive sale on all Kraken Lights this 4th of July!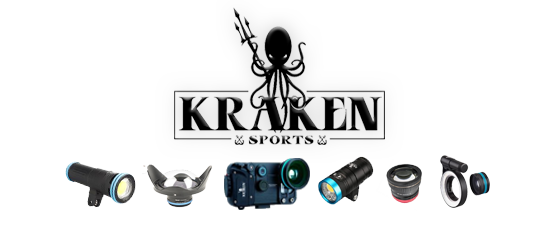 This 4th of July, Kraken Sports is offering a 20% sale on all their lights! And it couldn't come at a more perfect time to start of the summer dive season. Kraken has a great assortment of lights for both the serious videographer and casual photographer at an excellent price point. In fact, Kraken is one of the most innovative light producers in the industry. Some of the the most versatile of these lights include the weefine ring light, the solar flare max, and the hydra 5000S+ which features a video light and a burst mode for still photography. The sale is limited to July 3 - 8, 2019. We at the Underwater Photography Guide hope you are able to get some diving done, and maybe a BBQ, this 4th of July. Happy 4th! Here are some of our favorite lights currently on sale:
Lights 20% Off from July 3-8, 2019
$559 $699
Kraken Sports Hydra 3500S+ WRSU
$416 $520
$152 $190
Kraken Sports Weefine Ring Light 1000
$183 $229
Kraken Sports Weefine Ring Light 3000
$300 $375
Kraken Sports Solar Flare Mini 8000
$719 $900
$1,359 $1699
$120 $150
Kraken Sports Hydra 2500 WRU Macro
$319 $399
$239 $299
Check out some of our Kraken light reviews:
SUPPORT THE UNDERWATER PHOTOGRAPHY GUIDE:
The Best Service & Prices on u/w Photo Gear
Visit Bluewater Photo & Video for all your underwater photography and video gear. Click, or call the team at (310) 633-5052 for expert advice!
---
The Best Pricing, Service & Expert Advice to Book your Dive Trips
Bluewater Travel is your full-service scuba travel agency. Let our expert advisers plan and book your next dive vacation. Run by divers, for divers.
---