Fish Trapped inside a Jellyfish
Australian photographer captures a rare moment with a fish trapped inside a jellyfish
An Australian photographer, Tim Samuel, captured a rare moment underwater the other day, when a small fish swam inside the bell of a jellyfish. Samuel captured this moment while free diving in Byron Bay, later posting the photo on his Instagram account. The photo, and several posted later, have since gone viral and are receiving global media attention.
It seems that the fish was able to control the jellyfish's movement and direction to a great extent, steering the jellyfish as it swam. Samuel decided not to intervine, letting nature take its course as the pair swam off into the blue water.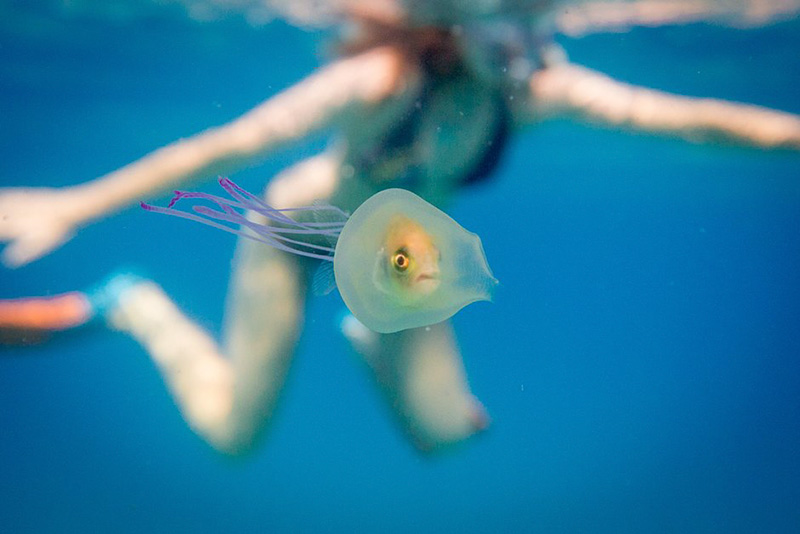 According to Associate Professor Ian Tibbets from the University of Queensland, the fish could have been a juvenille travally and might have initially been using the jellyfish as protection.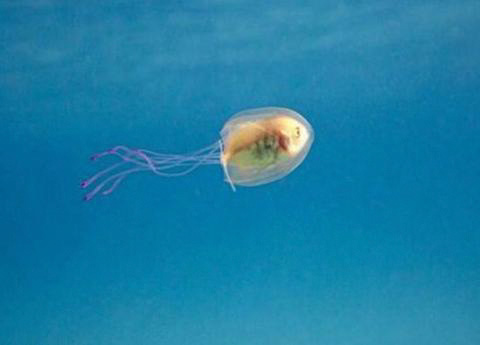 Tim Samuel knew that he had stumbled a unique occasion, but didn't realize just how rare it was until the photo started being reposted all over the internet. He admited that he was "completely blown away by all the attention" he received online and from individuals around the world.
Read the full story, in the 9News article 'Aussie photographer discovers fish trapped inside jellyfish' or on NH Voice 'Images showing fish swimming inside a jellyfish go viral online'.
SUPPORT THE UNDERWATER PHOTOGRAPHY GUIDE:
The Best Service & Prices on u/w Photo Gear
Visit Bluewater Photo & Video for all your underwater photography and video gear. Click, or call the team at (310) 633-5052 for expert advice!
---
The Best Pricing, Service & Expert Advice to Book your Dive Trips
Bluewater Travel is your full-service scuba travel agency. Let our expert advisers plan and book your next dive vacation. Run by divers, for divers.
---