Ikelite a7R II Underwater Housing with TTL Released
Ikelite releases new Sony mirrorless camera housing with major feature updates. Also works for the A7 II and a7S II.

Ikelite has announced a brand new underwater housing for Sony's latest mirrorless full frame A7 Mark II cameras. The housing incorporates Ikelite's latest design features and houses all three new Sony cameras, which are proving extemely popular among underwater photographers: the a7 II, a7R II and a7S II.
If you haven't yet, check out Bluewater Photo's Sony a7R II Review for Underwater Photography.
So what's new and cool with the housing? Here's my impression from the annoucement:
Ikelite Sony a7R II Housing Key Features
The only housing that provides TTL support for Sony Alpha 7 cameras. This is big news if you shoot TTL!

Secure and easy-to-change ports for all popular zoom, macro and wide-angle lenses. Ikelite's port selection allows divers to use Sony, Canon, Sigma and other popular mirrorless lenses with the Ikelite a7R II housing. Just push the 4 clips back to unlock the port, pop on a new port, and push the 4 clips back to secure.

Uses existing DSLR port system. If you if you already own an Ikelite dSLR system, the switch to Sony will involve buying just the housing - no additional ports or accessories.

New soft touch zoom knob. This upgrade is easier to adjust, which is essential for smooth zoom while shooting video or recomposing while shooting stills of a fast-moving subject.

Housing comes with zoom sets to fit most lenses. No need to rip apart the zoom grips on your lenses to install a zoom gear - a very nice feature for those that shoot topside as well. No need to buy expensive zoom gears for each lens.

New mounting tray slides in and out. Thanks Ikelite! This makes it easy to insert and remove camera from housing, and even use it topside with the mounting tray attached.

Ergonomic control placment aids muscle memory. No need to memorize location of controls on your camera and new locations on a housing. The intuitive
placement aids those that transition back and forth from topside to underwater with the same model camera body.

New white polycarbonate looks sharp, but keeps Ikelite's iconic clear backplate. Two benefits to the clear backplate: 1) you can see the camera, controls and feel good you don't physically see any water in the housing, and 2) the open o-ring groove is very easy to clean, visually inspect and securely close.
---
Where to Buy the Ikelite Sony a7R II Housing
Purchase the Ikelite Sony a7R II housing at Bluewater Photo,
including recommended ports, lenses, accessories and excellent customer service.
---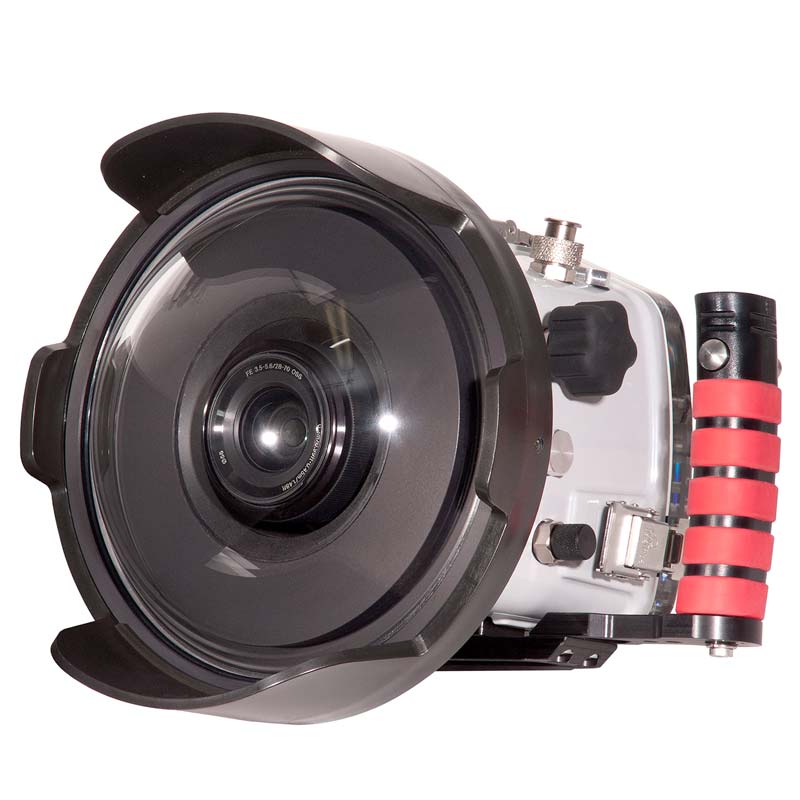 Strobe Compatibility for TTL
Serial number requirements
Ikelite AF35: not compatible
Ikelite DS50: yes, above serial number 70000
Ikelite DS51: yes
Ikelite DS125: yes, above serial number 5000
Ikelite DS160, DS161: yes
Ikelite DS200: yes, above serial number 7163
Electrical sync cord compatibility
Ikelite-to-Ikelite TTL Sync Cord (TTL) Product 4103.51
Ikelite-to-Ikelite TTL Dual Sync Cord (TTL) Product 4103.52
SEA&SEA / INON Strobe-to-Ikelite Non-TTL Sync Cord (Manual) Product 4118.1
SEA&SEA / INON Strobe-to-Ikelite Non-TTL Dual Sync Cord (Manual) Product 4118.2
Nikonos SB Strobe-to-Ikelite Non-TTL Sync Cord (Manual) Product 4116.31
Nikonos SB Strobe-to-Ikelite Non-TTL Sync Cord (Manual) Product 4116.32
Ikelite a7R II Housing Specifications
200 ft (60m) depth rating
All important camera functions are accessible
Controls are not provided for AF/MF/AEL switch lever, Control wheel, or Diopter Adjustment Dial
Ikelite bulkhead connector with integrated TTL circuitry
Near neutral buoyancy in fresh water
Actual buoyancy varies depending on choice of lens and port
Weight 5 lb (2.3 kg) not including tray + handles
Dimensions 9.1 x 7.1 x 6.1 inches (230 x 180 x 150 mm) including projections
Ikelite Sony Housing Details
U.S.A. MSRP: $1,500
PRODUCT #: 6843.72
IKELITE WEBSITE: Ikelite Sony Housing
AVAILABLE TO PURCHASE AT: www.BluewaterPhotoStore.com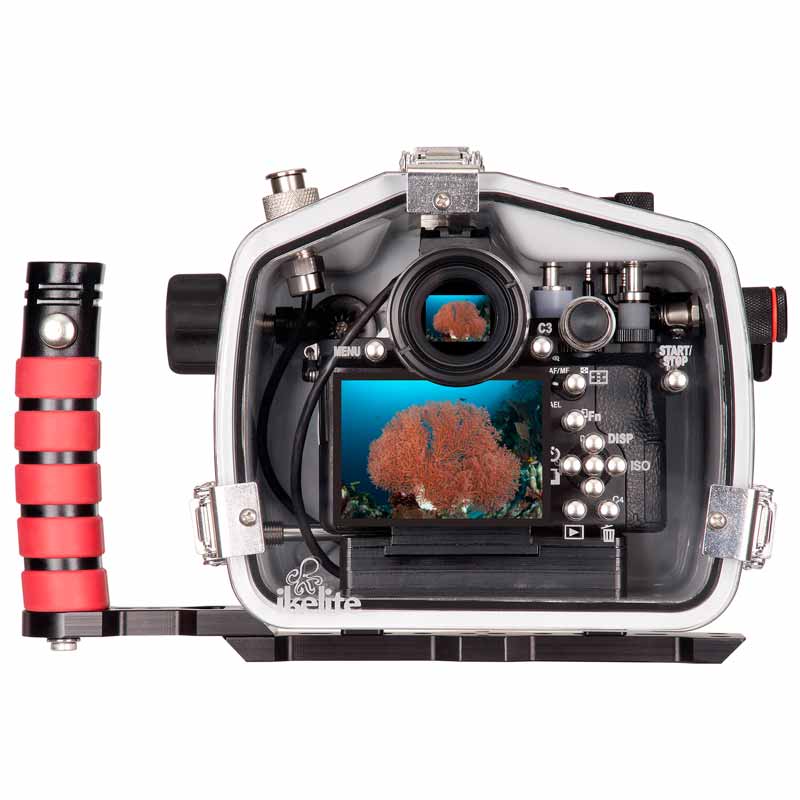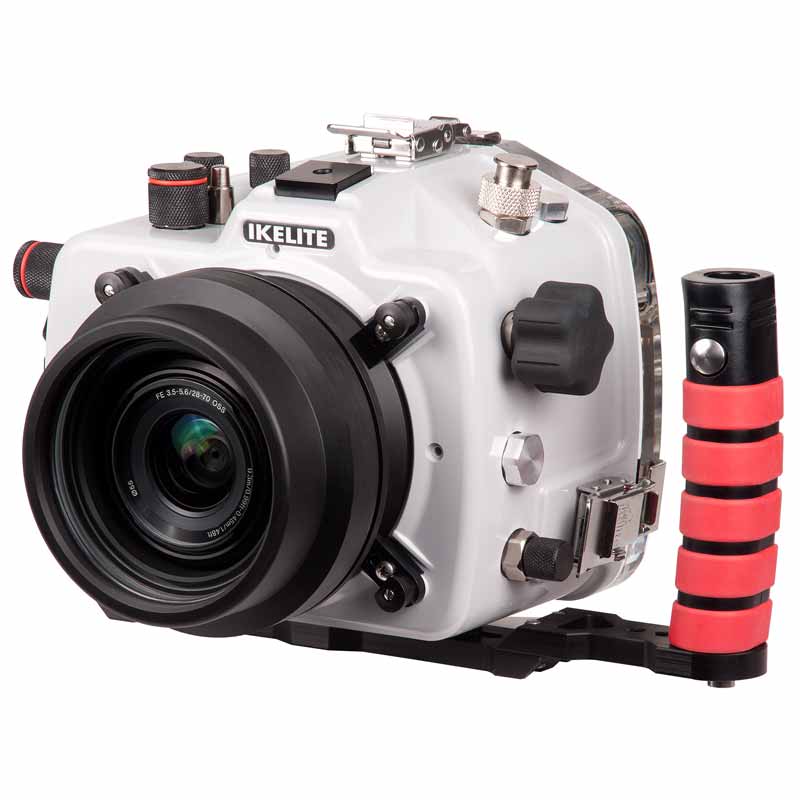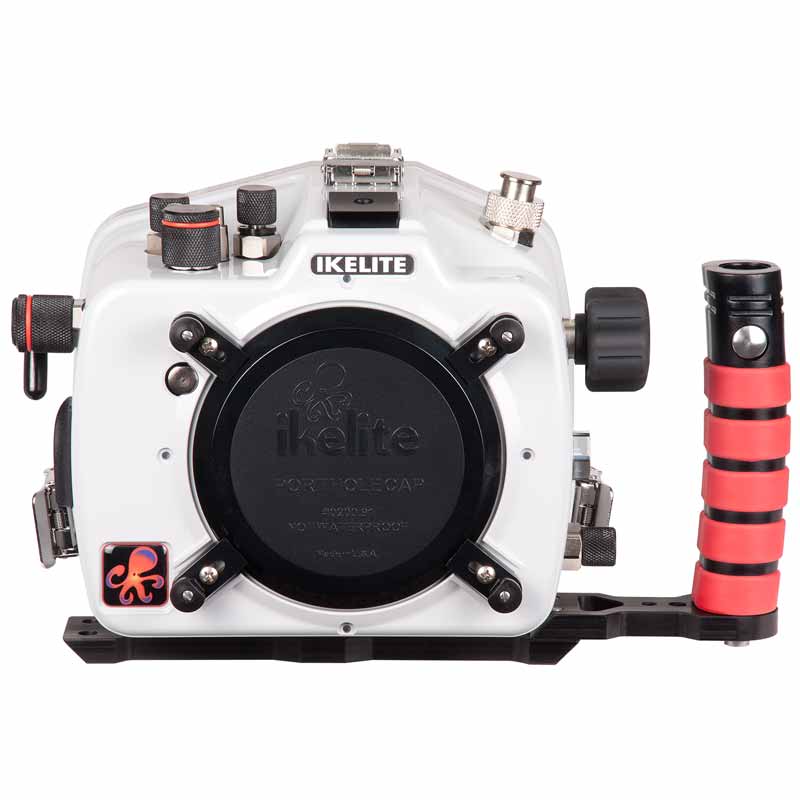 SUPPORT THE UNDERWATER PHOTOGRAPHY GUIDE:
The Best Service & Prices on u/w Photo Gear
Visit Bluewater Photo & Video for all your underwater photography and video gear. Click, or call the team at (310) 633-5052 for expert advice!
---
The Best Pricing, Service & Expert Advice to Book your Dive Trips
Bluewater Travel is your full-service scuba travel agency. Let our expert advisers plan and book your next dive vacation. Run by divers, for divers.
---