Raja Ampat Underwater Photo Workshop December 2024
Join the Raja Ampat Underwater Photo Workshop from December 9 - 20, 2024 aboard the Ambai. Free daily photo workshops included!

Raja Ampat Underwater Photo Workshop December 2024
Join the Raja Ampat Underwater Photo Workshop from December 9 - 20, 2024 aboard the Ambai. Experience one of the planet's most biodiverse areas while enjoying some of the best service in the industry.
December 9 - 20, 2024
Trip Leader: TBD
11 Nights for:
Lower Deck: Only $6,300 per person, double-occupancy
Lower Deck: Only $7,875 single-occupancy
Upper Deck: Only $6,550 per person, double-occupancy

Prices are per person and include harbor fees, dive gear, massages, and laundry. Guests will still pay the park fee (IDR 1,000,000) separately onboard. Read the package details here
Why Join This Trip?
FREE daily underwater photography workshops
Outstanding diving in one of the planet's most biodiverse areas
Luxury liveaboard accommodation
Up to 4 dives/day
Small 4:1 diver-to-guide ratio
25% off rental photo gear from Bluewater Photo
Trip Overview
The sheer abundance of marine life in this area is simply breathtaking, with an impressive variety of fauna such as corals and gorgonians adorning the lush reefs, alongside an astonishing diversity of fish. The underwater topographies of the dive sites offer a captivating mix of features, including dramatic pinnacles, long ridges, walls, hidden caves, rock formations, and azure lagoons.
From the tiniest pygmy seahorse to the majestic oceanic manta ray, the range of fauna here is remarkable. Notably, the area is renowned for its immense schools of fish, like vast clouds of fusiliers that attract tunas, trevallies, barracudas, and inquisitive spadefish. Additionally, you can spot schools of sweetlips, groups of bump head parrotfish, and napoleon wrasses among others.
Reef sharks are a common presence around the reefs, while the ubiquitous carpet shark or Wobbegong can be found resting on corals or hidden under rocks amidst clouds of glass-fish. Night dives often reveal sightings of the intriguing walking shark (Epaulette shark). Mantas are a frequent sight at three different dive sites, adding to the area's allure.
This 12-day trip covers the entirety of the Raja Ampat area, spanning from Misool in the South to Wayag in the North, including the Dampier Strait. Dive site selections are based on the prevailing conditions during the trip, ensuring an unforgettable and dynamic experience for all adventurers.
Read all about our latest trip to Raja Ampat in 2023 here.
Check out this amazing video from our Raja Ampat Photo Workshop in 2022.
Dive Raja Ampat in style and comfort aboard the MV Ambai. With a large dive deck, dedicated camera room and a large screen TV in the lounge, the Ambai is a liveaboard of choice for underwater photographers.
Check out our Raja Ampat Trip Recap 2022.
The Ambai offers only the best in service and amenities. Read the review of a satisfied diver:
"The Ambai is a high quality boat; spacious, beautiful, and well maintained. It is very clear that the owners and crew take excellent care of every detail. I was staying in one of the upper deck cabins. It was comfortable and elegant with views of the surrounding islands, plus a lovely ocean breeze so I never even needed to use the in-room A/C... I would absolutely recommend a trip on the MV Ambai to anyone who is traveling to Indonesia! I haven't stopped talking about my trip since I returned, and I cannot wait to go back."
- Melissa I.
Marine Life to Photograph
Raja Ampat boasts one of the most diverse arrays of fish species on the planet. Among the captivating marine life you can encounter are wobbegong sharks, jacks, barracuda, Napoleon wrasse, trevally, bumphead parrotfish, pygmy seahorses, batfish, angelfish, butterflyfish, barramundi cod, and an impressive variety of nudibranchs.
When the currents become stronger at deeper waters, exploring reveals the presence of reef sharks at numerous sites, particularly at renowned locations like Blue Magic and Sardines. These spots also serve as gathering points for schooling fish, forming breathtaking congregations when the currents are strong. During such moments, you might find yourself immersed in swirling clouds of fusiliers and surgeonfish in the mid-water region, while vast numbers of sweetlips completely veil the sizeable coral heads below. It's an underwater spectacle that never fails to amaze.
See also: Raja Ampat Dive Travel Guide
December Conditions
Average Raja water temperatures in December are in the low to mid-80s. A full 3mm wetsuit is recommended.
Read the reviews on diving Raja Ampat here
Inclusions
Accommodation in a shared twin or double bed cabin

All meals & snacks, drinking water, soft drinks and hot drinks

All guided dives (1 guide /4 divers maximum)

Free Nitrox

Aluminium tank (12 liters), weights, and belts

Transfers between the boat and the closest airport
Exclusions
Park & port fees, fuel surcharge.

International and domestic flights

Alcoholic beverages (you can bring your own)

Diving equipment rental, 100 cf (15 L) tank (see price list)

Crew gratuities

Massages

Laundry
Trip Type
This trip is a PHOTOGRAPHY WORKSHOP. It will be led by one of our photo instructors and will include daily underwater photography tutorials, in-water photography support, and one-to-one advice and guidance as required.
What to expect from our Photo Workshops
Daily photo workshops

- Your photo instructor will schedule seminars each day on topics including, but not limited to, equipment type and selection, the concept of underwater photography, lighting and composition techniques, and post-processing. They will also include additional topics relevant to the location and your experience.

In-water support

- Where possible, each dive group will spend time underwater with the photo instructor, receiving in-water support and guidance on their shooting techniques. Participants can also request in-water assistance during the workshop and the photo instructor will do his or her best to accommodate all requests.

Consecutive days of practice & review

- Each day you will have the opportunity to practice the techniques and skills learned in the previous day's tutorials. If you are new to underwater photography you will likely see a vast improvement in just a few days.

Daily photo image reviews

- You are strongly encouraged to bring your laptop, a thumb drive, edit your photos, and submit your shots for review from both the instructor and your peers. These are fun and interactive sessions encouraging you to improve throughout the trip.

Quality time with fellow photographers

- Both new and experienced photographers from past workshops have expressed the advantages of joining a trip with like-minded divers with a passion for underwater photography.

Suitable for everyone

- New and experienced photographers are welcome on all our trips. Gain the necessary skills to start shooting great photos, increase your confidence in finding the best underwater shots, or hone specific skills. We also encourage non-photographers to join, as many of them really enjoy the daily photo reviews, learning about underwater photography, and some have even returned to a photo workshop with an underwater camera setup!
Enjoy free, unlimited access to a wealth of knowledge and advice from your photo instructor.
Trip Schedule
The map below shows the general cruise itinerary. It can slightly vary depending on weather conditions, currents, visibility, and tides. Distances are not long: there are only two overnight crossings, the other navigations are taking place between dives or in the early morning. We usually start the trips by going South and then making our way up to the North.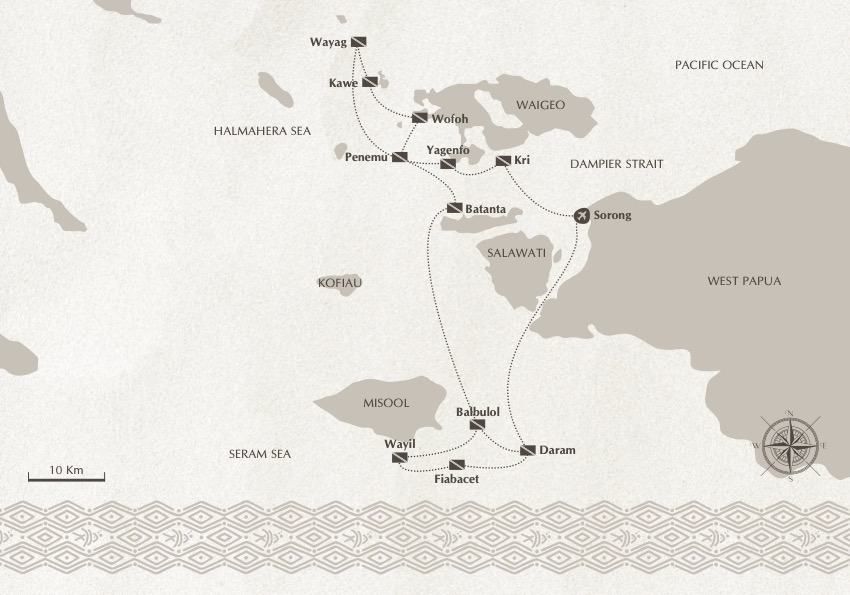 Misool
Misool is excellent for taking wide angle shots, encounters with mantas, and massive schools of fish. The underwater topography is predominantly rocky with ridges and rock formations. The colorful reefs display an abundance of soft corals and huge gorgonians. Macro subjects are plenty as well: pygmy seahorses, tiny crabs, nudibranchs, and other rare photogenic life are everywhere.
Fam - Penemu
We spend one day on these islands between the North and the South area. The dives include the site "Melissa garden" which has the best coral garden of the Raja Ampat and "My reef" well known for its barracuda school and numerous Wobbegongs.
The North
The iconic Wayag lagoons composed of hundreds of rocky quartz limestone islets, are a marvel to explore with dinghies or onboard kayaks. We also recommend a short hike to a summit to admire the surrounding areas. Mantas and black tip sharks are swimming around. Kawe island has some of the finest diving in the area, with a good population of fish and regular manta encounters. The Aljui bay, a 20 kilometres long indentation, provides some of the best Raja Ampat's macro dive site locations.
Dampier Strait
We usually spend one or two days there to visit its famous dive sites around Kri with their impressive amount of fish.
About The MV Ambai Liveaboard
The MV Ambai has 8 cabins accommodating 16 passengers. All cabins have individually controlled A/C units and private ensuite bathrooms. Room options include bunk and double-bed cabins.
Sea VIew Cabin
Read the more about MV Ambai Liveaboard here.
Flight Information
The trip will begin and end in Sorong. The recommended route is to fly internationally to Jakarta and then take a domestic transfer to Sorong. We recommend arriving into Sorong at least 1 day before embarkation to allow time to rest and for delayed flights/baggage. We are happy to assist you with flight suggestions and hotel bookings if required.
Payment Schedule
Deposit: $1,000
Payment 2: $2,000 due Mar 15, 2024
Balance: due Aug 15, 2024
See Also:
MV Ambai Liveaboard: Amenities, Cabins, Reviews & More...
Photo Gallery

---
Raja Ampat Underwater Photos from Previous Trips
SUPPORT THE UNDERWATER PHOTOGRAPHY GUIDE:
The Best Service & Prices on u/w Photo Gear
Visit Bluewater Photo & Video for all your underwater photography and video gear. Click, or call the team at (310) 633-5052 for expert advice!
---
The Best Pricing, Service & Expert Advice to Book your Dive Trips
Bluewater Travel is your full-service scuba travel agency. Let our expert advisers plan and book your next dive vacation. Run by divers, for divers.
---