Silver Banks Whale Swimming February 2026
Sail Silver Bank, a marine sanctuary that provides a safe wintering haven for North Atlantic Humpback Whales.

Silver Banks Whale Swimming Trip February 2026
Join us aboard the Turks & Caicos Aggressor II as we sail Silver Bank, a protected marine sanctuary nestled within the Dominican Republic. This sanctuary offers a secure winter refuge for the majestic North Atlantic Humpback Whales. Don't miss out on this once-in-a-lifetime experience, as the sanctuary is only one of three places in the world where you can swim and snorkel with whales.
February 7 - 14, 2026
Perfect for divers & non-divers alike!
7 Nights For:
Twin cabin $4595 per person, double occupancy |

$200 Early Bird Discount: Now Only

$4395*
Deluxe cabin $4795 per person, double occupancy |

$200 Early Bird Discount: Now Only

$4595*
Master cabin $5,095 per person, double occupancy |

$200 Early Bird Discount: Now Only

$4,895*

Please note this trip will not be led by a Bluewater trip leader, however our experts will help with all the trip logistics & arrangements.
*Book by Sep 30, 2023, to receive the Early Bird Discount.
Why Join This Trip?
Explore the Silver Bank, one of only three places in the world where humans can swim and snorkel among the whales
Swim with humpback whales during the peak season of their mating
Travel aboard the luxurious Turks & Caicos Aggressor and experience the excellent Aggressor service
Trip Overview
Embarking on a journey to the Silver Bank in the Dominican Republic promises an extraordinary adventure in the world of Humpback Whales. This magical marine sanctuary, spanning twenty square miles, offers a haven for these majestic creatures during their winter months of courtship, mating, calving, and nurturing their young. Aboard the Turks & Caicos Aggressor II, visitors are granted two distinct encounters that provide an intimate insight into the lives of these magnificent beings.
From the vessel's deck, witness the awe-inspiring social behaviors of Humpback Whales as they breach, tail slap, and communicate through the water's surface. Experience the captivating rivalry of male "rowdy groups" vying for the attention of a female in heat, an incredible display of power and determination. Submerging into the azure waters wearing snorkeling gear, a soft in-water encounter awaits, where you calmly float in the company of cooperative whales, letting their curiosity draw them near. Mothers, calves, male escort trios, solitary females, and even sleeping whales might become your companions in this tranquil realm. The profound resonance of a male humpback whale's song may reach you, a haunting melody that resonates for miles underwater. This journey not only grants you a front-row seat to nature's spectacular show but also instills a profound appreciation for the wild beauty of the Silver Bank and its extraordinary inhabitants.
Kindly note that the regulations set by the Whale Commission state that no scuba diving is allowed to ensure harmony between visitors and the marine environment.
Check out this amazing video from Aggressor to learn more!
Marine Life to Photograph
As you can tell, Silver Bank is all about the whales. This underwater haven becomes a stage of wonder and awe from January to April as these colossal creatures grace its waters. The Silver Bank's tranquil expanse serves as a vital winter refuge for the North Atlantic Humpback Whale population, where they gather in the thousands for courtship, mating, calving, and nurturing their young. Amidst the turquoise currents, one can witness a mesmerizing symphony of behaviors, from the exhilarating breaches and resounding tail slaps to the graceful waving of pectoral fins.

Learn more about swimming in Silver Bank here.
Topside Conditions In February
The peak season for seeing humpback whales is from January to April. As the water temperature ranges from 78 - 80F, 26 - 27C, a 3mm wetsuit and full foot fins for free diving are recommended.
Learn more about Diving in the Dominican Republic.
Inclusions
Accommodations aboard Turks & Caicos Aggressor II

All meals and snacks, non-alcoholic beverages, local beer and wine
Whale snorkeling throughout the day, as and when whales are sighted
Exclusions
Airfare (international and domestic)

Whale Sanctuary and Port Access fee of ($600 per person, paid onboard)

Insurance
Hotel stays/day rooms
Dinner on final evening
Staff gratuity
Taxes (when applicable)
Trip Schedule
During the week, guests of the Dominican Republic Humpback Whale Watching itinerary may have the opportunity to observe the whales at close range which includes above-the-water and soft-in-water encounters. It can include seeing them spin and play, hearing their haunting songs resonating through the water while seeing the power and grace of some of the most intelligent mammals on earth - it's a life-changing experience!
SATURDAY
Boarding is at 4 p.m. with a 9:30 p.m. departure to Silver Bank.
SUNDAY
Arrival in Silver Bank is around 8:30 a.m - 10:30 a.m. Sunday, weather permitting. Brunch/late breakfast while crew prepares mooring and assembly of the tenders. The first tender runs begins at 2:00 p.m. (2 tenders running). Afternoon tenders return to the yacht at approximately 5:00 p.m.
MONDAY -THURSDAY
First tender runs will commence after breakfast at 8:30 a.m. Whale runs are throughout the day. "Sundowner" cocktail parties are hosted on the sun deck every afternoon following whale runs. Nightly presentations and videos will be after dinner.
FRIDAY
The yacht returns to the Ocean World Marina in Puerto Plata late Friday afternoon. Friday night, dinner is not served onboard; however, the crew will recommend a restaurant in the marina.
SATURDAY
Check-out is between 7 – 8 a.m.
About the Turks & Caicos Aggressor II
Guests aboard the Turks & Caicos Aggressor are given the opportunity to explore the vibrant walls of Providenciales, West Caicos, and French Cay, creating a thrilling scuba vacation.
Accommodations include six Deluxe Staterooms, each having a double and single berth with ensuite bath and flat-screen TV and DVD player, two Single-Share staterooms each with two single berths that share a bathroom/head between the two staterooms with flat screen TV & DVD player and one master suite for couples that have one large double bed with ensuite bath and a flat-screen TV and DVD player.
Computer Station & Dive Deck
Master and Deluxe Staterooms
Turks & Caicos Aggressor II Cabin Details
Master Stateroom (#1)
Queen bed with a private head and shower, closet, port window, individual climate control, monitor with media player and hairdryer.
Deluxe Stateroom (#2, 3, 4, 5, 6, 7)
Double bed (lower) and twin bed (upper) bunk-style, private head and shower, individual climate control, monitor with media player and hairdryer.
Twin-Share Stateroom (#8, 9)
Two single beds (bunk-style) with head and shower (shared between two staterooms), closet, port window, individual climate control, monitor with media player and hairdryer.
Check this page to see more details and customer reviews on the Turks & Caicos Aggressor II.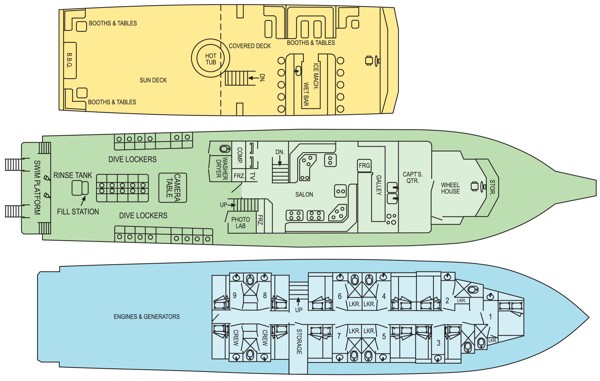 Check out this amazing video from the Turks & Caicos Aggressor II.
Flight Information
The Turks & Caicos Aggressor II is berthed in 'Ocean World Marina' located at Cofresi Beach, 30 minutes from Puerto Plata International Airport. Guests should fly into Puerto Plata (PDP) on February 7 ready for boarding at 4:00 p.m. Upon arrival at the marina, guests will be transferred with their luggage by a golf cart to the yacht. Dinner is served onboard Saturday evening. All guests must be onboard by 9:30 pm for departure from the dock to the Silver Bank. The charter departure is dependent on the weather.
It is quite easy to take a taxi from the Puerto Plata airport to the yacht. Transfers are not included in the price of the charter.
Payment Schedule
Deposit: $800
Payment 2: $1,000 due August 1, 2024
Balance: due December 1, 2024
Got Questions? Ready to Book?
Call us today at +1-310-915-6677 email us at trips@bluewaterdivetravel.com

And let us book your dream vacation!
Photo Gallery

---

SUPPORT THE UNDERWATER PHOTOGRAPHY GUIDE:
The Best Service & Prices on u/w Photo Gear
Visit Bluewater Photo & Video for all your underwater photography and video gear. Click, or call the team at (310) 633-5052 for expert advice!
---
The Best Pricing, Service & Expert Advice to Book your Dive Trips
Bluewater Travel is your full-service scuba travel agency. Let our expert advisers plan and book your next dive vacation. Run by divers, for divers.
---