Panasonic 7-14mm lens review at Cocos Island
Panasonic 7-14mm F4 lens review, with amazing photos using the GH4 from Cocos Island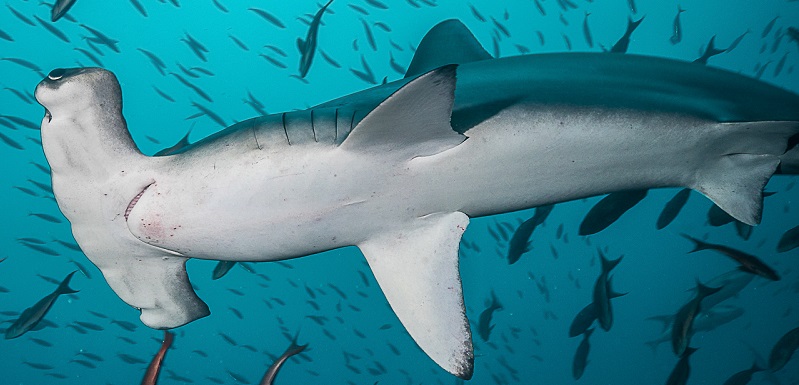 Many people ask me which lens they should use for big animal destinations like Cocos, Malpelo, Socorro or the Galapagos Islands. A fisheye lens can often be too wide, while a mid-range zoom lens often doesn't do some of these stunning animals justice. Kadu Pinheiro, one of South America's best known underwater photographers, shows us what can be done when using the right focal length. Although at first I was surprised when he told me he was going to use only a mirrorless camera on his recent Cocos trip, I think the results from the GH4 and the Panasonic 7-14mm micro-four thirds lens speak for themselves.
Location: Cocos Island, Costa Rica, aka "Island of the Sharks" in late October 2015
Photographer: Kadu Pinheiro
Gear: Panasonic GH4, Aquatica Housing, Panasonic 7-14mm F4 lens, Aquatica SW8 acrylic dome port, dual Sea & Sea YS-D1 strobes
Equivalent focal lengths on different sensor sizes:
Micro-four thirds: 7-14mm

Canon 1.6x crop: 9-18mm

Nikon, Sony APS-C: 9-19mm

Full Frame: 14-28mm
Recommended lenses for Socorro / Cocos / Galapagos:
I've selected some of the lenses that will give the closest results to the Panasonic 7-14mm F4 lens, on different bodies:
Micro-four thirds: Panasonic 7-14mm F4, Olympus 7-14mm F2.8

Canon 1.6x crop: Canon 10-22mm, Sigma 10-20mm

Sony 1.5x crop: Sony 10-18mm

Nikon 1.5x crop: Nikon 10-24mm, Sigma 10-20mm

Canon full-frame: Canon 11-24mm F4, Canon 16-35mm F2.8, Canon 16-35mm F4

Nikon full-frame: Nikon 16-35mm F4
About the Panasonic 7-14mm lens
The Panasonic 7-14mm F4 lens came out in March of 2009. Although originally $1,000 USD, the price has come down and it is now on sale for a short time, for a more affordable $698 USD. This focal length not only works well for sharks and pelagics underwater, it is also the perfect focal length for shooting landscape photos, I used a similar focal length during my entire hiking trip of New Zealand.
The lens has 16 elements in 12 groups, including 4 ED glass elements, and 2 aspherical elements. In has internal "Micro motor" auto-focus - auto focus is very fast, and a diagonal angle of view of 75 to 114 degrees.
For an ultra-wide angle lens - lens is very small, only 83mm long. Having a bulbous front element, it does not accept filters.
For underwater photography, I think the best way to show the capabilities of this lens is through real photos, so please view and enjoy. These were all taken on a single dive trip at Cocos Island in late October 2015.
Over-unders with the Panasonic 7-14mm
The Panasonic 7-14mm lens is a good option for over-unders, especially since the only port options are 6-inches wide or larger. Be sure read our guide to over/under split shots
Panasonic 7-14mm lens - focus speed, sharpness
Having usually shot with a fisheye lens underwater, Kadu was a little nervous taking the 7-14mm lens down on his first trip to Cocos Island - but it turned out to be the perfect choice, allowing him to get marine life photos with divers, and also hammerhead shark portraits. The marine life generally did not come close enough to warrant using a fisheye lens.
Focus speed was excellent, and using the default focus modes of the Panasonic GH4 worked well, using a half-press on the shutter to focus the camera. Matrix focus mode (49 area) was used for animals in motion, and spot focus was used for still scenes. Almost all of this photos from Cocos were in focus.
Overall the lens was very, very sharp. Corners were soft at F4 - F5.6, but got better at F6.3 and higher.
If you are a mirrorless shooter looking to shoot big animals, then the Panasonic 7-14mm, or the Olympus F2.8 7-14mm lens, is highly recommended. If you are using a larger sensor, consult the recommended lenses we mention earlier in this article.
Links to Gear & Destinations
Panasonic 7-14mm F4 lens
Olympus 7-14mm F2.8 pro lens
Panasonic GH4 Body
Aquatica GH4 Underwater Housing
Nauticam GH4 Underwater Housing
Sea & Sea YS-D2 strobe
Aquatica SW8 dome port
Sony 10-18mm F4 lens
Cocos Island Dive Travel & Liveaboards
Socorro Island Dive Travel & Liveaboards
Galapagos Islands Dive Travel & Liveaboards

Full trip report from Kadu's Cocos Trip
Join our Cocos Island Trip October 2016
SUPPORT THE UNDERWATER PHOTOGRAPHY GUIDE:
The Best Service & Prices on u/w Photo Gear
Visit Bluewater Photo & Video for all your underwater photography and video gear. Click, or call the team at (310) 633-5052 for expert advice!
---
The Best Pricing, Service & Expert Advice to Book your Dive Trips
Bluewater Travel is your full-service scuba travel agency. Let our expert advisers plan and book your next dive vacation. Run by divers, for divers.
---