I-Torch Pro6 Light Review
Video, Focus-Assist, Red Beam and UV Light: The Pro6 Does it All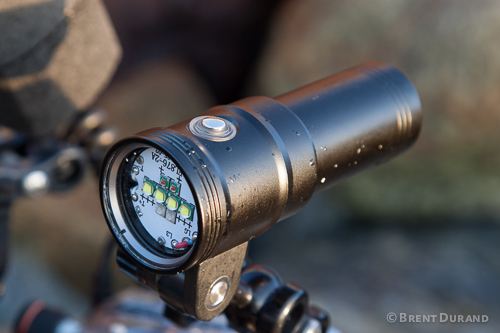 I-Torch builds upon the Pro4 and Pro5 and with the brand new Pro6 video and focus light. The light combines the most coveted features from several light models and manufacturers into one compact unit. Boasting a bright and very wide beam, the light is designed for those shooting photos, video and/or night diving.
The Pro6 is made of anodized aluminum, with a double o-ring seal protecting the battery and internals. The primary mode has 3 power settings for white light and 2 for red light (ideal for shooting critters at night like cephalopods, lobsters and even mandarin fish). Hold the switch down for a couple seconds and the UV light is activated. A great addition to the Pro6 (and the new Venusian III and Pro5+) is the battery level indicator light built into the power button. The green, orange and finally red glow is an important feature - convenient and safe. The Pro6 takes one rechargeable lithium battery and comes with a spare so that you can always have a battery charging.
Specs
2400 lumens, 120 degree beam LED light

3 levels of white, 2 levels of red, 1 level of UV (Ultraviolet light)

Push button with battery indicator light

Aluminum head and body

Includes 2 rechargeable lithium batteries

1 hour burn time at highest setting

Cost: $599 USD
In the Lab
The Underwater Photography Guide recently tested many different Light & Motion and I-Torch lights in a dark room in order to determine brightness and beam width during actual use. We held all the lights in the exact same position, using my camera light metering system to compare the brightness of each light. The second we turned on the Pro6 we noticed how wide and even the beam was – no hot spot at all. The 120 degree beam angle definitely stands out and will be an excellent choice for video shooters, especially when using two Pro6s. Brightness of the white and red light was competitive with other lights in the same class, however the UV light was less bright than dedicated UV lights. Stay tuned for a full report on these light tests.
Battery level indicator lights on the Pro6 and Venusian III lights.
In the Water
I had a chance to test the Pro6 on a morning dive in Malibu, CA. Unfortunately and fortunately, this day came after one of the largest swells in years, along with standard SoCal "June Gloom." In short, visibility was poor and the water was dark – but that's pretty good for light testing.
The first thing I noticed was how wide and powerful the beam is (I'm used to a Sola Photo 600). It took a few clicks to switch between the power modes, which I often do when diving on a high power and then reducing power for focus light use or red light. The new battery power indicator light is also a critical feature in my opinion. The glow was subtle but visible in the murky water.
The UV light is not as powerful as dedicated UV lights pumping out more lumens, however some UV light is better than no UV, or having to carry a second dedicated UV light. If using the UV light on top of the housing as a focus light, you're limited in how close you can hold the light away from the subject. When hand-holding the UV light the diver can position the light very close to the subject – very important for capturing the ambient luminescence. Mounting the light on strobe arms as a video light allows more creative light placement. I'm looking forward to an in-water UV test and predict that the weak UV power will be an issue for compact shooters but that DSLR shooters will be able to use high ISOs to capture sharp, properly exposed images.
I didn't get a chance to record video during my dive, but stay tuned as we'll have some samples in the near future. Given the wide and powerful beam of the Pro6, doubling them up for video should produce excellent results, even for wide reef scenes.
I-Torch Pro6 after a 1-dive test.
I-Torch Pro6 Pros
White light, red light & UV in one unit – feature packed!

Compact and lightweight for a 2400 lumen light

Battery level indicator light

Cheaper than other lights with similar lumens
I-Torch Pro6 Cons
Power switch isn't as easy to operate as on a Sola light

UV Light isn't very strong compared to dedicated UV lights
I-Torch Pro6 Pro & Con
Unscrewing the light body to recharge the lithium battery is less convenient than simply plugging in a Sola light, but much better for back-to-back diving because you can just swap batteries (a Sola will need to be plugged in for a few hours).
In Conclusion
The I-Torch Pro6 is a great light. It's packed full of features in a compact and light aluminum body. While the UV light isn't as strong as in dedicated UV lights, it's still a nice feature to have if you want to bring the port cover and mask cover along on your night dive. The price is also right.
So whether you want to be ready to shoot video, stills of a variety of subjects or want to travel with a lot of functionality in a single light, the Pro6 is a great option.
Further Reading
SUPPORT THE UNDERWATER PHOTOGRAPHY GUIDE:
The Best Service & Prices on u/w Photo Gear
Visit Bluewater Photo & Video for all your underwater photography and video gear. Click, or call the team at (310) 633-5052 for expert advice!
---
The Best Pricing, Service & Expert Advice to Book your Dive Trips
Bluewater Travel is your full-service scuba travel agency. Let our expert advisers plan and book your next dive vacation. Run by divers, for divers.
---