Underwater Focus & Video Lights
Detailed Overview of Popular Lights for Underwater Photography and Video
Focus lights are different from "aiming" or "modeling" lights. Light & Motion, I-Torch, Fantasea, Nocturnal, Sea & Sea, Princeton Tec, Big Blue and several other companies all manufacture focus lights. There are focus lights available for all budgets, which can double as video lights and vice versa.
Why do I really need a focus light?
Focus lights aren't necessary in all situations but are highly recommended. Digital cameras, both compact and DSLR, focus by detecting contrast at the focusing point. Water absorbs light quickly, so using a fous light allows the camera to see the contrast and quickly focus. Using a focus light is critical for shooting at night (it also serves as a primary dive light), for shooting supermacro and oftentimes for shooting macro. Many experienced photographers use focus lights while shooting wide-angle into bright sunlight as well.
Do you need to buy a focus light? Not necessarily... we've seen all of the following solutions:
Will I see the focus light in my images?
Because critters are usually shot at fast shutter speeds and small apertures, the light from a focus light often doesn't show up in a photo. One thing is for sure: you'll have a higher chance of getting a hot spot if you're shooting macro at f/2.8, 1/60th than if you're shooting at f/16, 1/250th. Small apertures and/or fast shutter speeds block out most of the ambient light, including your dive light, especially if you are using the edge of the beam. Strobes provide the light that illuminates your photo subject.
Video Lights
Any focus light can be used for video and vice versa. The difference is that while a small, low-lumen light with a narrow beam angle can be used as a focus light, video lights need to have a wider beam angle and high lumen power. The reason is that video shooters want to achieve a wide swath of light that evenly illuminates the foreground or main subject in the image (instead of seeing two "headlights" in every shot).
Divers interested in buying a single light that can double as both focus and video light will want to find a powerful light with several power settings and wide beam angle. This brings the best of both worlds.
Which light should I get?
Focus and video lights also differ in their burn time, beam width, size and intensity. The majority of new lights are LED, however several Halogen options are available.
Mounting: Most DSLR and Mirrorless underwater photogaphers mount a focus light on top of their housing via a cold shoe mount. This allows some flexibility in light positioning for different compositions. Compact users often do the same or use a "triple clamp: to attach a focus light at the first junction of their strobe arms. This doesn't allow as much flexibility in positionsing, but is an efficient way to safely mount a focus light on your rig. Hand-holding is the last (and least desirable) option.
Additional considerations before purchasing a focus/video light are budget and intended use. Will you be using the light solely for focusing during daytime? If you do night dive, then this light will probably become your primary dive light as well, and you should look for one with plenty of lumens. If you plan to shoot video, you'll need to consider whether the light has a "hot spot" in the center of the beam and beam width in additon to lumens. An obvious fact is that longer burn times are better than short ones, and that lights with multiple power settings help lengthen burn times.
Below are some of our favorite options:
Light & Motion
Sola Photo 800 & 1200:
Sola Photo lights are very popular for their small size, light weight and easy operation between various power levels. They also feature a rechargable integrated battery, meaning no more fuss with o-rings! Sola lights offer several mounting options in order to fit your camera system. The 1200 is a powerful light, with 1200 lumens and a red light to help sneak up on shy critters (many marine creatures cannot see red light). The Sola 800 is 800 lumens with a red light, and the 1200 is 1200 lumens witha red light. All of these models are flood lights, not spot lights - ideal for underwater photographers. All Sola lights easily flip between 3 different power settings for white light and red light (depending on model). Burn time is about an hour on full power.
Light & Motion SOLA 1200 with red light mode.
Sola Dive 800 & 1200
Sola Dive lights are similar to the Photo lights, however do not have a red light. The benefit for diving is that they offer both spot and flood lights. Flood lights provide a great wide-angle beam (perfect getting up close with a subject), while the spot light is ideal for swimming and seeing farther at night. These lights come with a wrist mount, however are adaptable with any other Sola mount.
Sola Video 1200, 2000 S/F, 2500 S/F FC, 3800, 9600
Sola Video lights are similar to the Photo and Dive models, but pack many more lumens needed for capturing vivid, colorful video. At the 2000 lumen level, Light & Motion offers a flood and a spot/flood light version. The 2500 lumen level offers a spot/flood version with fast charging. Mount a couple 3800s or 9600s on your rig and watch the reef erupt in color right in front of you!
Light & Motion SOLA Video 2000.
Light & Motion Lights - more info, specs & mounts
Light & Motion GoBe Light
The GoBe has many benefits. Aside from being affordable, is it very lightweight and can be used as a dive light, focus light, red focus light, fluoro diving light, bicycle light and countless other topside activities. The fact that you can change lightheads (above water) makes it a great light for newer divers/photographers who will slowly add more heads and also for more seasoned divers/photographers wanting light for a specific application.
Read our detailed GoBe Light Review.
Light & Motion GoBe light.
i-Torch
i-Torch Fish-Lite V12 Focus Light
i-Torch packs an awesome focus light into a very small package with the Fish-Lite V12. With 1,500 lumens of power, a wide beam angle and an included red LED, this will meet all of your focus light needs. (Note: red light is great for macro focusing without scaring away shy or skittish sea creatures).
i-Torch Video 2000
The i-Torch Video 2000 provides 2000 lumens and a wide 110° beam angle, with white and red modes. With it's compact size, it's easy to attach to a camera set up, or mount on the top of your hand via a goodman glove.
i-Torch Fish-Lite V25 Video Light
This is a very bright light, at 2800 lumens, with a 110 degree beam angle and red light mode for macro underwater photography. It replaces the popular V24 Fish-Lite.
i-Torch Venom 50
I-Torch creates powerful lights in compact aluminum housings. The new Venom 50 video light is a great option as a video light & a focus light and excels for underwater video, featuring 5000 lumens, 120 degree beam angle, 5 power modes, battery power level indicator and other great features. See the iTorch Venom 50 specs & recommended mounts.
Read our review of the i-Torch Video Venom 50.
i-Torch Venom C92
This light is all about getting the best color for videography. Color rendering index (CRI) is an indicator of how well a given light brings out all the colors on subjects, with a higher number being more desirable. This light has one of the highest CRI ratings available in the market, at 92.
Another interesting feature is the COB (Circuit on Board) design. Regular lights using arrays of multiple LEDs can create undesirable shadowing, and this COB design is used to reduce or eliminate this. 4000 lumens with a 100 degree beam provide lots of brightness, while built-in red LEDs allow for this light to serve duoble duty as a focus light.
i-Torch Video Pro 6+
The Pro 6+ boasts 2800 lumens and a very wide beam angle. The Pro 6 has combined popular features from many lights into one compact unit. There are 4 power levels for the white beam, two for the red beam and a UV (ultraviolet) light. The modes are accessed through a button on the top of the light right where the mount is. A power indicator light is also built into the switch and glows green, orange or red. The Pro 6 takes one rechargeable lithium battery but comes with two so that one will always be charged. Burn time is one hour on full power. Read the iTorch Video Pro 6+ specs and recommended mounts
Read our i-Torch Video Pro6 Review.
i-Torch Fish-Lite V50 / Video Pro 7
The I-Torch Fish-Lite V50 (formerly known as the I-Torch Video Pro 7) is the smallest 5000 lumen video light on the market. It is super compact, and its simple one-button design makes it very user-friendly. It delivers a 120-degree beam, and has white and red modes. Burn time is about an hour on full power.
Read Bluewater Photo's review of the i-Torch Video Pro 7.
i-Torch Lights - more info, specs & mounts
Keldan
Keldan 4x & 8x - Best on the Market
The Keldan 4x 7,000 lumen video light, and the Keldan 8x 13,000 lumen video light represent the apex of the underwater video light market. Keldan lights are known for their amazing color temperature (cooler lights don't have as much vibtrant color as the warmer Keldan lights), reliability, and even-ness of the light beam. For serious video, these are the lights you want.
Kraken Sports
Kraken Sports offers high performance at a lower cost, making them an ideal option for all levels of videographers and photographers.
Hydra 1000+ WSR
This product is a compact and small focus/video light which is ideal for underwater photographers. The Hydra 1000+ WSR offers a 1000 lumens flood, 800 lumens for spot, a red beam and SOS mode. It also comes with various mounting options providing you with lots of flexibility for attaching it to your underwater rig.
Read our initial thoughts about the new 1000+ and 5000+
Weefine Ring Lights
Kraken Sports offers two compact and useful ring lights. Ring lights allow you to get your camera in close to a subject and still have even, nice lighting, without the struggle of trying to squeeze your strobes in. Both lights have a 67mm thread which can be easily attached to your port and both produce a very soft and evenly diffused light. Perfect for your macro shooting needs. The original 1000 lumen offering is quite simple, while the newer Ring Light 3000 offers a continuous light source of 1800 lumens and burst mode of 3000 lumens, along with 3 modes of continuous light; white, red and UV.
Read our reivews of the original Weefine 1000 and the newer, more powerful and feature-laden Weefine 3000.
Hydra Video Lights
Kraken has a number of video lights in their Hydra line, starting from the 2000 WR, then on up through the 2500 WRU Macro, the 3500 and the 5000+. The Kraken Hydra Video Lights offer high performance at a lower cost, making them an ideal option for all levels of videographer.
The most basic option, the 2000, features a flood, red and SOS beam. The 2500 macro is more specialized, featuring flood, red, blue & red, and a blue (UV) beams. It also has an innovative "burst" mode, which you can sync with your camera via a fiber-optic cable, giving you a 4000 lumen strobe for taking macro photos.
The 3500 and 5000+ feature flood, spot, red and UV beams, making them truly universal lights. The 5000+ offers the highest color rendering index (CRI) of the series, at 90.
Read our detailed review of the 2500 macro and our initial thoughts about the 1000+ and 5000+
Solar Flare Video Lights
The Solar Flare Max is a high quality video light packing 10,000 lumens with an extremely wide 160 degree beam angle (underwater). This allows a videographer to light a subject in just about any situation they might encounter. Also on offer is the Solar Flare Mini 8000, which brings 8000 lumens and a 120 degree beam angle (underwater).
Kraken Lights - more info, specs & mounts
Ikelite
Gamma
The Gamma features a precision-machined aluminum body that boasts over 220 lumens. The compact focus/dive light is depth-rated to 400ft (120m) and features a heavy-duty mechanical tail switch that provides either continuous or momentary lighting at the touch of a button. The Ikelite Gamma takes 2 rechargeable batteries and comes in red, black or silver. Burn time is 10 hours.
Ikelite's Gamma light.
Light Tests & Comparisons
In Conclusion
There are many great light options available these days, whether you're upgrading focus/video lights or looking to purchase your first. One thing is for certain – all serious underwater photographers and videographers need to have at least one light.
This photo of a blue-ring topsnail was taken using the red "stealth" mode on the SOLA 600. Attempts to take the picture using white focus light only caused the snail to retreat into its shell. Photo by Michael Zeigler.
Further Reading
Underwater Focus & Video Lights
Detailed Overview of Popular Lights for Underwater Photography and Video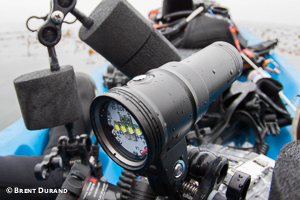 SUPPORT THE UNDERWATER PHOTOGRAPHY GUIDE:
The Best Service & Prices on u/w Photo Gear
Visit Bluewater Photo & Video for all your underwater photography and video gear. Click, or call the team at (310) 633-5052 for expert advice!
---
The Best Pricing, Service & Expert Advice to Book your Dive Trips
Bluewater Travel is your full-service scuba travel agency. Let our expert advisers plan and book your next dive vacation. Run by divers, for divers.
---