Add Video to your Dive Log
New Deepblu app upgrade lets you integrate video into your digital dive log with option to share on social platform
Deepblu has just added two new features to their popular dive log and social platform app: dive log video and instant messaging.
The Deepblu video integration is simple. Shoot video during your dive and then upload it to the Deepblu iOS app, where it will appear at the proper chronological point in the dive. You can then opt to share the dive on Deepblu's social platform. Once shared, the second new feature - instant messaging - lets friends and other users comment on your video.
In an age where most cameras use WiFi and NFC to connect to your mobile device, sharing of photos and videos on social media is easy. Logging your dive is just as easy with the COSMIQ dive computer, which syncs automatically with the Deepblu app. The next step is natural; upload the photos and videos to your dive log to share with friends.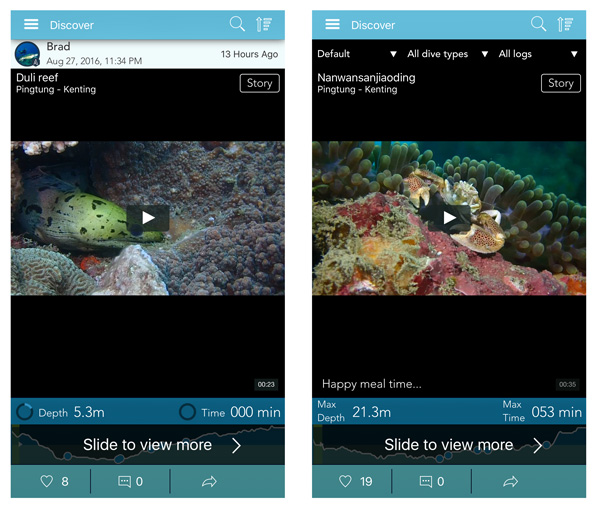 PRESS RELEASE
Share Your Dive Story Like Never Before
Deepblu, the digital dive log app and social network for divers, announced the release of an iOS app upgrade which will allow users to upload videos to their digital dive logs. The introduction of video integration is a major step forward that sets Deepblu further apart from other dive log apps and will certainly make a splash among underwater videographers – of both the pro and amateur variety.
The Deepblu app is a mobile platform where you can create digital dive logs, connect with your dive buddies, and share your diving experiences with other Deepblu users. Deepblu's digital dive logs reimagine paper logbooks to better reflect today's technological world and our desire to share experiences on social media. Divers can integrate photos and videos with dive data, write a story about their dive, tag dive buddies in their logs, and have their instructors validate dive logs.
Offering the enhanced connectivity of a modern social network, Deepblu provides scuba divers and freedivers with the opportunity to continue their diving adventure above the surface and relive the best moments of every dive.
Now, anyone with a waterproof video camera can instantly share their underwater experiences with a group of like-minded people. Users can upload videos that run up to three minutes long and combine videos with photos to make truly rich and detailed dive logs.
In addition to video uploading, the new upgrade will unveil an instant-messaging function – another first for a dive log app - so you can coordinate your next diving trip or connect with new divers on the platform. Any two users on the platform can send each other instant messages, as long as they are buddies first.
The introduction of these functions takes Deepblu a step closer to its ultimate goal: creating a full-blown social network for divers.
The Deepblu app is available for free download at the Apple App Store and the Google Play Store.
To learn more, visit www.deepblu.com.
###
SUPPORT THE UNDERWATER PHOTOGRAPHY GUIDE:
The Best Service & Prices on u/w Photo Gear
Visit Bluewater Photo & Video for all your underwater photography and video gear. Click, or call the team at (310) 633-5052 for expert advice!
---
The Best Pricing, Service & Expert Advice to Book your Dive Trips
Bluewater Travel is your full-service scuba travel agency. Let our expert advisers plan and book your next dive vacation. Run by divers, for divers.
---