Nauticam NA-D5 Housing Preview
Ergonomic engineering and new flash triggering system meets Nikon's new flagship pro DSLR camera body
The Nikon D5 is the new flagship in Nikon's DSLR camera line. It is a robust pro-level body with the features and build quality to support the most demanding of photographers. The camera features a 20.8 megapixel FX sensor, 4K video resolution recording, 153 focal point AF, 12fps burst and many other high-performance features. You can check out full specs of the Nikon D5 here.
Nauticam has just announced their NA-D5 underwater housing, which combines the best features of the previous D4 housing with the latest advancements in housing technology. Nauticam is known for highly engineering the housing controls to improve ergonomics, which moves most camera controls to the housing sides for fingertip access. This attention to detail, combined with a wide range of ports and accessories make the Nauticam housings a very popular option for serious photo and video shooters. The Nauticam NA-D5 will be no different.
Nikon D5 MSRP is $6,499.99 USD. This prices out many casual underwater photographers who may opt for cameras like the new Nikon D500, Sony a7R II or Canon 7D Mark II. Serious photographers and pros know the high-performance of the Nikon D5 and that it will make or break certain shots. Paired with a Nauticam housing, the Nikon D5 is a very powerful underwater photo and video tool. Let's explore the housing in more detail.
Product: NA-D5 (17219)
Availability: April 15, 2016
MSRP: $5,200
---
Purchase the Nauticam NA-D5 and view recommended ports & lenses at Bluewater Photo
---
PRESS RELEASE
Introducing NA-D5
Nauticam NA-D5, Model Number 17219
Available April 15, 2016
Nikon pro series bodies are the cameras that can go anywhere, withstanding unbelievable punishment in the field, and bring back images bordering on the fringes of what is possible from current imaging technology. Nauticam is pleased to announce the NA-D5 underwater housing, an ergonomic, rugged, and reliable underwater housing ready to take the camera underwater to the ends of the earth in search of these photographic fringes that make rarest and the most memorable images.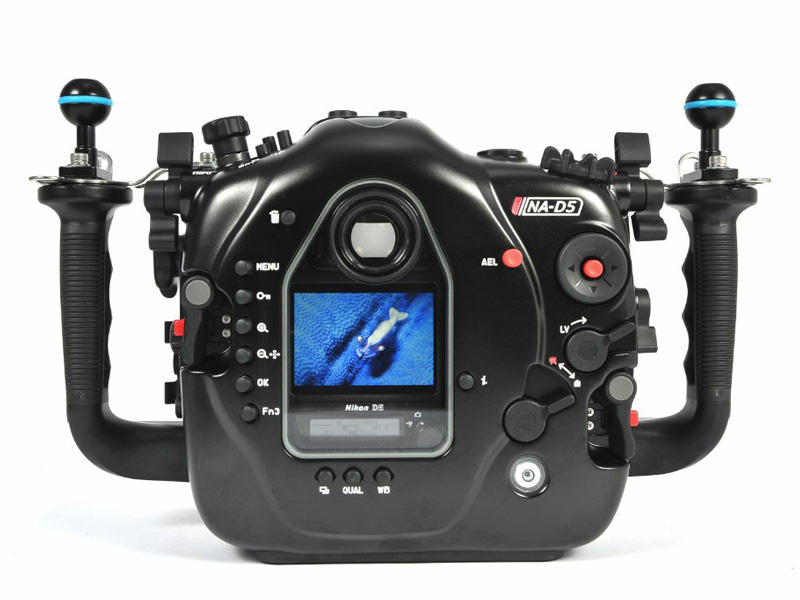 The Nikon D5
Pro body performance is difficult to quantify on paper, but immediately evident when holding the camera in hand. Metal construction inspires confidence. The 12 fps continuous shooting speed (with AF) and a 200 shot RAW buffer keeps ups with the fastest action. A large, bright viewfinder offers a clear view of the shooting scene, and Multi-CAM 20K tracks focus with incredible accuracy. The D5 is capable of 3,780 shots per charge (according to the CIPA rating). We called the D4 a Professional Performance Powerhouse, and the D5 is even better.

Nikon has upped the resolution count in D5 from 16 to 20.8 megapixels, but that is far from the most exciting news for most users. More interesting is the launch of the Multi-CAM 20K. This new autofocus system features 153 focus points (up from 51), of which 99 are cross-type sensors (up from 15). D5 has more cross-type focus points than the D4s had total focus points, and they are spread wider across the frame. The autofocus system in the D4s was already one of the best available, and the improvements offered by D5 will elevate performance even further. The D5 introduces a new, 180k pixel RGB metering sensor. This metering sensor drives the advanced Nikon exposure system, and is also used to provide scene data for 3D focus tracking, improving accuracy.

In total, this is an extremely significant upgrade from Nikon. D4s was already one of the best pro bodies in overall low light performance. D5 increases the high ISO range to ISO 102,480, capable of being pushed to 3,280,000. The D5 camera has a better 3.2" LCD review screen with touch capability, and the most advanced auto focus system ever released. It is also the first Nikon DSLR body capable of 4K video capture. High frame rate capability allows more captures, and Multi-CAM 20K Focus ensures more in focus captures.
Nikon D5 Key Features:
20.8 Megapixel Resolution FX Format CMOS Sensor

4K UHD Video Capture at 24/25/30P

Multi-CAM 20K Autofocus with 153 focus points

180,000 RGB Metering Sensor

12 fps Continuous Shooting with Autofocus

ISO 100-102,400 (expandable to 3,280,000)

3.2" 2.36 m-dot XGA LCD Screen with Touch Functionality

3,780 Shots per Battery Charge (CIPA Rating)

Dual XQD or CF Memory Slots
The Nauticam NA-D5 Underwater Housing
Nauticam housings are evolutionary marvels, with advancements from previous systems providing the foundation that new models are built on. The new Nauticam NA-D5 housing incorporates advances from the NA-D4 that came before it, but features enhanced ergonomics, a more sophisticated flash triggering system, and reduced size / weight thanks to cutting edge manufacturing processes.

NA-D4 was a significant elevation of the Nauticam DSLR housing game. Key controls, such as ISO, Video Record, and Playback, and Info were dramatically routed out to the housing grips. Nauticam recognizes that advanced DSLR cameras, and advanced DSLR users, rely on these functions more than ever to realize the full potential of advanced imaging systems.

Advanced high iso and video functionality in modern DSLR cameras has redefined what "essential controls" are really essential. Buttons that seem like an afterthought in the D5 camera control layout, such as Info (which displays shooting data on the 3.2" color lcd screen), are critical for use in the housing. This button is routed to the left handle for convenient access. AF-ON, Movie Record, Playback, ISO, Pv, Fn1, Fn2 and Live View are all handled similarly. Considerable design and manufacturing resources go into this ergonomic reshuffling, but the benefit to the user experience makes is worth the effort.
External Flash Triggering
The entire external flash triggering system has has been reworked from the ground up in NA-D5, increasing ease of use, setup convenience, and reliability. A new LED flash triggering system is standard in every housing.

The Nikonos style bulkheads included in NA-D4/NA-D4s have been replaced by an integrated LED flash trigger. This optical flash trigger can fire at the full 14fps of the camera (mirror locked up). Optical systems, with fiber optic cables linking the external flashes to the housing, are far more reliable than any electrical sync cable system.

The LED trigger circuitboard is mounted inside the housing, and connected to the camera with a hotshoe cable. This new system is more powerful than the hotshoe mounted LED triggers used in the past, and is compatible with all currently available optically triggered flashes! Powered by two CR2032 batteries, battery life is measured in the tens of thousands of flashes, driven by incredibly efficient electronics. With good batteries, we expect 3-5 years of service, up to 50,000 exposures.

Users of legacy flashes without optical triggering are able to add accessory Nikonos (26074) or Ikelite (26075) style bulkheads for electrical flash sync. These bulkheads plug into the LED trigger board for clean cable routing, and reliable connection.
Accessory TTL Converter
NA-D5 will also be the first Nikon DSLR release from Nauticam compatible with our accessory TTL Converter. This optional upgrade provides accurate automatic TTL flash exposure with a number of popular flashes, and offers both optical and electrical strobe triggering! Optical triggering works well with modern flashes like Inon Z-240, while electrical triggering supports Ikelite DS- and Sea & Sea YS-250 strobes.
Accurate automatic TTL flash exposure has been a favorite feature of Nauticam photographers using cameras with pop up flashes, and we are excited to bring this advanced flash control functionality to the NA-D5 housing!
TTL Converter for NA-D5, Sea & Sea YS-D and Inon Series Strobes (26307)
TTL Converter for NA-D5, Ikelite Strobes (26308)
TTL Converter for NA-D5, Sea & Sea YS-250 Strobes (26309)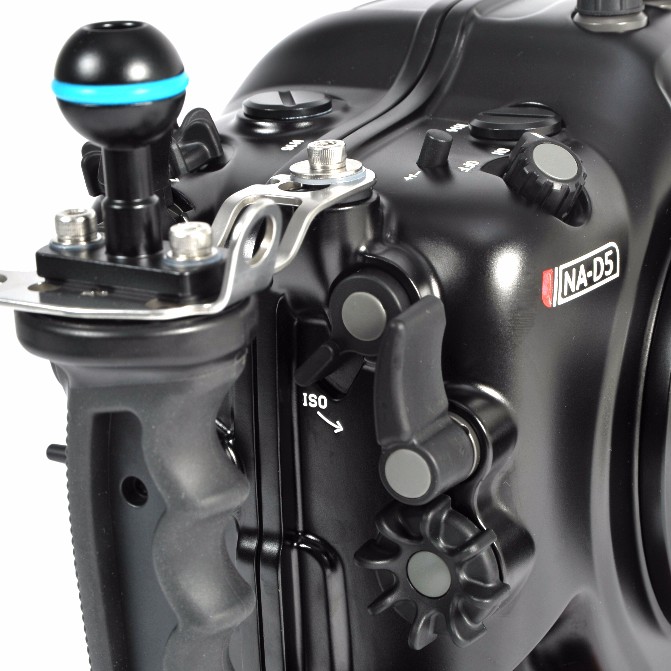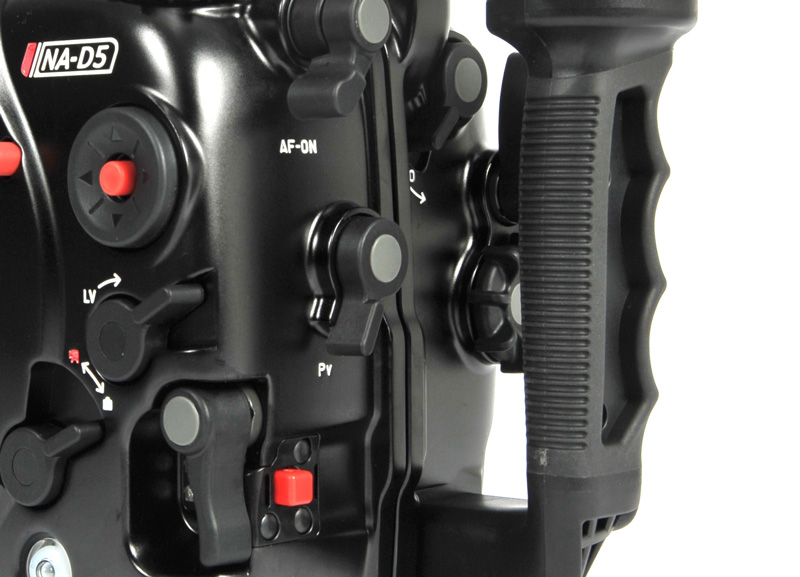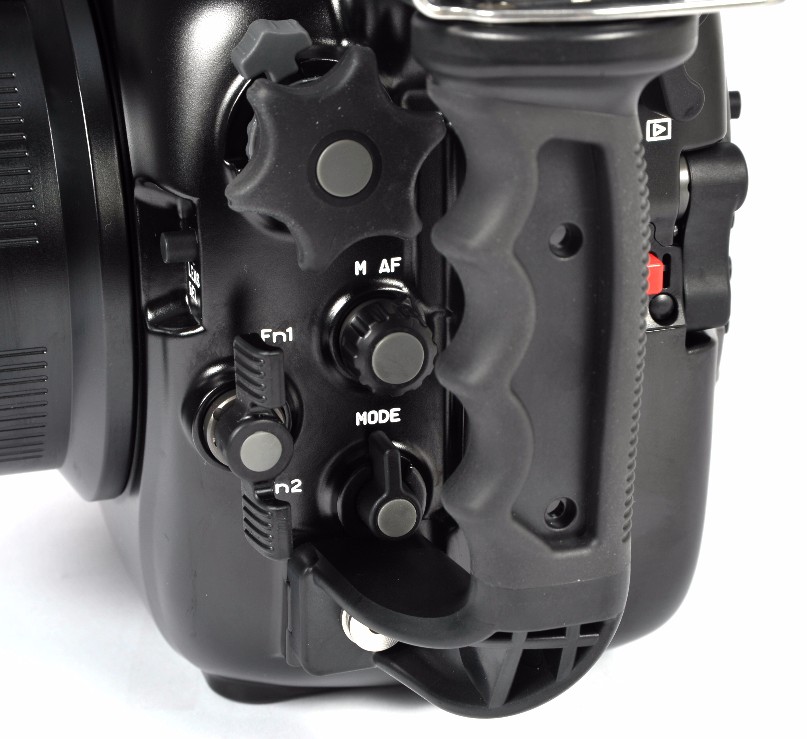 Extensive Customization for a Tailored Ergonomic Experience
Professional Nikon cameras are known for to be extensively customizable. NA-D5 offers access to more of these functions than any previous Nikon DSLR, with the ergonomic treatment that have made Nauticam housings legendary.

Pv is routed from the lens mount, and placed just under the right handle. Fn1 & Fn2 are moved all the way to the left side of the housing to avoid crowded right hand grip.

These custom functions can be overwhelming at first, but the creative options they unlock can be incredibly valuable in the field. In short, these assignable buttons mean less time digging through camera menus to change camera functions, and more time capturing the scene as it unfolds.

There isn't a right way configure these systems. Every photographer and shooting scenario has unique demands. Some ideas are listed below!
1 Step Spd / Aperture, allows changing exposure settings in full f-stop increments. Think about changing from a wide angle scenic mode with relatively open aperture and slow shutter speed to a close focus wide angle shot that requires a closed aperture to shrink a sunball.

My Menu, a customized panel with frequently accessed menus settings

Access Top Item in MY MENU, actually jumps into a frequently accessed sub menu structure for the top level My Menu selection, saving at least two button presses. (ie min shutter speed in auto iso mode, or quickly define a preset white balance)

Quickly access another metering mode, toggling between the selected metering pattern and an alternate that more appropriately mesures the current scene.

Flash disable / enable, this is a big one! Toggles external flashes on and off, allowing a switch between artificial light shooting (continuous shooting speed limited by flash recycle, and shutter speed limited by the strobe max sync speed at 1/250) to silhouette mode using only ambient light (full 12 fps continuous shooting speed, unrestricted flash sync speed).

AF-area mode + AF-ON – very cool functionality, for a quick way of accessing a focus mode other than the mode currently assigned and activating it while held down. Placed at the right thumb via the re-positioned PV lever, the current focus mode be overridden with something like auto area focus for quick grab shots where there isn't time to move the selected autofocus point.
Key Features
Patented Port Locking System
Unveiled on the very first Nauticam DSLR housing in 2009, this locking lever has become a signature of the Nauticam brand. No twisting or threading action is required to mount a port,and it locks securely in place with this lever. Nauticam also offers locking extension rings, meaning a dome will never twist, even when used with a long extension ring.
Housing Locking Latches
The industry's easiest to use housing closure system, requiring very little hand strength to close, secures the housing back in place. The latches are securely closed, but easy to open for a quick battery or memory card change.
Multi Controller Pad
Located within easy reach of the right thumb, virtually recreates the Nikon D5 multi selector allowing full multidirectional use of this powerful tool, including diagonals. No other manufacturer has it.
Integrated Vacuum Monitoring and Leak Detection
Circuitry included as standard equipment provides constant monitoring of water tight integrity when combined with an optional Nauticam M16 Vacuum Valve II (PN 25625).
Stainless Steel Handle Brackets
Stiffening handle brackets are included with the housing. These brackets eliminate any flex or wobble when using big strobes, and provide multiple attachment points for lanyards or other accessories.
Ergonomic Rubberized Grips
Another legendary Nauticam feature, these rubberized grips have been used every Nauticam DSLR housing release, and are some of the most comfortable in the business.

Clear Control Labeling
All camera controls are clearly labeled, allowing easy identification.
Integrated Vacuum Check and Leak Detection System
The Nauticam vacuum check and leak detection system is shipped with NA-D5 as standard equipment. Combined with an accessory vacuum valve (PN 25625), this monitoring system provides constant updates on the water tight and safe-to-dive status of the housing. A simple color coded LED lighting system lets the user know that the vacuum is solid, or that the housing is losing vacuum. Leak detection is built into the same circuit, so if there is water intrusion, an audible and visual indication will occur.

The Nauticam system is temperature compensated, eliminating false alarms caused by a change in outside temperature, or from a camera heating up on an action packed dive.
Ease of Use
No system is easier to assemble or break down. The camera drops into the housing with a quick release camera tray. The camera tray has an extending bracket that allows the AF-M selector to be easily positioned to match the camera. No controls need to be preset, as housing functions for dials and switches align automatically (on/off, af-m, still photo/video). The large 120mm housing port opening allows even the largest popular pro Nikon wide angle lens (14-24 /2.8G) to be used, and the camera can even be mounted in the housing with this large lens attached.
Viewfinders
The standard optical glass viewfinder is very good and travel friendly, but many photographers prefer the ease of a magnified viewfinder with adjustable diopter. Nauticam produces a "straight" 180º enlarging viewfinder and a 45º angled enlarging viewfinder to enhance the ease of close quarters work often associated with macro shooting. Both viewfinders have high quality optics, and allow bright viewing of the entire image. A patented external dioptric adjustment allows personal adjustment to a sharp-as-a-tack standard underwater and viewfinder changes can be executed in less than 30 seconds without using tools. Exceptional composition and focus accuracy have never been more accessible.
Premium Professional Optics
Experienced shooters know a camera is only as good as the lens in front of it, and the same is true when choosing optics for an underwater camera system. Four optically coated glass dome ports (250mm, 230mm, 180mm, and 140mm diameters) and a series of acrylic ports support popular lenses from Nikon, Sigma, and Tokina. Port configurations are extensively tested at Nauticam to determine the ideal extension ring length for best performance.

For macro and super macro shooting, the Nauticam Super Macro Converter is a revolutionary accessory. This is an entirely in house design, optimized for use in water. The water contact correction offers the highest overall sharpness, free from chromatic aberration and purple fringing, with reproduction ratios exceeding 2:1 when used with a Nikon AF-S 105mm /2.8 VR Lens.
Recommended Accessories
Magnifying Viewfinders
180º Enhancing Viewfinder (32201)
45º Enhancing Viewfinder (32203)
Optical and Electrical TTL Converter
TTL Converter for NA-D5, Sea & Sea YS-D and Inon Series Strobes (26307)
TTL Converter for NA-D5, Ikelite Strobes (26308)
TTL Converter for NA-D5, Sea & Sea YS-250 Strobes (26309)
M14 Nikonos 5-pin Bulkhead II with Red Micro-Match Connector (26074)
M14 Ikelite Style Bulkhead II with Red Micro-Match Connector (26075)
Other Accessories
Patent Pending Super Macro Converter (81201), providing 2.3:1 reproduction ration with the popular AF-S 105mm /2.8G VR Macro Lens
M16 Vacuum Valve (25612)
Complete line of flat and dome ports for all major lenses, available in acrylic and glass
Locking port extension rings from 10mm to 90mm
Monitor/Recorder Housing for Atomos Ninja2 (17902) or Shogun (17904)
Monitor Housing for SmallHD 502 Monitor (17906)
Fiber optic cables for Inon (26211) and Sea&Sea (26212)
Full line of mounting accessories for lighting, including mount balls, strobe adapters, arms, clamps, and specialty items
Multiple styles of lanyards
Lens holders, including flip-up
Focus and Zoom gears for many Nikon, Tokina, and Sigma lenses
Port Adapters for Aquatica, Ikelite, Inon, Nexus M5 & M6, Sea & Sea NX, Seacam, Subal Version 3 & 4, and Zillion
Handle accessories including smaller handles, handle extensions for cold water diving
Spare Housing O-Ring (90134)
Details and Specifications
Depth Rating: 100m
Weight: 3.67 kg
Dimensions: 357

mm x 224mm x 148mm (W x H x D)
Model Number: 17219
USA Retail Price: $5200

Available April 15
More information is available at:
###
SUPPORT THE UNDERWATER PHOTOGRAPHY GUIDE:
The Best Service & Prices on u/w Photo Gear
Visit Bluewater Photo & Video for all your underwater photography and video gear. Click, or call the team at (310) 633-5052 for expert advice!
---
The Best Pricing, Service & Expert Advice to Book your Dive Trips
Bluewater Travel is your full-service scuba travel agency. Let our expert advisers plan and book your next dive vacation. Run by divers, for divers.
---