Baja Ultimate Whale Safari 2024
Join us in February/ March 2024 and discover some of Mexico's biggest marine mammals.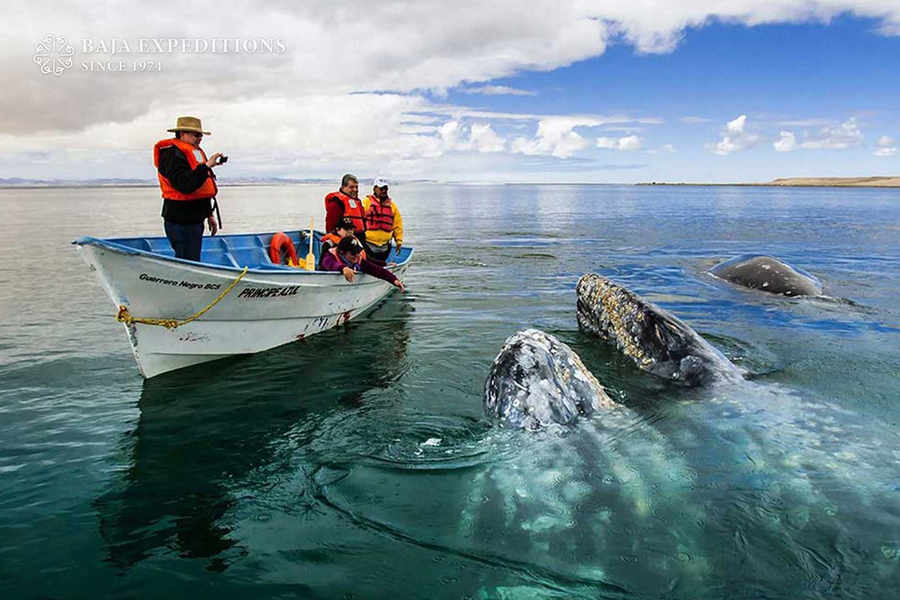 BAJA ULTIMATE WHALE SAFARI 2024
Join us in February/ March 2024 and discover some of Mexico's biggest marine mammals. This unforgettable adventure is perfectly catered for both divers and non-divers alike!
February 24 - March 2, 2024
Trip Leader: Helen Brierley
7 Nights:
$5,245 per person, double occupancy
$1,475 single occupancy upgrade (at San Igancio Bay luxury camp only)

Why Join This Trip?
Complete adventure itinerary that allows you to discover some of Mexico's biggest marine mammals.
Opportunity to swim with whale sharks at El Mogete in La Paz.
Opportunity to dive and snorkel with sea lions at Los Islotes in Espiritu Santo Island
Small group so guests can experience intimate interactions with whales and other marine life
Experience lavish accommodation aboard the Nautilus Gallant Lady, and extravagant luxury tents in San Ignacio Bay
Trip Overview
Experience the ultimate adventure with the Baja Ultimate Whale Safari, where you'll have the opportunity to encounter some of Mexico's largest marine creatures in both the Sea of Cortez and the Pacific Ocean. Your adventure begins with an ocean safari in the Sea of Cortez, where you'll search for majestic humpback whales off the coast of San Jose del Cabo and snorkel with the whale sharks (the largest fish in the ocean) in La Paz. You'll also get to dive or snorkel with playful sea lions off Isla Espiritu Santo before boarding the luxurious Nautilus Gallant Lady, complete with a spotter plane overhead, to search for blue whales. While the blue whales are the stars of the show, you'll also encounter other amazing marine wildlife such as fin whales, humpback whales, super pods of dolphins, and if you're lucky, even sperm whales.
After three nights in the Sea of Cortez, your adventure continues with a private charter flight to San Ignacio Lagoon where you'll spend two full days getting up close and personal with the friendly gray whales. This lagoon is one of the last remaining sanctuaries for the reproduction and calving of gray whales, and it's the only place in the world gray whales come right up to your boat and seek your affection! Your accommodations are in a luxurious tent with ensuite bathrooms and hot and cold showers, akin to a pop-up boutique hotel.
On the final day of your whale adventure, you'll have one last encounter with the gray whales to bid them farewell before boarding a private charter flight back to San Jose del Cabo.
Read about Tim Yeo's Whale Safari in San Ignacio April 2023
Check out these amazing videos to learn more!
Marine Life To Photograph
The biodiversity in the Sea of Cortez is incredible. The sea life we witness on the surface from the boat, dinghies or snorkeling is fantastic. There's potential to see dolphins, sea lions, pilot, humpback, blue, fin, sei, orca, and sperm whales. Also, flying mobula rays, blue and brown-footed boobies, cormorants, frigate birds, and the endemic yellow-footed gull.
Topside Conditions in February/March
La Paz and Loreto typically have pleasant weather with average temperatures ranging from 63°F (17°C) to 79°F (26°C) during the day and 50°F (10°C) to 59°F (15°C) at night. February and March are also considered the dry season with low chances of rain.
San Ignacio, also offers cooler temperatures in February and March. The average temperature during the day ranges from 67°F (19°C) to 73°F (23°C) while the nighttime temperature can drop to 50°F (10°C). It's also a dry season with minimal rainfall. .
Inclusions
1-nights accommodation at the Marea Boutique Hotel in La Paz, double occupancy

3-nights accommodation aboard the Nautilus Gallant Lady, double occupancy
3-nights luxury accommodation in San Ignacio Bay, double occupancy
5-hour whale watching day trip around Cabo
1/2 day whale shark snorkeling in La Paz
1/2 day sea lion snorkeling in La Paz (certified divers have the option to dive)
2 full days searching for blue whales in Loreto National Park
2 full days of grey whale encounters in San Ignacio Bay
All meals, from lunch on day 1 to breakfast on day 8
Airport transfers between SJD and trip start/end point
All road transfers between venues during the trip
Private group charter flights between San Ignacio Bay and Cabo
Airplane spotter to assist with whale sightings
Educational presentations from local experts
Exclusions
$35 USD port/park fees payable in cash on arrival

[MANDATORY] Trip insurance with medical evacuation cover
Crew gratuities
Alcoholic beverages
Trip Type
This trip is a PHOTO GROUP TRIP. It will be led by a professional or experienced photographer who will be happy to provide advice and guidance on all elements of your photography as required. The logistics of this trip mean that formal photography tutorials and workshops are not practical.

What to expect from our Photo Group Trips

Photography support - Your trip leader will ensure that they spend time with everyone throughout the trip, providing advice and guidance on all elements of photography. If you have specific questions about your equipment, shot composition, or post-processing, they will be happy to support you.
Quality time with fellow photographers - You will meet like-minded divers or travelers with a passion for photography. Newer photographers will benefit from the experience of more advanced shooters, and those with experience can share their advice and tips with the group.
Suitable for everyone - New and experienced photographers are welcome on all our trips. Gain the necessary skills to start shooting great photos, increase your confidence in finding the best underwater shots, or hone specific skills. We also encourage non-photographers to join, and do our best to split groups according to skills and interests.

Enjoy free, unlimited access to a wealth of knowledge and advice from your photo instructor.
Trip Schedule
This is a sample itinerary, subject to weather and other conditions.
Day 1 - Arrive into San Jose del Cab and Ocean Safari
Guests flying into SJD will be picked up by group transport and meet the rest of the group at See Creatures Cabo. Get straight out on the water with a 5-hr ocean safari, including lunch. Afterwards a luxury coach transfers you to La Paz for hotel check-in and dinner.
Day 2 - Whale Sharks, Sea Lions, and Nautilus Gallant Lady
Breakfast at the hotel. Swimming with whale sharks in the morning and Espiritu Santo Island adventures with sea lions in the afternoon. Guests with a diving certification can scuba dive with the sea lions if they wish. Lunch on the water or beachfront. Mangrove exploration, kayaking, and shore hikes also available. Late afternoon, board the Gallant Lady expedition yacht. Cocktail hour and dinner on the Nautilus Gallant Lady. Briefing. Set sail for the Mechudo Corridor.
Days 3 - 4 - Explore the Mechudo Corridor with the help of a spotter plane
The Mechudo Corridor is alive with whales! Whale watching and exploration as far north as Loreto National Park. Blue and fin whales, plus humpbacks and often mega pods of dolphins. We'll also be on the lookout for orcas and sperm whales. The airplane spotter will guide the boat to the hottest action. Where possible, guests can swim with dolphins and various marine life, and enjoy the whales from the boat.
Day 5 - Transfer to San Ignacio Lagoon via Private Flight
Morning private aircraft charter flight to San Ignacio Lagoon. You will be greeted with a tray of champagne after your 1 hour 55-minute flight to camp and if you want, head out right away for your first whale encounters. You'll be on the water with the friendliest whales on the planet.
Days 6 - 7 - Gray Whales and more Gray Whales - Encounters and Interactions
Your choice of three whale encounter sessions a day (weather and park capacity control permitting) or enjoy being in camp. Hiking, walking, mountain bikes, bird watching, or visit the dazzling white salt flats. Evening presentations by a naturalist.
Day 8 - Gray Whales and Transfer to San Jose del Cabo
Early breakfast—one last morning of gray whale encounters and then a private aircraft charter back to San Jose del Cabo, arriving early evening.
About The Nautilus Gallant Lady Liveaboard
Nautilus Gallant Lady is a 116-foot yacht that accommodates just 12 guests in 6 large suites. This beautiful ship combines the luxury of a Broward motor yacht with a thoughtful liveaboard dive boat design. The Lady is available for private charters in the Sea of Cortez, as well as scheduled trips to Bahía de los Ángeles whale sharks or Cabo Pulmo marine park and UNESCO World Heritage Site.


Nautilus Gallant Lady Cabin Details
Superior Suites - Inde, Dofleini, Rosario, Nautilus & Swell
2 superior suites are located on the main deck and 3 are located on the lower deck. 4 of the suites can be configured with either a California king bed or two doubles, and each suite has a private ensuite bathroom with a shower. All suites have individually controlled A/C.
Premium Suite - Emerald
This spacious premium suite is on the lower deck and can be configured with either a California king bed or 2 doubles. It has its own private ensuite bathroom with a full-size bathtub.
Check this page to see more details and customer reviews on the Nautilus Gallant Lady Liveaboard.



Check out this amazing video from Nautilus Dive Adventures.
San Ignacio Bay Luxury Tents
These glamorous fully-equipped luxury tents are incrediby spacious. Each tent offers adjustable twin beds or one king bed, a beautiful sitting area with couches and chairs, a dresser, and a large bathroom with twin vanities. Plus a full ensuite bathroom with hot and cold running water, internet access. 24-hour AC power, and of course, a chandelier over the bed.
Back to Menu
About The Trip Leader
Helen Brierley

With a lifelong passion for anything water-related, Helen has been an avid scuba diver for over 30 years. Her first underwater camera was a Nikonos V, back in the days of film, but these days she never jumps in without her Nikon DSLR in hand. Currently based in Los Angeles, she races sailboats at every opportunity and is board chair of the international marine conservation foundation, Reef Check. She has won awards for her photographs and published articles on dive travel and photography.
Flight Information
Guests should fly in and out of San Jose del Cabo International Airport (SJD), arriving no later than 10am on February 24. Group transport will depart the airport at 10.30am.
If you choose to arrive the day before, we recommend staying at the Casa Bella Hotel in Cabo. Conveniently located next door to See Creatures Cabo which is the starting point for the trip. If you make other arrangements, please meet the group at See Creatures Cabo no later than 11am on February 24.
If you prefer a beachfront resort, we recommend the Solmar Resort and Playa Grande Resort. They are sister resorts and only a 15-minute walk / 5-minute drive away.
Departure flights should be made after 8pm on March 2. The charter flight will return from San Ignacio Bay as late as 6pm, so we recommend staying overnight in Cabo and departing the following morning.
Payment Schedule
Deposit: $1,000

Payment 2: $2,000 1 May 23

Balance: 1 Dec 23
WANT TO EXTEND YOUR TRIP?
We can help with that! See more of Mexico before or after your trip with Bluewater in Baja. Flying all that way merits a multi-destination vacation! La Paz is an amazing destination nearby that offers a range of additional unique experiences. Here are some examples of packages we can add on to your trip reservation:
*Rates are subject to change at any time; please contact us for the most updated pricing.
7 NIGHTS AT THE 5 STAR COSTA BAJA RESORT & SPA
Price: Starting at $2,087 per person based upon double occupancy.
The Hotel CostaBaja Resort & Spa is the first and only luxury hotel & spa in the city of La Paz. This boutique hotel offers a selection of ocean, mountain, and marina views. North of the hotel is Espiritu Santo Island, where you will find the greatest marine life in the world and the best sport fishing within Baja Sur.
7 nights in a king or twin room

Full buffet breakfasts

5 days of 3 tank dives

Lunches & drinks on the boat

National park permit fees

Roundtrip Cabo transfers

Free WiFi: Yes

Swimming Pool: Yes
7 NIGHTS AT THE 3 STAR LA CONCHA BEACH RESORT
Price: Starting at $1,803 per person based upon double occupancy.
A beach resort offering a peaceful and mellow atmosphere on the Sea of Cortez. Over a hundred sea view rooms are featured in La Concha Beach Resort. Located in front of the ocean and with a full view of the beach and pool, the accommodations include essential details to luxury amenities.
7 nights in a king or twin sea view room

Full American breakfasts

5 days of 3 tank dives

Lunches & drinks on the boat

National park permit fees

Roundtrip Cabo transfers

Free WiFi: Yes

Swimming Pool: Yes
7 NIGHTS AT THE 4 STAR HOTEL CATEDRAL
Price: Starting at $1,670 per person based upon double occupancy.
Hotel Catedral La Paz is a new concept of accommodation to suit the needs of today's travelers. It is part of the historic center of the city, surrounded by major attractions next to Our Cathedral Lady of La Paz. With its sophisticated contemporary modernist architecture, Hotel Catedral La Paz focuses on every detail to offer its guests an excellent service and quality, both in the rooms and its gourmet restaurant.
7 nights in a king or twin sea view room

Full breakfasts

5 days of 3 tank dives

Lunches & drinks on the boat

National park permit fees

Roundtrip Cabo transfers

Free WiFi: Yes

Swimming Pool: Yes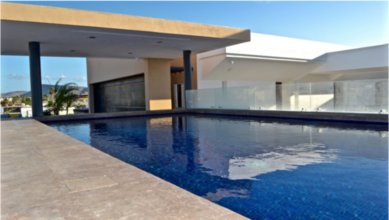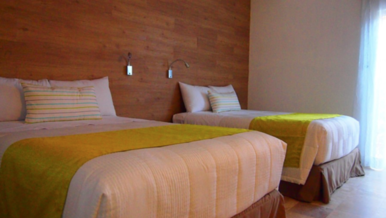 Got Questions? Ready to Book?
Call us today at +1-310-915-6677 email us at trips@bluewaterdivetravel.com

And let us book your dream vacation!
Photo Gallery

---
SUPPORT THE UNDERWATER PHOTOGRAPHY GUIDE:
The Best Service & Prices on u/w Photo Gear
Visit Bluewater Photo & Video for all your underwater photography and video gear. Click, or call the team at (310) 633-5052 for expert advice!
---
The Best Pricing, Service & Expert Advice to Book your Dive Trips
Bluewater Travel is your full-service scuba travel agency. Let our expert advisers plan and book your next dive vacation. Run by divers, for divers.
---