Antarctica Group Trip March 2025
A unique and thrilling Antarctic expedition with exciting topside adventures, and the opportunity to experience polar diving, in this untouched and unspoiled wilderness.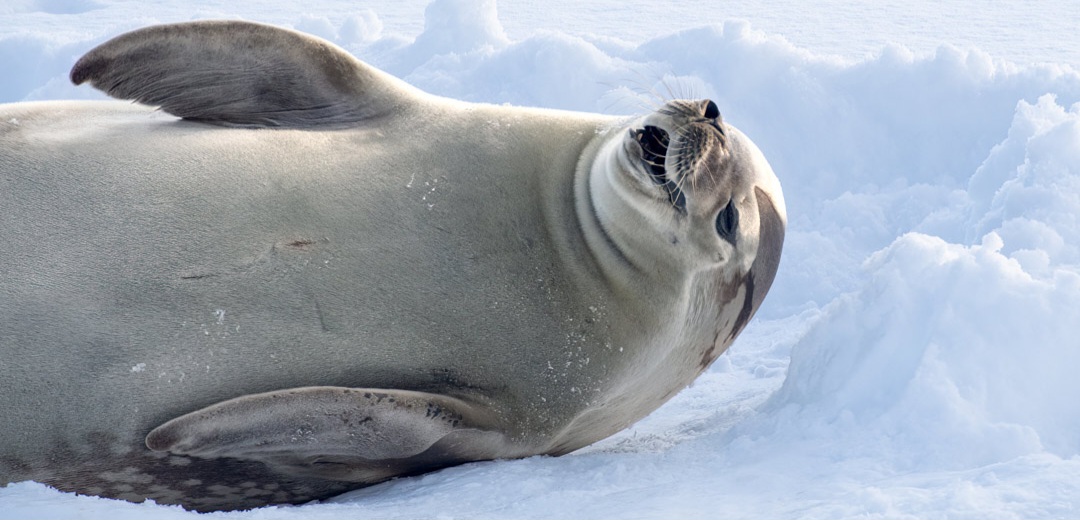 ANTARCTICA GROUP TRIP MARCH 2025
Join Bluewater Travel for a unique and thrilling Antarctic expedition with exciting topside adventures, and the opportunity to experience polar diving, this trip will be enjoyed by divers and non-divers alike.
March 10 - 21, 2025
Trip Leader: Tim Yeo
Itinerary: Antarctica - Polar Circle - Deep South Discovery voyage
$7,700 for a co-ed quad cabin with two portholes
$9,450 for a twin cabin with a two portholes
$10,000 for a twin cabin with two windows
$11,200 for a superior cabin with two windows
Optional Add-on:
$800 for diving activity.

WHY JOIN THIS TRIP?
Explore the most untouched and unspoiled territory in the world
Includes a program of lectures led by renowned naturalists
Travel aboard the M/V Ortelius, designed for exploring remote locations and navigating through ice
TRIP OVERVIEW
Discover the breathtaking beauty of Antarctica's pristine landscapes and encounter a diverse array of wildlife, from humpback whales to penguins. Our expedition cruise offers exhilarating activities such as hiking, whale watching, and even polar plunging for the adventurous at heart. Immerse yourself in the stunning ice wildernesses, explore colossal glacier fronts and dazzling berg-filled bays, and marvel at the towering snow-swept mountains that surround the shoreline. Don't miss out on this rare opportunity to explore one of the last remote areas of wilderness on earth!
This trip is perfect for divers and non-divers!
Note to divers: Polar diving is not for beginners. Polar diving is meant for experienced divers who are familiar with cold-water, dry-suit diving. Divers must have logged at least 30 dry-suit dives in cold water to participate. More info on polar diving, including gear requirements can be found here: https://oceanwide-expeditions.com/to-do/outdoor-activities/polar-diving.
Check out some of Antarctica's wildlife.
Read about our latest trip to Antartica - Antartica Trip Recap March 2023.
MARINE LIFE TO PHOTOGRAPH
Antarctica's marine life offers a unique and rewarding diving experience for those who are up to the challenge. Some of the species you might encounter include colorful Nudibranchs, crabs, and shrimp, swaying sea anemones capturing plankton, colorful sea stars clinging to rocks, large fish such as the 1.5m-long Antarctic cod, and Giant kelp growing in dense forests in shallow water. In addition you may encounter leopard seals, penguins, and even whales. On land, visitors can enjoy a wide variety of birds such as albatross and elder ducks, along with the popular emperor, gentoo, chinstrap, macaroni, and adelie penguins. The region is also home to bearded seals, elephant seals, fur seals, and other fascinating wildlife.
Read more about scuba diving in Antarctica here.
Facing a leopard seal, like any predator, is exciting. Leopard seals, however, are mostly curious about their underwater visitors, as shown in this video:
INCLUSIONS
All meals throughout the voyage aboard the ship including snacks, coffee and tea.

All shore excursions and activities throughout the voyage by Zodiac.
Program of lectures by noted naturalists and leadership by experienced expedition staff.
Free use of rubber boots and snowshoes.
Luggage transfer from pick-up point to the vessel on the day of embarkation, in Ushuaia.
Pre-scheduled group transfer from the vessel to the airport in Ushuaia (directly after disembarkation).
All miscellaneous service taxes and port charges throughout the program.
AECO fees and governmental taxes.
EXCLUSIONS
Any airfare, government arrival and departure taxes.

Meals ashore.
Baggage, cancellation and personal insurance (which is strongly recommended).
Excess baggage charges and all items of a personal nature such as laundry, bar, beverage charges and telecommunication charges.
The customary gratuity at the end of the voyages for stewards and other service personnel aboard.
TRIP TYPE
This trip is a group trip, not a photography workshop. It will be led by an experienced Bluewater trip leader who will manage the trip logistics and ensure your needs are met throughout. While this trip is designed to optimize your photography opportunities, it is not led by one of our photo instructors and so meaningful photography advice from your trip leader should not be expected.
What to expect from our Group Trips

Meet like-minded travelers - Our Group Trips are perfect for solo travelers who enjoy meeting other divers or photographers and enjoy the support of a pre-arranged itinerary. Your trip leader will arrange group activities such as meals or game nights to ensure everyone feels part of the Bluewater family.
Problems solved - Your trip leader will be on hand to assist with any issues you may have. From delayed or canceled flights, to lost room keys and dietary requirements. We have dealt with it all before and will ensure that your trip runs smoothly.
SAMPLE ITINERARY
Day 1: End of the world, start of a journey
Your voyage begins where the world drops off. Ushuaia, Argentina, reputed to be the southernmost city on the planet, is located on the far southern tip of South America. Starting in the afternoon, you embark from this small resort town on Tierra del Fuego, nicknamed "The End of the World," and sail the mountain-fringed Beagle Channel for the remainder of the evening.
Day 2 - 3: Path of the polar explorers
Over the next two days on the Drake Passage, you enjoy some of the same experiences encountered by the great polar explorers who first charted these regions: cool salt breezes, rolling seas, maybe even a fin whale spouting up sea spray. After passing the Antarctic Convergence – Antarctica's natural boundary, formed when north-flowing cold waters collide with warmer sub-Antarctic seas – you are in the circum-Antarctic upwelling zone. Not only does the marine life change, the avian life changes too. Wandering albatrosses, grey-headed albatrosses, black-browed albatrosses, light-mantled sooty albatrosses, cape pigeons, southern fulmars, Wilson's storm petrels, blue petrels, and Antarctic petrels are a few of the birds you might see.
Day 4 - 9: Sights of late summer Antarctica
Options for Antarctic Peninsula activities are many, and no less great during the late summer. Humpback whales are prolific in this region, gorging themselves on krill before their migration north. The penguin chicks are also fledging, stirring up activity on the beaches while sleek leopard seals lie in wait, poised to attack the less fortunate ones.
Sites for your Antarctic adventures may include:
• Livingston Island – Here you find a wide variety of gentoo and chinstrap penguins on Hannah Point, as well as southern giant petrels and elephant seals hauling out onto the beach.
• Deception Island – Actually a subducted crater, this island opens into the sea and creates a natural harbor for the ship. An abandoned whaling station, and multiple bird species – cape petrels, kelp gulls, brown and south polar skuas, and Antarctic terns – can be seen here. Wilson's storm petrels and black-bellied storm petrels also nest in the ruins of the whaling station in Whalers Bay.
• Cuverville Island – A small precipitous island nestled between the mountains of the Antarctic Peninsula and Rongé Island, Cuverville houses a large colony of gentoo penguins and breeding pairs of brown skuas.
• Neko Harbour – An epic landscape of mammoth glaciers and endless wind-carved snow, Neko Harbour offers opportunities for a Zodiac cruise and landing that afford the closest views of the surrounding alpine peaks. You might also be able to set foot on the continent here.
• Paradise Bay – You could take a Zodiac cruise in these sprawling, ice-flecked waters, where you have a good chance of seeing humpback and minke whales.
• Pléneau & Petermann Islands – If the ice allows it, you may sail through the Lemaire Channel in search of Adélie penguins and blue-eyed shags. There's also a good chance you'll encounter humpback and minke whales as well as leopard seals.
• Crystal Sound – Your journey takes you south along the Argentine Islands to this ice-packed body of water, and from here across the Polar Circle in the morning.
• Detaille Island – You may make a landing at an abandoned British research station here, taking in the island's lofty mountains and imposing glaciers.
• Fish Islands – Further north you encounter one of the southernmost Adélie penguin and blue-eyed shag colonies in the Antarctic Peninsula.
• Melchior Islands – These islands offer a beautiful landscape rich with icebergs. Leopard seals, crabeater seals, and whales are found here, and there are excellent opportunities for kayaking and diving.
Conditions on the Drake Passage determine the exact time of departure.
Day 10 - 11: Familiar seas, familiar friends
Your return voyage is far from lonely. While crossing the Drake, you're again greeted by the vast array of seabirds remembered from the passage south. But they seem a little more familiar to you now, and you to them.
Day 12: There and back again
Every adventure, no matter how grand, must eventually come to an end. It's now time to disembark in Ushuaia, but with memories that will accompany you wherever your next adventure lies.
Please note this is a sample itinerary and is subject to change depending on conditions.
ABOUT THE MV ORTELIUS
This Oceanwide Expeditions ice-strengthened vessel offers safety and comfort for adventure seekers traveling into Antarctica. With the highest ice-class notation, it is ideal for exploring remote locations and navigating through ice, while maintaining high standards of guest service and amenities.
The M/V Ortelius offers 4 quadruple porthole, 28 twin porthole, 12 twin window, 2 twin deluxe, and 6 superior cabin options, all featuring ensuite showers and toilets. There are 52 cabins available for a maximum of 108 guests.
Read more about the M/V Ortelius here.
ABOUT THE TRIP LEADER
Tim grew up in tiny Singapore, where driving for more than an hour meant you would need a passport. Traveling was always his passion, but Tim became addicted to dive travel soon after he got scuba certified in Malaysia.
During Tim's undergraduate studies at UCLA, he flew home to Singapore every summer to visit his parents for a couple of weeks. Then he would take off to a new dive destination in Southeast Asia (such as Thailand, Indonesia, or the Philippines) to satisfy his cravings for warm tropical diving. As his diving addiction grew, Tim eventually became a staff instructor with PADI and an instructor trainer with SDI. After getting his instructor certification, Tim spent time teaching scuba in Malaysia and Vietnam. Tim has since traveled to over 40 countries and scuba dived off the shores of 6 continents. He is planning an expedition to dive his remaining continent (Antarctica) in 2023.
Tim loves all types of diving: Wreck diving in the Red Sea and Truk Lagoon, big animal diving in Socorro and Galapagos, beach diving in Bonaire and Bali, muck diving in Anilao and Lembeh Straits, wall diving in Roatan and Sipadan, and reef diving in Palau and the Fiji. Read more about Tim here.
Contact Tim at tim@bluewaterdivetravel.com for more info about his trips.
FLIGHT INFORMATION
This trip departs from Ushuaia, Argentina (USH). Guests coming from the USA will typically fly via Buenos Aires (flight time approximately 9 - 13 hours), where there are several options for connecting flights to Ushuaia (flight time approximately 3 hours). Contact us for assistance with planning your flights.
PAYMENT SCHEDULE
Deposit: $800
Payment 2: $2,000 - 10th March 2024
Payment 3: $2,000 - 10th Sept 2024
Balance: Due 10th Dec 2024
PHOTO GALLERY
---
Photos by Tim Yeo from Previous Trips
SUPPORT THE UNDERWATER PHOTOGRAPHY GUIDE:
The Best Service & Prices on u/w Photo Gear
Visit Bluewater Photo & Video for all your underwater photography and video gear. Click, or call the team at (310) 633-5052 for expert advice!
---
The Best Pricing, Service & Expert Advice to Book your Dive Trips
Bluewater Travel is your full-service scuba travel agency. Let our expert advisers plan and book your next dive vacation. Run by divers, for divers.
---