Anilao Photo Workshop December 2024
Join Bluewater in December 2024 for our annual Anilao workshop, offering some amazing reef and critter diving at Crystal Blue Resort.

Anilao Underwater Photo Workshop Dec 2024
Experience one of Bluewater Travel's most popular trips to Anilao, a world-renowned macro destination, in December 2024. This thrilling adventure not only includes breathtaking reef and critter diving at Crystal Blue Resort but also offers FREE daily photo workshops to enhance your underwater photography skills.
December 1 - 8, 2024 (7 nights)
Trip Leader: Scott Gietler & Gillian Flaherty
Book before the end of 2023 to lock in 2023 prices:
7 Nights Shared: $1,809
7 Nights Single: $2,009

7 Nights in Dumaguete
7 Nights in Puerto Galera
10 Nights in Cebu & Bohol
Why Join This Trip?
Daily photography workshops by photo pro at no extra cost, suitable for beginners and experienced photographers alike

Trip designed to shoot photos - We select resorts that provide photographer-friendly facilities. The dive guides are also there to enable you to get photos, not just show you the reef

Up to 4 dives a day

Debatably one of the best macro diving destinations in the world!

One of our most popular workshops offered

Leaders who care about their guests' experiences

25% off rental photo gear from

Bluewater Photo
Images by Dan Bishop
Check out this awesome video from one of our previous trips to Anilao:
Read about our latest trip to Anilao here.
Trip Overview
This was the best organized and informative photo trip that I have been on, and I've been on a few." - Harry O'Neil
Small 'dive guide to diver' ratios and long dive times
We will visit the best dive sites early and often! Most sites are just 10 - 20 minutes from the resort.
Prizes are often awarded for photographing the most critters, the most nudibranch species, best video, and the best macro, wide-angle, and behavior shots
Photographers with even the smallest point-and-shoot camera will feel very welcome here, and you will go home with some great shots.
Anilao boasts some of the richest reefs in the world. Whether at 10ft or 100ft beneath the surface, you will be inundated with photo subjects that will fill up your memory card before the day is over.
Images by Erik Lukas
Almost all species on our critter list can be found in Anilao - such as Rhinopias, blue-ring octopus, hairy frogfish, pipefish, flamboyant cuttlefish & Bobbit worms. Anilao is also the nudibranch capital of the world!
Here's the schedule for this trip:
Day one of the trip: Arrival at the resort will be between 11am-1pm from Manila hotels. Rooms will be available for check-in between 12pm and 2pm. While waiting for rooms to become available, guests can have lunch (runs from 12-2), unpack their camera gear in the camera room, or relax in the common areas. There are 2 optional afternoon dives the day of arrival, which can take place as soon as 4 guests are ready for a dive (4 divers per boat).

Each subsequent day of the trip includes *up to* 4 dives per day, consisting of two in the morning and two in the afternoon (one afternoon dive is a night dive).

There will be underwater photo seminars and image reviews in the mornings, afternoons, and evenings.

On the second to last day, there will be no afternoon dives. There will be 2 morning dives, a photo contest and group dinner.

Departure will be on the following day at 8 am back to MNL. Shuttle transfers take approx 3.5 hours between Anilao-Manila so book your departure flight sometime in the afternoon (we recommend any time after 2:30-3:00 PM to be safe).*
To get a little insight as to what the workshop is like, read our 2023 Anilao Underwater Photo Workshop or see our guide to diving Anilao.
Inclusions
7 nights of deluxe accommodations in sealed rooms with air-conditioning
Daily photo workshops to help you improve your photography
Up to 4 dives a day (including night dives)
All meals
Exclusions
Trip Type
This trip is a PHOTOGRAPHY WORKSHOP. It will be led by one of our photo instructors and will include daily underwater photography tutorials, in-water photography support, and one-to-one advice and guidance as required.
What to expect from our Photo Workshops
Daily photo workshops

- Your photo instructor will schedule seminars each day on topics including, but not limited to, equipment type and selection, the concept of underwater photography, lighting and composition techniques, and post-processing. They will also include topics relevant to the location and your experience such as the use of snoots & diopters, single vs multi-point light sources, plus daily macro-specific assignments to practice your skills.

In-water support

- Where possible, each dive group will spend time underwater with the photo instructor, receiving in-water support and guidance on their shooting techniques. Participants can also request in-water assistance during the workshop and the photo instructor will do his or her best to accommodate all requests.

Consecutive days of practice & review

- Each day you will have the opportunity to practice the techniques and skills learned in the previous day's tutorials. If you are new to underwater photography you will likely see a vast improvement in just a few days.

Daily photo image reviews

- You are strongly encouraged to bring your laptop, a thumb drive, edit your photos, and submit your shots for review from both the instructor and your peers. These are fun and interactive sessions encouraging you to improve throughout the trip.

Quality time with fellow photographers

- Both new and experienced photographers from past workshops have expressed the advantages of joining a trip with like-minded divers with a passion for underwater photography.

Suitable for everyone

- New and experienced photographers are welcome on all our trips. Gain the necessary skills to start shooting great photos, increase your confidence in finding the best underwater shots, or hone specific skills. We also encourage non-photographers to join, as many of them really enjoy the daily photo reviews, learning about underwater photography, and some have even returned to a photo workshop with an underwater camera setup!
Enjoy free, unlimited access to a wealth of knowledge and advice from your photo instructor.
About Crystal Blue Resort
Crystal Blue offers spectacular diving, amazing macro photography, knowledgeable guides, incredible cuisine, and comfortable ocean-view accommodations. The resort has a bar, restaurant, spa, jacuzzi, awesome food and offers 17 rooms that consist of deluxe rooms, superior rooms, and a large family villa.
Read the reviews of Crystal Blue Resort here.
Flight Information
We recommend guests arrive in Manila one day before the workshop begins and stay in a nearby hotel.
We have 3 hotel recommendations for guests; The Manila Marriott, Holiday Inn Express Manila Newport City, or The Belmont Hotel - all very close to the airport.
Alternatively, you can arrive at the Manila airport (code: MNL) on the morning of the first day of the workshop before 10 am and the shuttle will pick you up directly from the airport.
Everyone will leave in the morning of the last day (approx 8:00 am) and be transferred back to the airport.
Booking an afternoon/evening flight would be advised.
If you have any questions, please email us for recommended departure/arrival times. We will arrange your transport to the resort.
About The Trip Leaders
Scott Gietler is the founder of Bluewater Travel. Scott's areas of expertise include some of our top dive destinations like Indonesia, Mexico, Philippines, Fiji, Galapagos, French Polynesia and the United States.
Scott is also the founder of the Underwater Photography Guide and Bluewater Photo. What started out as a small project has grown to a point where it is starting to interfere with Scott's sleep. When it interferes with his diving, then it will be a problem.
Scott lives in California with his lovely wife Penny and two kids. They have traveled together throughout the world on diving and non-diving trips together.
If possible he tries to get out diving each week with some of the other members of the staff.
An avid marine naturalist, Scott is the author of the Field Guide to Southern California Marine Life. He was the LAUPS photographer of the year for 2009, and his photos have appeared in magazines, coffee table & marine life books, museums, galleries and aquariums throughout California. He enjoys teaching photography underwater and in workshops.
Gillian Flaherty is in charge of all Bluewater Travel's Photo Workshops and is a PADI and TDI Instructor in her free time. Gill learned to dive in her home country of Scotland and continued with much of her dive education in the UK. She quickly expanded her diving repertoire with trips to the Red Sea, Mexico, and Indonesia, and was surprised to learn that diving didn't always involve poor visibility and chilly water temperatures.
Gill has a thirst for travel and adventure and spent a year driving around Europe in a motorhome before settling in Cyprus in the Eastern Mediterranean. After working full-time as a Dive Instructor for three seasons, she now teaches and guides in her free time on the famous Zenobia wreck. When not underwater, Gill can be found paddle boarding, hiking, or rescuing cats.
Payment Schedule
Deposit: $500
Payment 2: $800 due 12/1/23
Payment 3: Balance due 7/1/24
WANT TO EXTEND YOUR TRIP?
We can help with that! See more of the Philippines before or after your workshop in Anilao with Bluewater. Flying all that way merits a multi-destination vacation! Puerto Galera, Dumaguete, and Cebu & Bohol are amazing destinations nearby that offer a range of additional unique experiences. Here are some examples of packages we can add on to your workshop reservation:
*Rates are subject to change at any time; please contact us for the most updated pricing.
7 NIGHTS in Dumaguete
A short domestic flight from MNL to the Southern Philippines can extend your macro photography vacation in style at the luxurious Atmosphere Resort.
A week in a Suite
10-dive package
All meals
Transfers
Free WiFi: Yes
Swimming Pool: Yes
7 Nights In Puerto Galera
A few hours' car and boat transfer from MNL, El Galleon can offer you abundant corals and fish diversity and an inexpensive all-inclusive dive package.
7 nights at El Galleon Resort
Daily dives
Free WiFi: Yes
Swimming Pool: Yes
10 Nights In Cebu & BoHol
A short domestic flight from MNL to either of these islands offers a whole new experience! See pristine corals and abundant reefs, all with never-ending diversity ranging from tiny seahorses to whale sharks. There are numerous resorts to choose from, but we think Magic Resorts (Magic Oceans Bohol & Magic Island Cebu) offer the best experience for the price.
5 nights on each island
Daily dives
All meals and transfers between resorts and airports
Free WiFi: Yes
Swimming Pool: Yes
Check out some other great dive resorts in Indonesia.
Got Questions? Ready to Book?
Call us today at +1-310-915-6677 or email us at trips@bluewaterdivetravel.com
Or stop by our office at 3961 Sepulveda Blvd, Suite 206 Culver City, CA 90230
And let us book your dream vacation!
Photo Gallery

---
Anilao Underwater Photos by various trip leaders from previous trips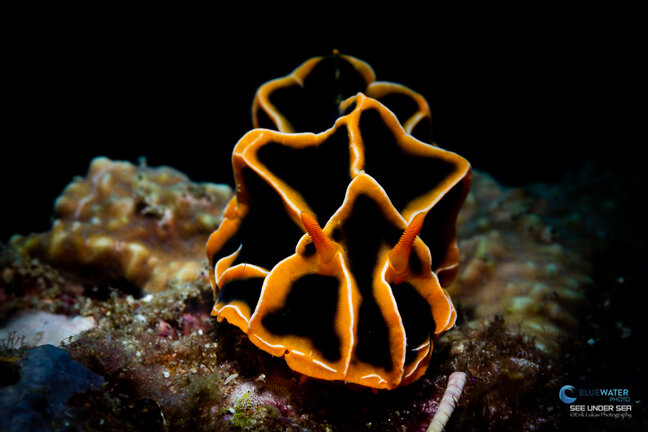 SUPPORT THE UNDERWATER PHOTOGRAPHY GUIDE:
The Best Service & Prices on u/w Photo Gear
Visit Bluewater Photo & Video for all your underwater photography and video gear. Click, or call the team at (310) 633-5052 for expert advice!
---
The Best Pricing, Service & Expert Advice to Book your Dive Trips
Bluewater Travel is your full-service scuba travel agency. Let our expert advisers plan and book your next dive vacation. Run by divers, for divers.
---