Dive Trips
Underwater Photography Trips and Workshops
 Raja Ampat Dec 9th-19th, 2012  $3,499
Awesome photo workshop on the brand-new luxury 40 meter World Wide Dive & Sail boat Indo-siren, led by Scott Gietler.
This is some of the best diving in the world, at an unbelieveable price. Sorong to Sorong itinerary, including Manta Ridge and Kri island.
This trip is all-inclusive and includes food, beer, nitrox, rental equipment, & transfers from Sorong. Airfare not included.
The boat has large air-con rooms, each with their own bathroom, computer, entertainment system, and multiple power sources.
Don't miss this awesome deal! 10 nights on the boat. $700 deposit holds your spot.
Email scott@uwphotographyguide.com for more info
Photo by Phil Sokol, Raja Ampat. Winner 1st place, Ocean Art photo competition
Blue-ringed octopus from Raja Ampat, photo by Kevin Lee.
Nautilus Explorer / Epson World Shootout at Guadalupe Island August 3rd - 8th 2011
Join Todd Winner for the ultimate great white shark experience and a chance to win fabulous prizes aboard the Nautilus Explorer from August 3rd - 8th 2011.  We will be taking a private coach from San Diego to Ensenada where we will board the Nautilus for 5 nights.
During August 1st through the 8th, the Epson World Shootout is also taking place.  This is the largest underwater shootout of its kind and we're looking to take home the gold from this trip.  You must sign up for the Epson Shootout before July 30th.  For information on the Epson World Shootout, please visit their website at https://www.worldshootout.org/.
For inquiries and bookings please contact Todd Winner at todd@uwphotographyguide.com.
Prices start at $2550
UWPG La Paz, Baja Photo Workshop October 22nd to 29th 2011
After a La Paz, Baja expedition that exceeded all expectations, with whale sharks, hammerheads, sea lions, cormorants and huge baitballs we are returning again to Club Cantamar October 22nd to 29th, 2011.
The cost is $1299, and the trip will be run by Todd Winner and Scott Gietler.
Contact us at trips@uwphotographyguide.com for more details, or go to the La Paz trip page. And here's the photos from our 2010 La Paz workshop. Although there is plenty of macro and fish, this trip will be wide-angle photography heaven!


Humback Whales in Tonga on the Nai'a
Sep 2nd to Sep 12th, 2011
Experience humpback whales in Tonga with professional underwater photographers Mark Strickland and Douglas Hoffman. Doug is known as one of the most experienced Humpback whale photography experts, knowing just what it takes to help you get that perfect shot. Cost is $4,986 USD. The trip is on the world-famous Nai'a liveaboard. Email dhimages@maui.net or markstrickland@verizon.net for more details.
 
Great White Sharks with Bonnie Pelnar
Oct 3rd to 7th, 2011 on the Solmar V to Guadalupe Island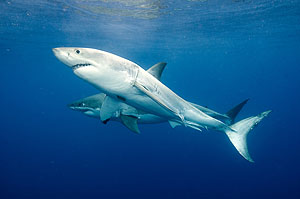 5 days, 4 nights, $2900 + 11% tax, per person, double occupancy. Includes transport from San Diego, CA.