Underwater photos
Sigma 8-16mm underwater photos
 These photos were taken with a Nikon D300, a Sea & Sea D300 housing with an 8-inch dome port and a 40mm extension ring. I didn't have a zoom ring large enough to fit this fat 8-16mm lens, so I just kept it at 8mm throughout the dive.
The dive site was at Santa Cruz Island. Unfortunately visibility was poor, and there were not many great subjects for wide-angle shots. 
I did not have to clear up much backscatter on these photos. If I had been using the Tokina 10-17mm at 10mm, I'd more backscatter because of it's wider angle of view. But I could still get just as close to my subjects. I also noticed less chromatic aberrations than I would see with my Tokina.
Sigma 8-16mm underwater photo. F11, 1/250th. If this was a fisheye lens, the perch on the left side would be tiny. Instead, it's actually slightly magnified.
F8, 1/320th 
100% crop of center
 F11, 1/250th
100% crop of extreme lower left corner. Not bad at all, especially for a wide rectilinear lens!
 F10, 1/320th. When shooting up at the kelp, I missed the larger diagonal view of my fisheye lenses. You won't be getting most of Snell's window with the Sigma 8-16mm.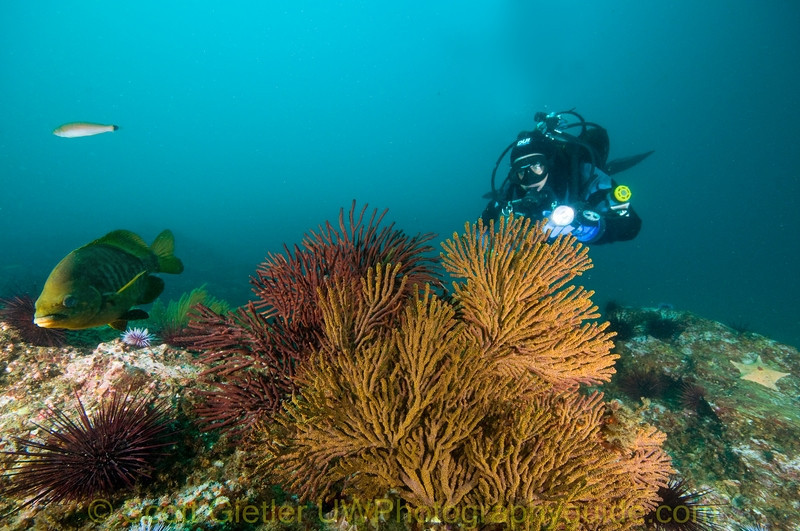 SUPPORT THE UNDERWATER PHOTOGRAPHY GUIDE:
The Best Service & Prices on u/w Photo Gear
Visit Bluewater Photo & Video for all your underwater photography and video gear. Click, or call the team at (310) 633-5052 for expert advice!
---
The Best Pricing, Service & Expert Advice to Book your Dive Trips
Bluewater Travel is your full-service scuba travel agency. Let our expert advisers plan and book your next dive vacation. Run by divers, for divers.
---