Honorable Mention Underwater Conservation Catherine Holmes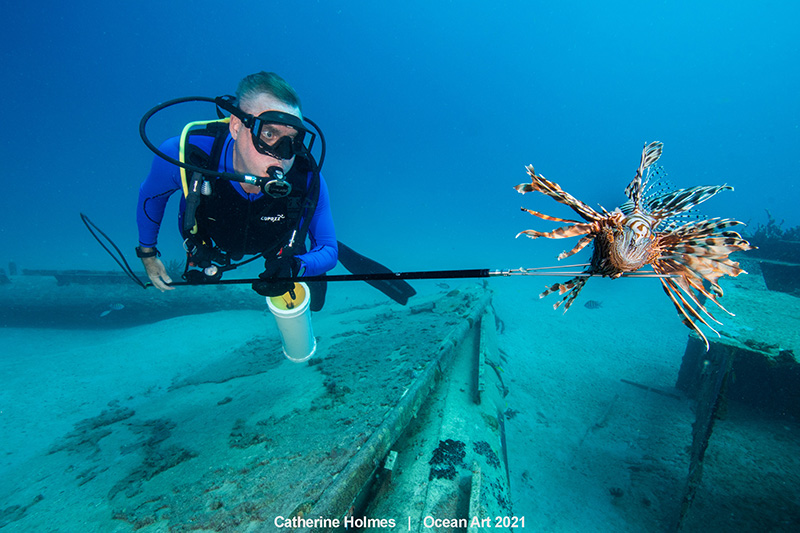 Honorable Mention Underwater Conservation
Catherine Holmes
"Reef Protection"

Catherine Holmes won a
SeaLife Sea Dragon 2000F Photo/Video
Light with a Flex Arm & Tray
The Story: Lionfish, an invasive species to the area, are now found thriving across the Caribbean presenting a major ecological problem. They are thought to have been introduced after boats carrying them capsized during Hurricane Andrew 1992.
Lionfish reproduce rapidly spawning every 4 days with over 2 million eggs annually. They consume enormous amounts of fish and crustaceans, depleting the fish that are essential to maintain the reef ecosystem. They compete with larger fish and rays for food, as they grow very large with resistance to parasites and very few predators. Groupers eat lion fish, but are few in numbers, particularly in Barbados .
Barbados set up a lionfish invasion plan in 2011 and culling lionfish there, and across the Caribbean is now actively encouraged.
Lionfish derbies have been implemented to encourage reduction in the numbers of fish, which need to be reduced by up to 95 percent to not over consume other fish species.
Spearing in shallow water directly removes the predator more effectively than general fishing which can kill valuable reef fish in bycatch. Most divers in derbies and local culling activities tend to be in shallow water where lion fish congregate, and eggs and larvae settle, however there is still a major problem in deeper waters where there are thought to be larger and more vociferous lionfish . Encouraging more recreational divers, coordinating targeted deep water culling, as well as increasing the distribution and uptake of lion fish as a foodsource, is an ongoing and urgent conservation issue being targeted across the Caribbean.
Location: Little Good Harbour, North West Barbados
Equipment Used: Nikon D500 Camera, Dual Inon Z330 strobes, Nauticam Housing. Nikon 10-24mm Lens
Camera Settings: F11, 1/100 sec, ISO 500