Honorable Mention Blackwater Fabien Michenet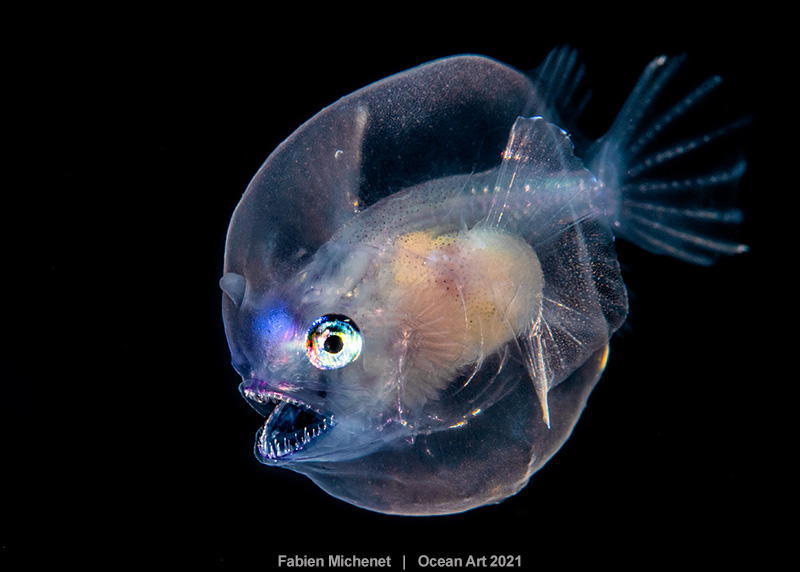 Honorable Mention Place Blackwater
Fabien Michenet
"

Juvenile Deep-Sea Anglerfish "
The Story: This larva of deep-sea anglerfish has an unusual globular shape giving the impression that it has taken refuge inside an organic bubble.
One already sees above the eyes the draft of the fishing appendix (elysium) which will serve as a bioluminescent fishing rod for the adult fish to attract its prey in the darkness of the abyss.
Even if many adults must live in the deep sea area around Tahiti (French Polynesia), the observation of a juvenile of this size is really rare. I had previously seen only juveniles specimens of a few millimeters.
This picture was taken 80 feet under the surface in the open ocean at night, 2 miles off the reef of the west coast of Tahiti island, where the oceanic floor rest at 3500 feet underneath the surface.
Location: Tahiti Island
Equipment Used: Nikon D810 Camera, Nauticam Housing , Nikon 60mm Macro Lens, Nauticam CMC Wet Lens, Dual Inon Z330 Strobes
Camera Settings: F32, 1/32 sec, ISO 250